Over recent years most overseas landlords have found the balance between their income and their costs becoming harder and harder to find. It's why here at PropertyQuoteDirect  they aim to keep your premiums as low as we can while still providing quality cover.  On the other side of the equation, though, is pricing and setting a fair rent for your overseas property can be the difference between profit and loss over a year.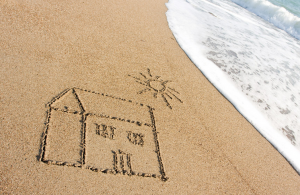 Properties Newly on the Market
When you advertise your overseas let, it's your chance to set the price you want and, potentially will receive for some years to come. It's essential to do the maths here, because you need to be certain you're not making a loss over time, but you'll also want to survey the market. Pricing your property way above the market will probably mean a long void period, but that's a risk you need to assess for yourself.
Rent Raises Year on Year 
While we're used to steady inflation here in the UK and, as such, rents go up accordingly, it might not be the case for your overseas let. If you're letting primarily to British holidaymakers, then increasing your rent year on year is expected, but it might not be taken well by a local tenant. If you do raise rent, make sure it's in line with local inflation and wage rises – not the 2% or 3% we expect in the UK.
Which Currency to Price In?
If you price your let in a foreign currency, you are exposing yourself to the mercy of the currency markets and this may be unnecessary. While you can always adjust your price, and it's easy to do so on a week-by-week holiday let, it's usually safer to price in Sterling if you can. If you're letting long-term to locals and you have to price in the local currency, it's possible to 'hedge' against potential fluctuations by holding some reverses in Sterling, just in case of a rise or fall.
Seasonal Pricing
Finally, for holiday lets it's key to have a seasonal pricing strategy that has some method behind it, but that also allows you to make the most of peak times. School holidays are, of course, your chance to make good profits on your let, so don't be afraid to price highly. However, you need to respond to the market: school holiday buyers are also more likely to book in advance, so if you haven't sold for Feburary half-term by Christmas, it might be time to drop those rates.
Once you're in to your third or fourth season of letting abroad your pricing strategies will more than likely become a lot clearer. Until then, however, it's a case of doing your research and trying to hit the market at an attractive rate while still making a good profit.