After backpacking through Thailand and Cambodia, I arrived in Sihanoukville looking forward to a week of relaxing on the white sandy beaches. It's the perfect spot to enjoy the beach and awesome water sports like snorkeling and scuba diving without all the crowds of Thailand. I picked the Beach Club resort as my accommodation, a perfect location just 2 streets from Ochheuteal Beach and a short walk to restaurants and bars, but off of the crazy tourist strip, since I was looking for a bit of rest and relaxation on this trip.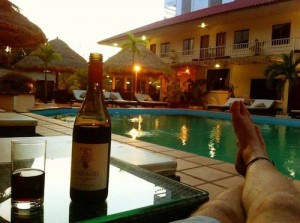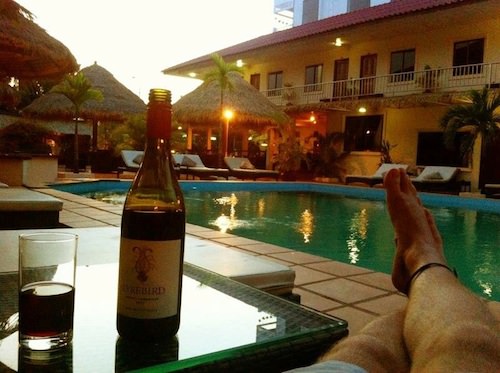 The staff were incredibly friendly right on my arrival, showing me to my spacious and homey room with a view of the swimming pool down below. It was great to have a room with air conditioning and a good shower to come back to after laying out in the hot sun all day. The resort really does well with its services; I had freshly changed towels and two complimentary bottled waters each day, cable TV, laundry service, and I noticed you can also borrow a DVD player and movies, or (for the ladies) a complimentary hair dryer if you like. The staff came to clean my room everyday, and they were fantastic about helping me out with any questions I had about things to do in the area. They even set me up with a motorbike rental through the resort for just $5 per day, so I could go exploring at my own speed.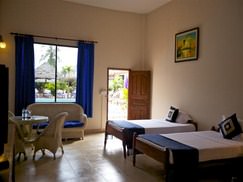 I did come to Sihanoukville to enjoy the beach, but it was pretty tempting to spend at least part of each day at the awesome pool downstairs, complete with poolside bar and restaurant. And with strong WiFi throughout the resort, I was able to take care of some work poolside with cocktail in hand. I also took advantage of the massage service right at the resort, and it was well worth it. They offered a wide variety of services; I noticed a woman getting an aloe vera treatment after a day cooking on the beach! The resort was so conveniently close to the beach and other bars and restaurants, so even though I got to enjoy the quiet oasis-like atmosphere, I never felt like I was away from the excitement if I wanted it. They served up great food for very reasonable prices in their restaurant, with an especially good breakfast that I enjoyed everyday.
Overall, my experience with the Beach Club Resort was fantastic. It served all my needs as a base to explore Sihanoukville, a peaceful place to relax and rejuvinate, and a short walk from everything I wanted to do in the area, all for a great value and with friendly, helpful service.