Cruising has become increasingly popular in recent years and many people seem to know exactly what they want from a cruise when it comes to booking. Some people, however, don't have all of the information needed before making the decision and end up missing out on amazing destinations that they might not normally go for.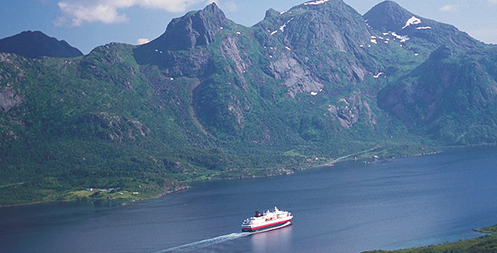 The most popular cruise areas include the Canary Islands, the Caribbean and the Mediterranean, but what of the reaches farther north? The Baltic Sea and bordering countries open their ports to international ships and the people welcome travellers with open arms, so check out these reasons that will make you want to exchange the baking heat for a chilled northern experience.
1. Fjordland Wonders
Departing from Harwich, UK your cruise ship will take you first to Stavanger, Norway – a city that enchants all who visit with its beautiful heather-covered hillsides and old wooden houses. Moving onto Flam (again in Norway), which literally translates as 'little place between steep mountains', you'll get the chance to ride on the steepest railway in the world – and what a view it is
The cruise will then take you to Hellesylt and finally to Bergen in which some very interesting architecture can be found. The vividly coloured houses are absolutely beautiful, so admire these before walking the cobbled streets down to the harbour for a waterside seafood dinner before you head back to the UK.
2. Icelandic Encounter
This time departing from Liverpool, the cruise heads straight out of port to Akureyri, Iceland. This city is set in a stunning location at the base of one of the most beautiful fjords in all of the north. Take a trip to the spa where geothermal pools will warm the body and soothe the mind. For reference all of these itineraries are run by Thomson Cruises and you can find more information on their site.
Onto Isafjord and then Reykjavik, Iceland where the Westfjords peninsula will inspire a unique sense of peace within and, under the watchful eye of Mount Esja, you can enjoy all that the city has to offer. Back to sea and on the final leg of the journey you'll pay a visit to the Orkney Islands, Scotland, and Northern Ireland and then finally back to Liverpool.
3. Baltic Discovery
From Harwich, UK to Kiel, Germany the ship will press on to Warnemunde where you can ride Molli – the famous old steam train and then hit a cafe for some wurst and beer to sate your appetite. A day at sea and then you'll arrive in Tallinn, Estonia. Tallinn is a UNESCO World Heritage site where the city's medieval architecture will transport you back in time.
Once you've had your fill of Estonia you'll be welcomed into St. Petersburg, Russia where for two days you'll have free reign to roam the city at your leisure. Then to Helsinki and Stockholm in Sweden, Bornholm and Kalundborg in Denmark and finally Ijmuiden, for Amsterdam, before heading back home.
If you like the sound of these trips or you've had any experience on a Baltic cruise then let us know your hints and tips in the comments!