Top Best iTunes Alternatives For Windows
Let's face it: iTunes for Windwos ws never exceptionally functional. PC users were not happy with it dated interfce or he lack of functionality. Now that it will no longer be around, it's we will have to look for alternatives. 
What are the options? The good news is, there's no lack of alternatives in the market. There are dozens of music players that are similar by the interface and the functionality to the old Apple's player that has been officially proclaimed dead. 
In this post, you'll find out more about the range of programs for streaming music for Windows and review them one-by-one. 
1. Music Bee
Music Bee is an app that aims to target any kind of PC users – and does a solid job at it. By far, it's the jack-of-all-trades in the world of Windows music streaming. The interface feels slightly crammed – other than that, the program doesn't disappoint. 
The interface of Music Bee is fully customizable. You can move the tabs around, resize the window, and so on. You will be able to add song lyrics, album cover arts, view track specs, and so on.
Music Bee is exceptional thanks to its active community. The tool is used by millinos of music enthusiasts – as a result, the web is full of content dedicated to the software. 
Main features:
Gapless tracks playbacks;

ASIO and WASAPI support;

WinAmp plugin support;

Upmixing and resampling;

Logarithmic scaling support. 
Music Bee is a fast program. It is regularly updated, with a fairly broad documentation. There are a lot of dedicated forums and wikis that'll help you navigate the program.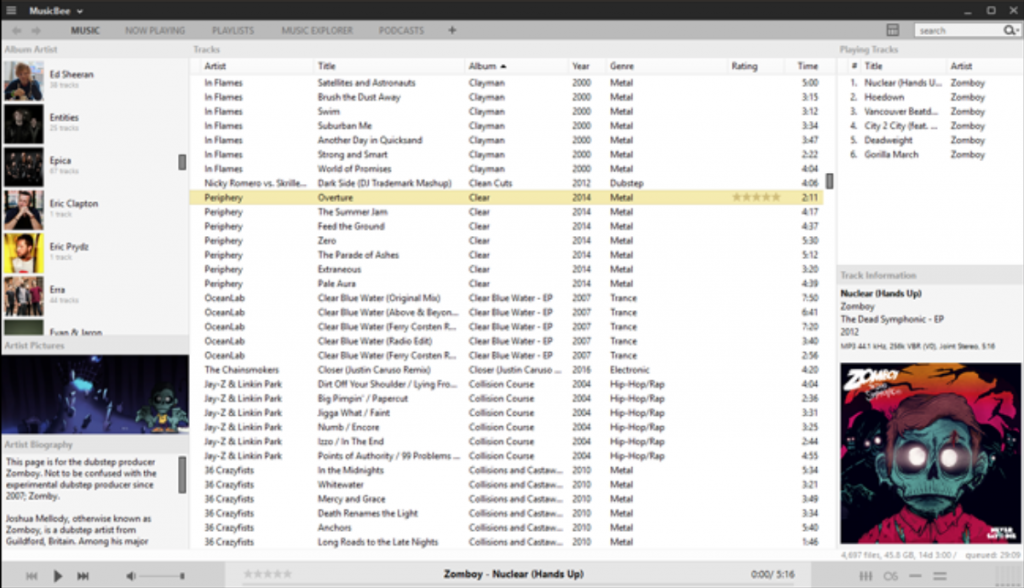 2. Foobar2000
Foobar2000 is mainly known for its customizability. While we mentioned the flexibility of MusicBee, Foobar2000 helps customize every facet of music programs. There are dozens of panel organization options and skins, paired with a rich set of features. 
The users of Foobar 2000 can benefit from CD ripping, autotagging, and extensive plugin support. There are several playback options to play with – you'll be able to really build a player from the ground up. 
Main features:
Advanced tagging;

Keyboard shortcut support;

Wide range of supported audio formats – MP3, AAC, WMA, CD Audio, MP4, FLAC, WAV, Opus, WavPack, and so on;

Gapless playback support;

Plugin support that allows extending the functionality of the tool.
Granted, Foobar2000 is not an easy tool for a beginner to master. The good news is, there is no lack of educating content, forums, and video guides.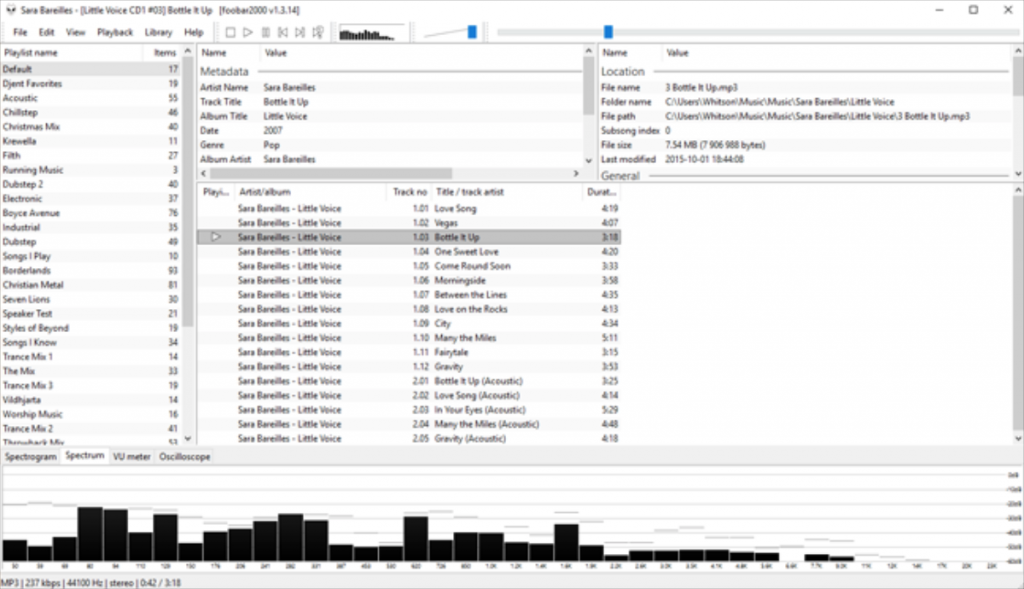 3. MediaMonkey
MediaMonkey is a unique tool that fits the bill of an iTunes replacement. Unlike most Windows music player, MediaMonkey allows PC users to synchronize activities with iOS devices. 
Another signature feature of MediaMonkey lies in its ability to manage large track databases. By large, we mean enormous. Managing a list with thousand entries is a task most players fail at – MediaMonkey excels.
The program has skinning support, advanced auto-tagging and metadata filling features help PC users keep track of all their music. You'll be able to extend the functionality of the tool by adding plugins. 
Keep in mind that MediaMonkey has a limited range of free featues. Paid tools include syncing, file conversion on the fly, smart playlisting, and so on. 
Main features:
Automatically identifies tracks with missing tags;

Uses industry standards for tagging music;

Hierarchial music organization;

Create and manage playlists;

A built-in tool for downloading music and podcasts;

UPnP, DLNA sharing support;

An integrated burner.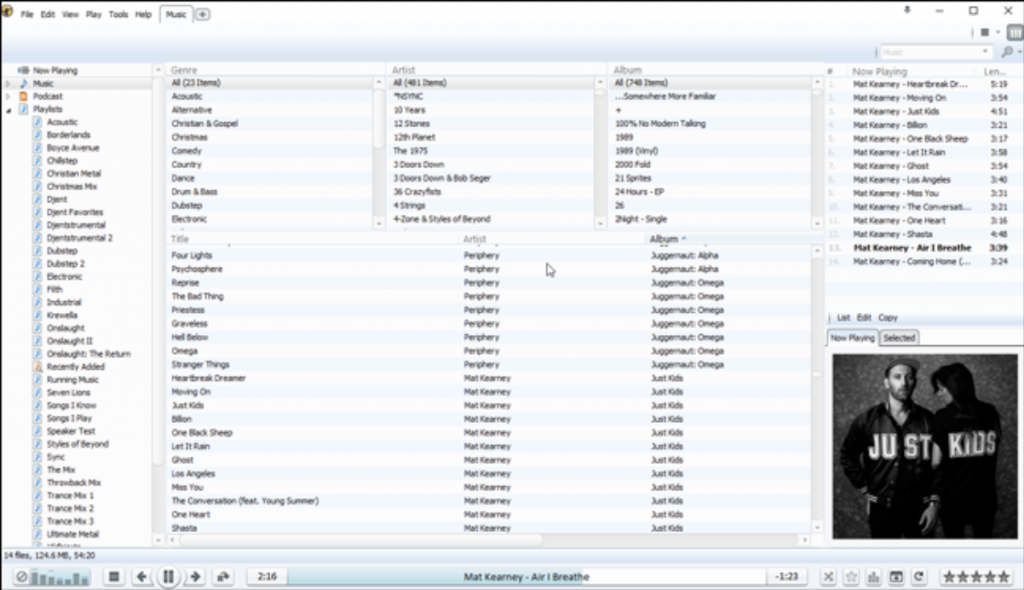 4. Tomahawk
Tomhawk helps PC users benefit from all the features local media library players and streaming services provide. In fact, the program is a mix of both. The range of supported intgretations is enormous – from video hosting platforms like Youtube, streaming services, and social sharing platforms – Hatchet or Jabber.
A tool manages to combine all facets of music streaming into one app that's fairly easy to use. You'll be able to share songs with friends or listen to tracks they are streaming at the moment. Users can also create their own radio stations. 
Due to Tomahawk's exceptional functionality, a few downsides come in the package. For one thing, the process of scanning through multiple tools is rather slow. Also, the program is fairly consuming in terms of system resources. 
Main features:
Track sharing; 

A clear, easy-to-use interface; 

A large database of supported sources;

Open-source license;

Plugin support.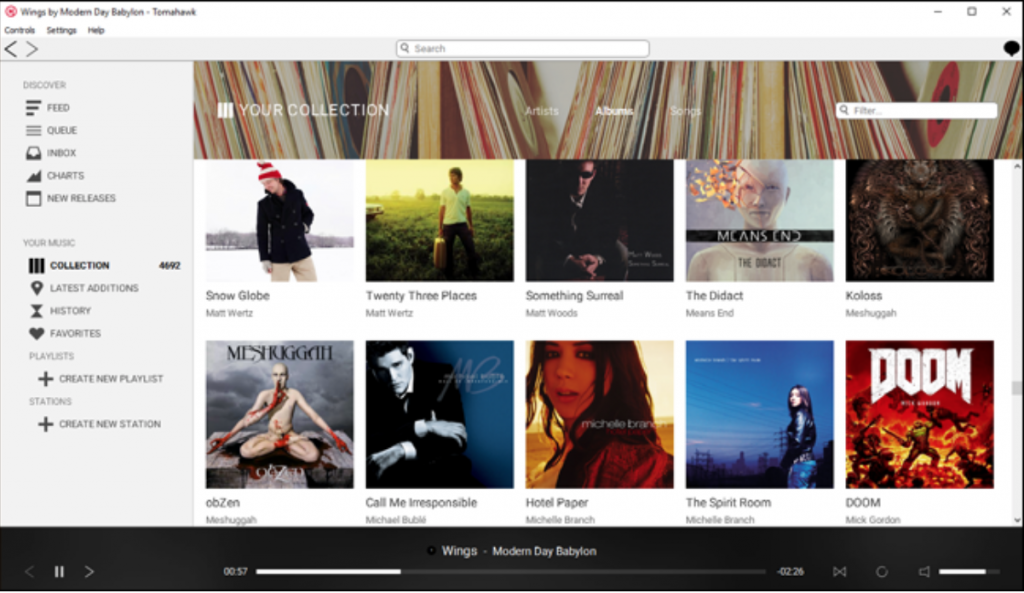 5. WinX Media Trans
WinX Media Trans is a tool for hassle-free music library management. Its main selling points are a high downloading speed and high-level personalization settings. Other than music, WinX Media Trans supports videos, photos, and flash drive files. 
It doesn't have an extensive list of features common for other music-only tools reviewed aboce. Nevertheless, WinX Media Trans uses high-quality compression algorithms – a platform can cut the file size by half without losing its quality. 
There's a range of built-in file transfer and editing tools as well. The rich functionality of the program is well paired with a minimalistic and easy-to-use interface. WinX Media Trans is a solid choice for not-so-inclined PC users. 
Main features:
Synchronization with Apple devices;

Fast download speed;

Fully customizable music library;

Built-in conversion and video rotation tools. 
All things considered, WinX Media Trans is an all-in-one tool that'll tailor all your needs in terms of editing, downloading, or displaying media files.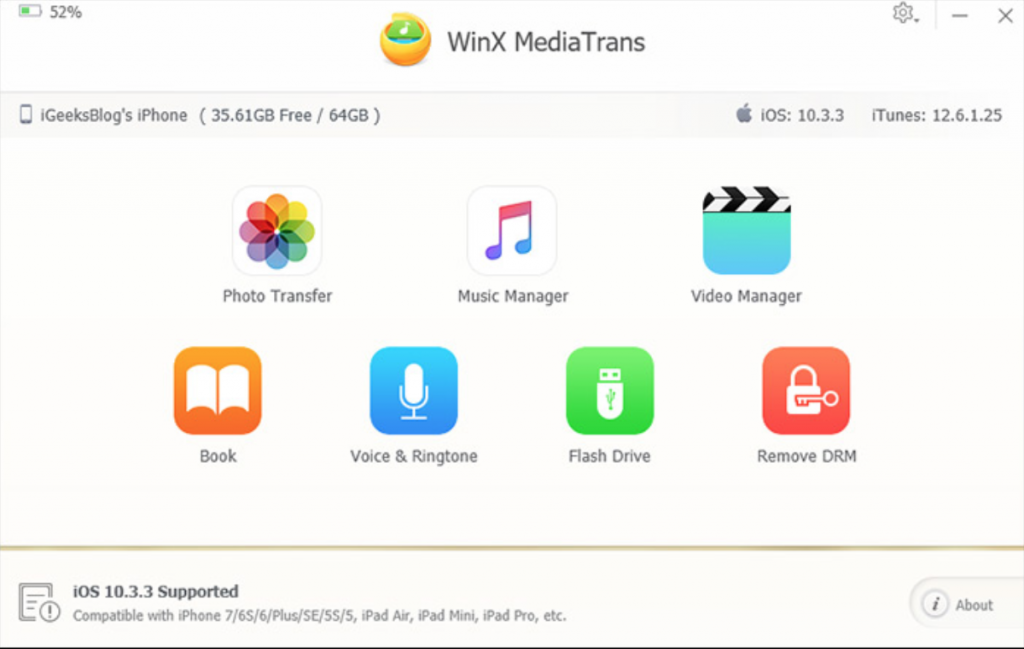 Conclusion
As you can see, it's not too challenging for PC users to find a suitable iTunes 32-bit and 64-bit alternative. There are more than a handful of tools that'll tailor your every need. The key to maing the right choice lies in carefully assessing all available options and matchng them against your expectations. 
Define what you want the player to do, to which degree its performance speed, customization, or populairty of the tool is important to you. With these criteria in mind, picking the right software for playing your favorite tracks should be a breeze.