I'm not sure about the name of these things, but you know what I mean right? The conveyer belt things you find in airports and malls,   where you walk on them and they move in the same direction thereby taking you to your destination even faster?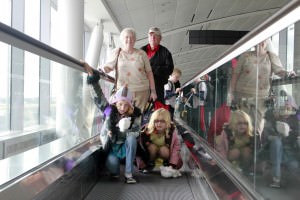 These things should be a joy to use, the perfect partner to anyone who is in a bit of a hurry, they helping us chill out and relax, where a leisurely walking pace can seem like power walking with the ground we cover – who could ask for anything more? Until you see that group of idiots standing there, thinking they're getting escorted from A to B. That's not what they're there for you retard! They're there to speed up our walking, to free up people traffic not to back it up as we  allstand behind you, your fat wife and your obnoxious kid smirking at the fact that you don't even have to walk anymore,   get walking you lazy b*stards. Or, if that proves too much of an effort (God forbid you actually have to exert any energy) then at least stand to one side, or is that too much of an effort too?!
Little do you know that I'm 2 feet behind you, summoning every ounce of self restraint so I don't barge past you, pick you up at the waist and throw you over the side of the conveyer belt, where in my make-believe world everyone would stop and applaud me for removing the fools who refused to walk on the conveyer.
Next time you guys see this, I expect you to dish out some form of mild punishment (nothing too serious, but violence is encouraged). If we act in unison we may iron this frustrating feature out of society before it's too late. Power to the people.