With everyone (rightly) obsessing with the Forbidden City, the Summer Palace, Temple of Heaven and the Great Wall in Beijing, China's Capital has been putting up some pretty funky modern buildings when nobody's been watching! I've spent almost 2 months total in Beijing from my 4 or 5 times visiting here over the years, so when you get your asses here, be sure to check out these 4 pieces of art:
CCTV Building:
The headquarters for China Central Television, this 44 story badboy was finished in 2008. It was given it's nickname by a taxi driver when he first pulled up to it, he called it 'big boxer shorts' and it's stuck ever since. It's found in the Chaoyang district , just north-east of Guomao station along the Third Ring Road, you can see it from all around the city so it shouldn't be too tough to find!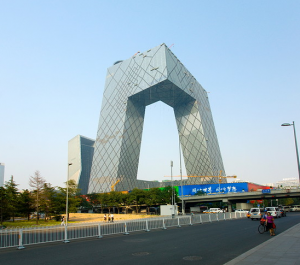 The Bird's Nest Stadium:
Made for the 2008 Summer Olympics, the Bird's Nest is the world's largest steel structure and maybe the coolest stadium in the world?! I was lucky enough to be here in 2008, I watched Usain Bolt smash the 200m world record, great experience! The stadium isn't actually used for sports anymore, more of a shopping complex but you can still enter the Bird's Nest stadium for 50RMB ($8). Take the subway to Olympic green.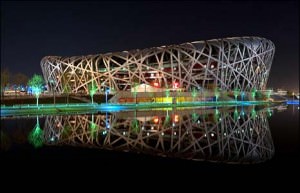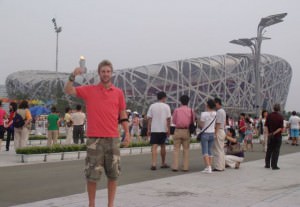 National Centre for Performing Arts:
Walking distance from Tiananmen Square (get out at Tiananmen West subway stop), in the Xicheng district, the new Performing arts centre is home to Beijing's most famous concerts and operas. It was finished in 2007, holds almost 6, 000 people and has a moat running the whole way around. Really spectacular.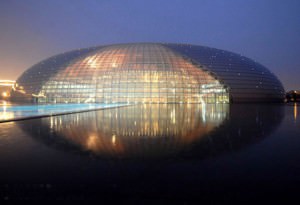 The Water Cube:
The national aquatics centre made headlines all around the world during the 2008 olympics with it's colour changing walls. Nowadays, they still light the cube every night, until 9pm. Tickets are 30RMB ($5). This is next to the Bird's Nest Stadium so you can see them both in one journey.