Home to Bob Marley, some of the funkiest, greenest grass and insane beaches – Jamaica's is a hotspot for package tourism BUT it doesn't have to be that way. Independent travel is easy in Jamaica, and if you can prise yourself away from all inclusive hotels and free bars, you're trip to Jamaica will be a lot more real. So forget rum and cokes and continental breakfasts every day, check out these 5 gems in this awesome country:
1) The Luminous Lagoon: Looks like something from avatar, this natural wonder comes alive through your movement and glows flow. Ready for some science? Rare phosphorescent microbes live where the warm fresh waters of the Martha Brae River meet the salt waters of the Caribbean. The constant movement and flowing of the river causes the microbes to move and glow with a neon-green/blue colour, but you knew that right?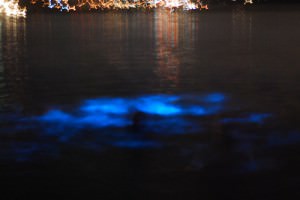 2) Nine Mile: It's a bit of a trek but the birth place of Bob Marley, King of Reggae, is well worth it. The trek is beautiful, and when you arrive you can meet some of Bob's extended family! You can check out his mausoleum too, he had chosen to be laid there long before his death.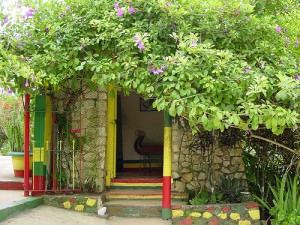 3) Negril Seven Mile Beach: The beach is beautiful but the real draw is 'Rick's Café' at the end of the beach. It serves up cracking food, tasty cocktails and some insane cliff diving!! You can have a bash yourself if you're feeling up to it, maybe after a few more long islands eh?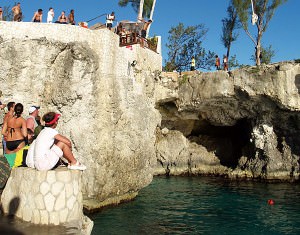 4) Dunn's River Falls: 5km from Ocho Rios on the northern shore you can find one of Jamaica's most famous water fall, Dunn's River Falls. The falls stretch almost 300m, and the park has it's own private beach. Climbing the length of the falls is a real highlight of any trip to Jamaica.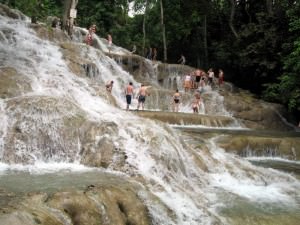 5) Lover's Leap: Tragically, named after a loved-up couple wanting to be together 'forever' in life and death, this is a sight to behold. Over 1000 feet above the water level, there's a breathtaking waterfall and it looks like you can see across the whole ocean.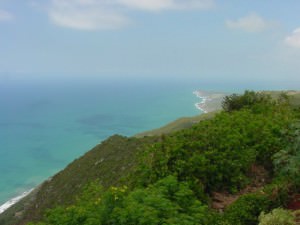 Ok, if a  holiday to Jamaica hasn't just registered on your radar, it bloody well should have! This place rocks. Happy travels!