Adidas is such a successful brand that you can identify easily by just three stripes. For as long as I can remember they have been my first choice of shoe and trainer when I need a new pair, and I am sure that goes for most people reading this article. Adidas just simply make them better than anyone else!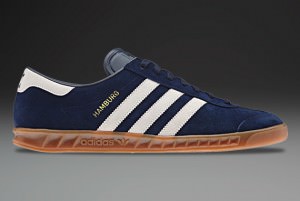 Wether you're looking for running shoes, football boots or a pair of trainers to look great with a pair of jeans, you can be sure of one thing – Adidas has just the pair for you. Over the years they have never failed to inspire us with new collections and now they are bringing back one of their true classics, the Adidas Originals Hamburgs.
The Adidas Originals are probably one of the most iconic pair of trainers they have ever created. When you think of them you ill probably cast your mind back to them being on the feet of nearly everyone standing in the football terraces during the 1980. Now though you are much more likely to see them worn with jeans or shorts, they really do go with nearly every casual outfit.
The new collection that has just been launched cannot be ignored, there are so many colours to choose from. It actually leaves you with a bit of a problem, a good problem, which pair to buy? Thankfully my girlfriend was with me when I went out to get mine so I didn't come home with two pairs I did manage to get permission for two though! If you haven't been out to the shops or checked out the new collection online you need to do it asap.
I'd love to hear about your experiences with Adidas trainers especially if any of you have been lucky enough to already own a pair of the famous Adidas Originals Hamburg! It would be great to get a little discussion going below about which style of Adidas trainer you guys think has been the best over the years and why. All you have to do is put your thoughts and stories down in the comment section below this article – I'm looking forward to reading them all!