ASQ Thailand; My Experience with 16 days in Thai Quarantine
ASQ Thailand. Letters that meant nothing to me just a year ago, now I know all about it. A.S.Q. Alternative State Quarantine. It basically means rather than joining the awful free quarantine that Thai citizens can sign up for, you get an alternative choice to do your quarantine in Thailand in a lot more comfort (at your own expense of course). But as foreigners aren't eligible for state quarantine in Thailand anyway, ASQ is the only way.
Note, I wrote about how people can visit Thailand during COVID, I included a step-by-step guide on how to do it HERE. Check that out, it's not so difficult and the country is now open for everyone.
This blog post is going to discuss my personal experience with ASQ in Bangkok and how I've found it. I hope it helps you guys, it certainly would have helped me understand it all when I was freaking out about how to organise everything before I came back.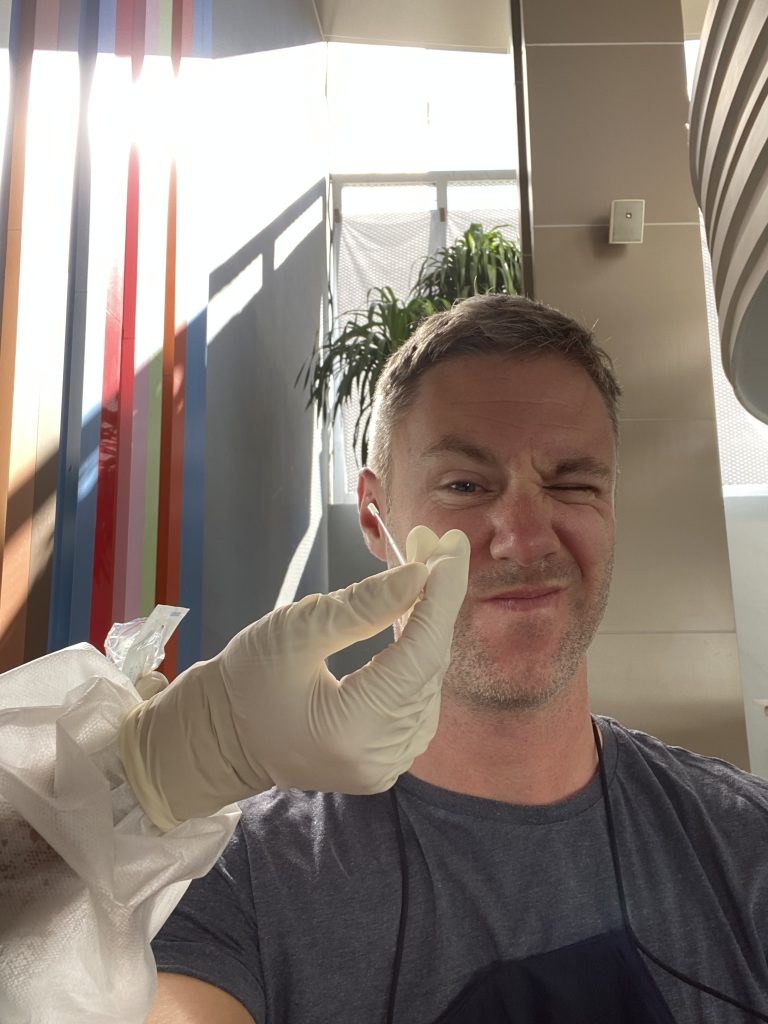 ASQ Thailand; How Does it Work?
If you want to come to Thailand during COVID times, you HAVE to book 14 nights accommodation for quarantine. NO EXCEPTIONS. It doesn't matter if you own a home here or not, if you have special visas or not. Everyone must do either ASQ in Thailand or use the Phuket Sandbox scheme (more on that below). But both of those options entail prebooking 14 days accommodation.
I have written a step-by-step guide on how to visit Thailand during COVID here, but basically, you need to get a 'Certificate of Entry' to allow you in. To get this CoE, you need to have confirmed, and booked, your ASQ. Once you've confirmed and paid the deposit, the ASQ hotel will give you a confirmation reference number which you then input into your CoE application. And you're done.
When you pay for your ASQ, the price includes EVERYTHING you need for your stay:
COVID TESTS
AIRPORT TRANSFERS
14/15 NIGHTS ACCOMMODATION (depending on what time you arrive on Day 1 will determine whether that day counts towards your 14 days)
3 MEALS A DAY
Most ASQ hotels also offer other services. You can rent treadmills, Firesticks for smart TVs, even PlayStations. Some allow you to order food from pizza places, or even 7/11. You can't order alcohol though (although they don't check your luggage if it's been pre-packed. Ssssh).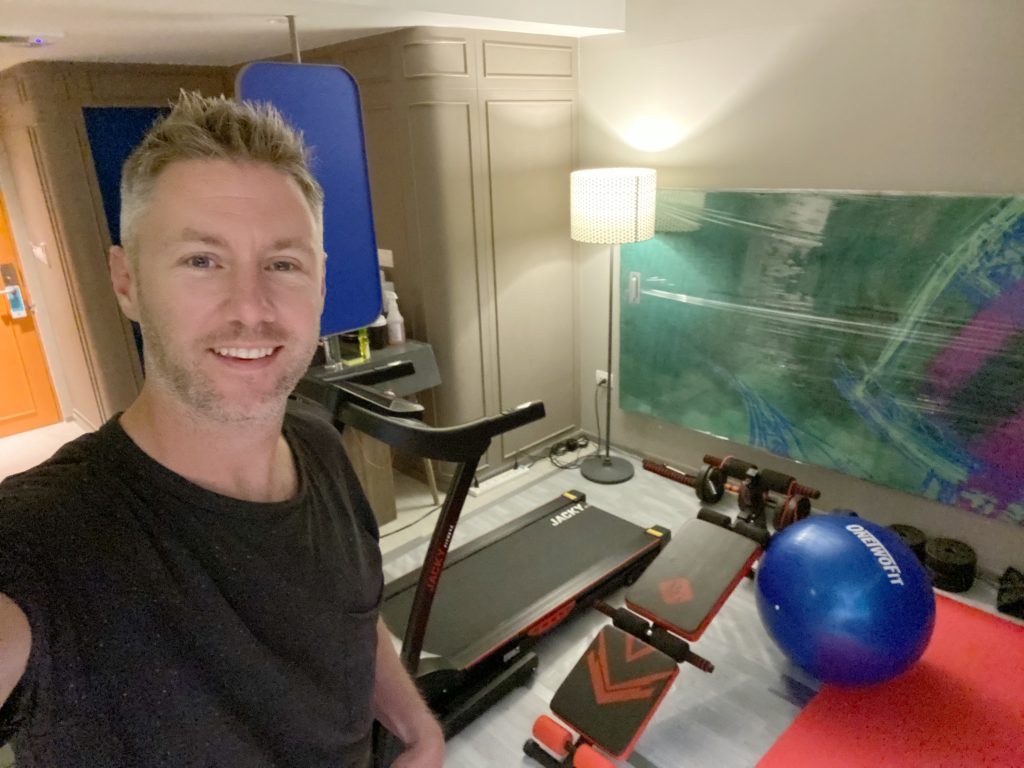 Choosing your ASQ hotel in Thailand
But how do you choose your ASQ Thailand hotel? Well, there are literally HUNDREDS of hotels to choose from. Almost all are in Bangkok. And first, it comes down to budget, and then on how comfortable you want to be during your 2 weeks locked up.
Prices for ASQ in Bangkok start at 26,500 ($800 or so) for the most basic room and can go all the way up to 300,000THB+ ($10K+!) for private villas with pools etc.
All hotels within similar budgets ARE NOT EQUAL. So beware. Generally speaking, if you pay 40,000THB or less ($1,225), you're going to get a basic room and nothing else. Around 25 square meters. Not much space, no facilities. A simple, basic 3* type hotel. Not bad, but 2 weeks would be a long time there. Avoid this if you can.
My advice, 100%, is to invest an extra couple of hundred dollars and get a 2-bedroom suite. Suddenly, ASQ Thailand goes from a chore to a hugely productive, enjoyable experience. I knew I wanted to use my 14 days in Quarantine to the most positive effect. Depressingly, I was out of shape, behind on work, eating badly, not sleeping enough. I know a lot of you can relate to that during these COVID times. And while quarantine was forced upon me, of course, but let's make the most of it.
So I wanted to choose an ASQ option with healthy food, a desk to work, 2 bedrooms, and quality gym/workout equipment. I knew it may be pricier, but it's 2 weeks of my life, so it's worth it for sure. Equally, I didn't want to sign up for anything that was thousands and thousands of dollars. So what did I do?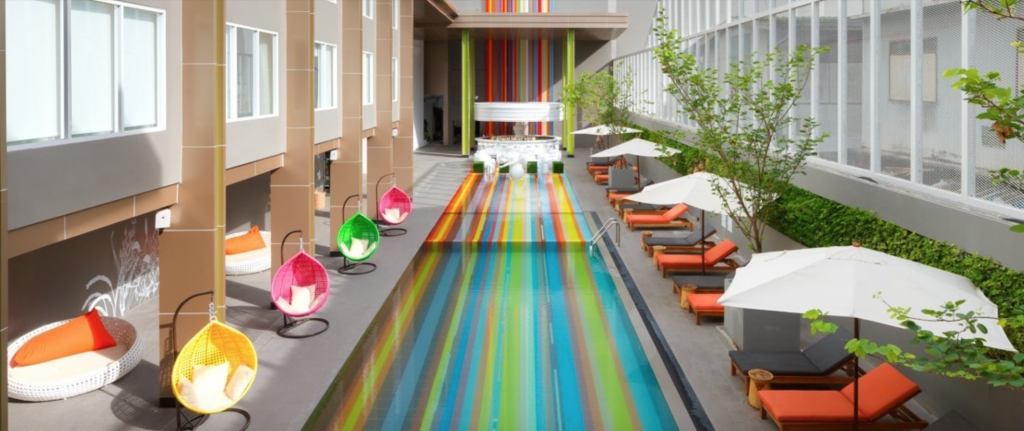 Why I Choose Ibis Styles Khaosan Viengtai?
As I mentioned above, I needed a 2 bedroom suite, not a tiny little 1-bed quarantine experience. So that was rule 1. Rule 2 was fitness equipment. Get healthy and stop me from being bored. And then a desk to work. Get searching johnny boy.
I had seen on a FaceBook page about some hotels actually now offering 'Fitness Suites' as part of their ASQ Thailand package. Perfect, but surely it would be too pricey for me? I did some research, then a lot more, and I found the most comfortable option for me would be 78,000THB ($2400)2 bedroom fitness suite at the Ibis Style Khaosan Viengtai. Better still, since the sandbox scheme opened, the price has now dropped to 51,000THB (about $1500). For 15 days, 3 super healthy meals a day (Western or Asian), 2 bedroom apartment, with flatscreen TVs, fitness equipment, and loads of space? $100 a day! Sign me up.
I sent them a direct email via their website before I started my 'Certificate of entry' process and checked they had availability. All good. Then as soon as my pre-approval for the CoE came through, I immediately booked the ASQ through them directly. They got back to me within literally minutes with my booking confirmation and that confirmation number you need to proceed with your final CoE documents online.
And that was that. Within a week or so I flew from London to Bangkok, and I began my ASQ Thailand experience. So how was it?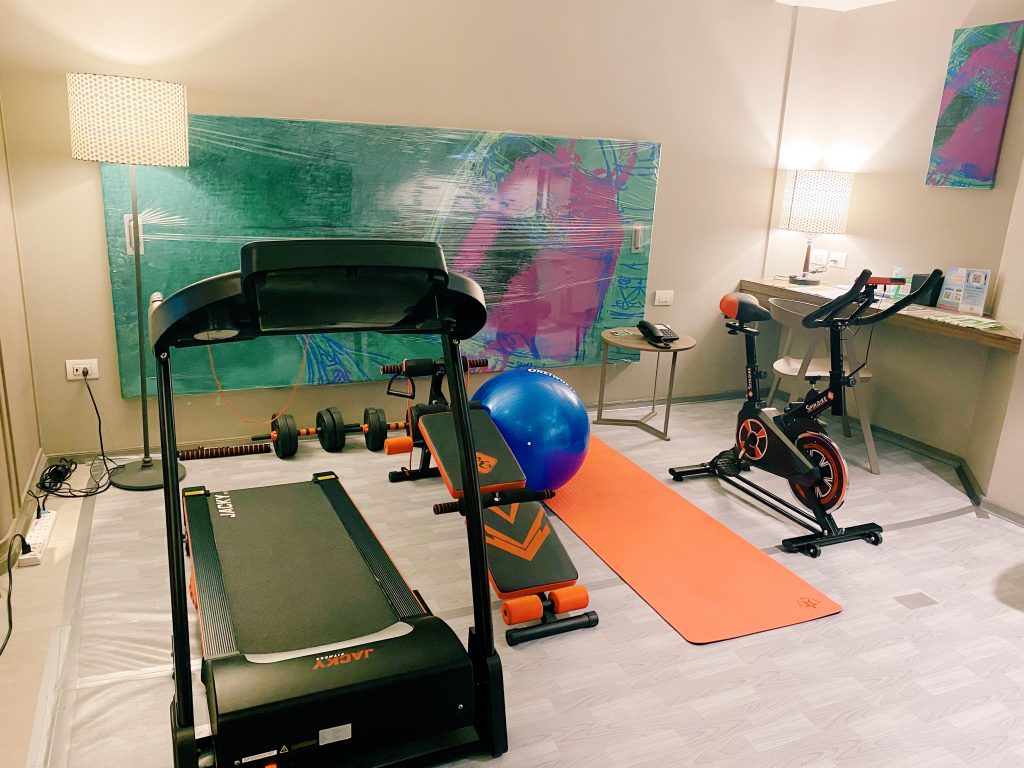 My 15 Day ASQ Fitness Suite Quarantine experience
I was actually kind of looking forward to the personal space, the freedom to catch up with work, do the stretching I always promised myself, running on the treadmill every day and detoxing from booze and sugar, etc. Ok, in a perfect world, I wouldn't do any type of quarantining, but now I have to do it to enter Thailand I might as well make the best of it.
I was upgraded on my London to Bangkok flight with Gulf Air (an amazing airline by the way, and right now you can bid minimum and get upgraded due to lack of passengers!). So I enjoyed my last drinks for 15 days with copious amounts of Champagne in the lounge and on the flight! Soon I'd be landing at Bangkok airport.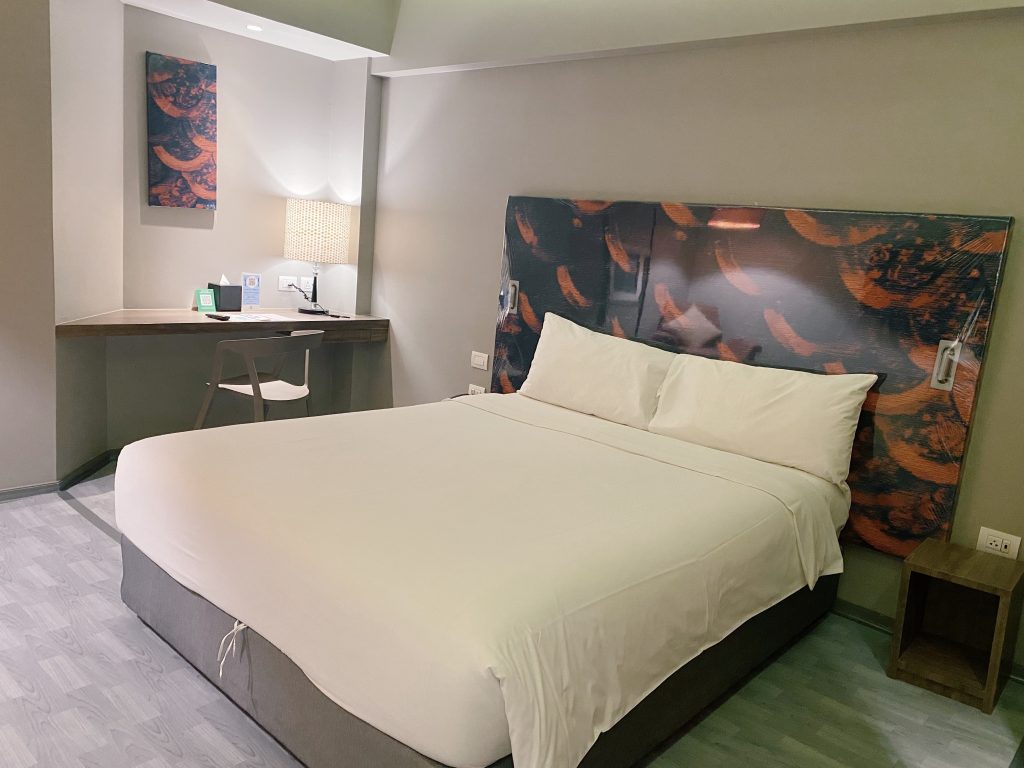 Landing in Bangkok
The flight, like all flights at the moment, was really empty. Because I was biz class I was first off the plane, I was instantly met by 2 or 3 nurses in hazmat suits who escorted me to a waiting area. Here, they'd check all my documents for a few minutes, and have me sit down again. I was issued with a ticket to prove I had passed my paperwork check (checking insurance etc) and then finally, a military guy allows you to walk to immigration. At this point, it's just the normal airport procedures. Stamped into the country, pick your bag up from the conveyer belt. etc.
Once you leave the 'nothing to declare section, there are people from each ASQ waiting for you. They say your name "Johnny Ward?", yup, "Ibis Style Khaosan Viengtai?', yup. Come this way. And you get a private, personal van to drive you to your ASQ Thailand location.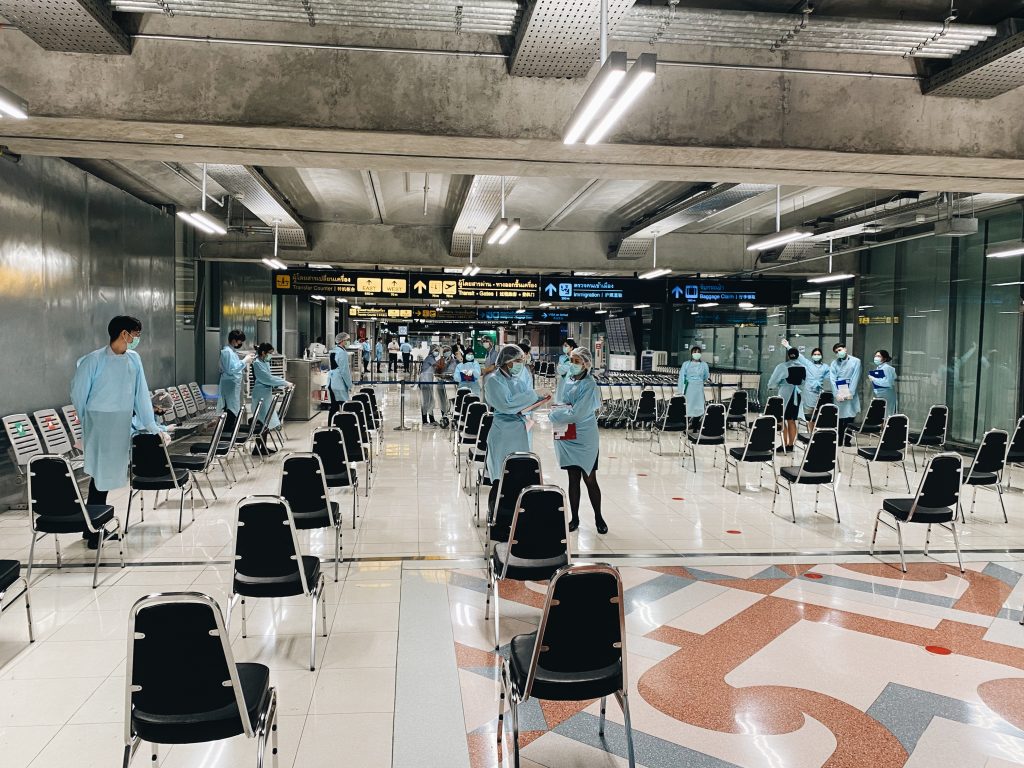 Arriving at the Ibis Style Khao San
I didn't arrive until around 10pm at night. Most ASQ hotels now only work for ASQ stuff, so they have a dedicated ASQ check-in. That means more staff in hazmat suits, they take your bag to your room, and you check in with the lady. She told me all about how the system works. Food is delivered outside your door each mealtime. 3 COVID tests on Day 2,9 and 13. I must use either WhatsApp or Line app (up to you) and you add one account for the nurse, and one account for the staff. You will go on to use both these accounts multiple times per day.
I was escorted up to my room and that was that. Walking into the room was pretty cool. I was excited and a little nervous to see where I'd be spending the next 15 days. Hoping it'd be as spacious and comfortable as the pics had suggested. Yes! It was lovely, thank god!
I did a tour of the 2nd room, all the gym stuff, dining table, desk to work, microwaves, 2 fridges, lots of water bottles. And then I walked through the connecting door to see my bedroom. Another desk and comfy chair. A huge super-king size bed with 3 lush pillows and a proper duvet. Perfect. And a vanity area, shower, and bathroom (no bathtub though, although I knew that in advance).
I was really happy with my choice. I spent the next hour or so setting up all my stuff from my suitcases, hanging up jeans and jackets, etc. Even though I know I'm not going to be wearing them for the next 2 weeks in quarantine but I wanted to feel settled, and prepare myself mentally for being here. 'Home' for a couple of weeks. So yeah, I hit the sack at around midnight, and woke up the next day fresh and ready for the official Day 1 of quarantine.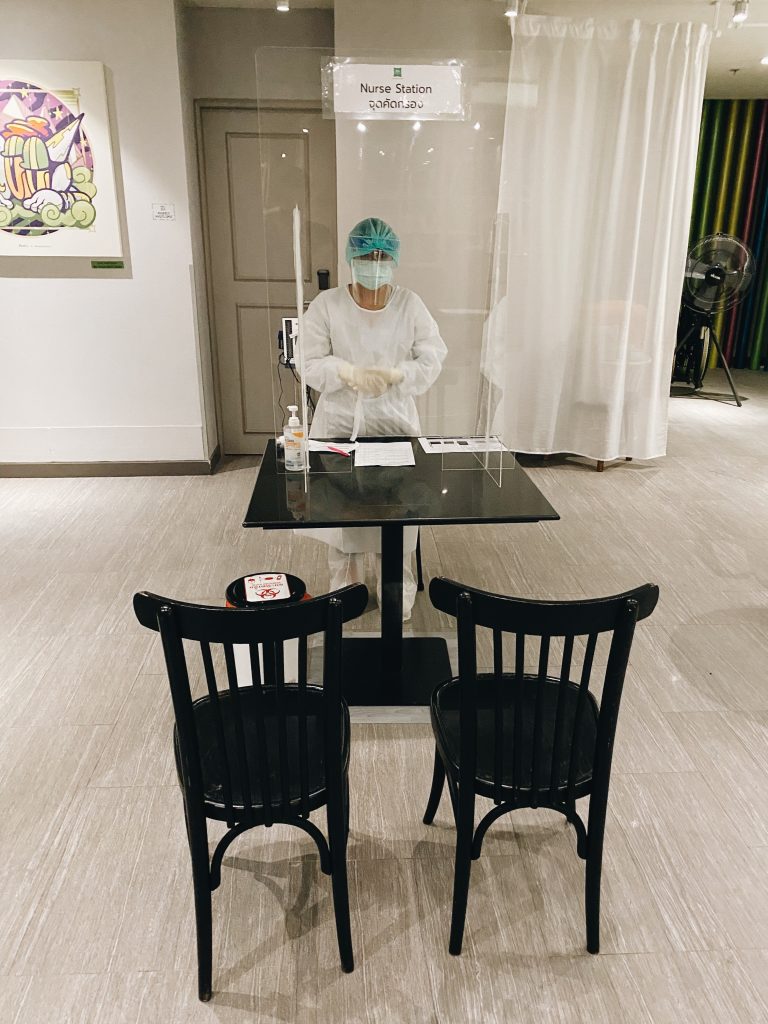 Quarantine Day 1-15
You're probably expecting me to say it was a mental struggle, claustrophobic blah blah? Nope, not at all, not by a long shot. For a start, the 2 bedrooms give me space, mentally and literally. And there was something so relaxing about waking up each day knowing you didn't have to meet anyone, no face-to-face meetings, just work on your laptop, then chill.
Also, with the fitness suite, even though I feel like I'm a lazy person often, and a procrastinator, you cannot fail but work out every day. All the stuff is RIGHT THERE. And what else do you have to do? So I have really enjoyed that. The gym stuff being a few metres from you, so easy to organise and then hop straight in the shower. I had some Protein powder, and creatine delivered too so I was really focused on getting healthier again.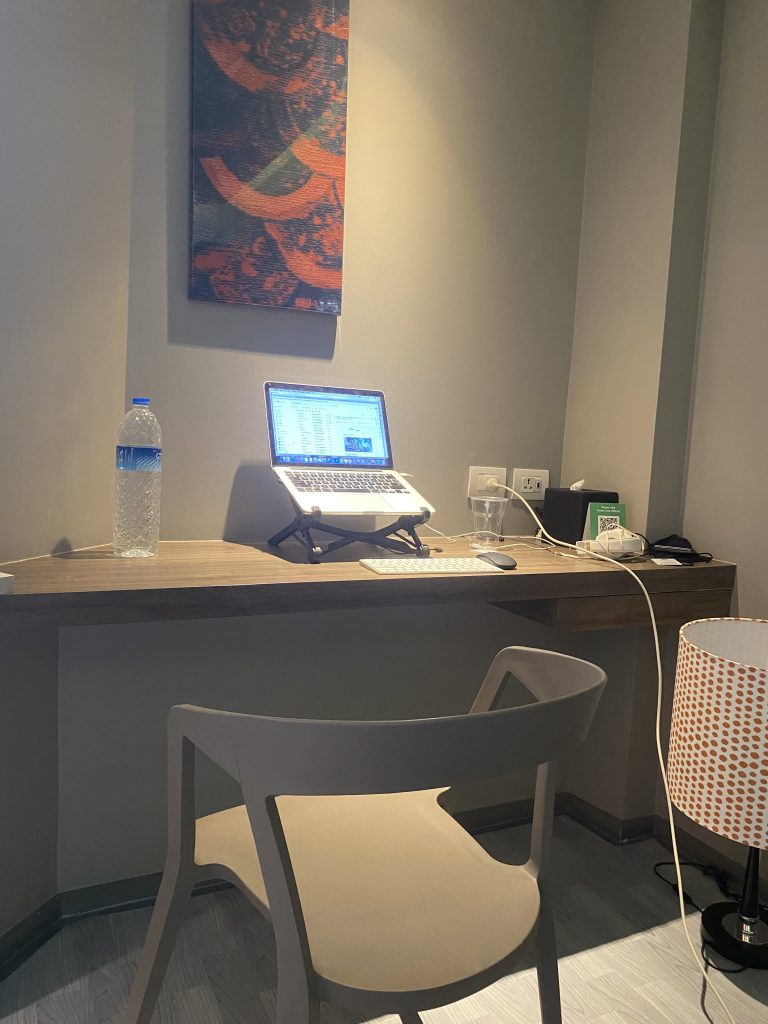 Fitness Suite
So the main reason I choose Ibis Styles Khaosan was for their 'Fitness Suite', one of the best in all of the ASQ Bangkok options. And certainly the best value.
The fitness suite included a yoga mat, exercise ball, and 2 dumbells with adjustable weights ranging from 1.25kgs to 22kgs. Not super heavy, but enough. And an exercise bike. For an additional 3,000THB you can also get a treadmill. I choose to upgrade to this too, I had some serious dad-bod love handles to lose since eating like an absolute pig for 2 months after finishing rowing the Atlantic.
There is also a huge screen in the fitness room too, so you can watch whatever you want while working out, which is great.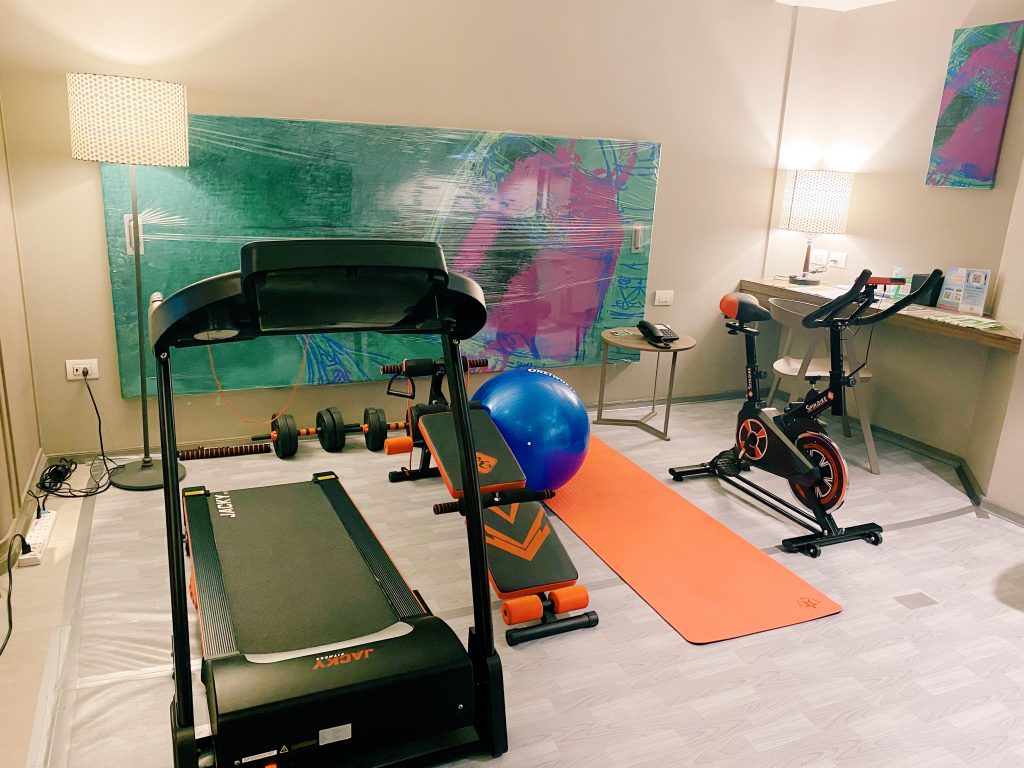 Food
All ASQ Thailand options include 3 meals a day. But by choosing the Fitness Suite at Ibis I was spoiled. If you choose the standard 1 bedroom option (34kTHB I think) you get to choose between either an Asian set menu or a Western set menu each day. Because I'm vegetarian, I also got a veggie menu to choose from. And because I got the Fitness Suite, I also had the healthy menu to choose from! That meant each day, via WhatsApp, I sent my food orders for the 3 meals the following day. And the food was AMAZING!
You also have a room service menu with brownies, coca-cola, smoothies. Which is available 24 hours. And on top of that Ibis Styles Khaosan is one of the hotels that allow you to order food from outside at no extra cost. I was trying to be healthy though, so I didn't do that.
Mealtimes were 7-8am, 11-midday, and 5pm-6pm each day. They simply leave a box of food at your door, give the door a knock and walk on. You walk to the door and grab it, eat it and then leave the leftovers also outside your door to be collected. There's also a microwave included (many ASQs don't include this, beware) so you can eat anytime you want to.
You also have a couple of fridges, and unlimited water/tea/coffee (just WhatsApp them for refills, and you get the magical knock on the door and it's outside within 5 minutes).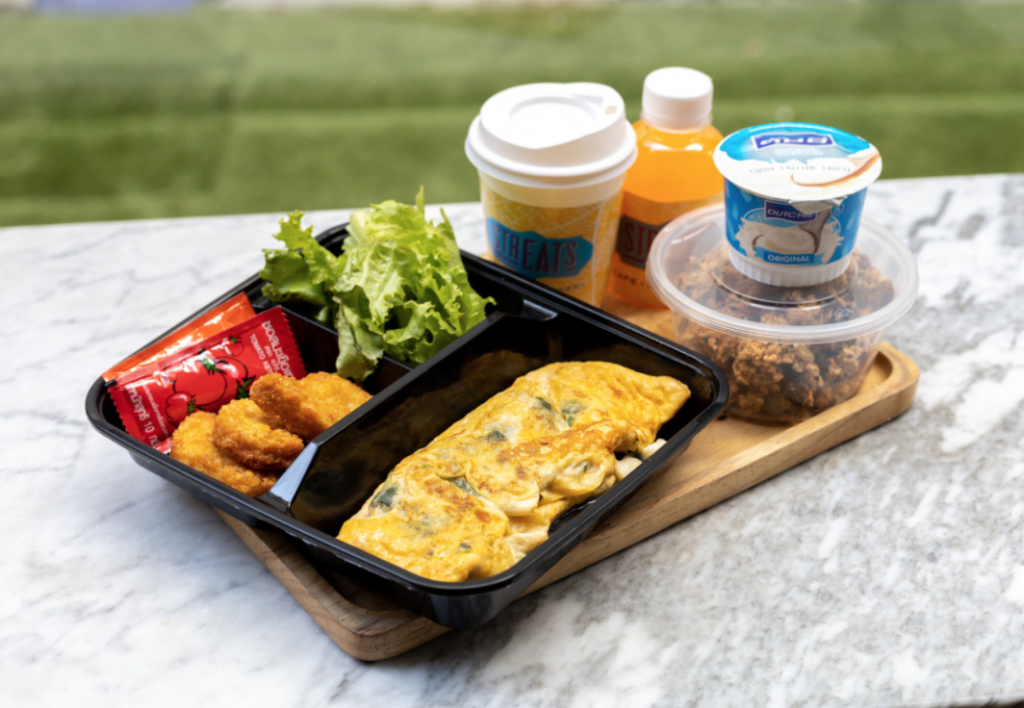 Everything Else (Covid tests, smart TVs etc)
You can rent a Firestick, or something similar, to transform the flatscreens into smart TVs. It's 1200THB to do that. I had inquired about that and instead bought the Amazon Firestick myself for 2kTHB beforehand and brought it with me, much better value. I'd recommend you guys do that too. The internet is great. easily fast enough to stream anything you need and work. And they can give you adapters and plugs etc if you run out (like me).
You also have to get 3 COV ID tests during your ASQ Thailand time. With the Bangkok packages that price is included in your one-off fee. With Phuket Sandbox you have to pay that separately (and it's a rip-off in Thailand, 4,000THB or whatever). When it's time for each test, the nurse WhatsApp you the day before with a time. They then call you 5 minutes before the time and tell you to come downstairs. They do the test, 5 minutes later you're back in your room. Simple (but still uncomfortable getting the thing stuck up your nose!).
Before this new DELTA/Indian variant of COVID, you were allowed to the pool for 1 hour a day after your first negative COVID test. Unfortunately, that's no longer possible. Hopefully, they'll switch back again soon.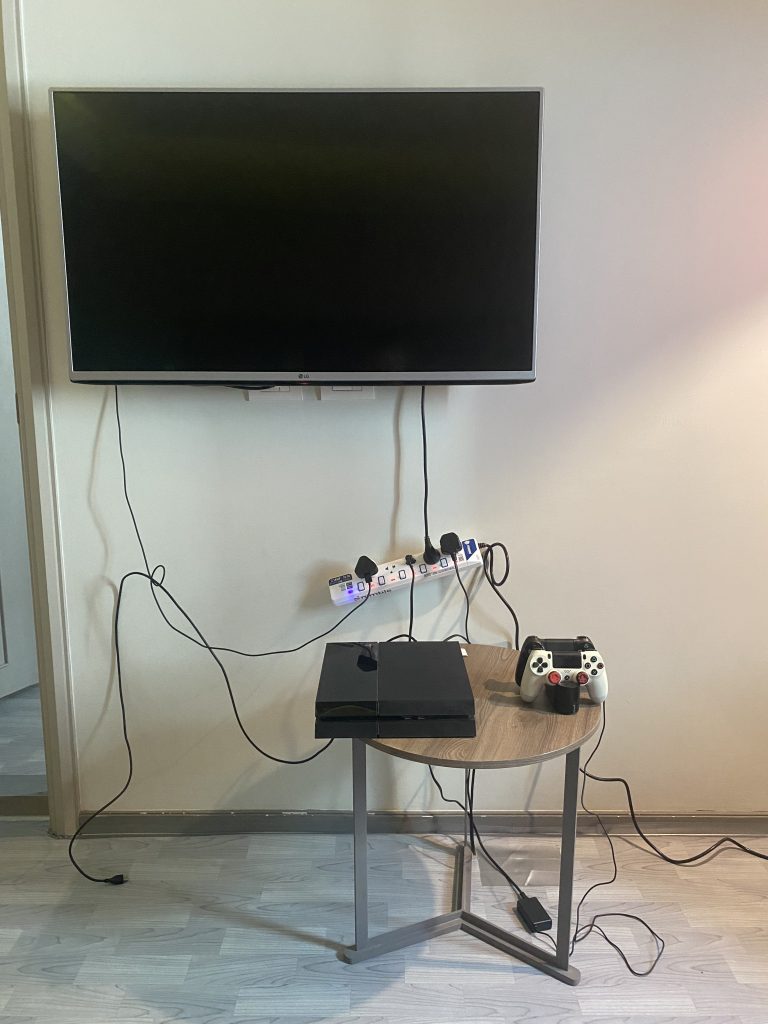 What about Phuket Sandbox? ASQ or Phuket Sandbox?
In July 2021, Thailand introduced the Phuket Sandbox scheme. This was an alternative to the ASQ Thailand options. Basically, you book your 14 days in a hotel in Phuket, but you're allowed out during the day. For me, personally, I did consider this but I wanted to use these 2 weeks as productively as possible.
And with that in mind, being stuck in a suite, in comfort, but with access to the internet and my laptop, and a private gym, 3 healthy meals delivered to my door, I knew this would be a hugely productive spell for me – physically and mentally. If I was in Phuket, I'd be in the pub watching the football, and ordering Pizzas! Also, most things are closed in Phuket at the moment, so it's not exactly the Thailand of old.
That combined with the fact, that if someone on your flight tests positive for COVID, you're 14 days (that you've paid from) are redundant, and you get rushed to 14-day hospital stay in Phuket instead. Ouch. That happened to a group from Phuket this week.
In conclusion, if you have to work, and you're not on holiday in Thailand then for me ASQ is still best. You can be super productive, healthy, and reset everything. But if you're on holiday, then the sandbox option is better for sure.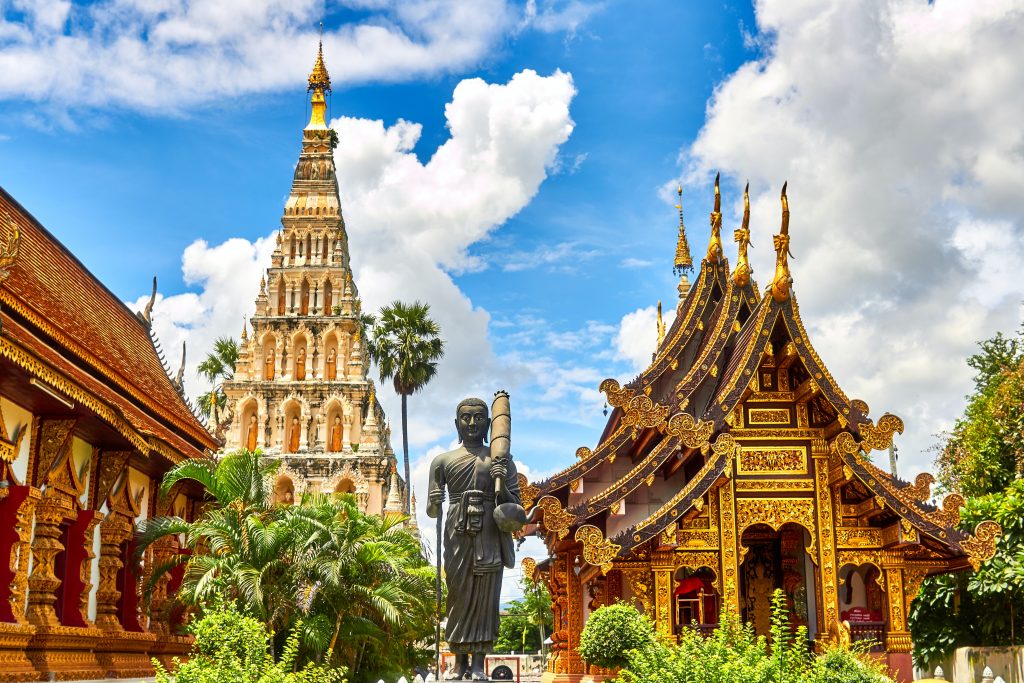 Final thoughts on ASQ Thailand?
My quarantine time is almost up. I've thoroughly enjoyed it, but I'll also be happy to be free again. But what a detox, and what a rest. 2 weeks of positivity. The fitness suite was the best choice I've made in a while – the space, and ease has been great. And the food and amount of water I've been drinking every day has been so good for me too. I knew I would love the mental space here, but it's been even better than I thought. I know a lot of you guys are following me on Instagram and you've said that you'd feel trapped, but if you treat it for what it is, and use the time well, then it's a blessing. Hope this helped everyone. Good luck on your journeys.
Remember, never travel without travel insurance! And never overpay for travel insurance!
I use HeyMondo. You get INSTANT quotes. Super cheap, they actually pay out, AND they cover almost everywhere, where most insurance companies don't (even places like Central African Republic etc!). You can sign-up here. PS You even get 5% off if you use MY LINK! You can even sign up if you're already overseas and traveling, pretty cool.
Also, if you want to start a blog...I CAN HELP YOU!
Also, if you want to start a blog, and start to change your life, I'd love to help you! Email me on johnny@onestep4ward.com. In the meantime, check out my super easy blog post on how to start a travel blog in under 30 minutes, here! And if you just want to get cracking, use BlueHost at a discount, through me.
Also, (if you're like me, and awful with tech-stuff) email me and my team can get a blog up and running for you, designed and everything, for $699 - email johnny@onestep4ward.com to get started.
Do you work remotely? Are you a digital nomad/blogger etc? You need to be insured too.
I use SafetyWing for my digital nomad insurance. It covers me while I live overseas. It's just $10 a week, and it's amazing! No upfront fees, you just pay week by week, and you can sign up just for a week if you want, then switch it off and on whenever. You can read my review here, and you can sign-up here!