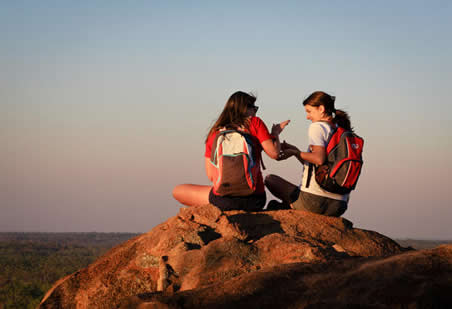 Australia is one of the number one destinations for backpackers and it's not difficult to see why. There's so much to see and do, so many opportunities to earn money and so much fun to be had!
I am sure there are quite a few of you reading this post that have been fortunate enough to backpack around this amazing country. If you have, please let us all know about your experiences – all you have to do is pop your thoughts down in the comment section below this article. If you think you really learnt a lot about the country, head over and take the TUI Austravel quiz to see how much you really know.
I absolutely loved my time over in Australia and it certainly has a special place in my heart, some of my fondest and wildest travel memories were made there. Of course it can be a bit daunting when it comes to packing your backpack and hitting the road alone for the first time, you have so many questions swirling round in your mind – I know I did. For those who are feeling like I did, here are some really great tips that will help you through.
Just Do It!
Ok, so this sounds simple, but the number of people who sit at home thinking about that amazing trip to Australia and never follow through with it would surprise you. The simple answer to this is just to do it! Get online, find a flight that you can afford and book it – then you're all in and there's no turning back. There really is no time like the present, if you have the time and money for the flight then do it. I promise that you will not regret it.  
Budget
This is so important that I can't stress enough how much you have to plan this part of your trip. Making money on the road is never guaranteed, so you need to make sure that you save enough money for the whole of your trip. Trust me when I say that it's no fun at all being in a foreign land by yourself and no money in your pocket.
It's time to start saving and the simple way to do this is to cut out all the luxuries that you don't really need. Forget having that expensive Starbucks each day and pack your lunch rather than eating out, you'll be very surprised by the amount of money you save.  
Bedding Down
Having somewhere to sleep is always important. The good news is that Australia has so many budget options that it will make your head spin. Don't be put off about staying in hostels, they are the best option and give you plenty of opportunities to meet fellow travellers. I met some life long friends in hostels. One thing to be careful with is if a hostel advertises that it is attached to a bar – sounds good at first but not when you're trying to get some sleep!
Fly away and enjoy everything that Australia has to offer, it will be the trip of a lifetime!