Running the North Pole Marathon (and getting stuck in the Arctic!)
"The Coolest Marathon in the World". That's the tag line of the North Pole Marathon, and it's pretty hard to argue with. So yes, I ran the North Pole Marathon. Underprepared, under-trained, and with no idea what to expect. When I first heard about it, I thought perhaps it's some kind of gimmick where you run somewhere cold in Norway or Sweden and call it the North Pole Marathon, but no, it's an actual 42km/26mile official marathon at the actual North Pole, on top of the world.
Since analyzing my next set of life goals, and if you follow me on Instagram you'll know, a big part of them was getting to the South Pole and the North Pole, neither of which come cheap. By all accounts, an expedition to the South Pole costs around $60k, with a trip to the North Pole pushing $25k.
Like many of you out here, a marathon was also something on my bucket list, but I had never run so much as a 5km race before so a marathon seemed a long way from my plans (EDIT 2020: I've since also run 6 marathons in 6 days through the Sahara desert at the Marathon Des Sables and a charity ultramarathon from Chiang Mai to Chiang Rai, 200km for COVID). Then I stumbled across the North Pole Marathon. The more I researched, and the more I read, I realized perversely that this was, in fact, the cheapest way to reach the North Pole.
How Much Does the North Pole Marathon Cost?
Within 48 hours of chatting to my mum, my girlfriend, my buddies I had signed up, paid upfront (10% cheaper that way) and committed. Roughly $20KUSD. It was far and away the most expensive thing I had ever paid for. If that wasn't a financial incentive to make sure you train enough to complete the event, then I don't know what is!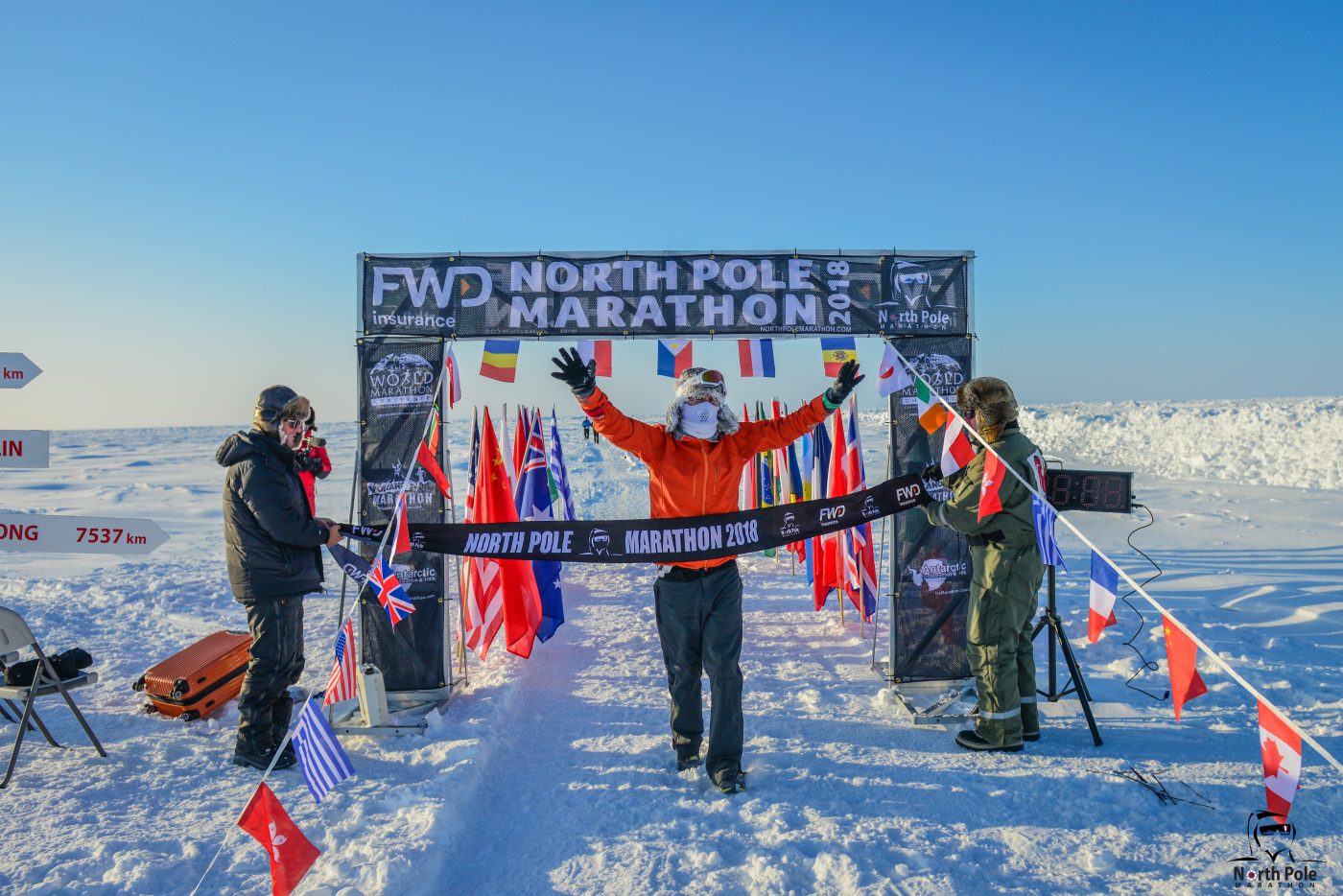 How The North Pole Marathon Works:
The entire event is a logistic miracle. Basically, Russian paratroopers leave on a military plane from the Russian mainland, they fly over the North Pole and parachute down to the North Pole with spades and tents.
There is no land at the North Pole, it's a 3m ice sheet constantly moving over the ocean. The Russian paratroopers manually clear a little area with their tools, then the military aircraft parachutes a tractor in, it clears a run-way on the ice, then a Russian plane lands. They set up tents and before long we arrive on our plane, run the marathon and that's that. Insanity.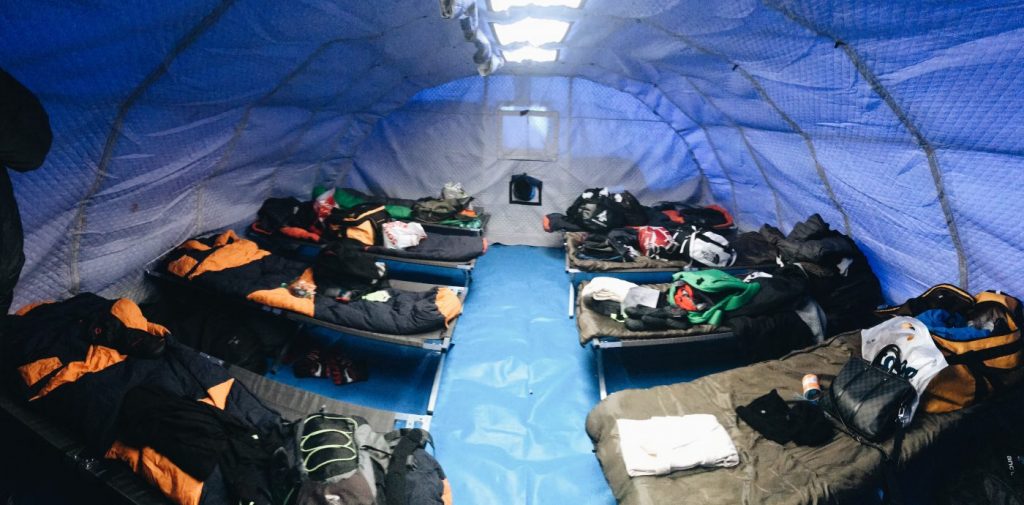 My North Pole Marathon Experience
1st Step: Getting to Svalbard, Norward
The ticket price includes pretty much everything from Svalbard island, a northern Arctic Island belonging to Norway. So first you fly to Oslo, and then fly onwards to Svalbard. Svalbard is actually an epic destination for adventure tourism, I took a 3-day snowmobile trip across the glacier looking for wild polar bears there, you can check out m Svalbard visit here.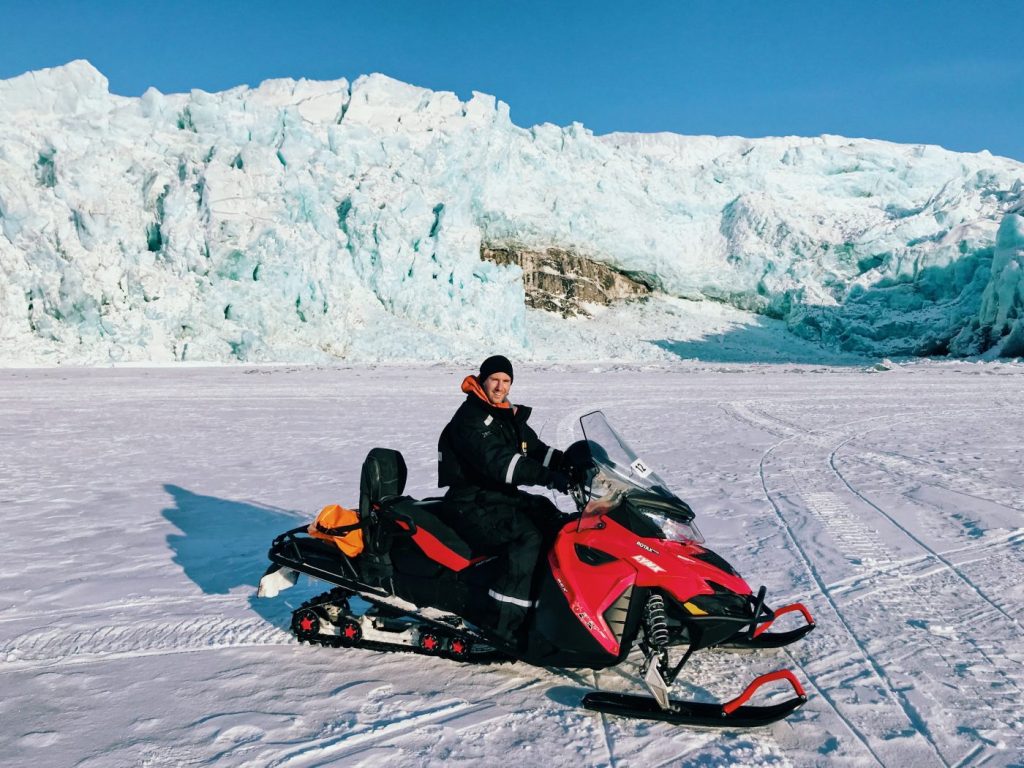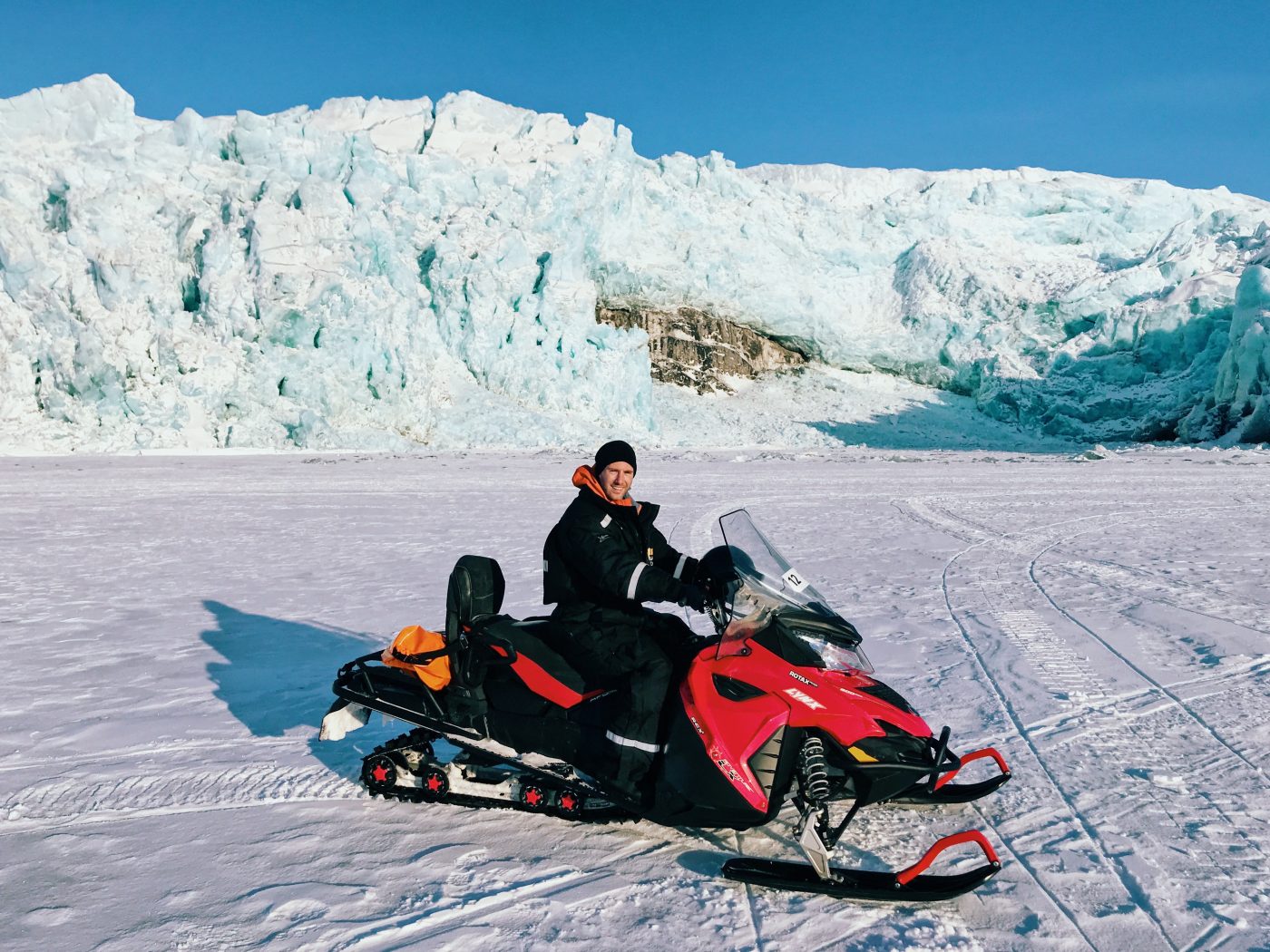 The weather at the North Pole is unpredictable and delays are common. That being said, normally the delay is a day or two. However, as I had organized my Polar Bear expedition, I was flying in to Svalbard a few days early. I was travelling in India, and on the way to the airport in Delhi, the organisers contacted me to tell me there was an 11 days delay as a minimum, no confirmed date had been announced. SHIT! Should I stay in India? Should I fly?! I didn't want to miss my Polar Bear trip, so I took my flight anyway, eventually, everything was confirmed, but not before I was stuck in the Arctic for 12 days. At least it gave me some time to prepare for running in the cold I guess.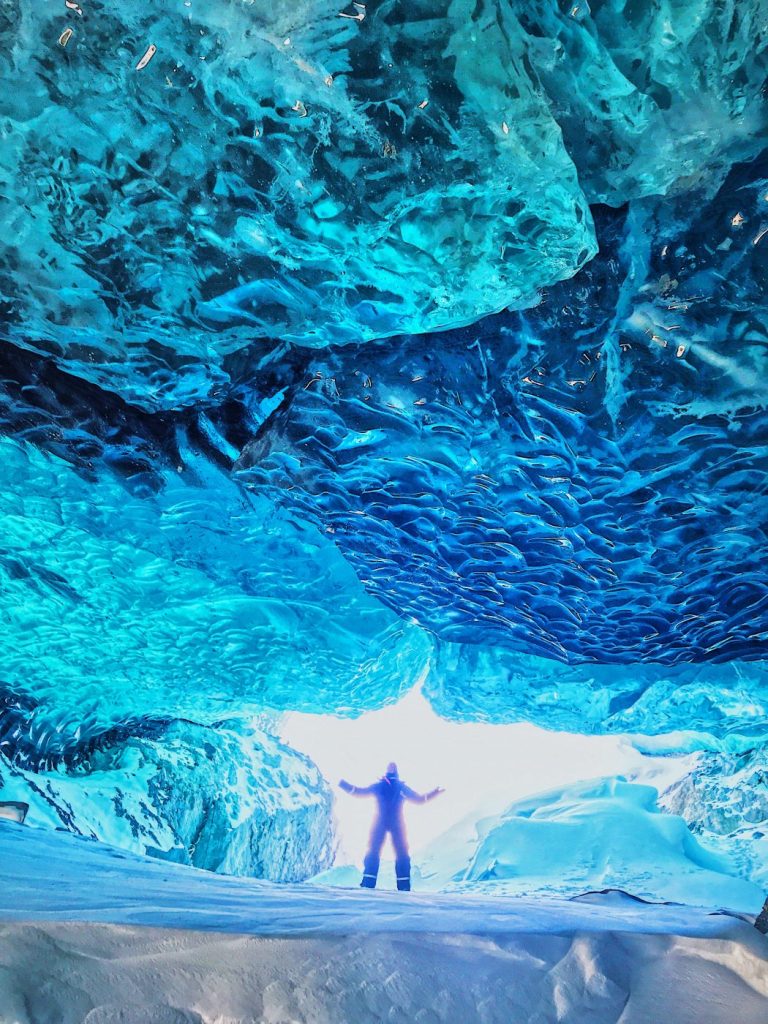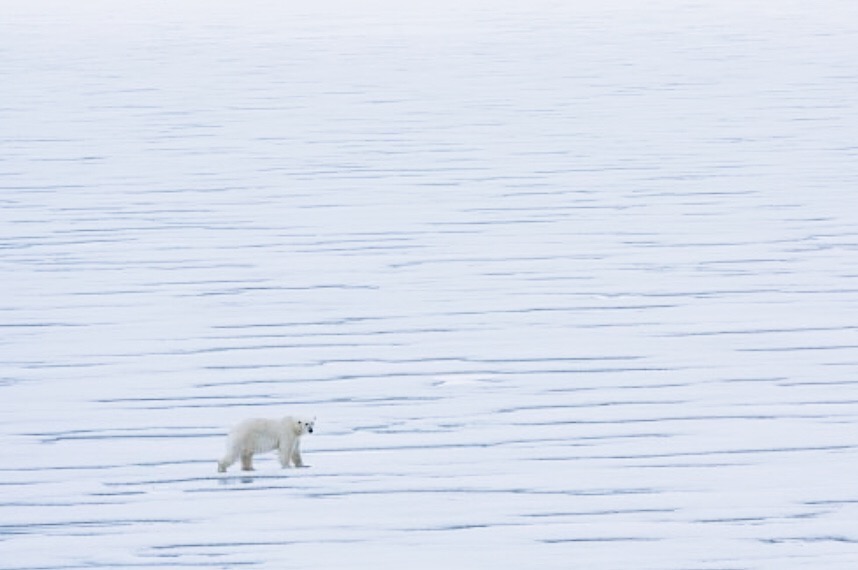 Svalbard to the North Pole
The night before you fly you have a North Pole Marathon briefing at one of the 5* hotels on the island of Svalbard, and the next morning you head to Svalbard airport and get on a private, specialist airplane which drops you at the North Pole. The flight is a few hours, and when you land it's quite the experience. You've never felt so isolated in all your life. The sense of privilege to be there is something truly unique, but of course, it's hard to truly grasp the excitement knowing that soon you'll be running 42km in -40 degrees. Although I want to soak up the atmosphere, all I was thinking was that it was bloody freezing, and how the hell will I run a whole marathon in this temperature, on the snow.
Due to the delay, we had a plan to arrive at the North Pole around 4pm, relax a bit and then start the marathon around 9pm, run through the night, finish around breakfast, and then fly back to Svalbard. From there I'd make all my re-booked flights thanks to the first delay, and I'd be back in time for my charity trip to the Philippines. Ok great.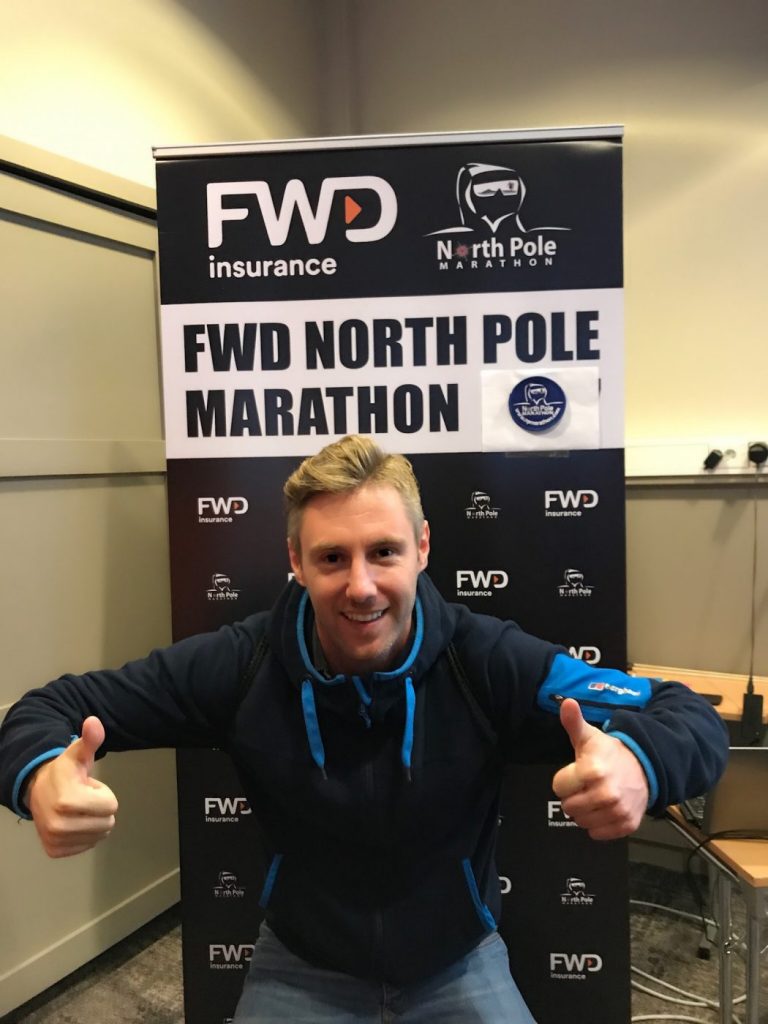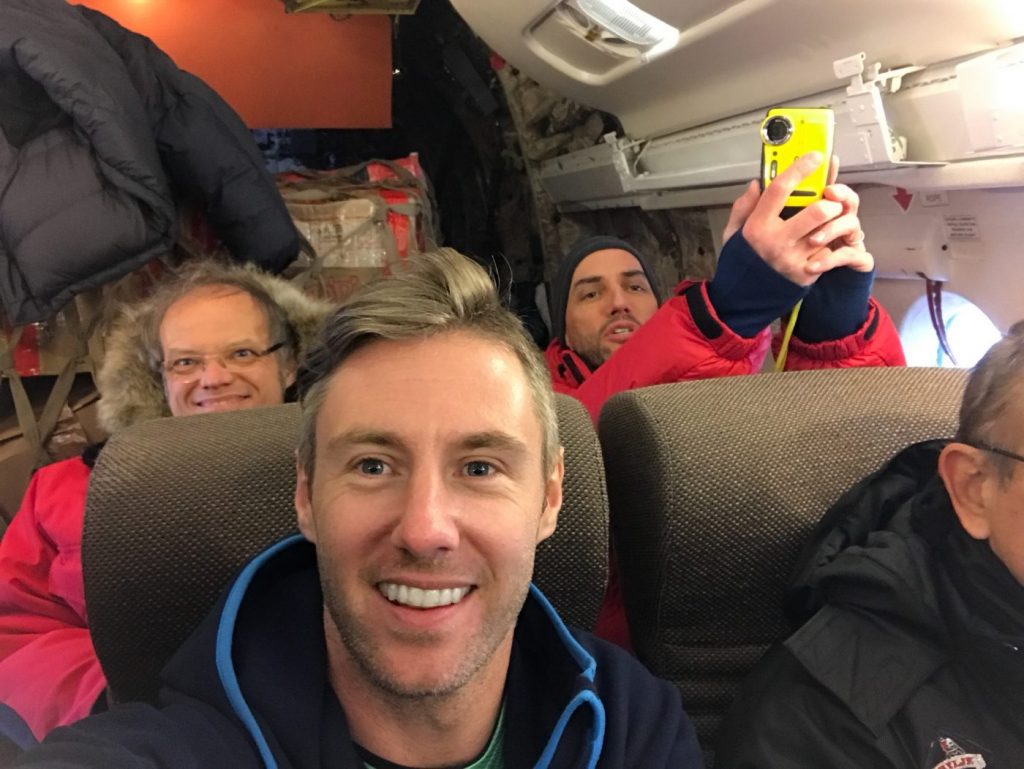 We eventually landed around 7pm, and the Marathon started at about 11pm. Upon landing, we were shown the way to our respective tents. I had fortunately met a few great guys based in Switzerland and bunked up with them, they had experience with ultra marathons, triathlons, cold-running etc so at least I could get an insight into the event ahead.
Because I had been running my charity in India just before flying to the Arctic, I had found myself wholly unprepared in terms of the gear I had. A few friends in Bangkok had lent me their ski gear so I had a borrowed pair of ski-pants, a borrowed Canada goose jacket and 3 last-minute purchases of Gore-Tex sneakers, and north-face thermals. Would it be enough? Literally no idea, but it's all I had so I figured I'd make the most of it.
Preparing to Start the North Pole Marathon
In the tent, an hour or 2 before the race began, reality dawned upon me. I was the least experienced runner in the group of 60+ people here BY A DISTANCE. Word had got out this would be my first marathon (in fact my first race of any calibre more than 100m!) and people were amazed at my courage, but I'm pretty sure that was a euphemism for stupidity. Suddenly everyone started getting changed into their specialist gear. Taking crazy gels, applying rubs and creams, taping specific parts of their bodies, throwing on futuristic clothing, sunglasses, headgear. I was wearing a fake dear-stalker hat I had bought at a local market on a trip to China, for about $1.50, 5 years ago.
I lay on my bed getting more nervous. The gear I was wearing in the plane, the same gear I wore in Svalbard, was literally the same gear I'd be running the marathon in. I had no other stuff. The reality was kicking in. Generously the guys from Switzerland gave me some of their food, then electrolytes, their gels. They took pity on just how unprepared I was, and I was extremely grateful for the generous nature of the Irish!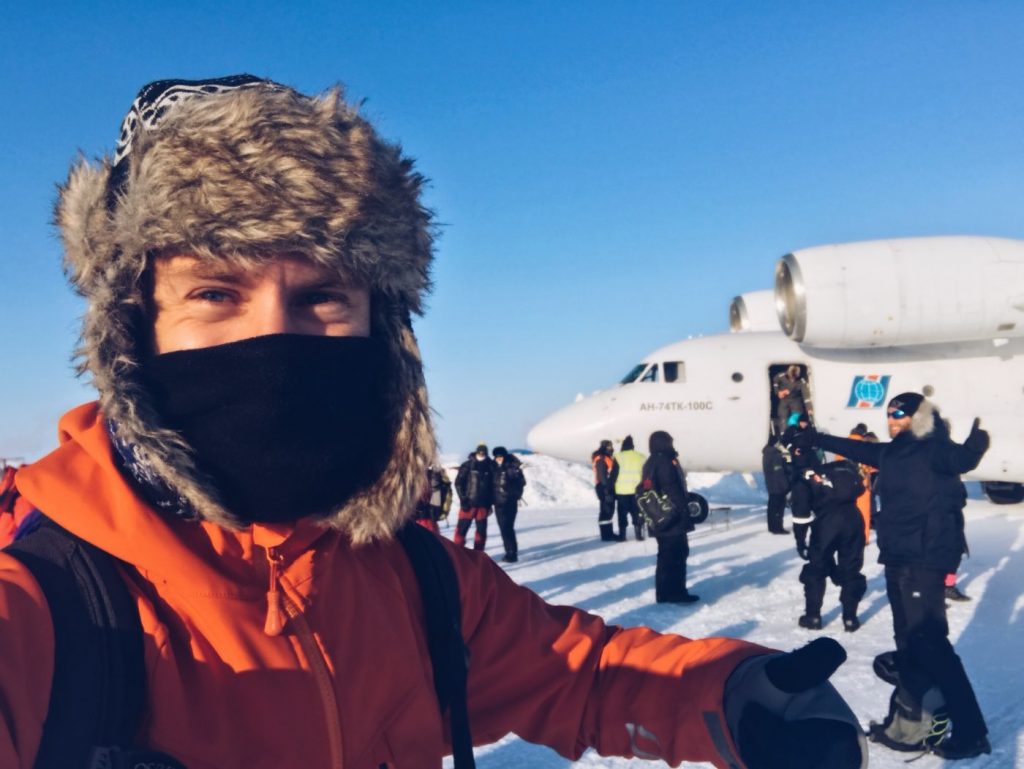 Starting the North Pole Marathon
Soon we were summoned to the race point, the gun went and we were off. The track was 10 laps of 4.2km which I was happy to hear, I constantly break difficult goals into smaller chunks and here it was laid out for me. My plan was to run one lap, take a water break, eat some sweets, start again and repeat. I was hoping I could make the first lap without struggling too much.
Around the course, there are a few armed guards, protecting the runners and camp from Polar Bears, just another thing to add to the mix of thoughts running around my mind in these foreign shores!
It was 11.30pm or so. The gunshot goes, and people were off. Having never run a marathon before, I had NO idea how much to pace myself. And having never run in the cold before, I had no idea how my body would react to extreme temperatures, nor did I know if my gear would be sufficient.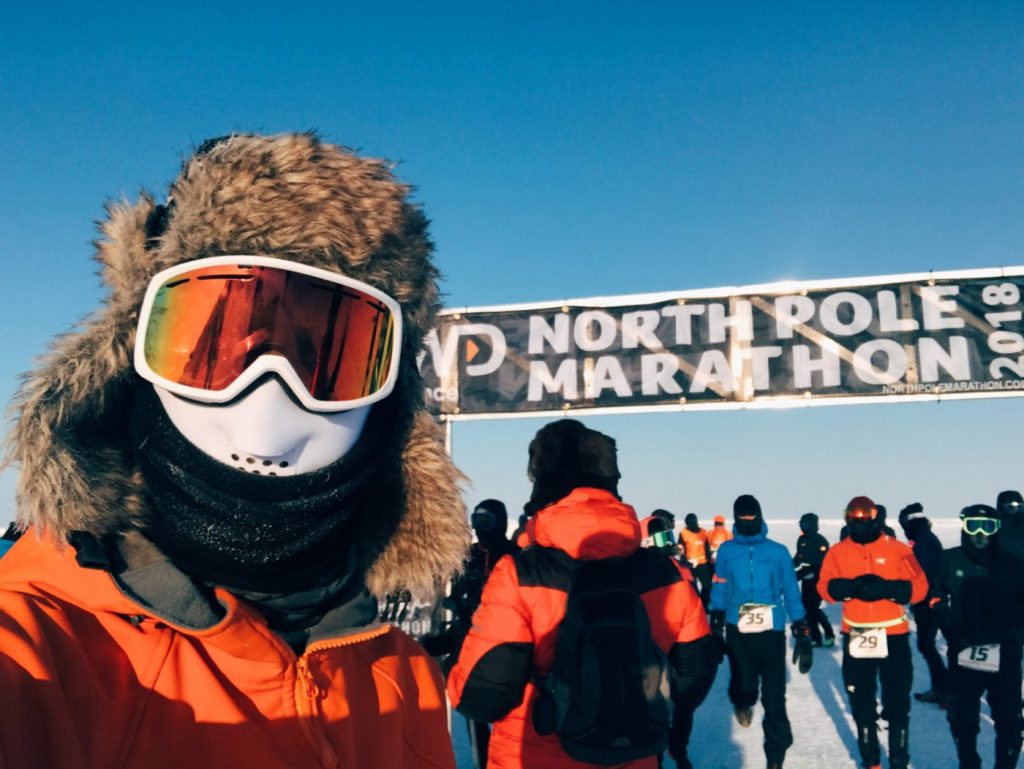 0-21km
Of the 65 or so people in the race, after the first 1km or so I was probably about 50th place. For me, I had told myself, it was about finishing the race. "Don't pay that much money and fail Johnny". But I know myself, and the competitive ego would kick in sooner rather than later. Despite that ego though, I really didn't want to overshoot and die a death half way through the race. My longest training run was about 20km, so after the half-way point, I had no idea if my body would cope.
As I came to the end of the first lap, I thought to myself, this is going ok. 10% in, I'm still alive. My googles are fogging up, but I don't seem to have frostbite, and the pace isn't too hard. Carry on. Stop at the end of the second lap. Maybe I can do 2 laps each time before taking a pit stop to warm up and re-fuel.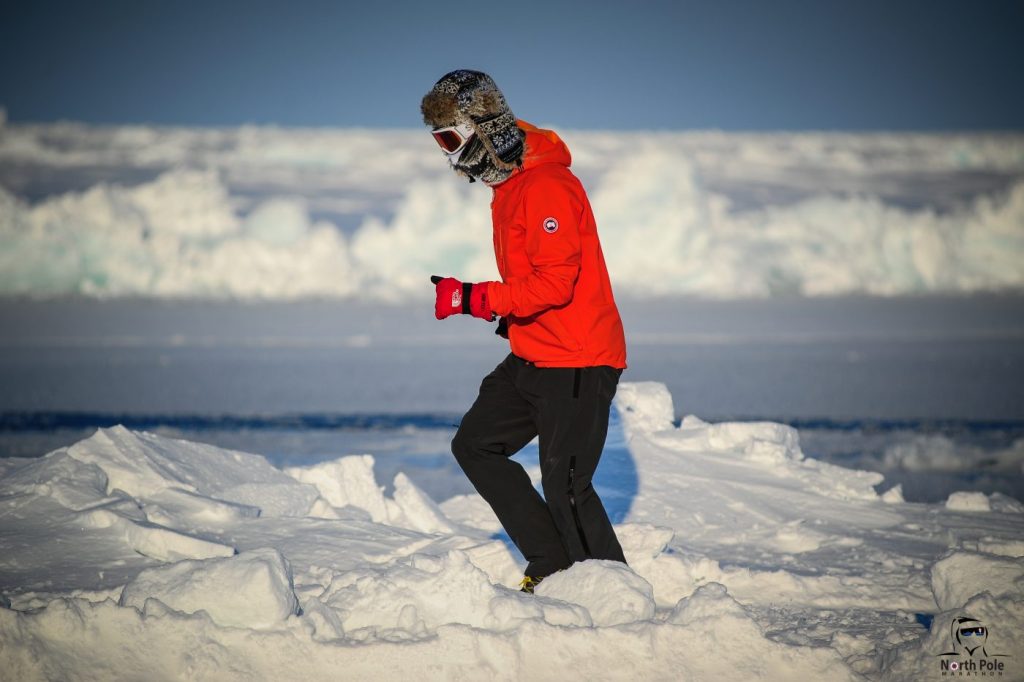 2nd lap begins. The ground underfoot started to cut up, suddenly we were really running in the snow. Each step you took, you didn't know if you'd sink up to your knee or if the snow/ice would hold your weight. I ran the whole second lap looking at my feet and 2 metres in front of me. It was a struggle to appreciate up any of the spectacular views or ice formations. I was in the zone. The second lap was ok again. I picked up the pace a little. My confidence was growing, especially in my clothing. I wasn't too hot nor too cold.
I was tracking people down every few hundreds of metres. By the end of the second lap, I had probably overtaken 5-10 people and may have been in about 40th place. Feeling ok I thought I'd skip my pit stop and do the 3rd lap and then take a break.
3rd lap was more of the same. Conditions underfoot were getting worse, but I was feeling quite fit. My cheap plastic googles had frozen though, and water had entered between the 2 layers of glass and turned to ice. Visibility was only within 2-3 metres directly in front, but in a weird way that focused me further. Constantly searching for a spot of snow that would hold my weight, to avoid falling into knee-deep snow. 3rd lap. F*ck taking a break. I'll make it to halfway. I'll do 5 laps, then re-fuel
Starting to feel the pain
And so I did, I made it to the halfway point. Slowly catching and overtaking. Keep moving forward. By this stage, my lack of race experience began to catch up with me. I figured I was being brave not stopping, not wasting time, but I was thirsty, hungry and starting to get a little cold. Not only that, the weird shuffle-esque run technique on the ice and snow was killing my groin. It felt like I had pulled my right groin on the 4th lap, and then also my left groin on the 5th. I was really in pain, but with my goggle freezing over I was just focused on one step each time. Still, I was catching people. That helped with the pain.
Finally, I reached the half-way point and hit the tent. Refuel. Candy, sugar and 3 painkillers. I was actually really worried about my groin. If I had pulled it, I knew I was in trouble and I was in agony. I didn't speak to anyone. I had planned to stay for 5 minutes. But hot water, more candy, and 5 minutes became a lot longer than planned. They had warned me about this in the pre-race chat. When you escape the extreme temperatures, it's hard to motivate yourself to get going. When 5 minutes became 12 minutes, I gave myself 3 more minutes and then suck it up Johnny boy. Get going.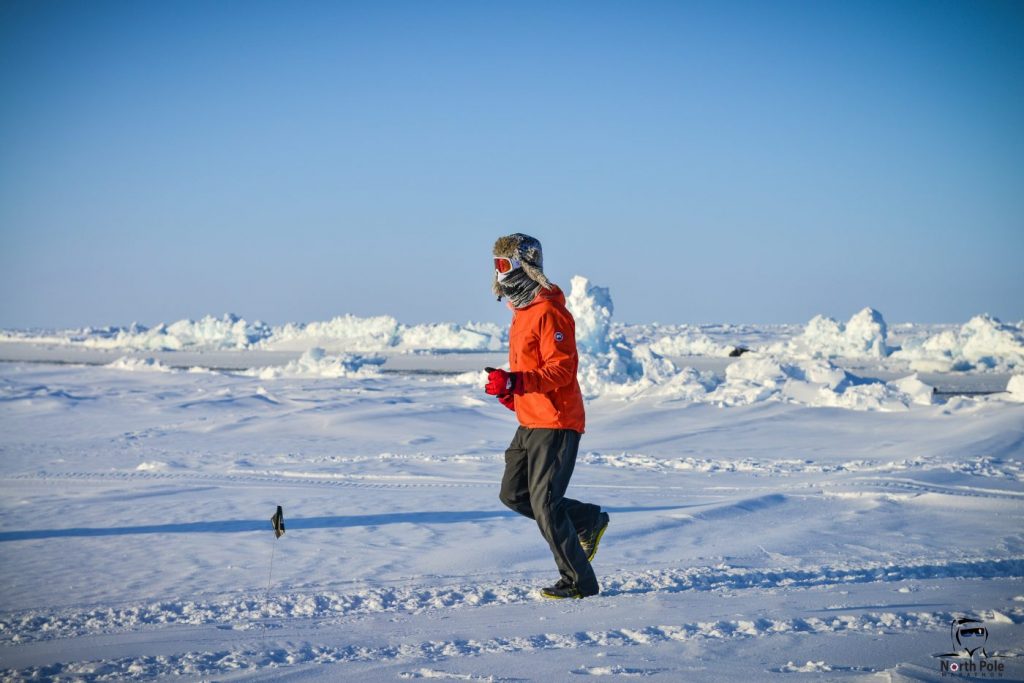 Painkillers and The third quarter
Once I exited the tent, I instantly froze. I couldn't feel my fingers or toes, despite the gloves and Gore-Tex gloves. Furthermore, the ice in my googles had melted and I was now literally looking through a pane of water. The first half of lap 5 was hell. I was thinking that suddenly this had become a lot harder. It felt colder, I was in pain, I had finally cracked and taken a break. Also I had gone past the furthest I had ever run before, this was new territory and it wasn't looking good.
I ditched the googles entirely and instantly felt much freer. Suddenly I could see again, and it gave me a new lease of life. My groin was aching, but the adrenaline kicked in for the second half and it was more of an ache than pain now. Reflecting on that, it wasn't adrenaline at all, but the 2 or 3 painkillers I had smashed 15 minutes ago. I was worried about frostbite on my nose without the glasses but the fact I could see everything, and everyone else, really helped me through.
My 6th lap though was my slowest of all. But now without the google, I could fixate on whoever was in front of me, stalk them, hunt them down, overtake and on to the next one. It became a game for me. Lap 7th. My fastest lap of the race so far.
I had planned to stop after lap 7, then lap 9, then finish the last lap. But I was motoring. The painkillers were working, I could see, and the frostbite seemed to be kept at bay by my warm breath into my scarf. So I did lap 6,7, and 8, after my half-time refuel and then took a break. I had overtaken another 10/15 people. 1 more painkiller, a few candies. I had learned my lesson and this time the break was 5 minutes or less. Get out there and do it. 2 laps left. I was probably in about 15th place with 2 laps to go.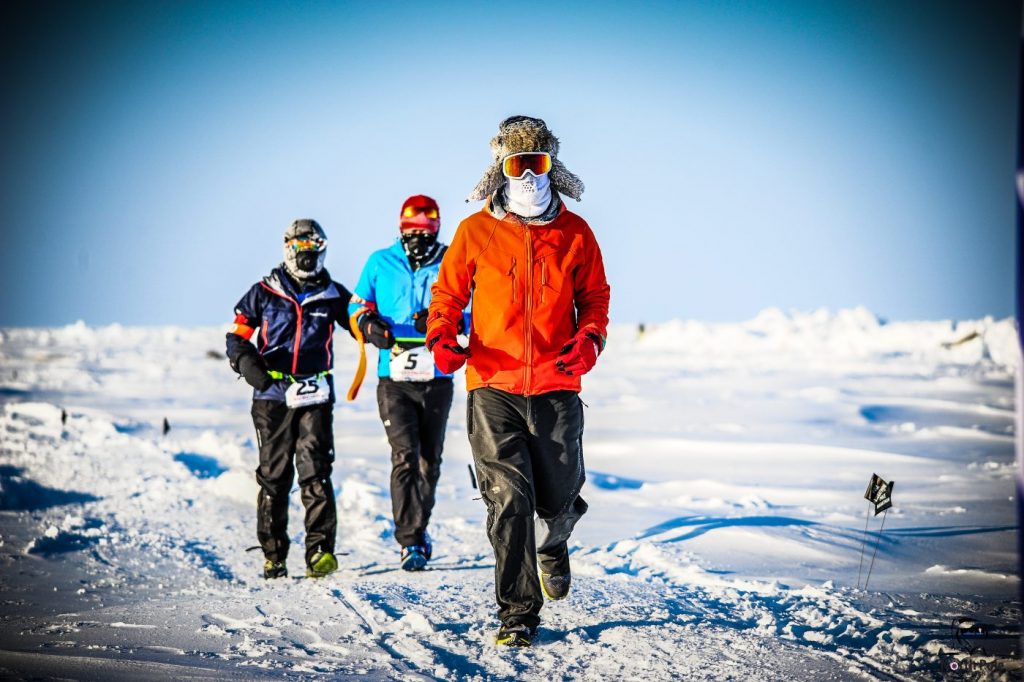 The Last Push
Suddenly it wasn't just about finishing anymore. I had done 8 of 10 laps, things were going well. I had more left in the locker, which was probably due to my lack of race experience, I didn't know how hard I could push it, how to pace myself properly. So I went out in lap 9 and went hard. One. Lap. Left.
I had no intention of taking my planned pit-stop. This was getting serious. I could see 2,3 maybe 4 people in the distance. Aim for Top 20 Johnny, you never know. Now I was really motoring. Not so much of the shuffle now, I could give it everything knowing that I could collapse after this lap. And so I did. Caught one. Then another. About 1km left of the last lap, someone way ahead of me on the round way. I had no gauge as to what my position was but I figured from all the people I had overtaken I must be close to Top 10. This guy was too far in front to catch, but what if I'm currently in 11th and he holds the key to Top 10?!
That last 1km, I'd love to see my time. I practically sprinted down the make-shift runway to catch him. He must have assumed I was the actual race-winner with the speed at which I caught, overtook and then left him behind. Soon I crossed the finish line. Done and dusted. 6 hours or so was my time. I was delighted.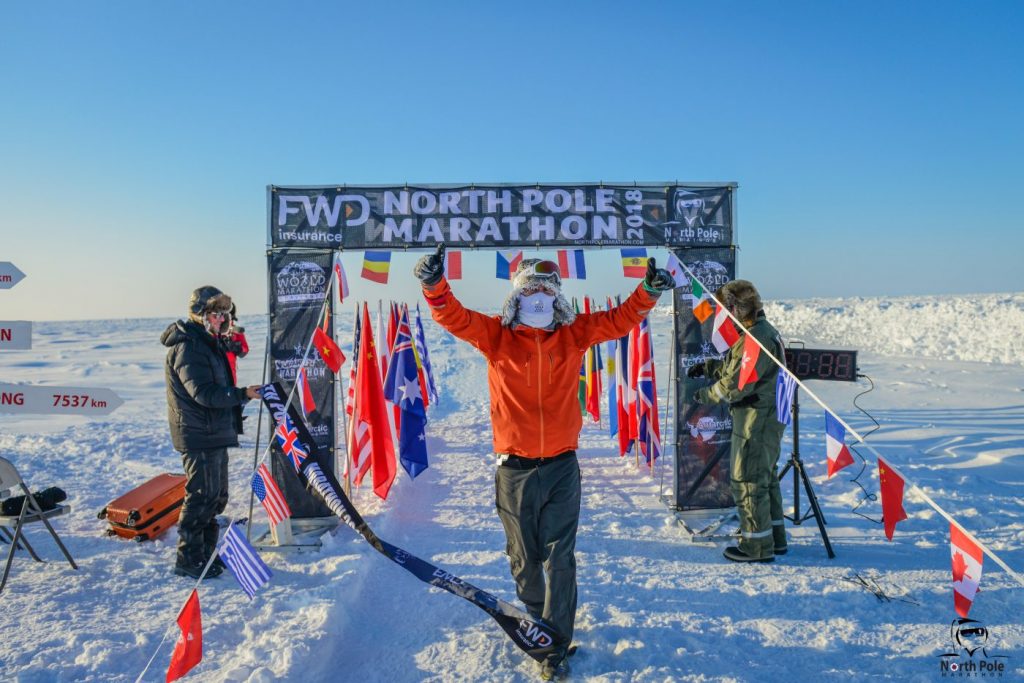 I waddled over to the dining tent to collect my stuff and go back to my tent for a nap. It was around 6am. The sun doesn't set here, we had run through the night and still it looked like midday on a cold winter afternoon. Suddenly the painkillers wear off and my groin is killing. The 60m walk to my tent was painful, just as I enter my tent I look back at the course and see the majority of people still running, suffering in the cold, poor guys I thought. 3 minutes later I was asleep.
After a 4 hour nap, I wake up head back to the tent to see who has finished. Still lots of people are running, 10hours+ now in the cold. They must be hurting. I was due to fly out that day around 4pm so I grab myself a celebratory Russian beer and cheers to the Irish guys who had helped me with my fuelling. The day go past as more and more people finish, more beers, more smiles, awesome atmosphere in the dining tent. The 3pm brief for the 4pm departure comes.
Disaster Strikes, the Ice Runway Cracks
Nothing in the North Pole is easy. There were 2 flights due to leave. One at 4pm that day, and another the following morning at 8am. I had to be on the first flight in order to get my flight onwards to Svalbard, then to Oslo, then to Bangkok and then to the Philippines where I had 20 people from 13 different countries flying in to help us refurbish a school in the jungle. As we were getting told to finish our beers and pack our bags someone whispers into someone else's ear, and another ear, and another ear. The rumour mill began.
The 'runway' had a crack in it, and the pilot had refused to land, he had turned the plane around and flown back to Svalbard, leaving us stranded in the North Pole. I was sure it was health and safety bullshit, so I went to check this so-called 'crack'. WOW.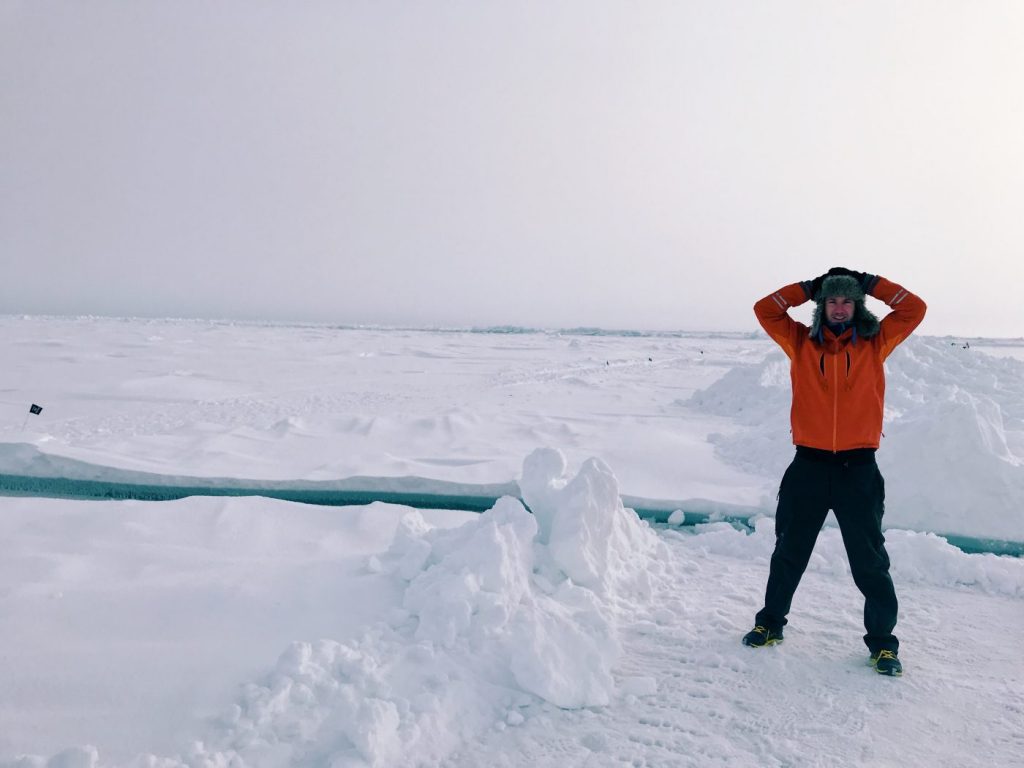 The crack ran right across the runway, and the crack wasn't so much a crack as a river. 2/3m wide. We were stranded alright, no doubt about that. And so I missed my 4 onward flights. Having already missed my first 4 onward flights since the original 12 day delay. 8 flights so far.
On the booze in the Arctic
After an hour or 2 of distraught frantic thoughts of how the whole project in the Philippines is going to be a disaster, how much money all these wasted flights have cost me, I used the satellite phone to tell my foundation that I may miss the start of our project, called my mum to say I was alive. It was then that things looked up. The marathon social media team had updated the race results on Facebook and, thanks to the Sat call to my mum, I discovered I had finished in my Top 10 target. I finished 8th! Suddenly the missed flights were at the back of mind, I was delighted with that result. My first ever marathon, training in +40 degrees for a -40 race. 8th was just fine.
So the beers flowed all night, other people drowned their sorrows of missed flights, connections, hotels and work meetings too. It was a great evening. Next morning came and I woke up a little groggy in my tent around 10am. The French lady in the bed next to mine and I went for a walk to inspect the crack on the runway.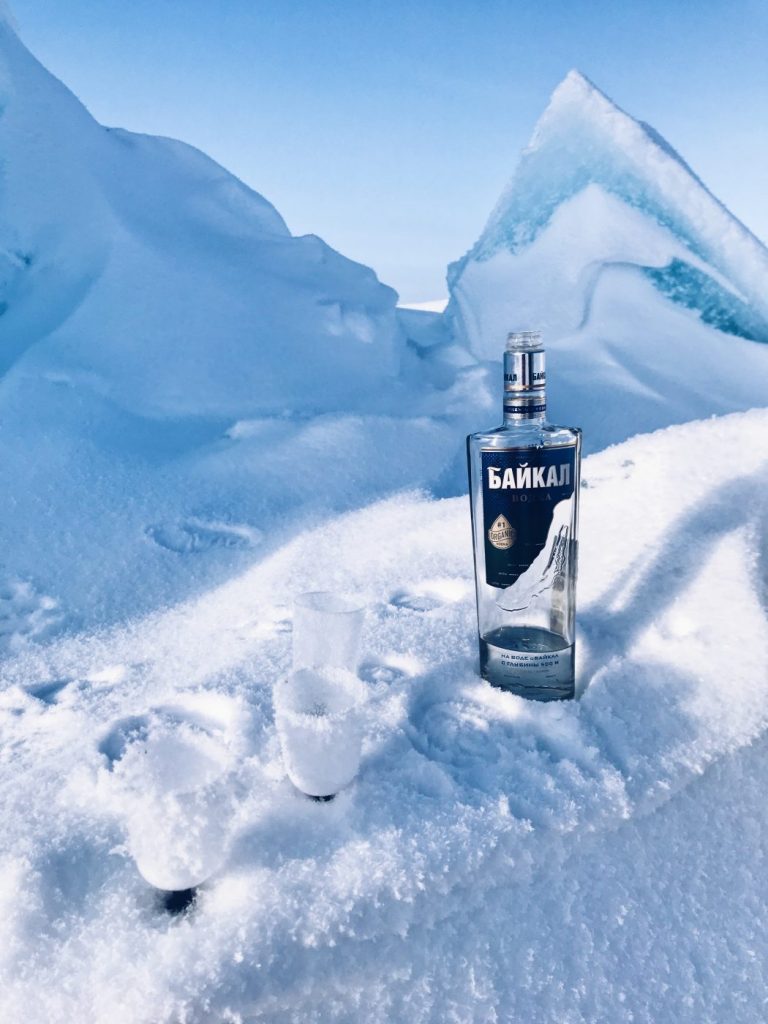 A new runway built, and a new crack!
It was larger. Like a full-blown river. No flights coming today, that's for sure. And the rumour mill began again. The Russians began working on extending the runway. Hacking away at the huge ice formations, they had been working all night. Soon the rumours reached fever pitch. The new runway that would allow our escape from the North Pole was now officially unusable. Another crack had formed on the new runway. FUCK.
Communication from the official channels was scant, so a few of the guys and I went to collect the flags from the race, and use that as an excuse to check out just how bad this new crack was. Hopefully, the rumours were exaggerated. Ermmm, yeah:
So things weren't looking good. More beers, more travel stories. By this stage, people had come to terms with the fact we're stuck here. A few more frantic members of the group were concerned the piece of ice we were stationed on was breaking up more and more, and after hearing that, I'd be lying if I wasn't concerned. A huge crack to the south, one to the North. If we discover a 3rd one through the middle of the camp? What then? And how in the hell will we ever leave?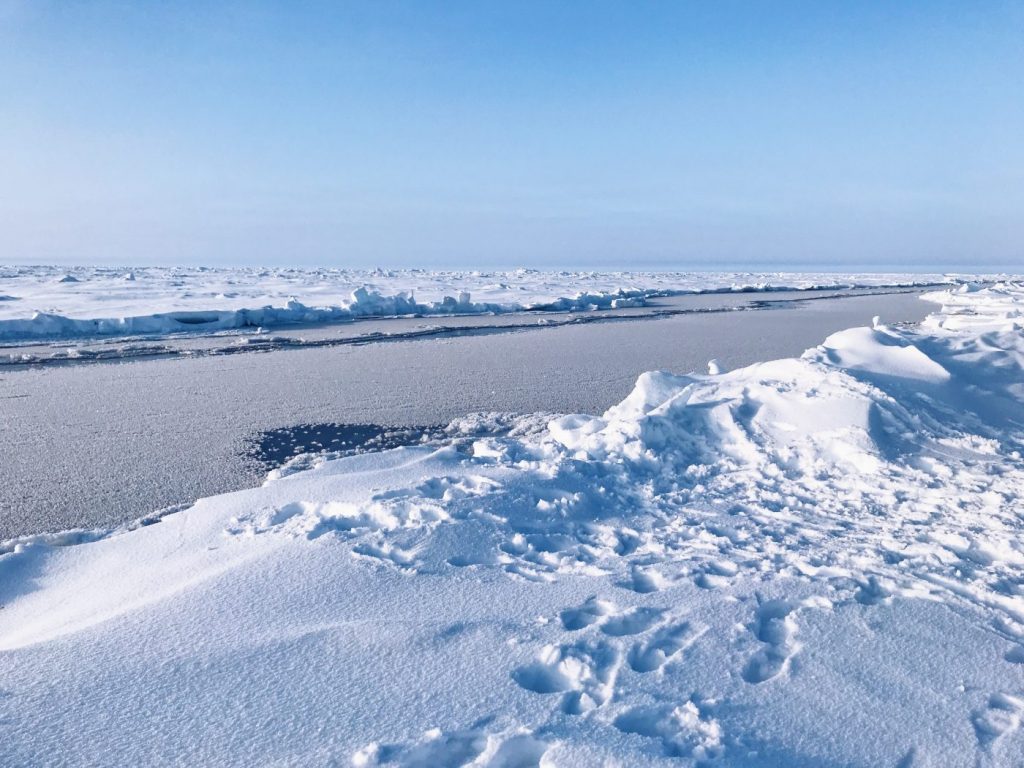 Another night in the North Pole
And so I retired to my tent once more, onto my 3rd night at the North Pole. All flights well and truly missed at this stage. Sometime early that morning though, we had heard tales of the airplane want to attempt a landing on the shortened runway, between the two cracks. Surely not?
I waited with bated breath to hear if it was true. The powers confirmed the worst. We discovered it could only fit about half the group, which meant it was back to drawing straws and evaluating who needed to get back to civilization first. Some heroes volunteered to stay behind, if others had flights waiting, on they went. Thankfully I was in the group to attempt to go with this flight, which meant I could get back to Bangkok in time to pick up the stuff for our Philippines project, switch bags in Bangkok and the next day fly to the Philippines to meet my blog followers and begin our charity project.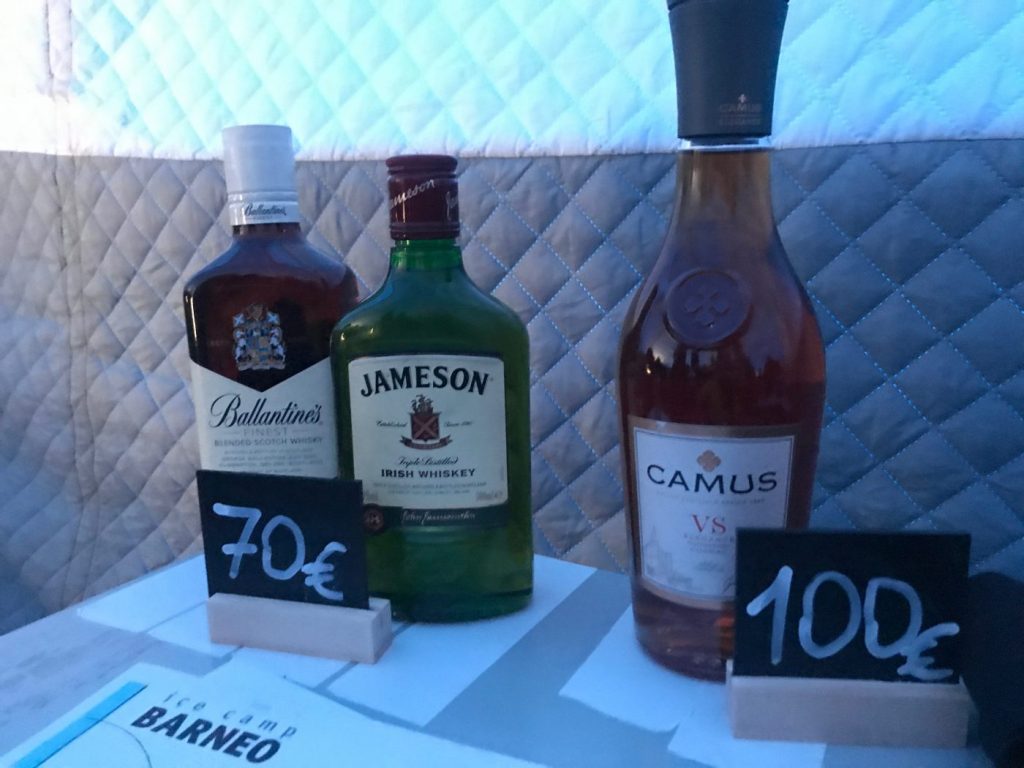 FINALLY HOME
We grabbed a handful of beers and jumped on board. Never have I been so happy to get on a plane. The beers soon went and happiness ensued. 4 hours or so later I was back in Svalbard. When I first landed in Svalbard it was the most remote, desolate place I'd ever visited, now after the North Pole it felt like New York City.
As soon as I landed, I unleashed my laptop, jumped on the free Airport WiFi and booked the next flight out of Svalbard to Oslo, Norway. It was now the middle of the night and the flight left the following day. A few people from the race allowed me to crash at their guest house, once back there I booked another flight for the following day from Oslo to Istanbul, then a flight from Istanbul to Bangkok that evening. A last-minute scramble but everything went according to plan, and I was in the Philippines 48 hours later.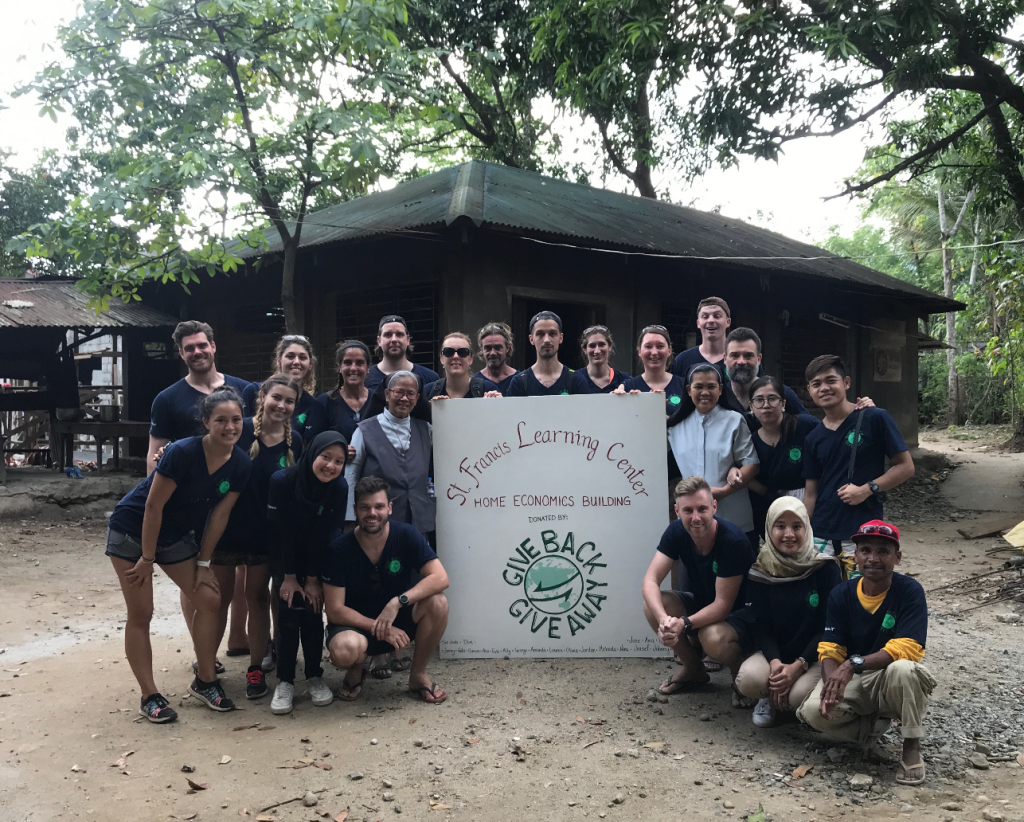 My Final Thoughts on the North Pole Marathon
Crazy expensive, but worth every penny. One of the best experiences of my life.
So my North Pole marathon experience was always going to be an adventure, and what an adventure it was. I had been training in India, and then with the 80-degree swing in temperature to my Polar Bear expedition in Svalbard, a 12-day delay and being stuck in the Arctic, to my 8th place debut marathon finish, followed by 2 extras days at the North Pole and the runway breaking in two. It was the craziest of rides. And one of the best experiences of my life, one that didn't come cheap, or without stress, but it was worth it all. Now I need to start planning my South Pole expedition. Is anyone keen?!
Here's an article about 6 things you need to know about the North Pole Marathon if you too are considering it.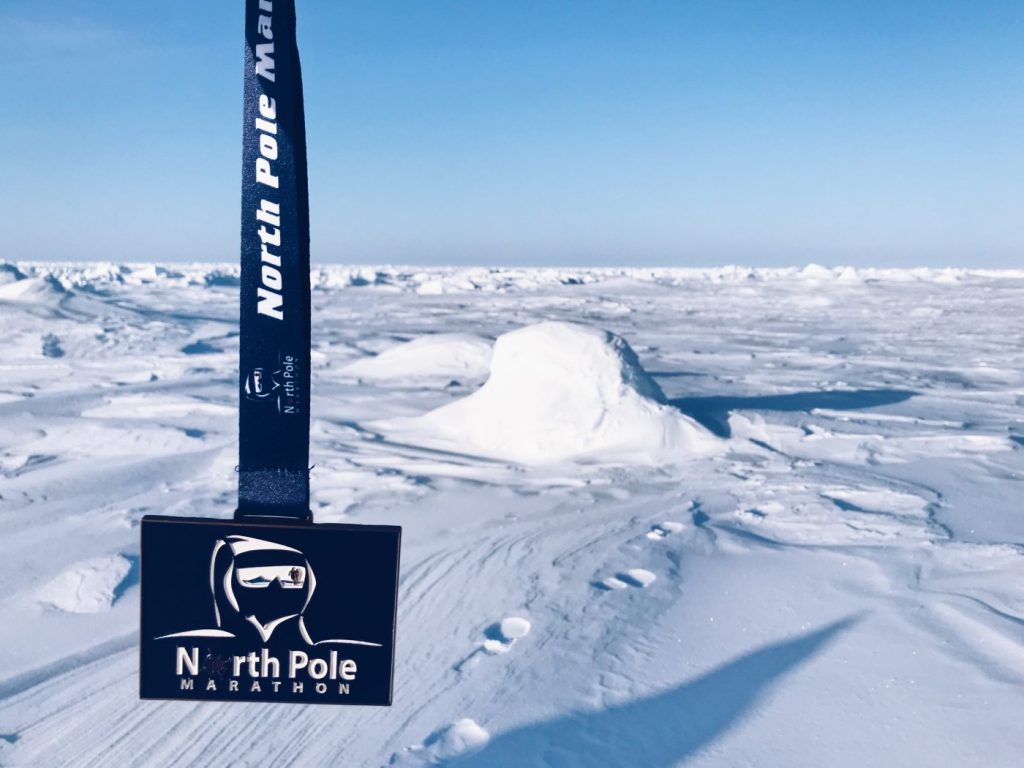 Remember, never travel without travel insurance! And never overpay for travel insurance!
I use HeyMondo. You get INSTANT quotes. Super cheap, they actually pay out, AND they cover almost everywhere, where most insurance companies don't (even places like Central African Republic etc!). You can sign-up here. PS You even get 5% off if you use MY LINK! You can even sign up if you're already overseas and traveling, pretty cool.
Also, if you want to start a blog...I CAN HELP YOU!
Also, if you want to start a blog, and start to change your life, I'd love to help you! Email me on johnny@onestep4ward.com. In the meantime, check out my super easy blog post on how to start a travel blog in under 30 minutes, here! And if you just want to get cracking, use BlueHost at a discount, through me.
Also, (if you're like me, and awful with tech-stuff) email me and my team can get a blog up and running for you, designed and everything, for $699 - email johnny@onestep4ward.com to get started.
Do you work remotely? Are you a digital nomad/blogger etc? You need to be insured too.
I use SafetyWing for my digital nomad insurance. It covers me while I live overseas. It's just $10 a week, and it's amazing! No upfront fees, you just pay week by week, and you can sign up just for a week if you want, then switch it off and on whenever. You can read my review here, and you can sign-up here!