If planning a holiday to Dubai you will probably be dreaming about spending long hours relaxing on the beach. While this is likely to be a prominent part of your trip, the city is different to other places and a beach visit needs a little more planning than in other places. Fear not, below you will find all you need to know.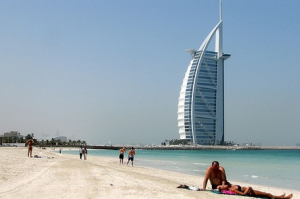 The ground rules
Firstly, it is important to think about the time of year that you are intending to travel to Dubai, as although we all like the sun, it can get unbearably hot. In order to avoid constantly seeking out shade and energy-sapping conditions it is best to visit between November and April, when it is generally cooler.
Remember that the United Arab Emirates is an Islamic destination therefore it is important to preserve your modesty. This does not go as far as preventing bikinis and swimsuits being worn on the beach, but be sure to cover up before venturing further afield.
Thongs and skimpy bikinis are unwise options and underwear should never be worn when swimming. It is also an offence for women to sunbathe topless, so definitely do not do this in Dubai.
Private beaches
Dubai is unusual in that many of the beaches along its shoreline are private beaches, belonging to hotels or other owners.  When looking at package holidays to Dubai, check whether the deal includes access to a beach. Alternatively, some places will allow you to pay a fee to use their stretch of sand if it is not full with residents.
Public beaches
Even public beaches often require the payment of a fee in order to enter in Dubai, but this tends to be much lower than on the private beaches. Expect to hand over around five dirhams (85p) for access to one of these beaches.
Mamzer Beach Park
This impressive swathe of gold sand is one of the most popular beaches in Dubai and is a great place to spend a day. As well as the main beach, there are also five smaller coves dotted around the park to explore.
Visitors can make use of changing rooms, showers and chalets at one end of the beach, which are rented on a daily basis. They are a great way to preserve your modesty and often have barbecue facilities as well, taking care of the whole family's meal requirements.
Alternatively, there are a number of small cafes close by, offering up tasty treats and sunloungers and umbrellas can also be rented.
The best thing about Mamzer Beach is that it has Blue Flag status and there are lifeguards on duty each day. Just be sure to familiarise yourself with the flag warning system, as the offshore currents along Dubai's coast can become quite strong.
Woollongong Beach
If you are the type of person who spends five minutes sunbathing on the beach before getting bored, then consider heading to this alternative, which is popular with kite surfers. If you have never had a go of the sport before then now is your chance, although watching the pros at work is also great fun too.
This is a good beach for taking a walk and getting away from it all, as there are no facilities to speak of. This keeps the sunbathing crowd away, offering a long peaceful beach to explore. Be sure to bring your own supplies with you, including plenty of water.