Travel to Syria; How We Did it
Is it safe to travel to Syria? Can you travel to Syria? The answer is yes, it just takes a bit of planning in advance (or even better, come with me on my next trip! Email me for more details). I visited Syria for the 2nd, and 3rd times in October and November of 2019, the first time since the war. And I took a group each time, the 2nd group even included my mum, and it was an eye-opening experience.
Pre-2011, Syria used to receive more tourists than in the Philippines. Home to so much history, from Crusader Castles to the mausoleum of Saladin, to the old city of Damascus. It is beautiful, and despite some of the ancient sites been barbarically ruined by both the civil war, and the presence of ISIS, the vast majority is still there, and mostly intact. A small victory at least.
TLDR? I'm running a Syria tour in April 2024. Come join me! Email me on johnny@onestep4ward.com to join.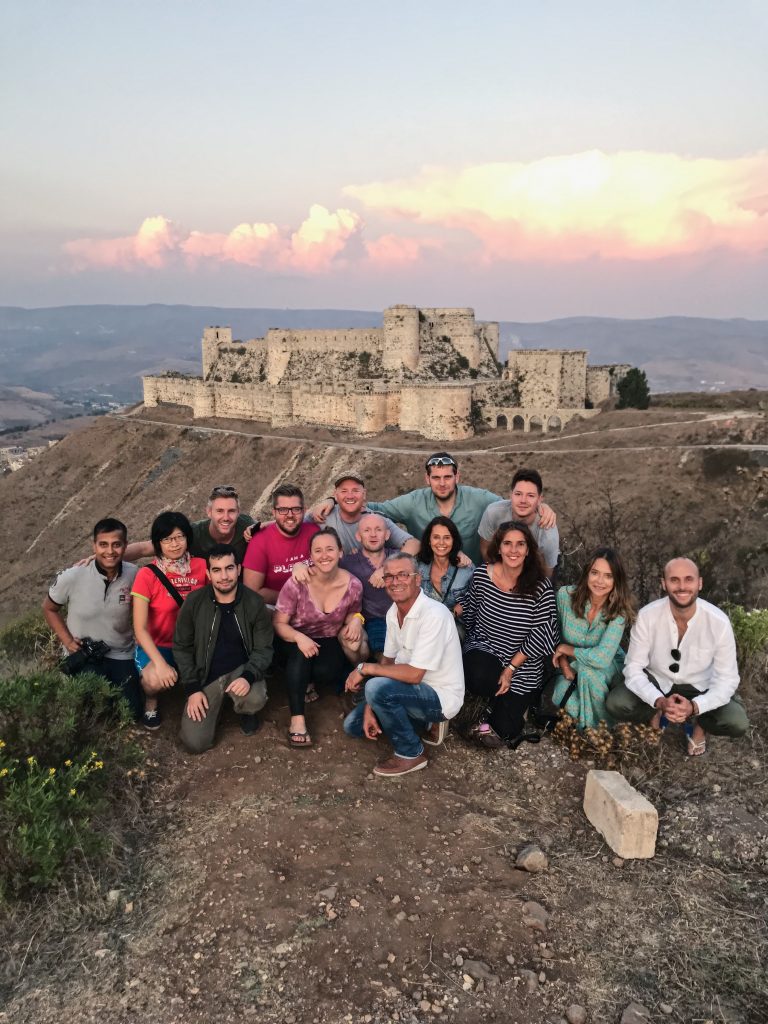 Since the civil war, since ISIS, since the US, Russia, Turkey, the Kurds and everyone else who had an interested party in the region came face to face, tourism has reduced to almost zero. Almost all the hotels, all the restaurants, all the guides all closed down their businesses. And understandably so when faced with the awful reality of their once-peaceful country. And so 2019 came. Is everything perfect in Syria? Far from it. But the green shoots of tourism are beginning to emerge once more. And so I wanted to be part of that. I put together an itinerary for Lebanon and Syria, whacked it on my blog, and WOW. A LOT of people want to visit Syria, that's great! So we did it.
I answer a lot of questions about travel to Syria in the blog now, and then at the bottom of the article is our group's personal experience too. Hope it helps!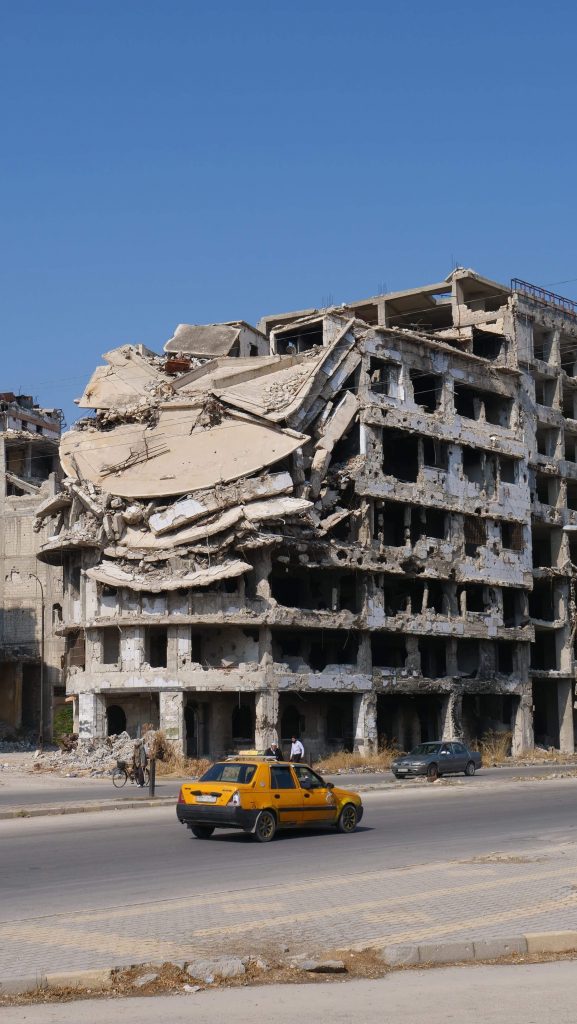 IS IT SAFE TO TRAVEL TO SYRIA?
I guess that depends on your opinion of 'safe'. Governmental advice from countries like the UK, for example, will always veer on the side of caution, and we should respect that stance. And that's the case with many of the places I've travelled, and run tours to. Like last years trip to Baghdad and Babylon in Iraq, my upcoming trips to Socotra, Yemen (1st trip sold out, 4 spots left on the second trip!), that time I took my mum to Afghanistan, and I'm putting together a trip to Siberia with the coldest place in the world, adventures of a lifetime. Every single one of them. The common theme though? All recommended by Governments not to go.
So it comes down to a personal choice. If you're risk-averse, Syria isn't for you. If you want to see for yourself, countries that are never out of the news for all the wrong reasons.
On a personal level, southern Syria is safe for tourists. The north is still a little sketchy though, Aleppo is starting to get tourists again but there was a recent ISIS attack there so we decided against it. From Homs, south, and Damascus certainly, it's safe for tourists in my opinion.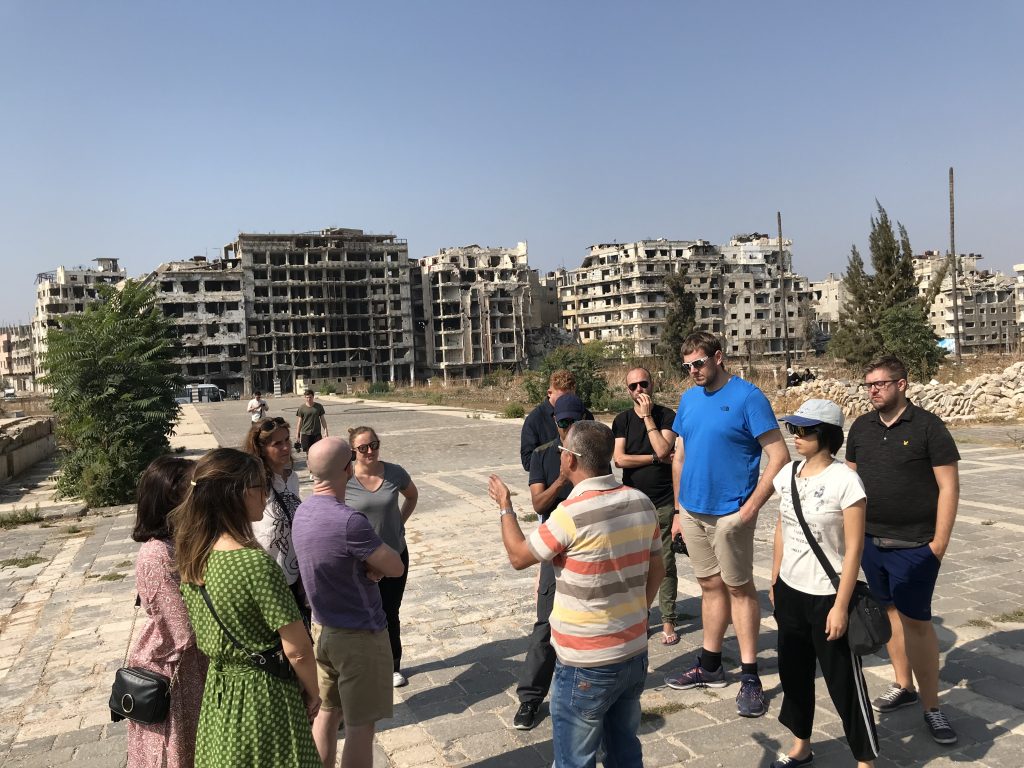 IS IT ETHICAL TO TRAVEL TO SYRIA NOW?
A difficult subject. Personally, I believe if you ensure your tourist dollars are used with grass-root operators, grassroots hotels, guides etc, then I believe tourism, almost always, is a source of good. And a sign that lives can begin the difficult journey back to some semblance of normality.
It's imperative to realise that visiting a country doesn't endorse political leadership. If it did, how can we visit Dubai, with the UAEs patriarchial society and where homosexuality is punishable by death. That goes for almost all the Arabic world. Equally, can we visit the Great Wall of China knowing about the labour camps, and torture, that occurs to the Uighur ethnic minorities in the North West, or how they deal with Tibet?
Can we take the Trans Siberian with what Russia has done in Crimea or Turkey and that beautiful hot-air balloon ride in Cappadocia with what they do to the Kurds? That's without talking about the USA and UK dodgy foreign policies, and trading guns with the Saudis, home to Wahhabi Islam. So if it's unethical to visit Syria, then it's unethical to visit almost every nation on the planet. We must not practice selective hypocrisy because it's 'fashionable'
We need to create our own ethical framework. Either we outlaw all travel to countries with questionable human rights records and foreign/domestic policies that oppress people. That means your countries choices are between Scandanavia, a road trip in Ireland, climbing Mount Blanc on the Swiss border and maybe Luxembourg. If you believe that's the way to go. I respect that.
If, like me, you believe that travelling somewhere is unrelated to the politics in place and that the if knowing the tourist dollars are going to the correct sources, then be free. See the world. Show your social networks that there is more to these kinds of countries than negative media stories. That there is beauty and adventure everywhere. That's what I try to do. And I love it.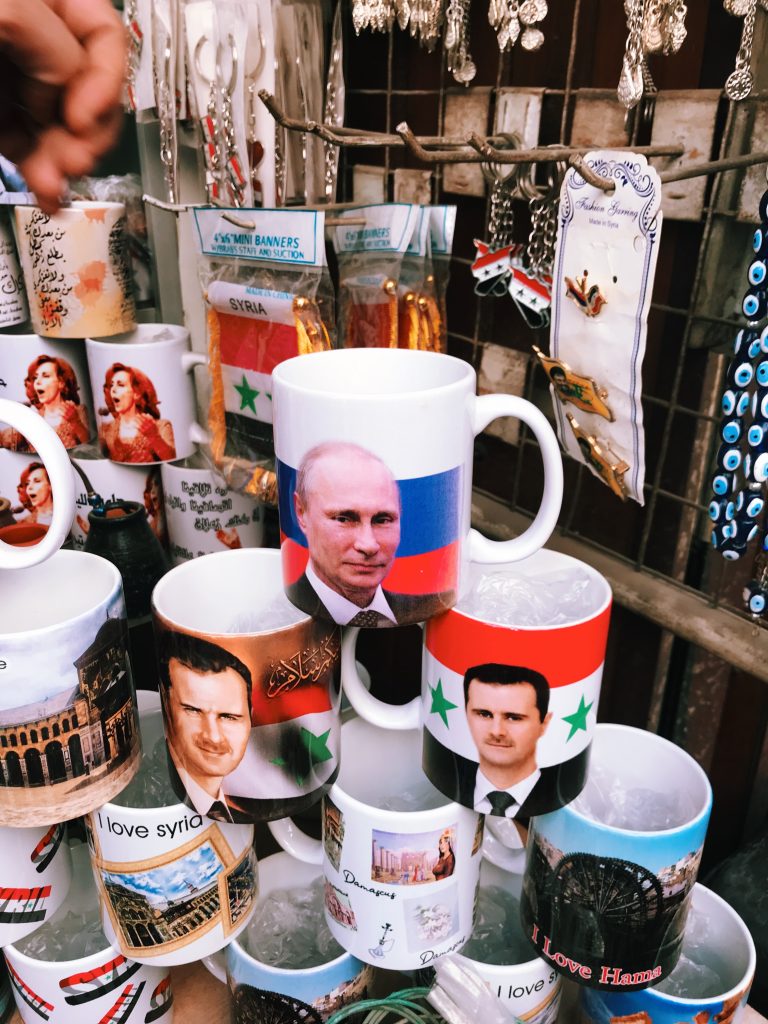 WHAT ABOUT VISAS FOR TRAVELLING TO SYRIA?
Eurgh, the bane of all hard-core travellers' existence. Basically, you need a fixer. And a guide. 'Independent' travel is next-to-impossible as the fixers who can grant you the necessary paperwork for the visa, and the permits to travel throughout Syria will insist on a package for your entire duration in Syria, along with a guide. But you know what? That's fine with me. They'll do that, and then your fixer will meet you at the border, you pay your visa fee (the real cost is the fixer, the visa fee ranges from $20 to $250).
Previously, Americans and countries with weaker passports (Thai, Filipino for example) had been rejected, but now they're possible too, they just take a little while longer. If you'd like to bypass all that stress, email me if you'd like to join my next trip.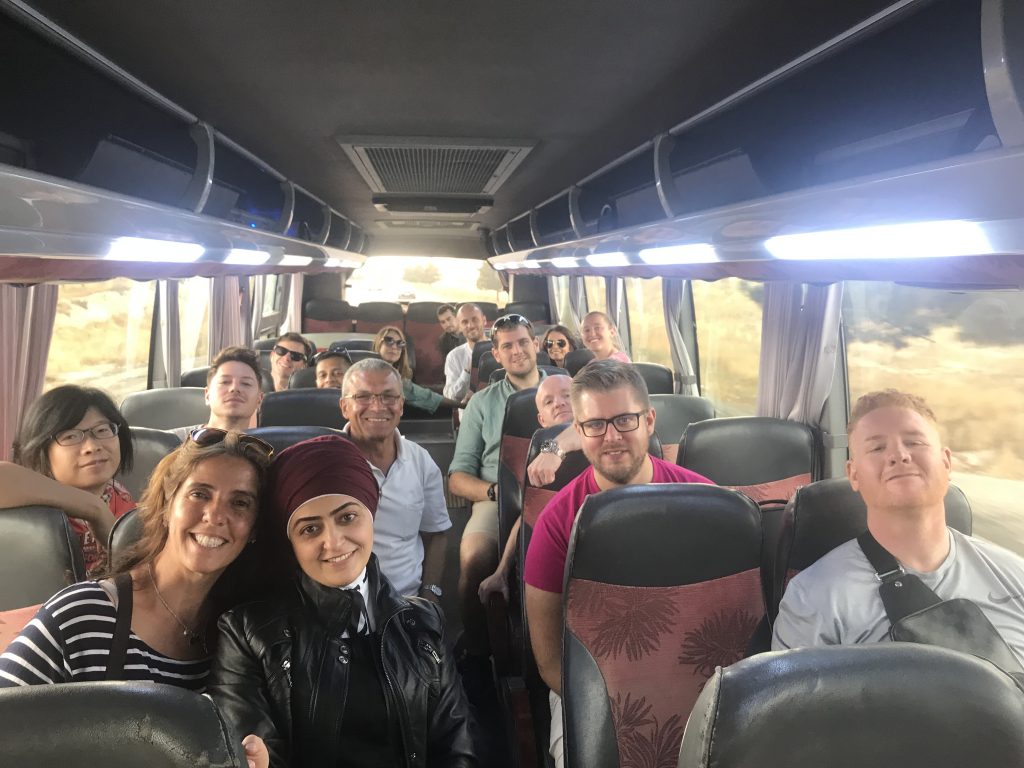 HOW TO ACTUALLY TRAVEL TO SYRIA; THE LOGISTICS
You're best bet, without doubt, is driving from Beirut, Lebanon to Damascus, Syria. Beirut to the border is 2 hours or so, and then the border to Damascus, another hour or so. It's cheaper, and it's exciting. You can fly too, recently 'Cham Air' started flying the same route for $250 or so each way, which would obviously add another $500 to an already pricey trip!
CASH IN SYRIA
Due to the global sanctions on the Syrian regime, it's 100% impossible to use ATMs or pay with card in Syria. No exceptions. So bring cash. At the border you can change your Lebanese currency, or preferably USD, for as many Syrian pounds as you need. Change more than you need, although Syria is cheap, it's illegal to change money there, so stay safe and change on the Lebanese side, you can change anything leftover back when you return.
ACCOMMODATION IN SYRIA
Your fixer and operator will generally organise this all for you. There are all kinds of options depending on budget though, but generally speaking you'll spend more of your nights in Damascus than anywhere else. Believe me when I say, you HAVE TO stay at Beit Al Wali in Old Damascus. Not only is it in a beautiful section of the city, home to many bars and restaurants, but it's also one of the most beautiful boutique hotels i've ever stayed in my life. All my Syria tours stay here, I wouldn't consider anywhere else. If you're on a tighter budget, squeeze some more money and try to stay here, it's so beautiful. A traditional Syrian house converted to a hotel. It's a masterpiece.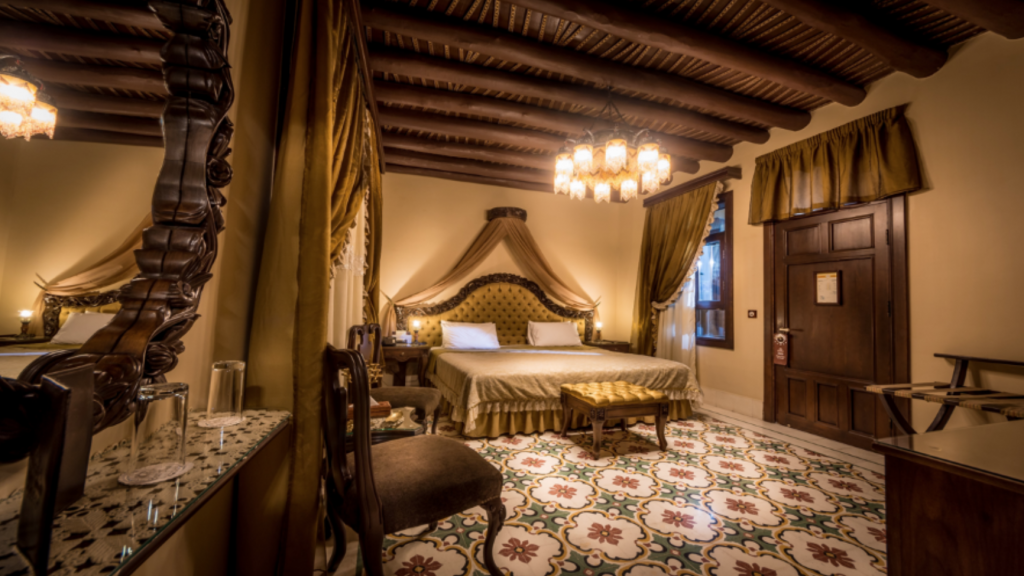 Elsewhere around the country, there are decent hotels but don't expect solid internet, and there are a few powercuts, so hot water isn't always guaranteed.
FOOD AND DRINK IN SYRIA
Great, especially if you're not a vegetarian. Syria is home to a lot of standard, delicious Arabic fare so expect plenty of Hummus, Baba Ganoush, Mouttabal, Muhamrah for example. Then they have plenty of beef, chicken and fish dishes with rice, fries etc, no problems there. An upmarket restaurant is still very cheap, around $5 per main meal.
Alcohol is pretty widely available too. They have a local Syrian beer, and many Lebanese beers too. Imported wines are also available at some restaurants. Beers can be bought in the supermarkets for as little as $0.90 and in restaurants for around $1.50. So very cheap indeed.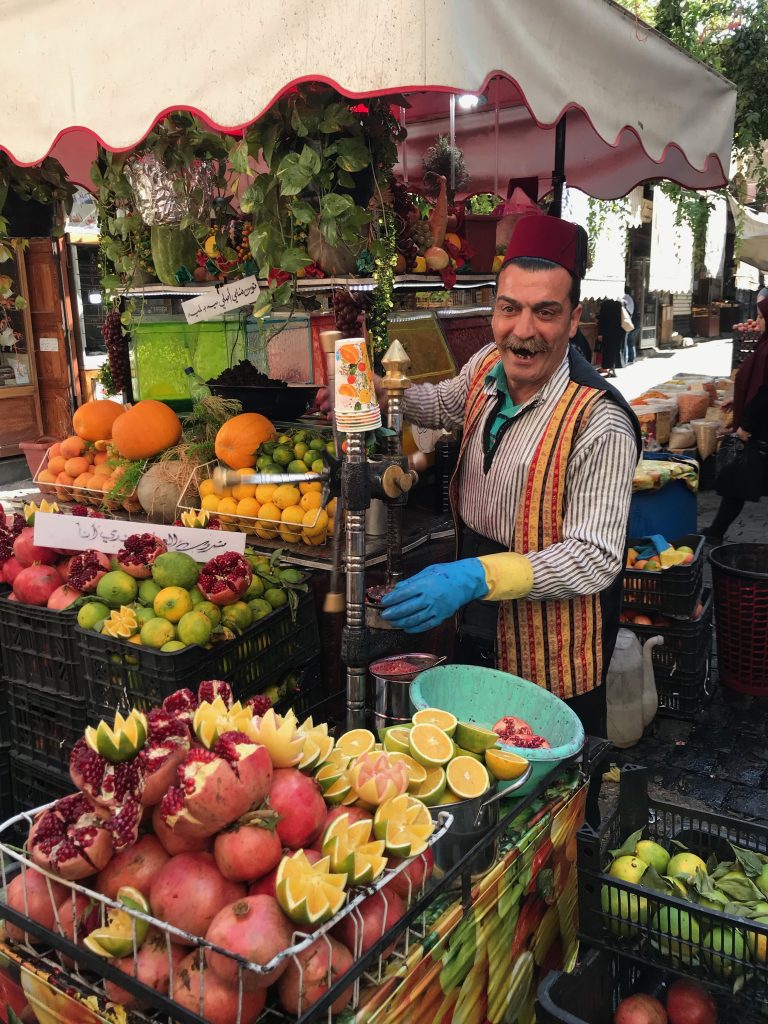 MY SYRIA TOUR ITINERARY
The 'must-sees' are:
1. Damascus: One of the most beautiful cities in the world. Full of Old World charm. Winding streets, typical Arabic and Syrian architecture. Gorgeous mosques, and souqs (markets), street food and fruit juices galore, nice bar area, and cool restaurants.
2. Krak Des Chevaliers: The best-preserved (crusader) castle in the world and a UNESCO world heritage site. It's an absolute must when you visit Syria, about 5 hours north of Damascus. Not really doable as a day-trip, but you can stay near the castle without any hassle.
3. Busra: The best-preserved Roman Amphitheater in the world, and every bit as impressive as Rome's more famous Coliseum. About a 3.5-hour drive south of Damascus and doable in a day-trip.
4. Homs: A heart-breaking insight into the modern history of Syria. Homs was one of the centre points of the pro-Assad/Anti-Assad movements and large parts of the city have been flattened. I think it's important for humanity to recognise what man is capable of, so I almost believe a trip to Homs should be compulsory on your Syrian trip, to give context to what's happened here recently.
and then depending on your risk-appetite Aleppo and Palmyra. Aleppo is Syria's largest city, and Palmyra is home to Syria's largest set of Roman ruins. Being northern settlements, it wouldn't be considered 'safe' just yet, although a few tourists are slowly making their ways there nowadays.
That all being said, I put together a 5 day trip in Syria where we stayed 2 nights in Damascus, 1 night in Krak Des Chevaliers, and one last night in Damascus, where we day-tripped to Busra. Personally, in the current climate, that's the itinerary I'd still recommend. You can combine that with a trip to Lebanon – visiting Baalbek on the way back to Beirut. Perfect.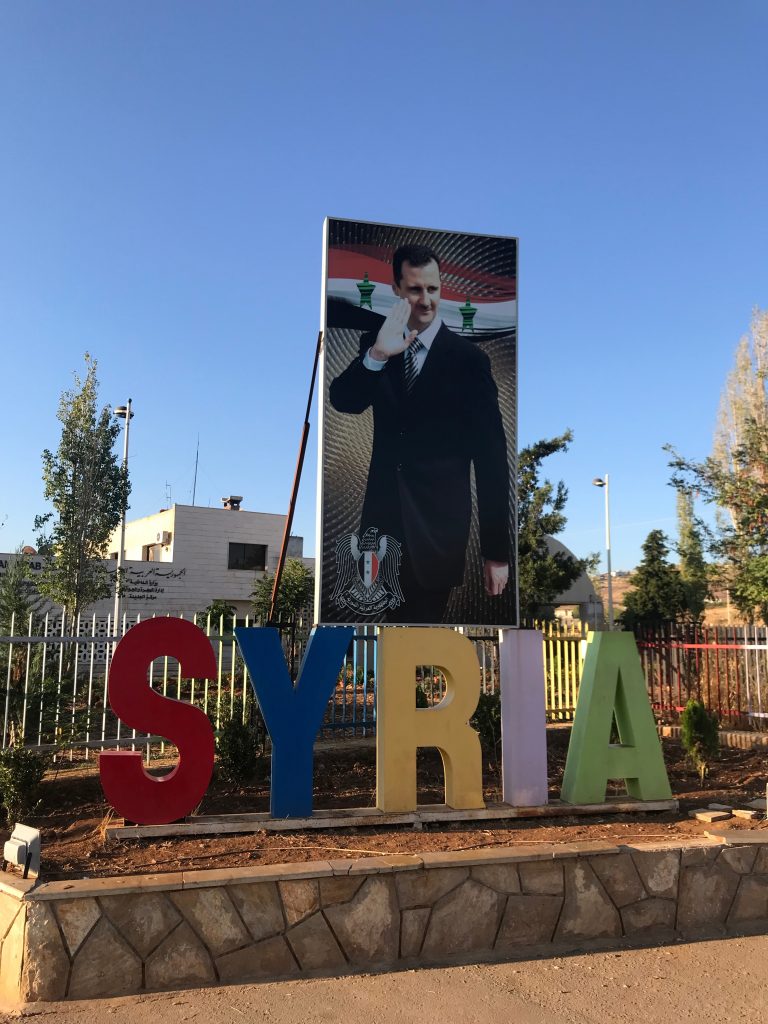 TOURS OR INDEPENDENT TRAVEL TO SYRIA?
The 2 Syria tours I organised over the last few months have been great. Such a cool group of people, the thing about group travel to trickier countries, it attracts interesting people, so I love group travel for this type of travel. Independent travel can be saved for Thailand and Brazil!
That being sais, true independent travel isn't possible in Syria. The closest you can get to that is a private tour organised through a fixer. So the trip would be you plus the guide. Still great, but not as much fun as a cool group of people!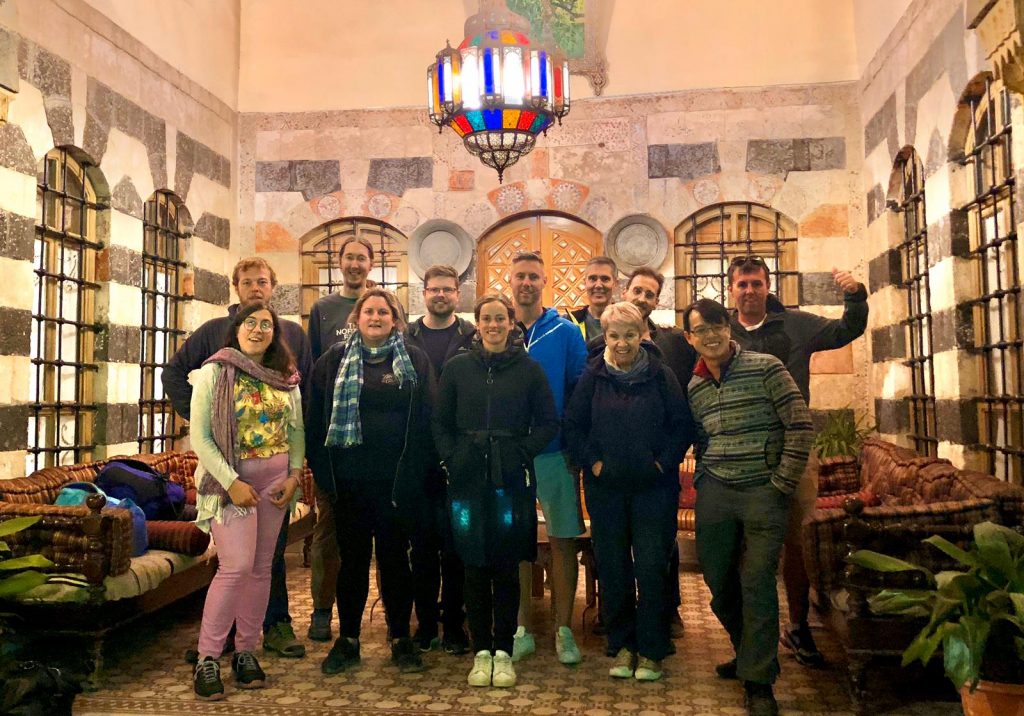 OUR EXPERIENCE TRAVELING TO SYRIA:
So I ran 2 trips in October and November, and what an awesome group of people we had for both. As I say, these kinds of adventure trips attract some epic people, and now many of the people who have travelled with me on these trips are close friends, and I can't ask for much more than that. Thankfully, too, the people who sign up for an adventure understand that trips like this don't always go quite according to plan. So….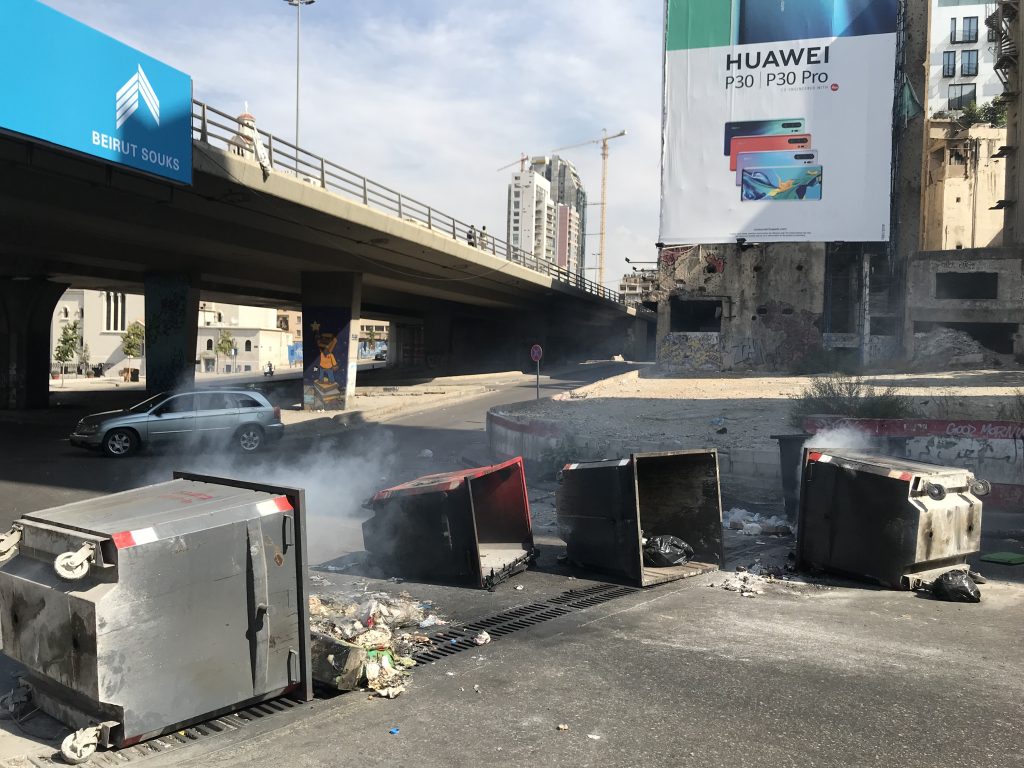 CHALLENGE 1: Getting to Beirut during the protests!
I had just run a Mudita Adventures trip in Jordan, where we built an English classroom for an impoverished community outside Amman. That gave me a couple of days to spare in Lebanon before the Syria trip began. I love Beirut so I flew in, looking forward to a couple of days of hotel rooms, Netflix and red wine. The day I arrive, however, the Lebanon protest began in earnest. The whole country shut down. Taxis were charging $250 for airport transfers. Dodging burning tyres and hundreds of people with masks covering their faces. Tanks, and military patrolling every street corner. It looked like a warzone. How on earth would my travellers make it to the hotel in 2 days time?!
DAY 1 – And yet, they made it. Every single one of them. Michael, from Germany, ended up on the back of a scooter from the airport clutching his backpack with all his might. The scooter couldn't access the city centre, so he had to walk the last 40 minutes. But he made it.
CHALLENGE 2: Going from Beirut to Damascus overland
The next morning we were set for a 9am drive to the Syrian border. As I mentioned above, it should be about a 90 minute drive, but the roads were chaos. The bus couldn't make it to Lebanon, so a last-minute change of plan had 3 taxis arrive to our hotel in Beirut at 3.45 am, for a 4.15 am departure. Our logic was that the protesters won't have woken up yet to re-start the fires and roadblocks, and bar a couple of sketchy moments, we were right. Unfortunately, as 1 of the our taxis dodged a burning roadblock, we clipped a mangled fence and burst our tyre. At 4.45am in the morning, there's not many garages open. And besides, most businesses were closed due to the situation. The solution? 16 people squeeze, with luggage, into 2 cars. And so we carried on.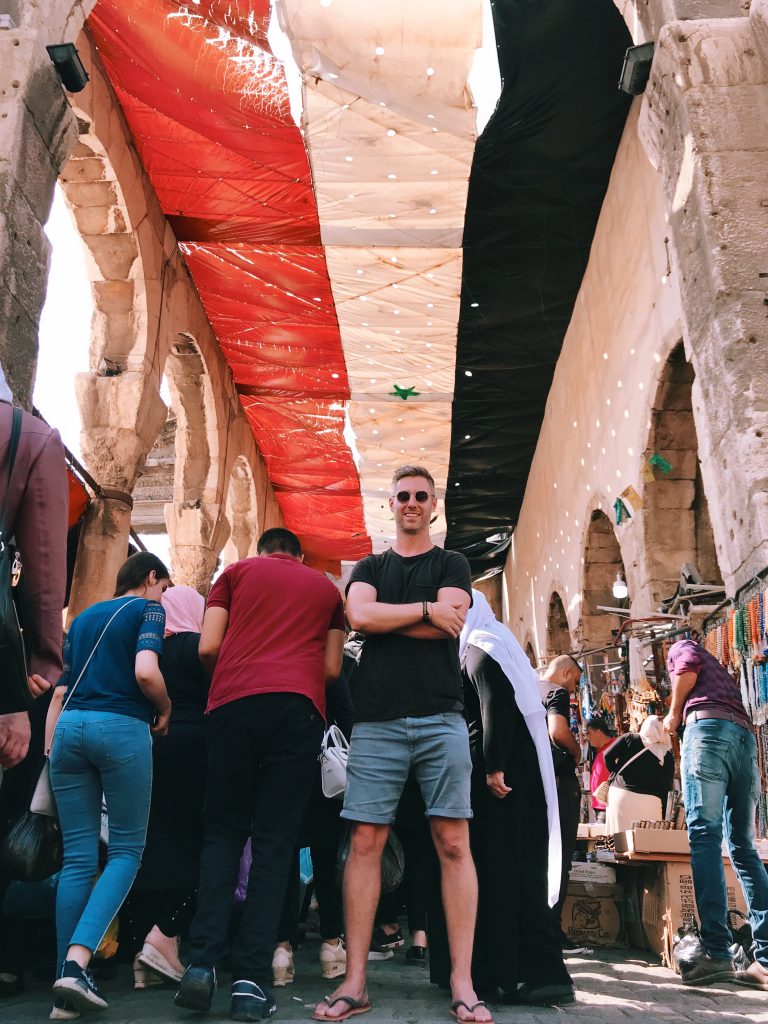 The 90-minute journey took about 3 hours or so, going the wrong way up motorways, being turned away by protesters, taking country paths instead of roads, but eventually, we made it to the border. There, my Syrian fixer met us and brought us across the border without any hassles. When everyone signed up to travel to Syria and Lebanon, they assumed the Syrian section would be the scary part, but alas Lebanon had thrown up quite the experience!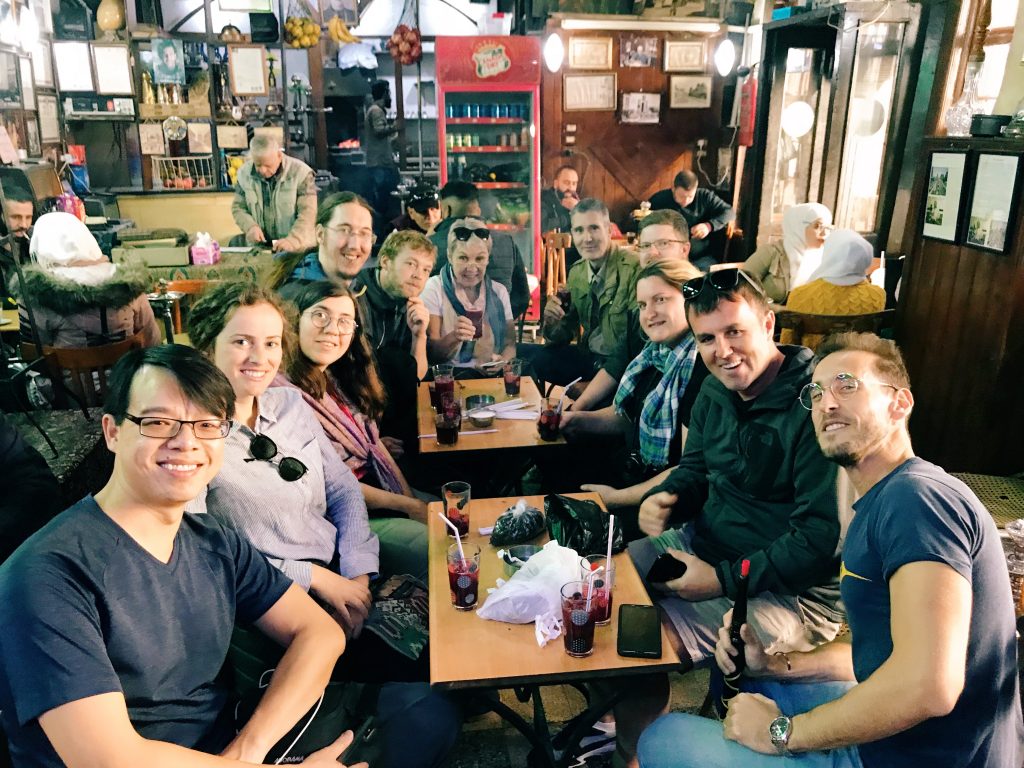 The next 4 days were nothing short of fantastic. The first 2 days and nights we spent in Old Damascus in our lovely hotel. Everyone sharing travel stories, and each day having walking tours around the souqs, the Mosques, the Mausoleums in the oldest city in the world. There was time both days for people to wander the streets freely, and then reconvene to meet up for a group dinner, and for the energetic, drinks afterward in the local bars. I think I can speak for everyone that we loved our time in Damascus.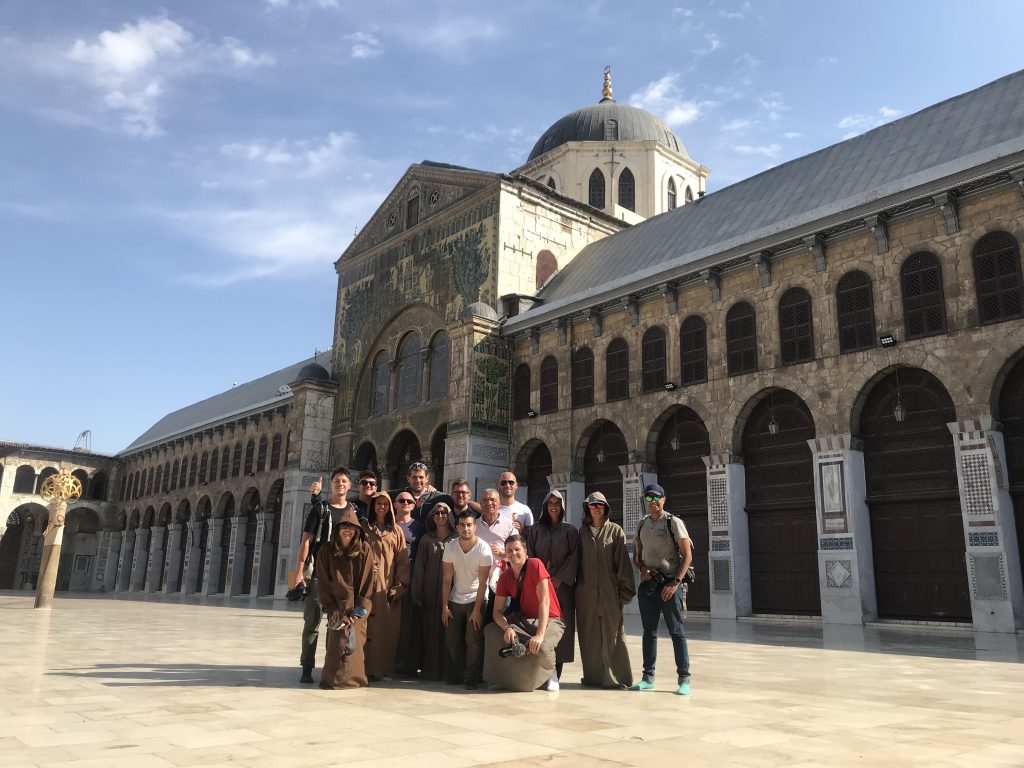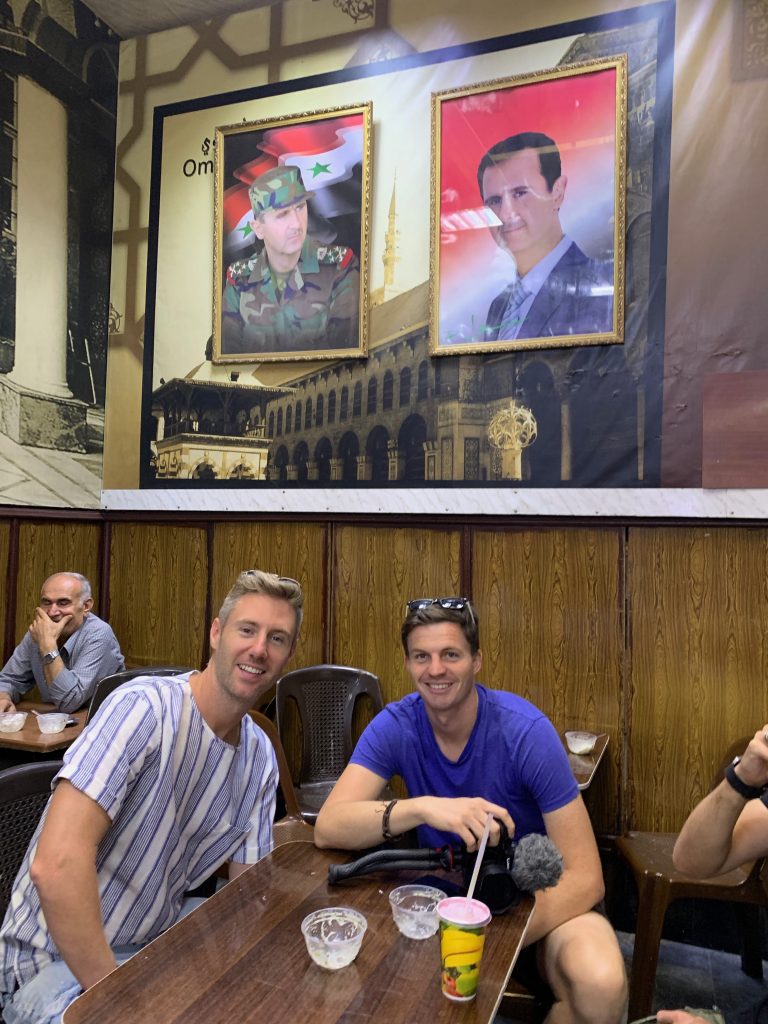 DAY 3 we drove North to Krak Des Chevalier, the UNESCO castle. Our bus was great with 2 seats for each person, so people had a chance to sleep for a couple of hours, and once we got there you can instantly see what all the fuss was about. First of all, we had the place pretty much to ourselves. This perfect, ancient castle and just us wandering around. And the condition of it is crazy, you can still see where the horses were tied up, where the doors let people in and out. The moat still partially filled with water. The views from the castle top are breathtaking.
And we timed it right to get dinner nearby to watch the sun set across the castle. Gorgeous. That night we settled into our hotel, with the hope of a somber addition to our tour tomorrow.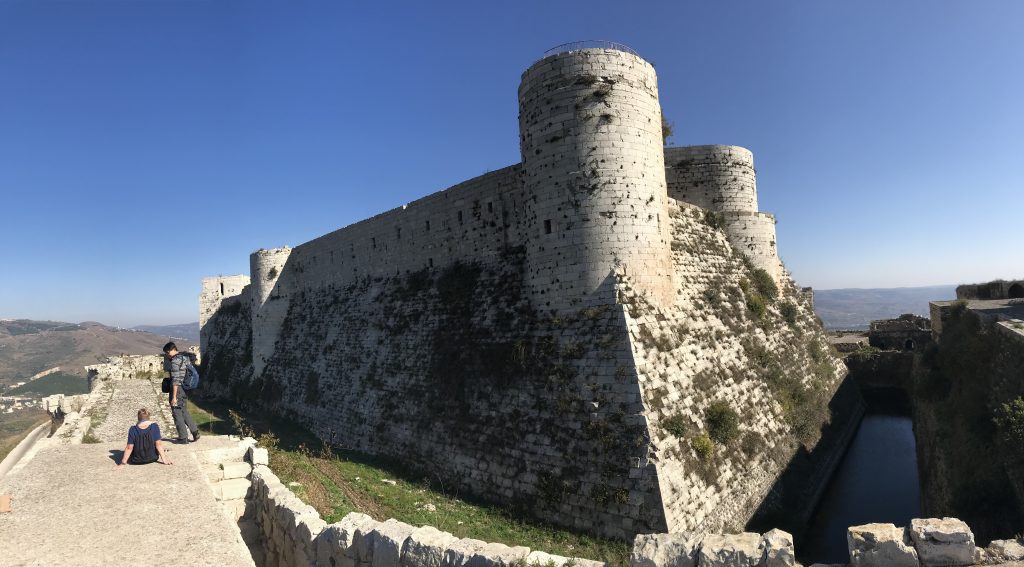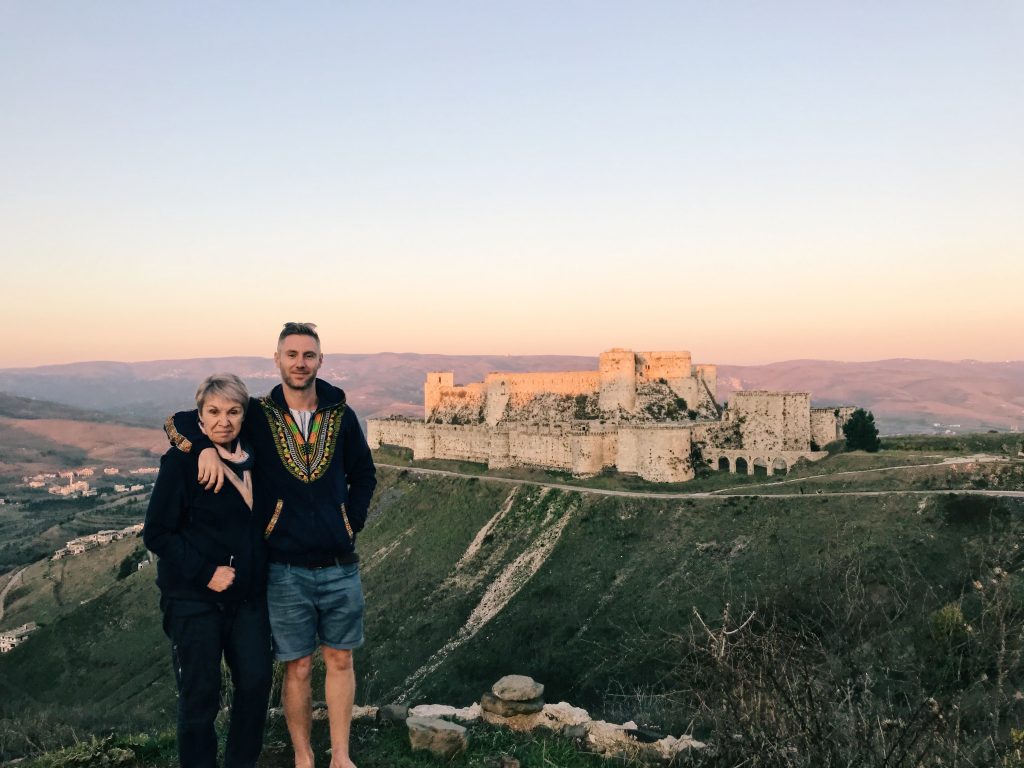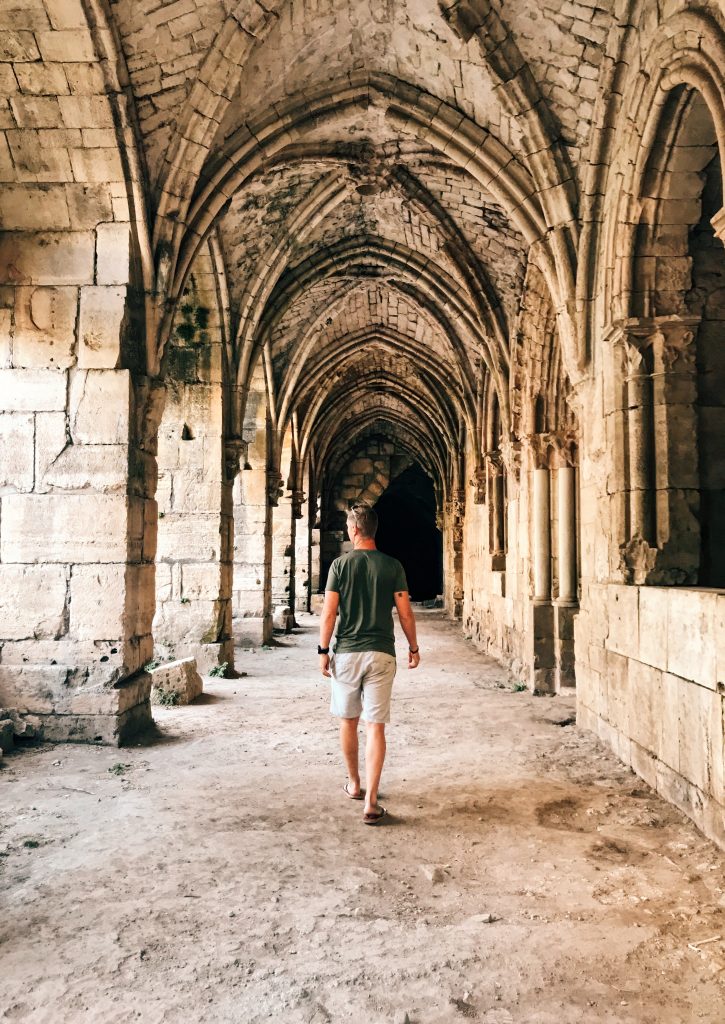 DAY 4: We were due to head back to Damascus, and on to Baalbek in Lebanon. But with the protests in Lebanon, we had to change the schedule last minute as the roads were still closed. So we would head back to Damascus, sleep there an additional night, the following day head south to Busra. The group was pretty happy in all honesty, as it gaves us an extra day in Syria. Instead of going straight back to Damascus though, our guide took us into Homs city centre. This gave a pretty horribile snapshot of the modern history of Syria. Homs was one of the centres that took the brunt of the battles between pro and anti-Gov armies. And it had been devastated. Half the city was flattened. A horrible, but important, day. We got back to the bus in silence, and it was a long drive back that evening.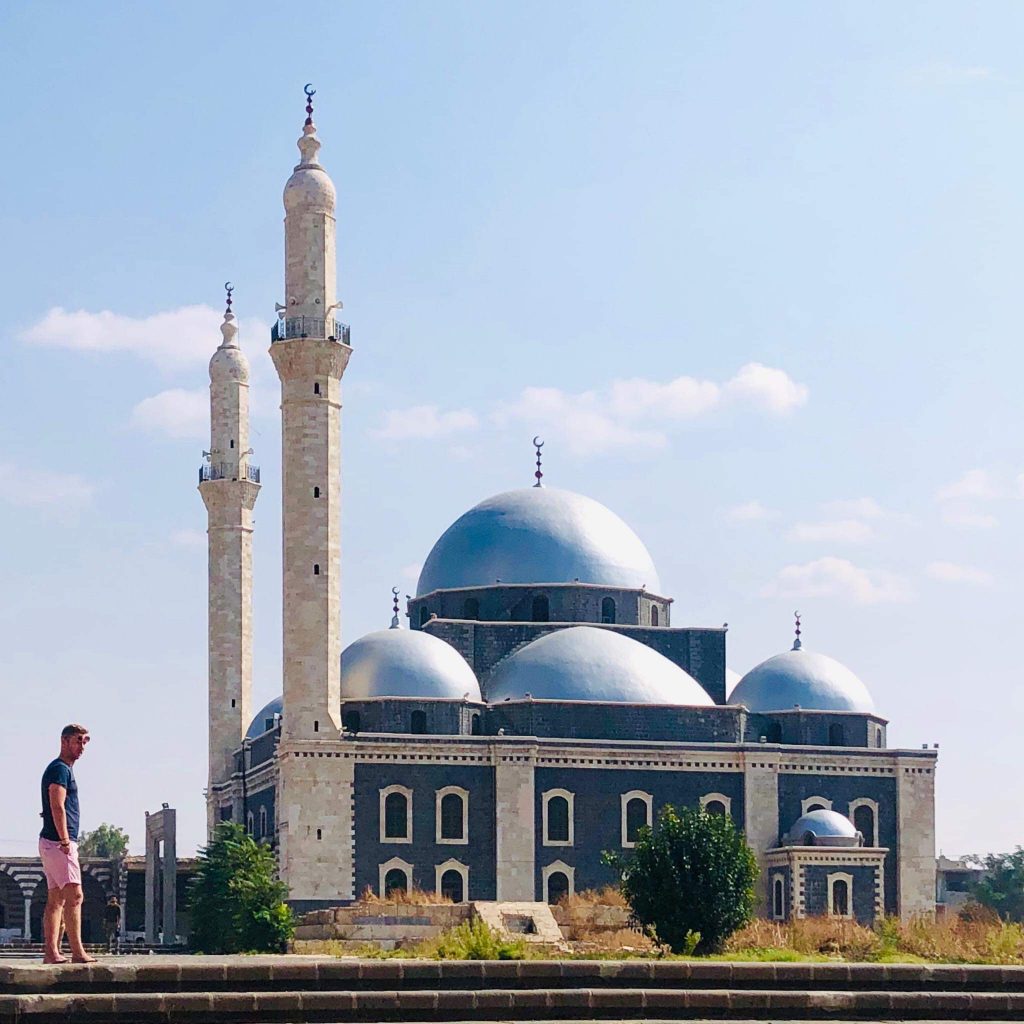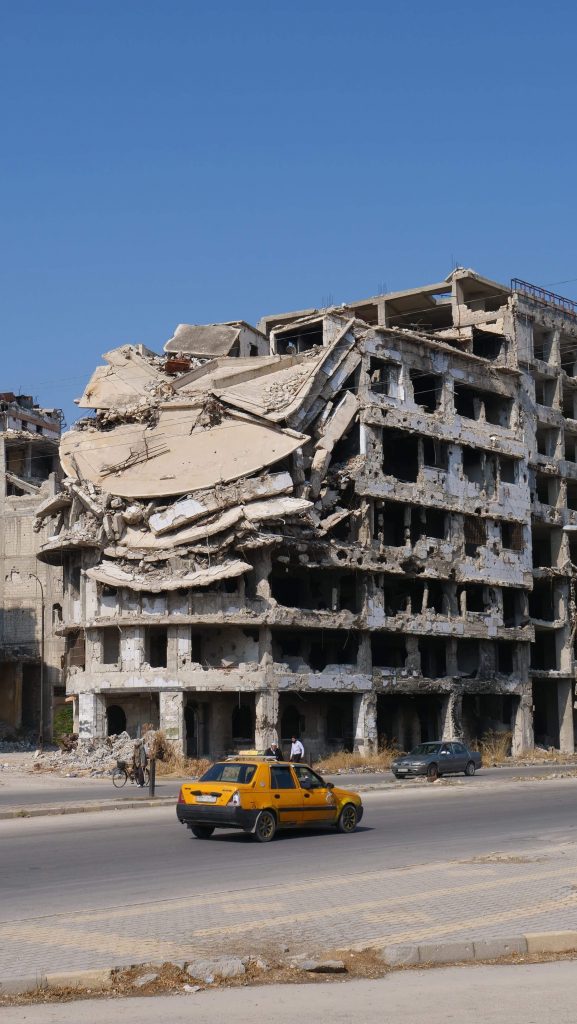 CHALLENGE 3; Getting back into Lebanon when the land border is closed!
DAY 5: We knew Baalbek in Lebanon had been cancelled, so that day we drove to Busra, home to another UNESCO world heritage site with the best preserved, and largest, Roman Amphitheatre in the world. Pretty cool. We had huge problems getting there though as the Syrian army had changed the rules and although we had permission to BE IN Busra, we didn't have permission to bypass the road bocks from Damascus TO Busra. Headache. Quick 2-hour detour to the Mayor, a few favours, and we were back on our way. The ancient city was amazing, and yet again we had the whole place to ourselves. Fantastic, but kinda eery, especially with the sporadic bullet holes riddling so many columns that had stood for millennia.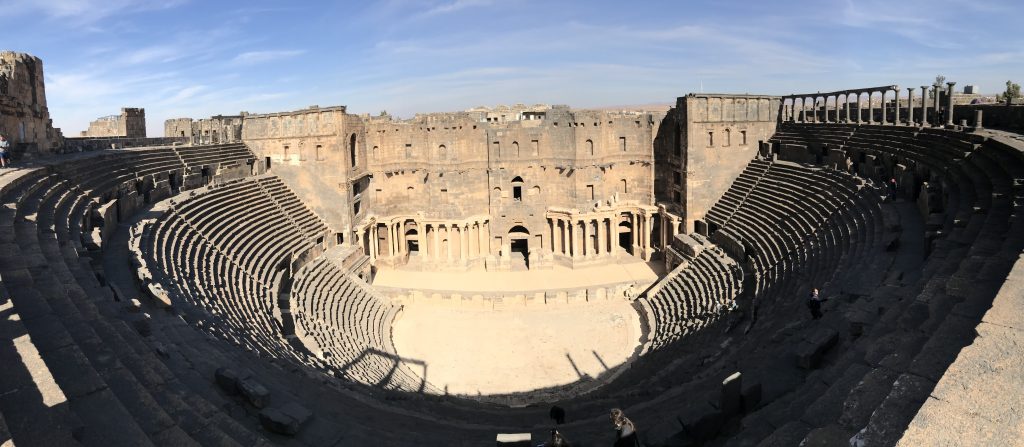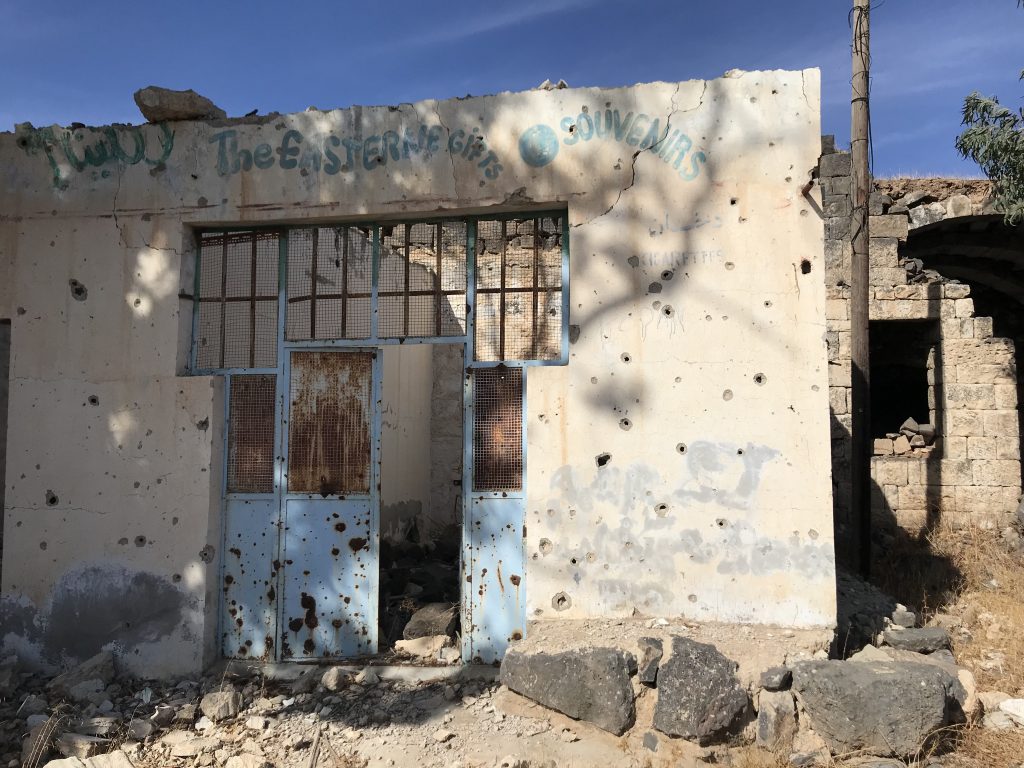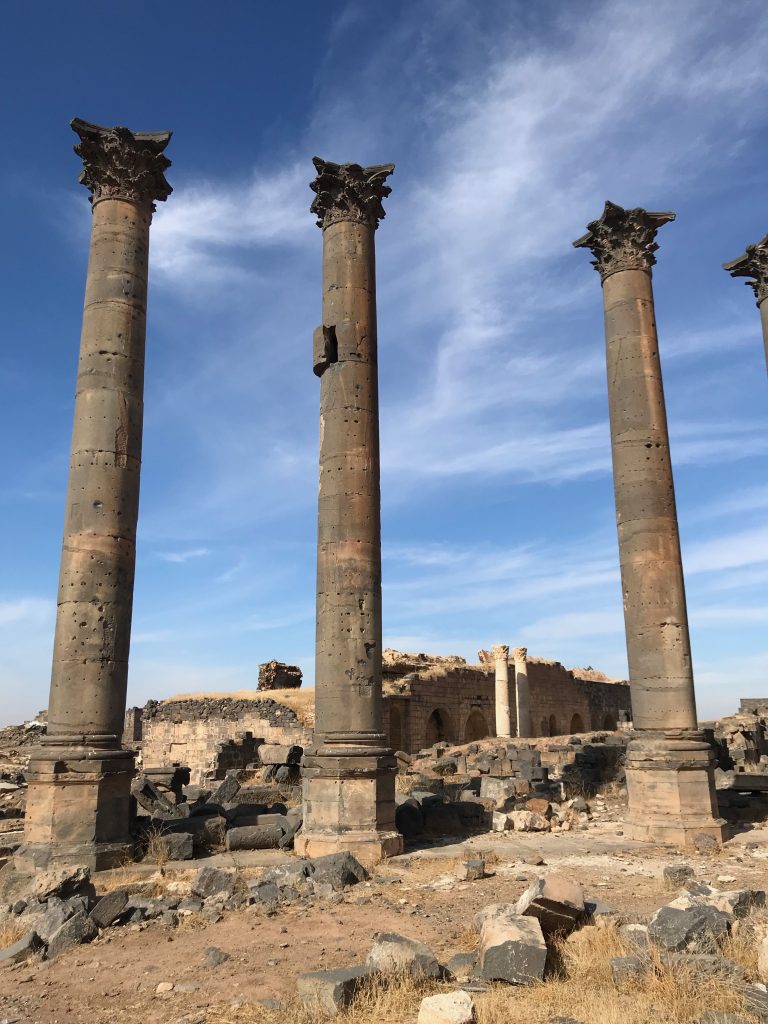 We drove back to Damascus, but the roads to Beirut were still closed. Last minute we had to organise a flight with a local carried. Just the day before 'Cham Air' (a airline that has also been sanctioned due to ferrying mercenaries around the region) had opened up a route back to Beirut. We had 16 places on hold. $280USD for a 40 minute flight. Ouch. And no way to process payments, just cash. Even bigger ouch. People were digging through their bags to find every last dollar and Syrian pound they had. We scrambled together the $4500USD for the flight and before we new it, we had made our way back to Beirut. Phew.
Final thoughts on my travel to Syria
Well, we signed up for an adventure trip, and it was certainly that. The protests in Lebanon causing all sorts of problems we could never have anticipated. Fortunately, when I came back 4 weeks later to take my second group, no such problems were had. And although we still chopped Baalbek and hit up Busra instead, we could get back to Beirut to finish, and overland to boot, no rip-off flights. Much calmer!
Syria was beautiful before the war, and it's still beautiful today. The people don't deserve to suffer, regardless of what side their on. And people in the tourism industry deserve it least of all. Their livelihoods, their businesses, decimated. But, the greenshots of recovery have begun. And I hope it picks up pace. Thank you to the Syrian people, for welcoming us, and showing us your beautiful country. I'll be back for one last group in July, so I'll se you soon!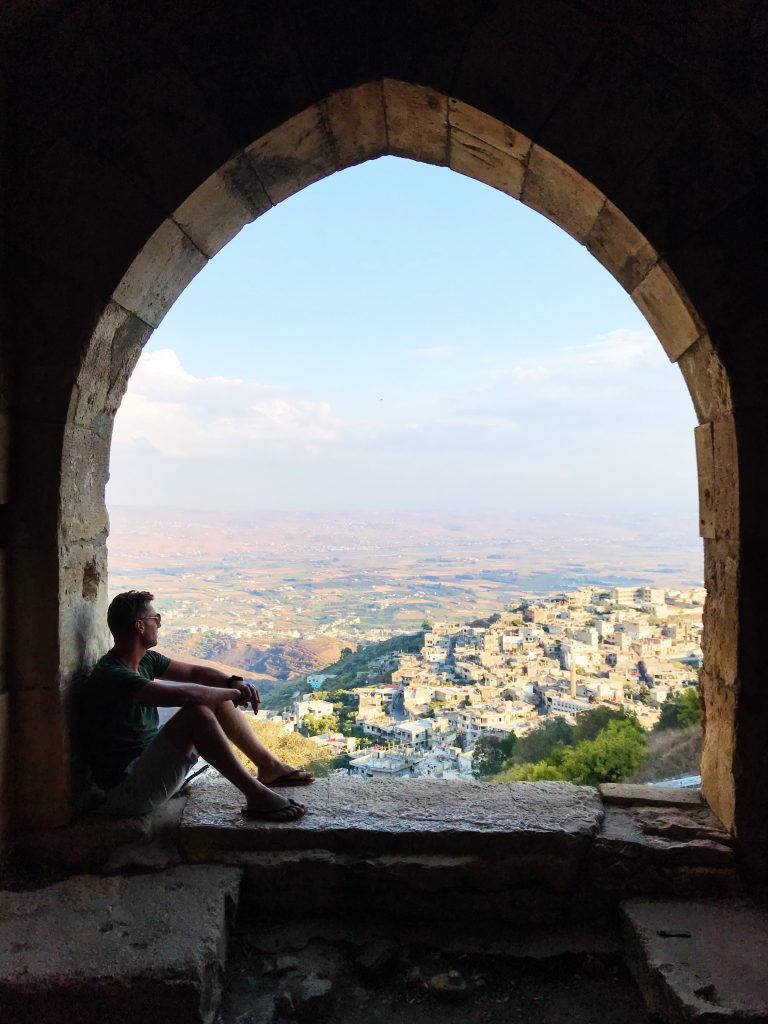 Remember, never travel without travel insurance! And never overpay for travel insurance!
I use HeyMondo. You get INSTANT quotes. Super cheap, they actually pay out, AND they cover almost everywhere, where most insurance companies don't (even places like Central African Republic etc!). You can sign-up here. PS You even get 5% off if you use MY LINK! You can even sign up if you're already overseas and traveling, pretty cool.
Also, if you want to start a blog...I CAN HELP YOU!
Also, if you want to start a blog, and start to change your life, I'd love to help you! Email me on johnny@onestep4ward.com. In the meantime, check out my super easy blog post on how to start a travel blog in under 30 minutes, here! And if you just want to get cracking, use BlueHost at a discount, through me.
Also, (if you're like me, and awful with tech-stuff) email me and my team can get a blog up and running for you, designed and everything, for $699 - email johnny@onestep4ward.com to get started.
Do you work remotely? Are you a digital nomad/blogger etc? You need to be insured too.
I use SafetyWing for my digital nomad insurance. It covers me while I live overseas. It's just $10 a week, and it's amazing! No upfront fees, you just pay week by week, and you can sign up just for a week if you want, then switch it off and on whenever. You can read my review here, and you can sign-up here!