Christmas is over and 2015 is well underway! I know that it's around this time that people start to think about their next holiday, there's nothing better than thinking about relaxing in the sun to forget about the winter chill. If you haven't already booked up your next trip then I am here to tell you that you should seriously think about chartering a yacht! It's something that I had never thought of doing before but I can tell you that after my first experience I will certainly be doing it again.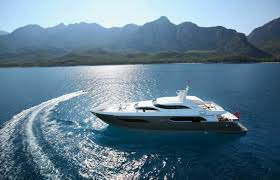 There's something special and really romantic about being out on the open water, the hectic day to day life that we are so used to back home becomes a distant memory. Before I get into the many reasons why I absolutely loved my yacht charter holiday I need to tell you that you should always book through a reputable company, this will ensure safety and also mean that your holiday goes as smoothly as possible. Look for companies such as ADDISON Yacht Chartering because it's companies like these guys that are really leading the way!
I am sure like me a lot of you haven't even considered chartering a yacht before, now before you think that you would prefer just to lounge by the pool or on the beach take a look at my three top reasons we should try this type of holiday at least once.
The privacy and freedom
One of the best things about chartering your own yacht is that it gives you the ultimate freedom to move around your chosen destination at your own pace. You're the boss; you decide where you're going to set sail from and where your journey will come to an end. The privacy is also another factor that I love, it's just you and the people you invited on the boat having the time your life.
It's not as pricey as you think
I'm pretty sure that when you started reading this article you thought that you won't be able to afford it, well, you can! It's an absolute myth that chattering a yacht is only for the rich and famous. If you are travelling as a family or with a group of friends then the cost per person will actually be lower than most package holidays. You can choose a boat that both suits your budget and the needs of your group.
Leave the stress behind
Nearly all of us are used to traffic jams, busy trains, pollution and rushing around in or daily lives – this is all very stressful! Work also adds to our stress as we try to meet deadlines, hit targets and work long hours. We MUST have time to relax, holidays are the perfect opportunity to relax each year. If you charter a yacht then you will experience the most tranquil and stress free holiday possible, it's just you, your friends and the sea.