If you love to get on your bike and explore Britain's great outdoors then you need to make sure that you plan ahead. It seems that every biker simply loves to hit the tarmac which is laid throughout our beautiful countryside and towns.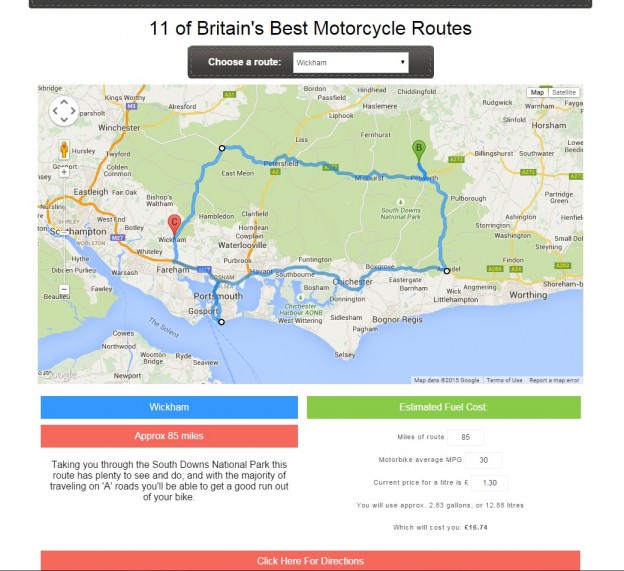 In the UK we are blesses with what seems a never ending trail of inviting sweeping bending curves and straights. It's all us bikers need to make sure we open up and let our bikes get pushed to their limit. In my opinion the most tantalising roads that you will find are found the more north you go on our beautiful little island; North Wales, The Lake District, North Yorkshire and Scotland are all full of the black smooth surface that we crave.
Thankfully in this day and age we are lucky enough to be able to plan any route we like with just a few clicks of a keyboard. Within minutes you will be able to print out the route and plan your stops along the way. There's no better example of this than the routes you can find with the J&S guide, it has certainly made my life easier. The guide lets you prepare in the best possible way by giving you all the essential information you need; the total miles, average speed, how much it will cost and how much petrol you will need.
Here are 3 of the best routes from the guide:
Newark
This is a perfect route for anyone that wants to head out on the open road for a few hours. The best part about this route is that you will pass through various beautiful towns and breath taking landscapes, this also gives you a lot of opportunities to stop off and take a break along the way.
Ullapool
This is the longest route recommended by the good people over at J&S. The route runs from Kinlochleven to Ullappol and will take you through some of the most picturesque scenery on offer in Scotland. It's a total of 222 miles that you have to cover, you'll pass by Loch Eil, Linnhe and even Leven, so it's not very difficult to see why this is always one of Scotland's number one routes.
Dunster
If you're looking to take your bike out and open up then this figure of eight is the perfect circuit. Located in the south east you will be able to take in the UK's nature whilst you power through Exmoor National Park which will take you out on to a remarkable view of the coastline. This is a great route for riders of all levels and interests.
Are you a motorcycle enthusiast? If so, please share with us all your favourite routes, your tips for planning and also any future trips you have planned. Put your pearls of wisdom in the comment section belwo this articles.