Though it's mostly known for it's parties, Ibiza has also a lot of interesting routes for those interested in hiking, biking or just for those who like to enjoy nature. There are routes in the central areas of the island, surrounded by forests or green landscape, or even routes near the coast, that are pretty interesting as well. A lot of those routes can be found in the Official Web of Tourism of the Balearic Islands, but i leave you with some examples that you may find interesting.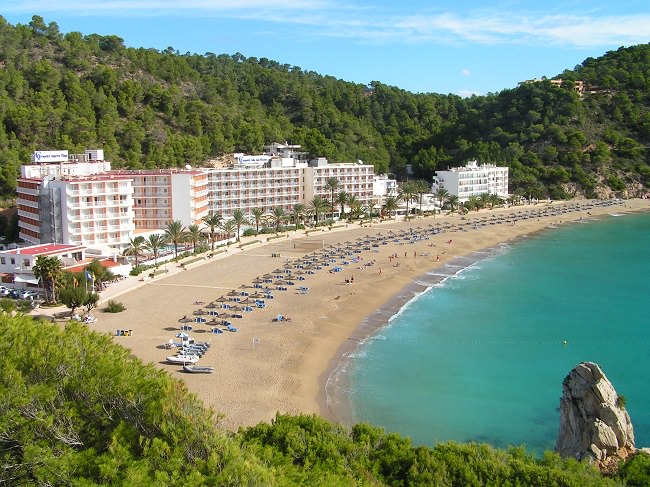 The Santa Gertrudis de Fruitera route
With the starting point in the town of Sant Antoni de Portmany, this route will have us traveling through some of the most known areas of the Santa Eulària municipality, with about 30 km of pure natural beauty.
In order to reach the town of Sant Antoni de Portmany, we will need to rent a car from the city of Ibiza, so we can equip our bikes in the car and reach the location quickly and efficiently.
Some of the most interesting places we can find is Broll, an old fountain of natural water spouting from an underground spring, thanks to which a lot of vegetation has been formed around it, making it a beautiful green area, one of the most impressive views of Ibiza. We will also walk by the Santa Gertrudis de Fruitera church, one of the most amazing churches in Ibiza, even though it's not the biggest one.
The Camí Vell de Sant Rafel route
Again with the starting point in Sant Antoni de Portmany, this route has about 11 km of distance, going through forests areas of Ibiza we would never have imagined. The beautiful aspect of this route is that along the way we will find a large number of millennial trees, with more than two thousand years of age. In the final point we will find the town of Sant Rafel de sa Creu, a beautiful and peaceful town, which has a church that most people will find interesting to visit.
The Port des Torrent route
For those who are searching for a more easy route, this one has a distance of 13 km, and begins and ends in the same town of Sant Antoni de Portmany. Along the way we will find a lot of interesting places to visit, like the Tower of Comte, a watch tower built in the past to defend the nearby towns of pirate attacks, or the Port des Torrent Beach, a beach formed by natural means that houses a lot of residential zones and touristic zones, in which we can find a lot of services that can be useful to the visitors.