The PERFECT Jordan Itinerary; How To Spend 7 Days in Jordan
Home to one of the 7 Wonders of the World, and to the lowest place on earth in the Dead Sea, as well as Lawrence of Arabia's desert and food delicious enough to make me cry,  I love Jordan. Also, it's not a super big country, which means it's pretty easy to get around too. All-in-all, you can spend a week in Jordan and give it a good bash. Here's how I'd break down the PERFECT Jordan itinerary. And for that, you need 7 days in Jordan I reckon.
Read on for more details about my perfect Jordan itinerary, including the best restaurants, viewpoints and places to visit.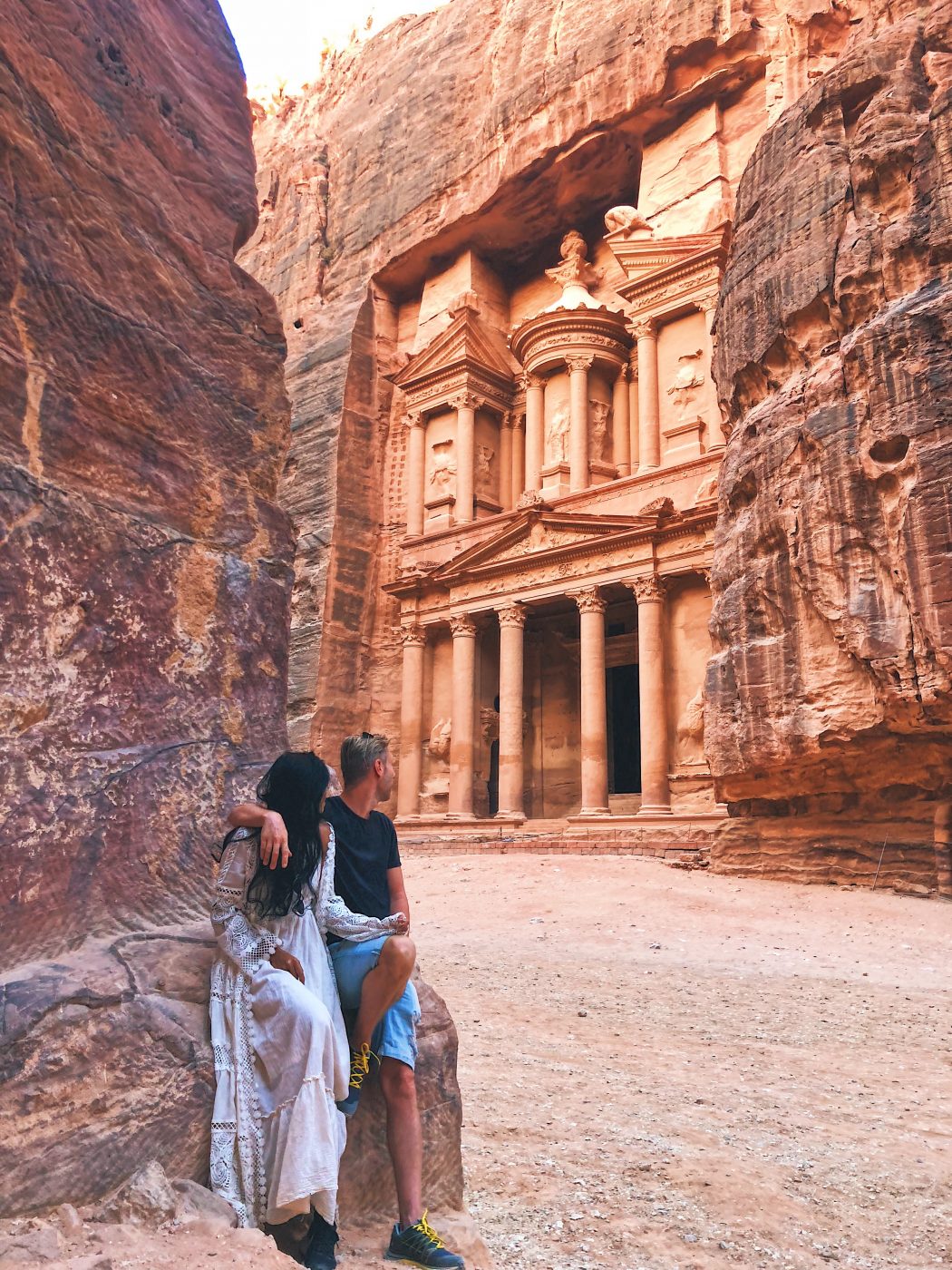 Should you buy the Jordan Pass
In short, yes. Get it. You can buy it here: https://www.jordanpass.jo/contents/Prices.aspx. It's an official Government pass priced at $99-$113USD (get the middle one). But it includes your visa on arrival cost AND Petra, Wadi Rum, and almost all other sites.  Your 2 day pass to Petra ($75) and your visa ($56) instantly make it worthwhile. So just buy it. I didn't, and I regretted it!
Suggested Jordan Itinerary
If you want the quick version of the ideal Jordan itinerary, here it is!
DAY 1: Arrive in Amman, sleep in Amman. If you arrive in the morning, spend the day exploring Amman.
2: Morning tour of Amman, afternoon to Jerash and back sleep in Amman
DAY 3: Taxi to the Dead Sea, sleep at the Dead Sea
4: Taxi to Wadi Musa, Petra by night, sleep in Wadi Musa
DAY 5: Petra, then a later afternoon taxi or bus to Wadi Rum
6: Wadi Rum morning, then off to Aqaba
DAY 7: Spend the day relaxing in Aqaba, sleep in Aqaba
8: FINISH
If you have less than 7 days in Jordan:
If you have less time, you can skip sleeping at the Dead Sea. Simply go there on the morning of Day 3, swim in the dead sea, and then continue on to Wadi Musa/Petra the same day.
If you're really pushed for time, skip Aqaba. It's a normal beach-side/scuba dive/resort type place. 
If you have more than 7 days in Jordan:
Spend all of DAY 2 walking around Amman, then add another day the following day to go to Jerash for a full-day tour.
Also, spend an extra night in Aqaba to relax. If you have lots of extra time, consider crossing into Egypt and checking out the Pyramids if you have an extra 2 days. 

DAY 1: Arrive in Amman
I flew in from Doha, Qatar, and arrived late in the afternoon. I got last-minute tickets to the World Cup semi-final in Moscow, Russia so I cancelled a holiday in Greece with my girlfriend last-minute. That meant I had to make it up to her!
So I checked us into the Four Seasons Amman for our first 2 nights. The Four Seasons also has an amazing concierge service in Jordan, wherein the airport there is a Four Seasons Lounge. The only hotel that has that. so they get your bags while you have a glass of wine. Then they transfer you to the hotel. We arrived, had dinner and slept, ready to explore this awesome country the next day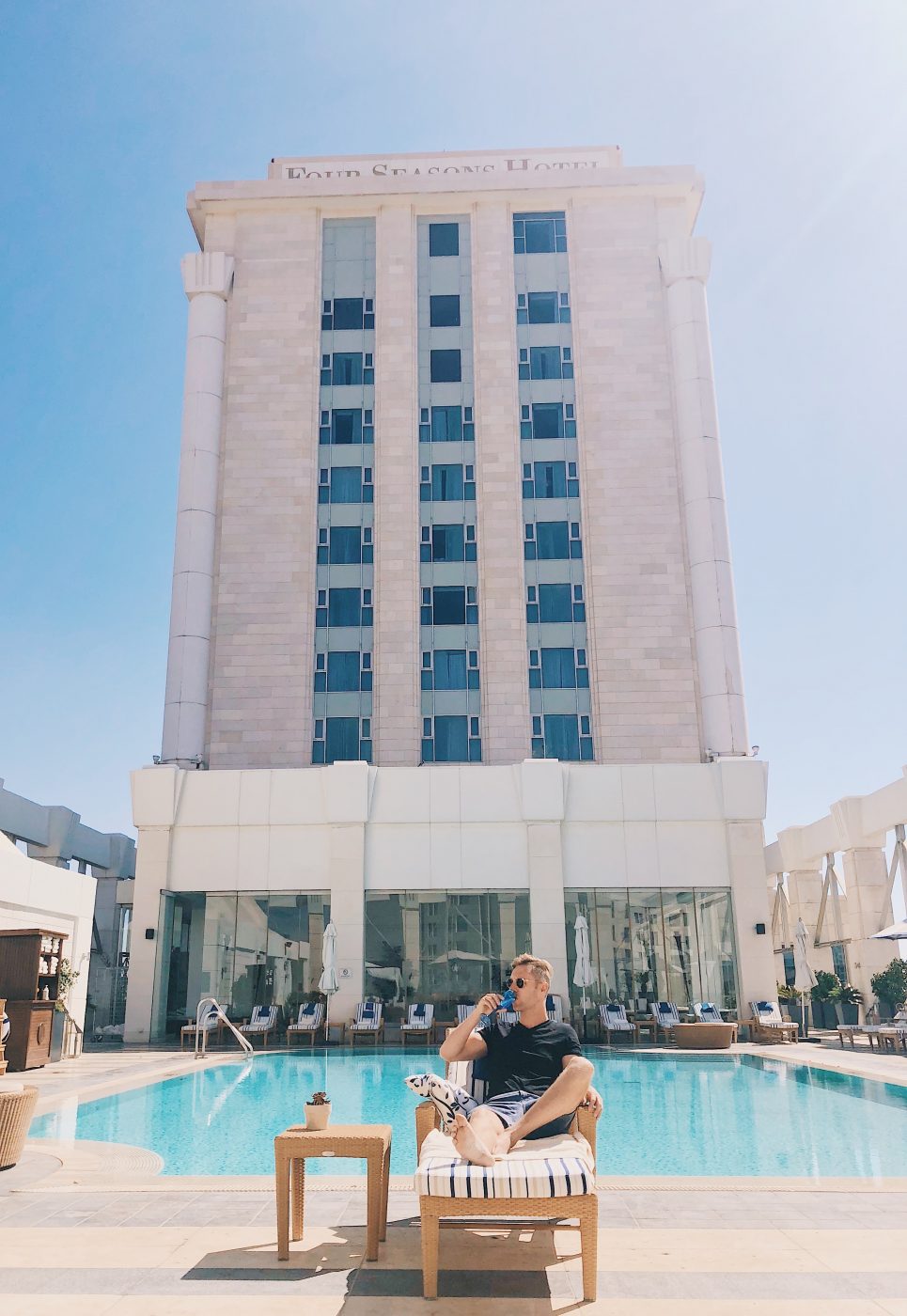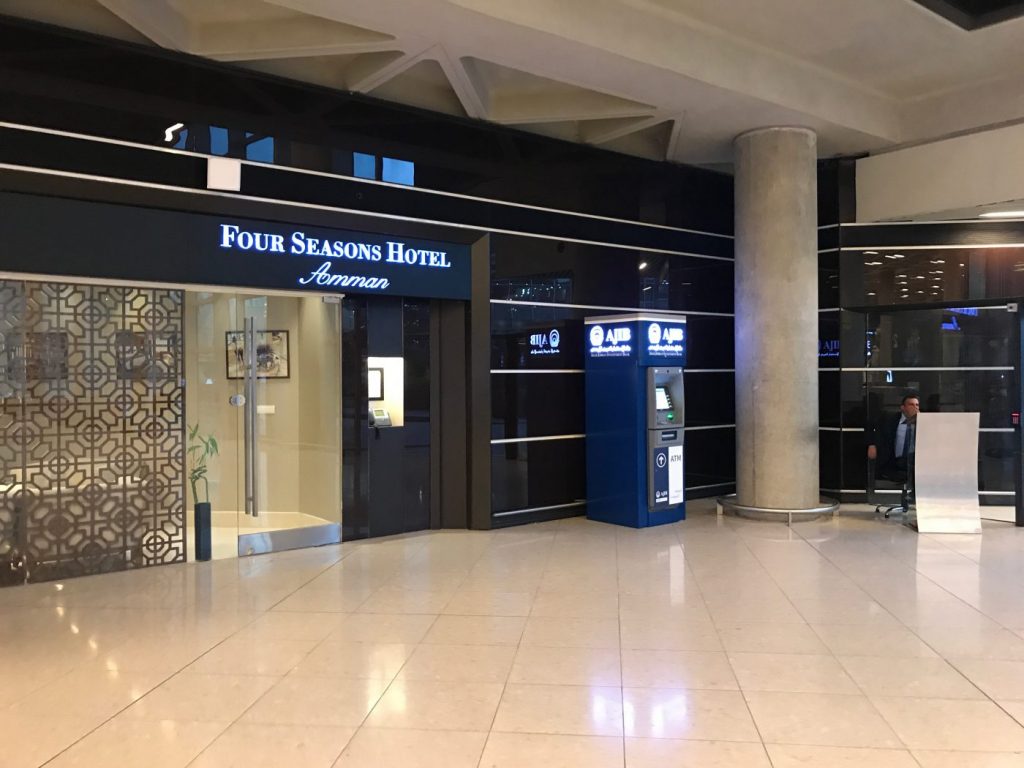 DAY 2: Amman + Jerash
On the 2nd day of your Jordan itinerary, depending, how long you have in Jordan you can have a fast-paced day and fit both these things into 1 day or (like me) spread it over 2 days, which is much more relaxed. Amman is a gorgeous Middle Eastern city. This is especially true for people who haven't traveled much in the Middle East. It's friendly, super safe and full of little eateries.
On your city tour, make sure to include the Amman Citadel (3JD to enter – $4) – home to the Roman Temple of Hercules, Hercules hand the citadel ruins. All dating back to the 2nd century AD! The Amman Citadel is also the site of Jordan Archaeological Museum, which is home to a collection of artifacts from the Citadel and other Jordanian historic sites (not my scene personally. But if you have the Jordan Pass, it's included)
From there, you can walk for 30 minutes or so down the steps all the way to the Roman Amphitheatre (2JD to enter – $3). The Roman Theatre is a 6,000-seat, 2nd-century Roman theatre and after you get your ticket, you can climb all the way to the top. 
*TOP TIP FOR VIEWS OF AMMAN
Go for a coffee or bite to eat in the charming Amman Pasha Hotel nearby. The rooftop patio is cheap and offers a great view of the amphitheater. Say hi to all the hotel pets for me!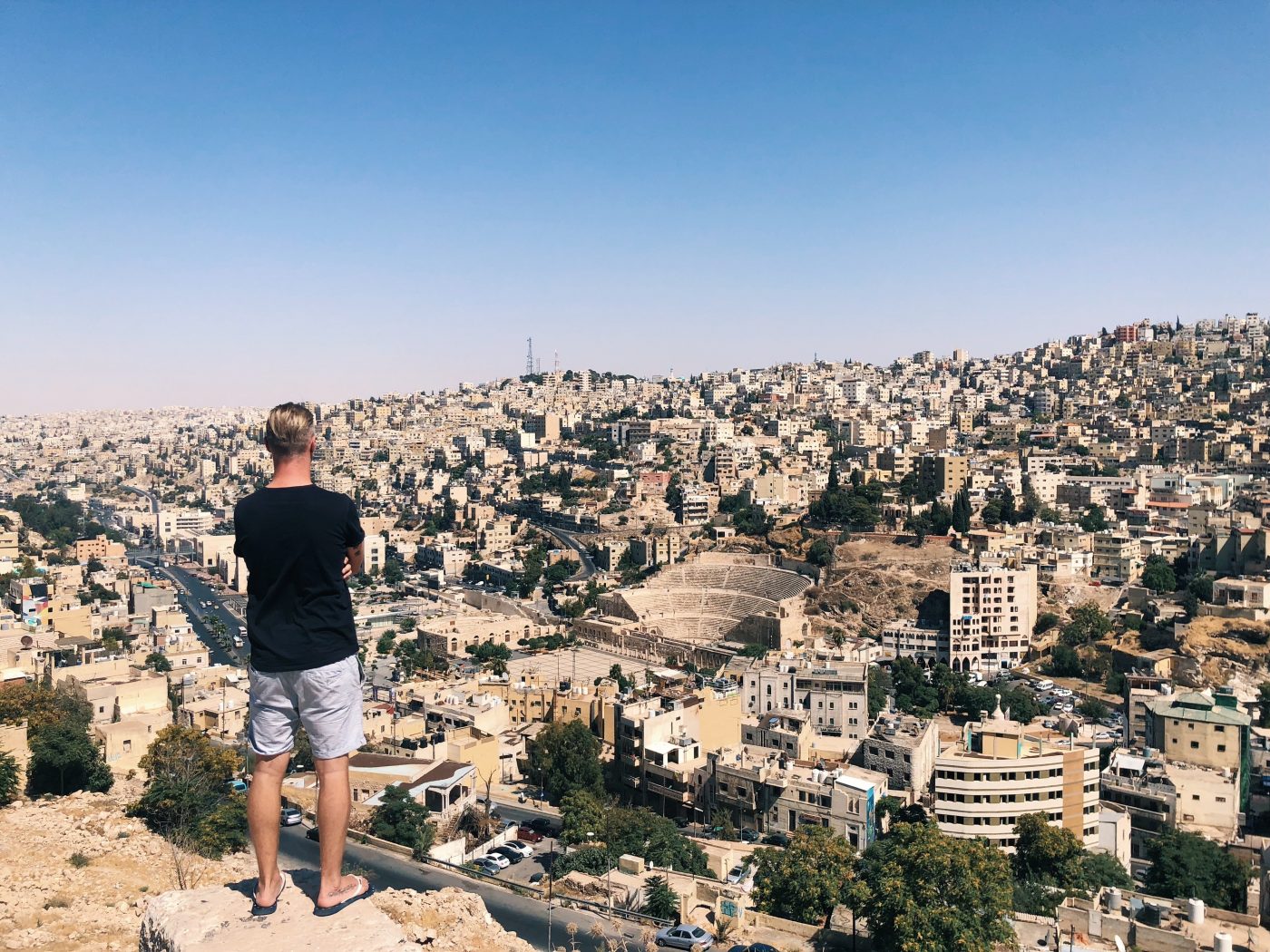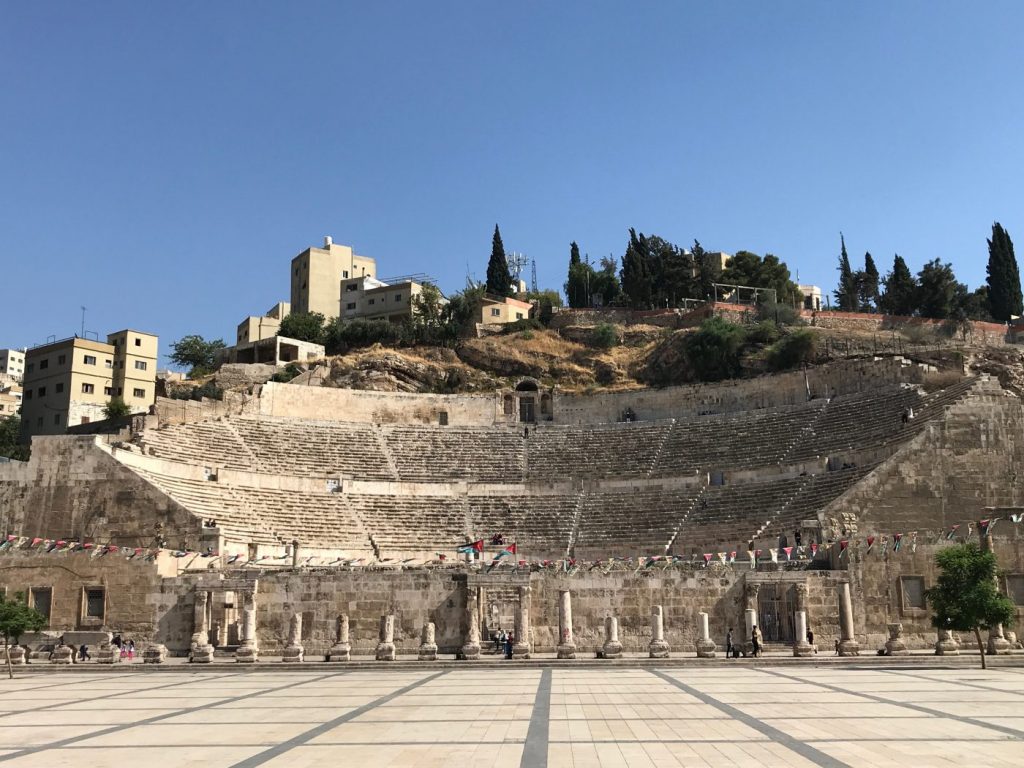 From Pasha hotel or the amphitheater, it's a 40 minute walk (or 5 minute Uber) to the King Abdullah Mosque, the Country's main Mosque. It's a beautiful building and the people are so welcoming. So you'll be stopped for a warm and friendly chat no doubt. 
Amman to Jerash:
Now, it's time to get to Jerash for the afternoon. There are 2 options to get from Amman to Jerash:
Private Taxi. I took this option to get there. It costs around 10JD one way ($15) but it's tough to find one back sometimes, so you can rent from Amman to drive you, wait and drive back for about 40JD ($55)
Bus. I took this option back. Only costs 1JD! But you have to get to Tarbabour station, that's where the bus from Jerash leaves. To get to Tarbabour station you can take a shared taxi or Uber.  There is no timetable for the bus to Jerash, it goes when it's full.
Once you get to the ruins in Jerash, you pay your 10JD, then you're free to explore. Remember if you get the Jordan pass, the ticket entrance is free. Allocated 2/3 hours for the walks around the ruins. They're in pretty spectacular shape to be honest, dating back to 3BC. And they were one of Ancient Greece's main cities, so be prepared to be impressed!
*TOP TIP FOR DINNER IN AMMAN:
If you're back in time don't miss the chance for dinner on the rooftop for sunset at the Living Room restaurant.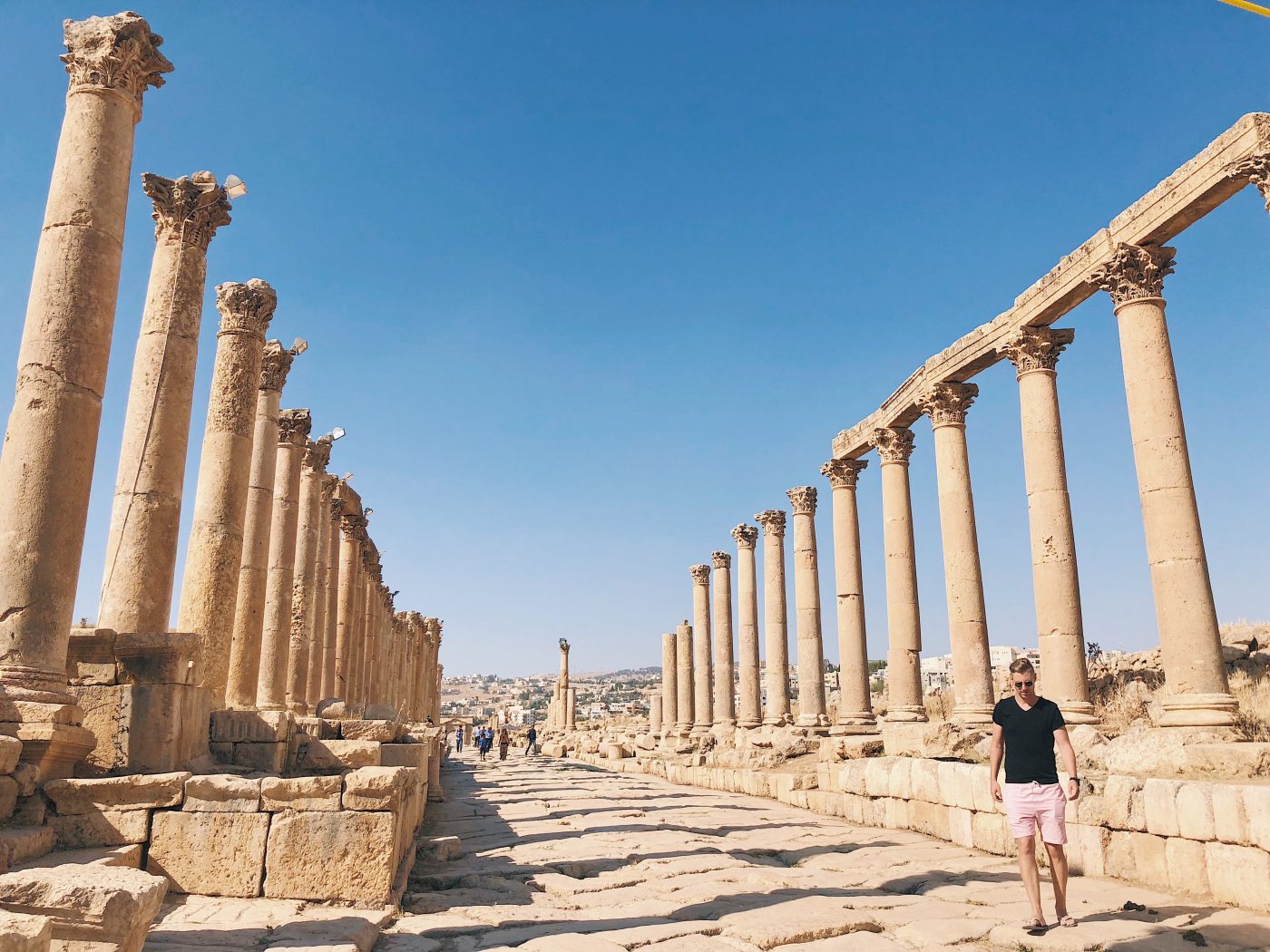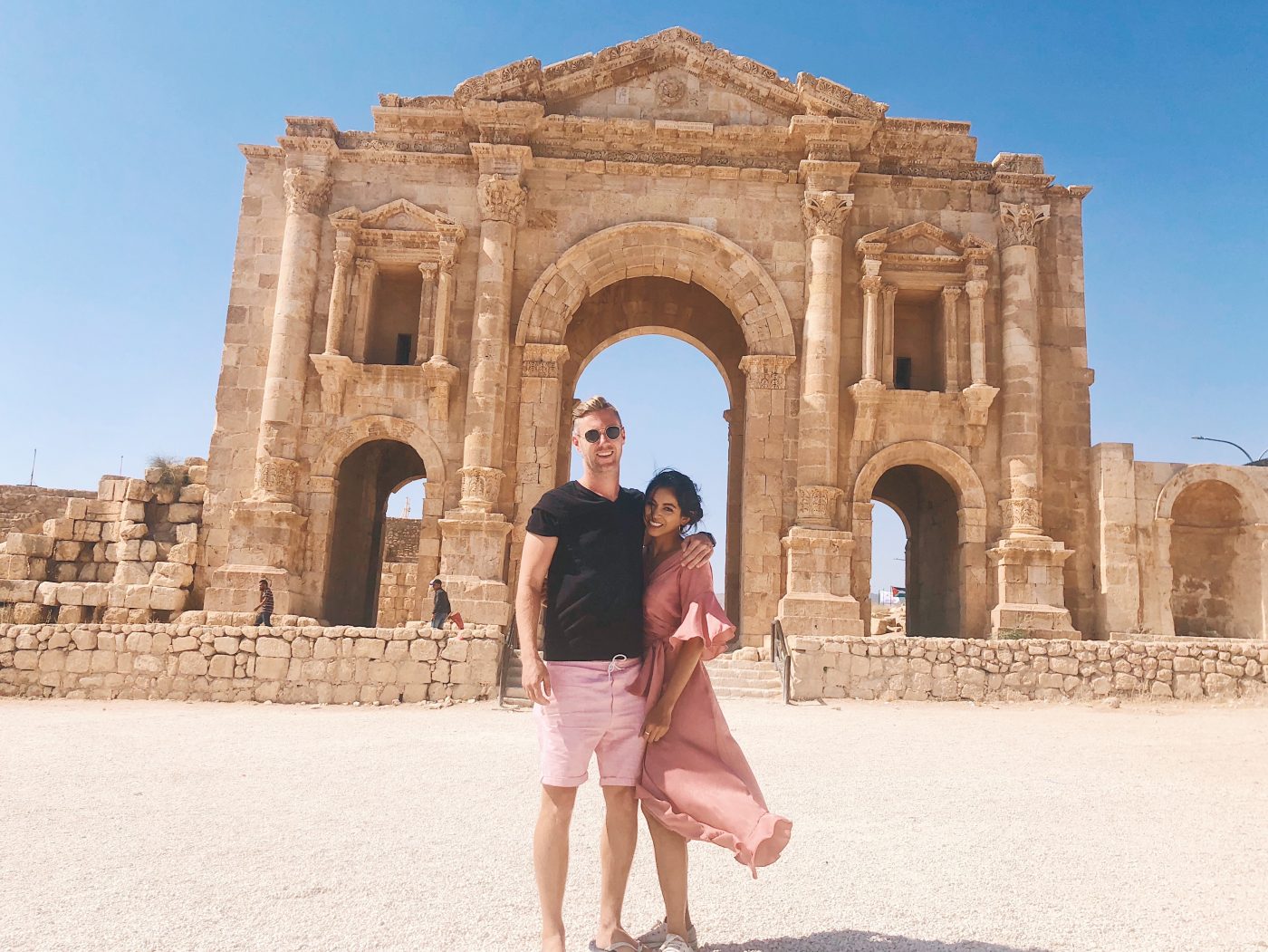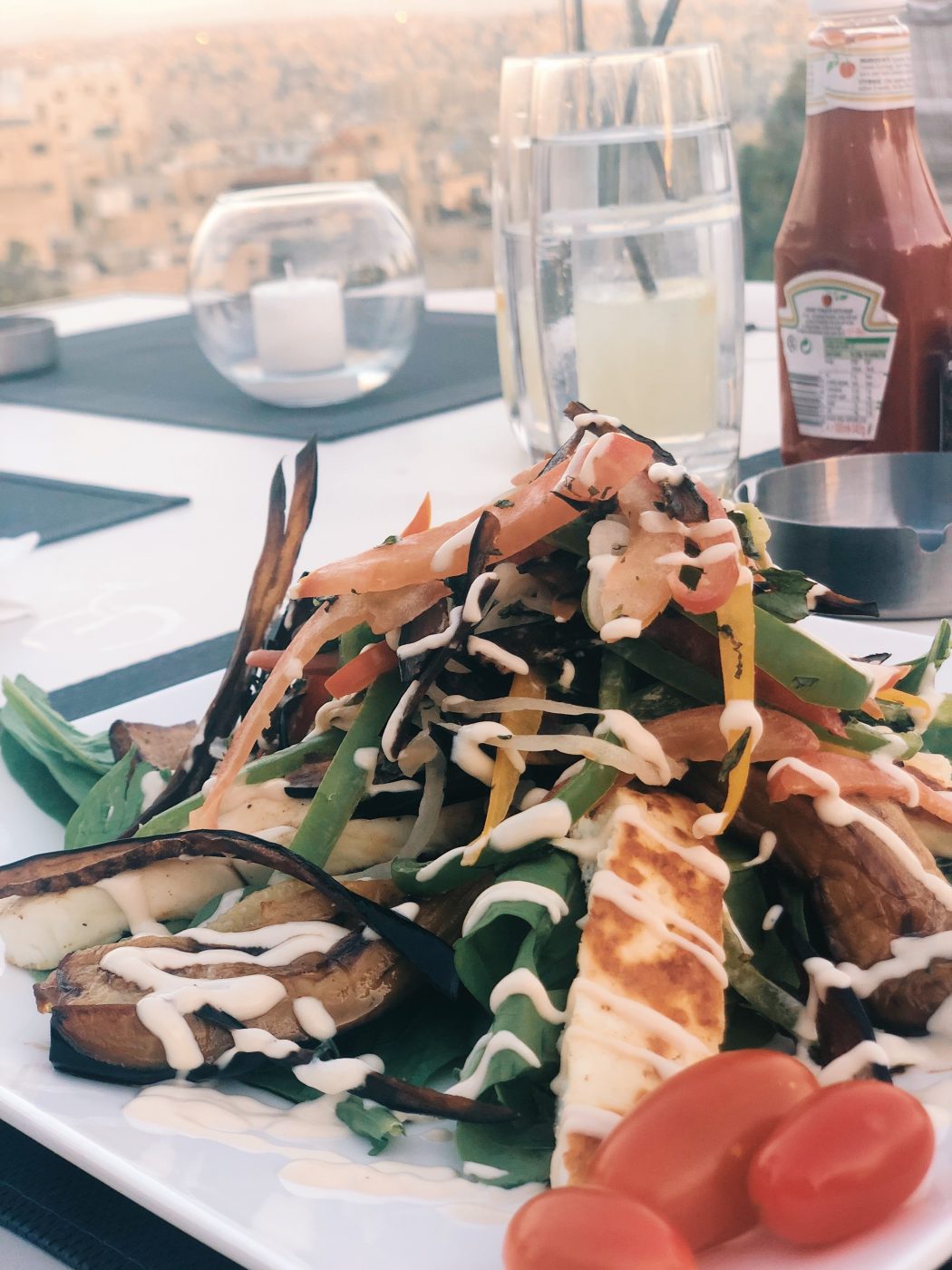 DAY 3: The Dead Sea
After your second night in Amman, it's time to make the short journey to the lowest place in the world, the Dead Sea (at 394.6 m (1269 ft) below sea level). If you're religious (I'm not), it's also where Jesus was baptized (you can actually visit the spot for $20).  The best thing to do at the Dead Sea is to cover yourself in the mud/clay and bake. It has rejuvenational properties and will leave you looking and feeling a little younger, something we could all do with I think!
Another thing you must do is simply lay back in the water and float. It's actually almost impossible to swim as the water is so high in salt content, you literally feel like you're floating on the surface with zero effort. Any cuts from shaving etc will sting like crazy so be warned, and don't get any in your mouth or eyes, it's a killer.
How best to see the Dead Sea in Jordan
There are 2 options.
1) If you're on a budget, head to 'Amman Beach'. There is still a 20JD entry fee but they have showers, towels etc which you'll need. You can also go nearby there and access the sea for free, but with no facilities etc, and you'll NEED showers with the high salt content.
2) A better option, in my opinion, is to head to the Dead Sea around lunch, from Amman and check into one of the hotels there, and spend one night. You can relax in the open, and you can access their private Dead Sea beach access. They range from Hilton, to Holiday Inn and range in prices from $80 or so to a couple of hundred. I choose the Movenpick Dead Sea and Spa and I think it's the best personally, right beside the mall, lots of eating options, amazing infinity pool overlooking the Dead Sea and a great private beach area. 
HOW TO GET TO THE DEAD SEA FROM AMMAN?
In short, not easily! The best way is to take a taxi directly from Amman (20-40JD, somewhere around $40). If you're on a tight budget, shared mini-buses can get you to Ma'in, about 20km away or so. If you have time, you can visit Mount Nebo on the way to the Dead Sea too.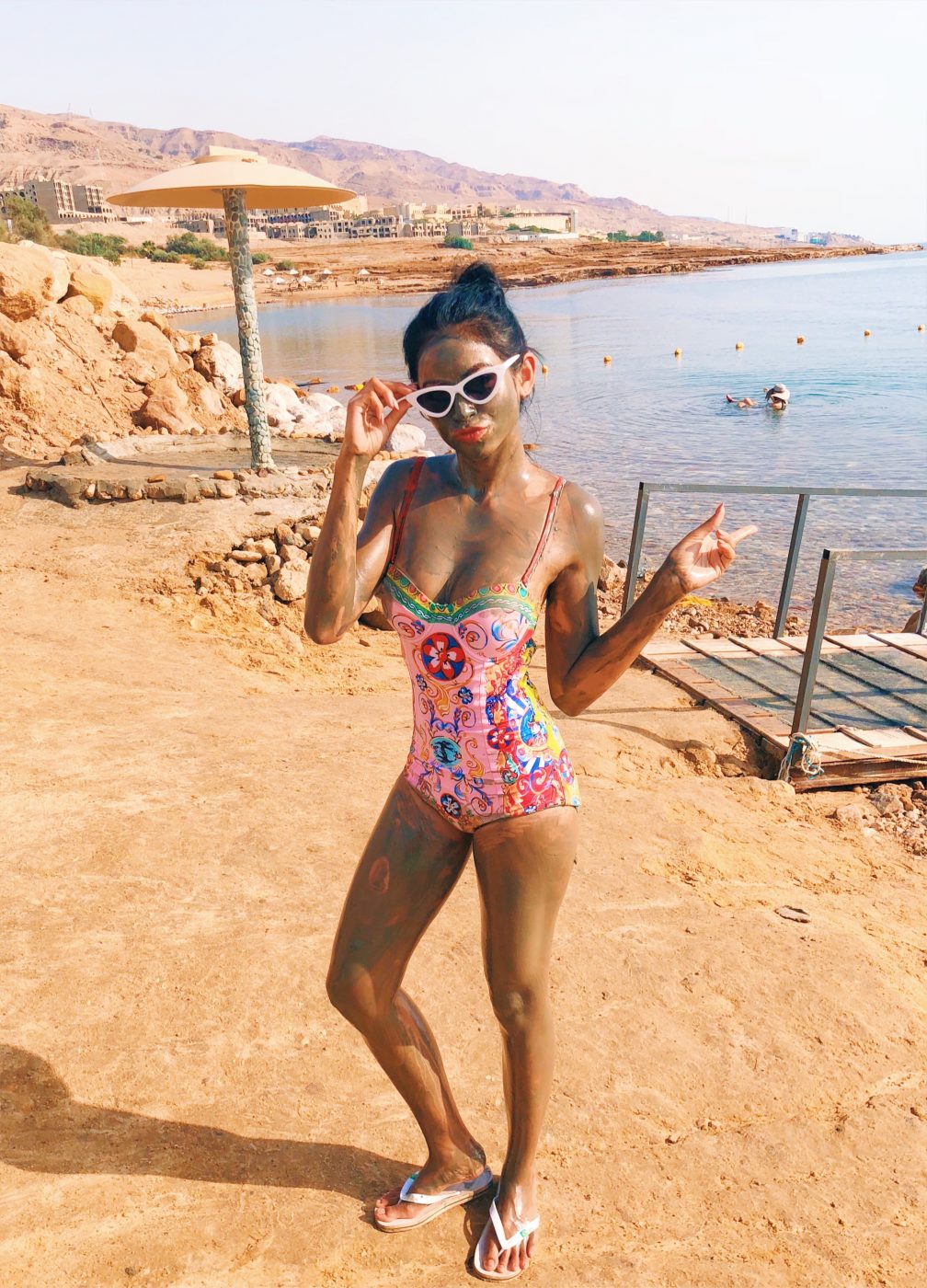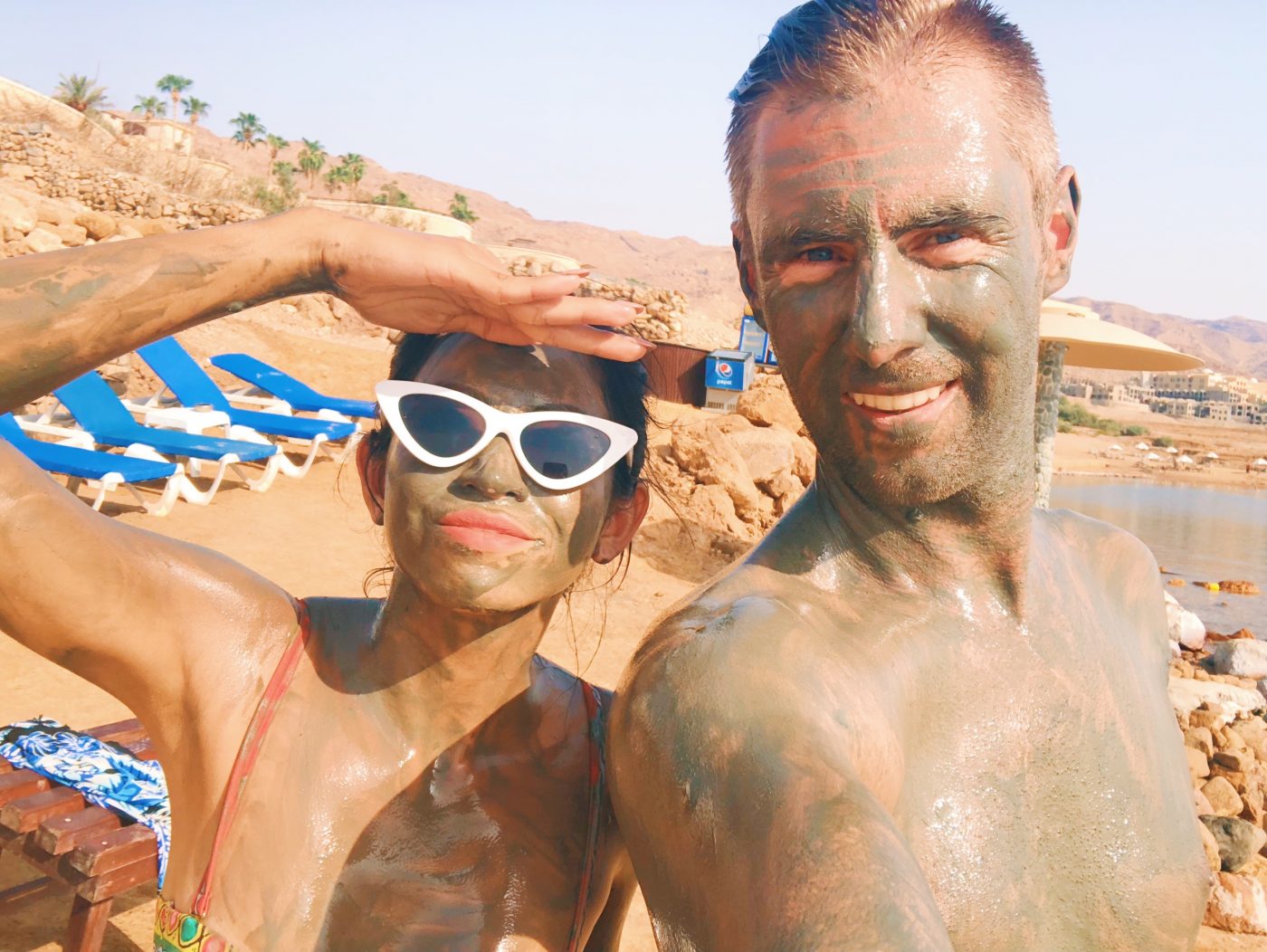 DAY 4: Petra by Night & Wadi Musa
Day 4 of your Jordan itinerary. A few hours at the Dead Sea is enough, couple that with a relaxing stay at one of the nice resorts on the coast and you're outta there. The next destination is Wadi Musa, that's the town that you access the ruins of Petra from. It's literally 1km from the ruins. Wadi Musa is 200km from the Dead Sea beach area, so it takes 3-4 hours to transfer.
Getting from the Dead Sea to Wadi Musa/Petra:
You have 2 options:
1) Taxi/hitchhike back to Amman, then take a shared minibus from Amman (Wihdat bus station/South Bus, 7JD)  to Wadi Musa.
2) Private taxi directly from the Dead Sea beach area to Petra. Super easy but pretty pricey at around 70JD ($100). 
If you take a private taxi you'll be in Wadi Musa early enough to visit Petra for a quick access to the viewpoint above the treasury, which is what my girlfriend and I did (this is why I recommend the middle option of the Jordan pass – it allows you to access Petra for 2 days).
We check-in and around 3.30pm we rushed to the treasury, with a lot of people. Here you can access a viewpoint from above, there are 2 ways up – pay a local guy to take you the short 15 minute way, where often there are a lot of tourists, or you can hike, for free, the long way around and have the viewpoint to yourself. We did the second option as the following day would be our 'real' Petra experience, today was just for this viewpoint.
This is how to do it. Walk through the Siq  (the tunnel), past the treasury, to the Royal Tombs, then go to far left of the tombs, and follow the signs for the Al Kuntha trail, you should reach some stairs and then keep going. It takes about an hour and it's hot!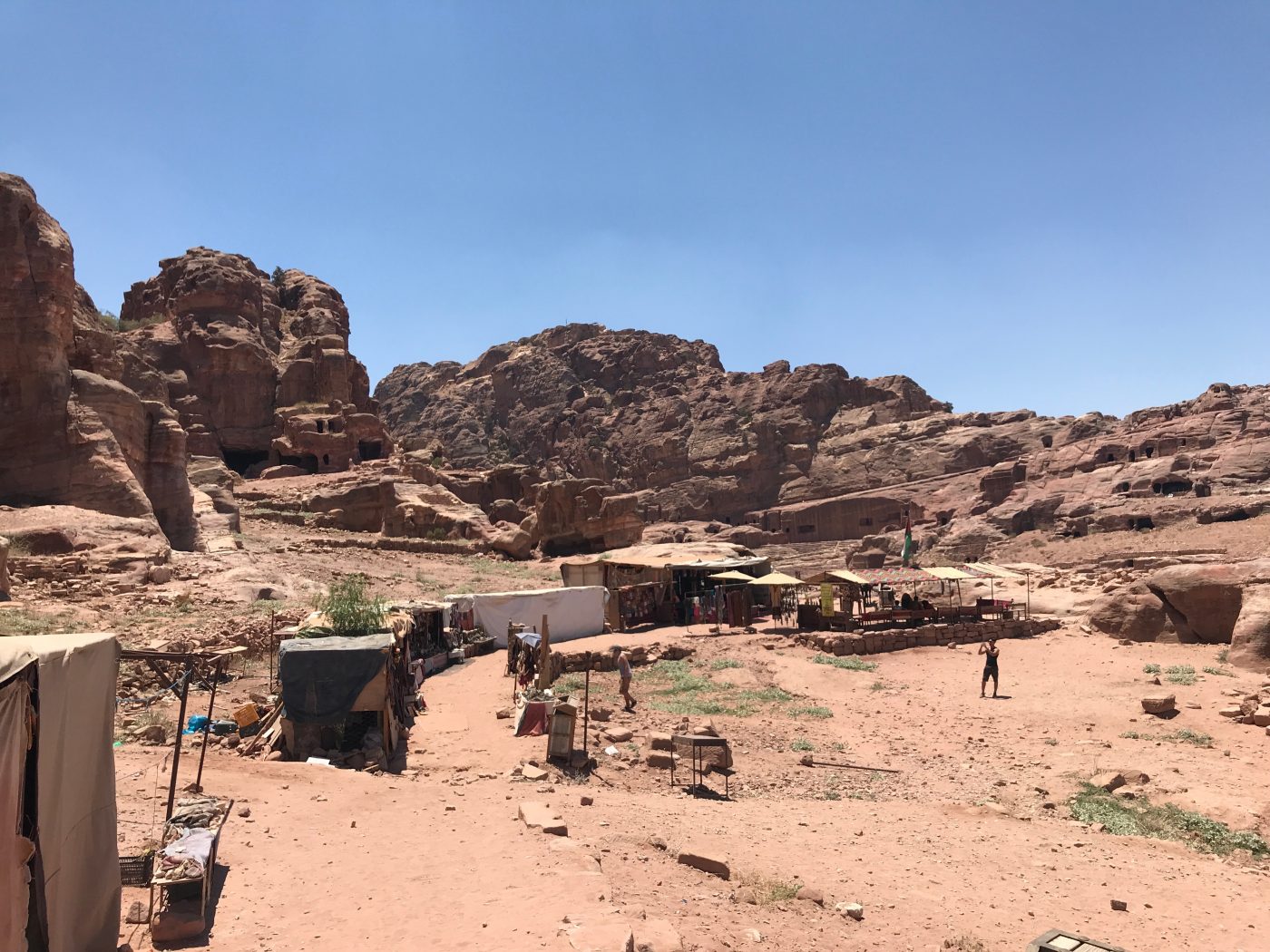 The views are worth it: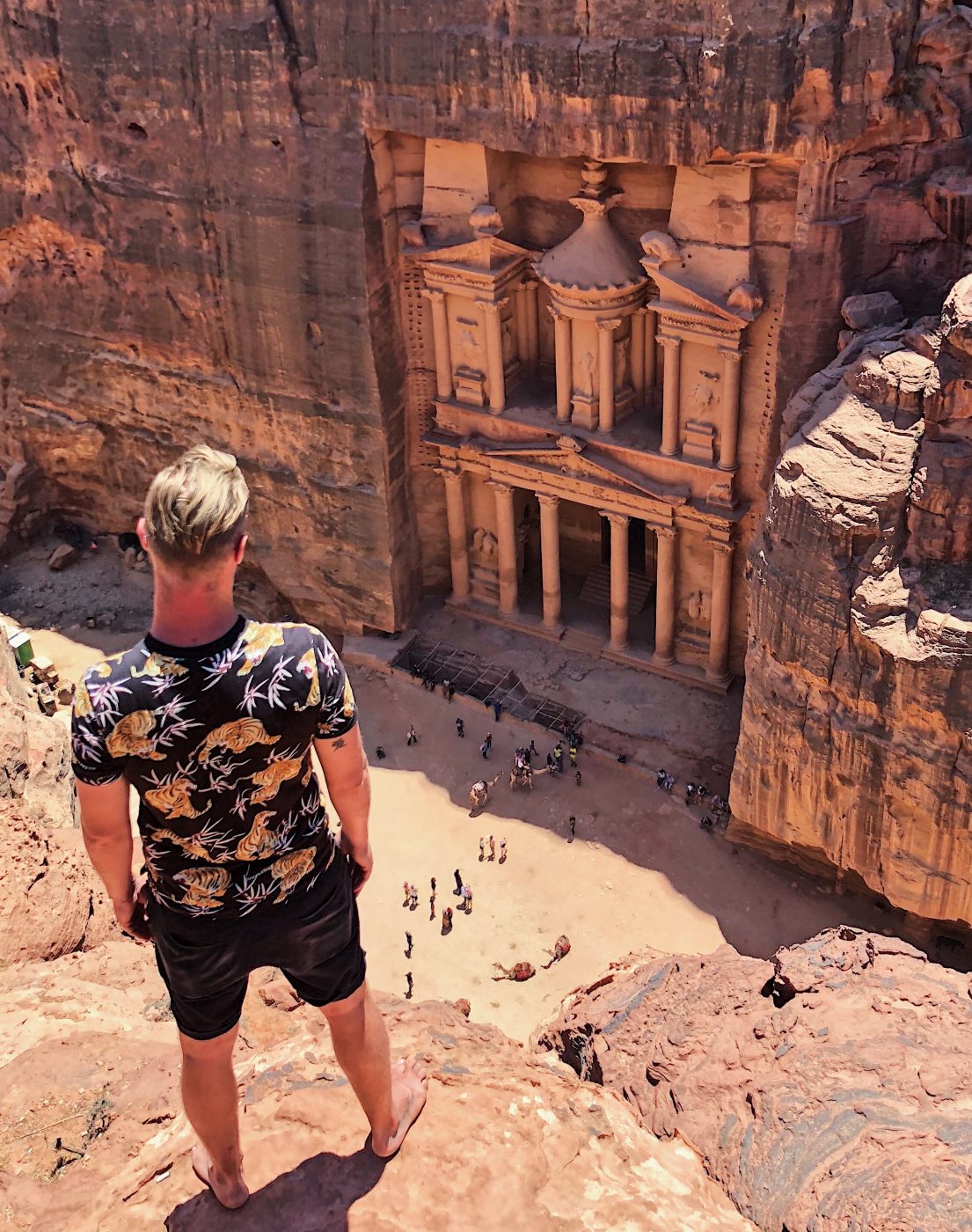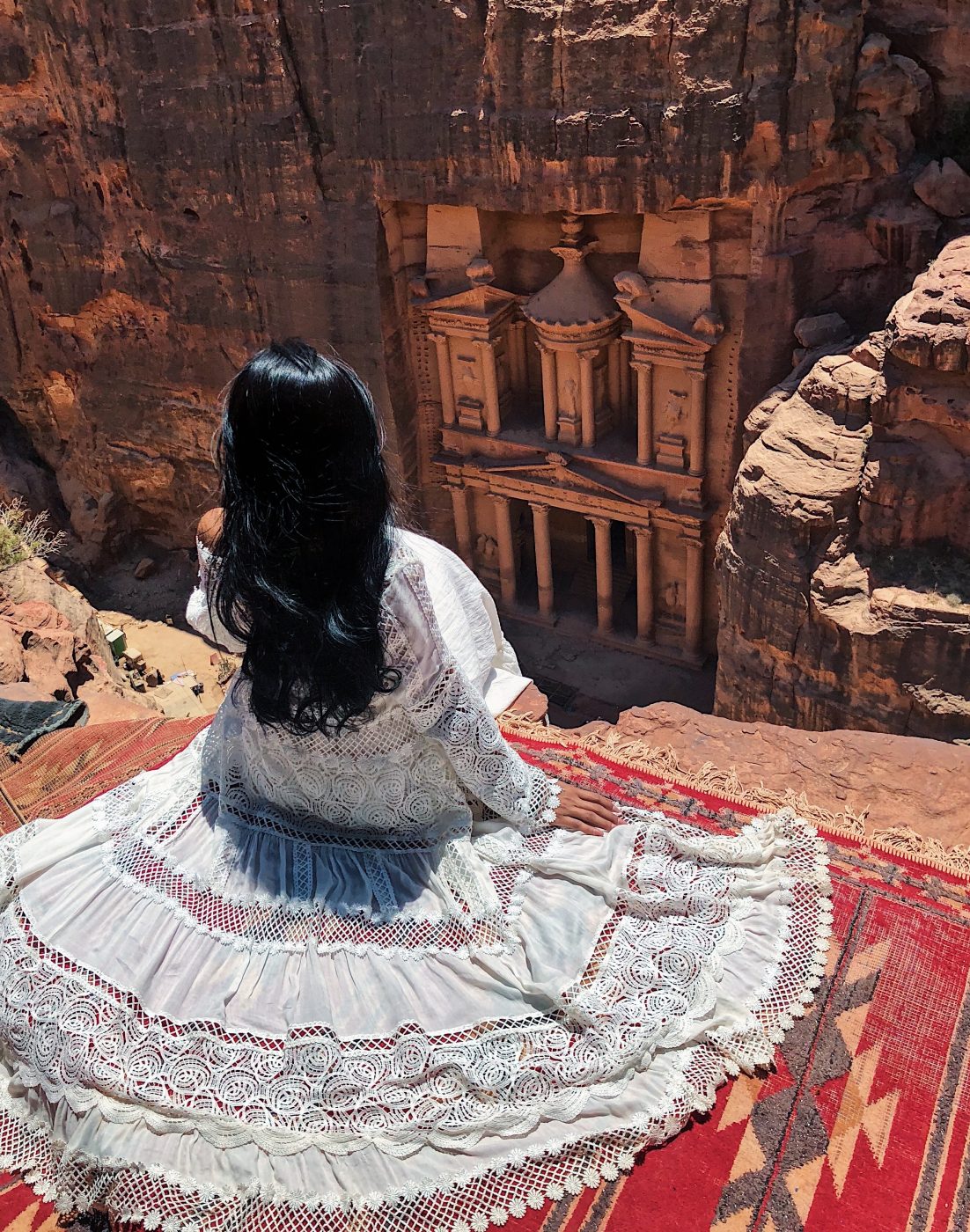 Petra By Night (times and tickets)
Once you reach Wadi Musa, check-in to your hotel and hopefully you'll have planned your trip so that DAY 4 here is on a Monday/Wednesday/Friday as these are the days that 'Petra By Night' is running.
The cost per ticket is 17 JOD (NOT covered by Jordan Pass) however you must own Petra by day ticket to be able to enter Petra by night. Petra by night starts 20:30, no need to be too early as it's a long walk and you're not allowed to overtake the guide who brings you, but aim to stay near the front of the crowd to get a good seat. 
Is Petra by night worth it?
Hmmm, yes, just about. It's not cheap at 17JD ($24) and it only lasts 1 hour. The actual show is a little boring, traditional music, some chanting, fun for 15 minutes, but 60 mins drags a bit. The best bit, in my opinion, is the way they light up The Treasury with the lanterns, it's beautiful. And for that reason alone, it's worth the effort.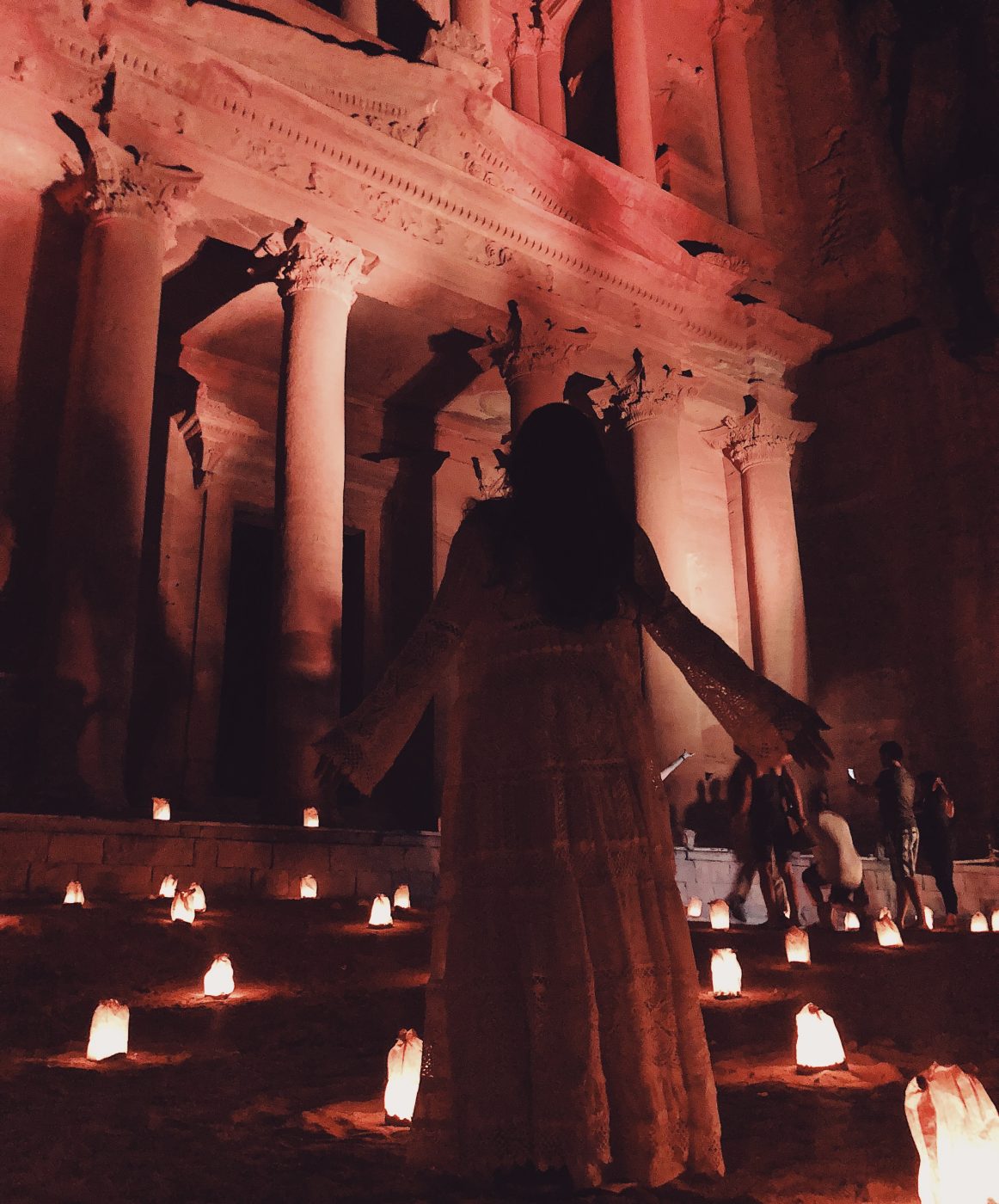 DAY 5: Petra & Wadi Rum
WAKE UP! And wake up early to visit petra. Petra opens from 6am to 6pm during the summer and 6am to 4pm in the winter, that means you want to be at the entrance at 5.50am. I've been to Petra twice, and both times by waking up so early I had the whole park COMPLETELY to myself both times. That means pics at the Treasury, the Monastery and the Siq all to yourself.
Petra Top-Tip!
Occasionally other people may also be crazy so either walk ahead of them (entrance, through the Siq, to the Treasury is about 2km or so, and then another 2km or so to the Monastery), alternatively walk slowly and let them arrive first, they'll have left by the time you arrive, but you run the risk of more people arriving, so I practically run each time! Then I'm done with pics and atmosphere and move on throughout the park and again have the rest of the park to myself too, magical. 
The 3 best parts for me ar the Siq, the Treasury, and then the Monastery at the far, far side of the park. So last time I finished with the Treasury and power walked all the way to the far side so I had the Monastery to ourselves too, and it was well worth the sweat and sunburn. To have a World Wonder to yourself is truly a privilege. 
20km in a day
The park is HUGE, so expect to walk up to 20km today. I normally live in flip-flops but even I wore sneakers this time around. Bring sunscreen, and water, and be ready for a hard day of trekking. After I had experience the 3 main events, I was happy to walk slowly and explore the rest of the park as I made my way back to the entrance gates.
All-in-all I was in the park this time from 6am to around 1pm and I was all Petra'd out, especially considering I was twice there the day before for the View point and Petra by night. Personally, I think that's the perfect schedule to experience Petra. But I know some history-buffs love to explore every corner, that's not for me though, each to their own.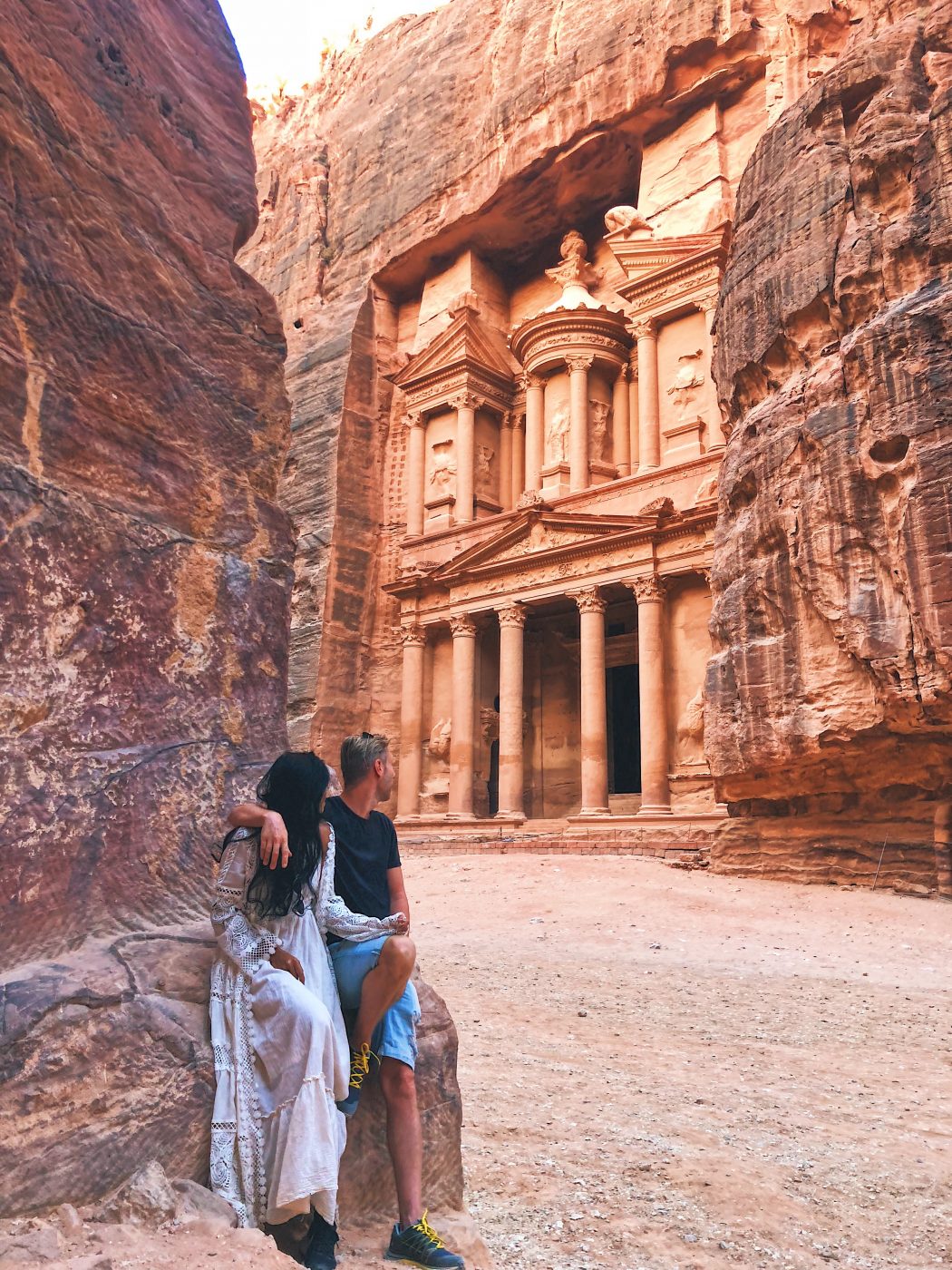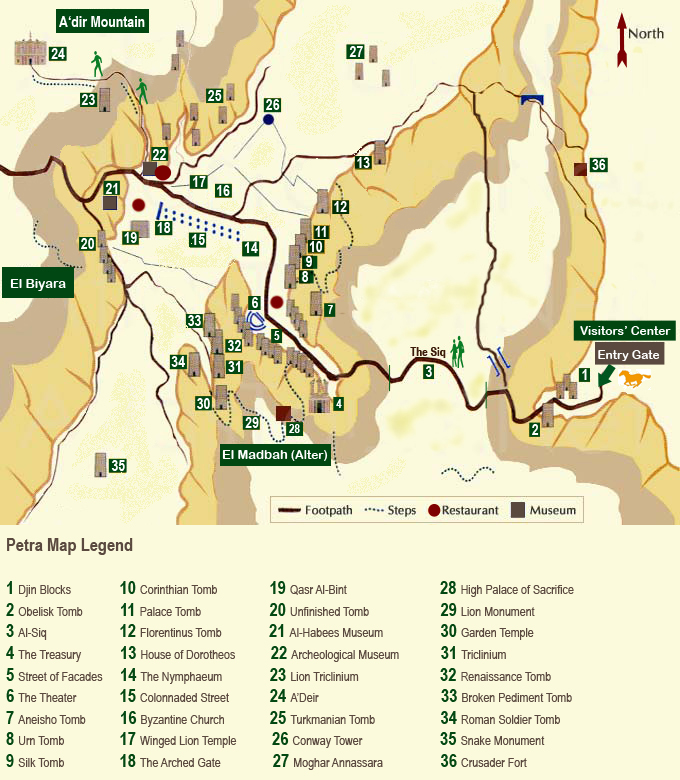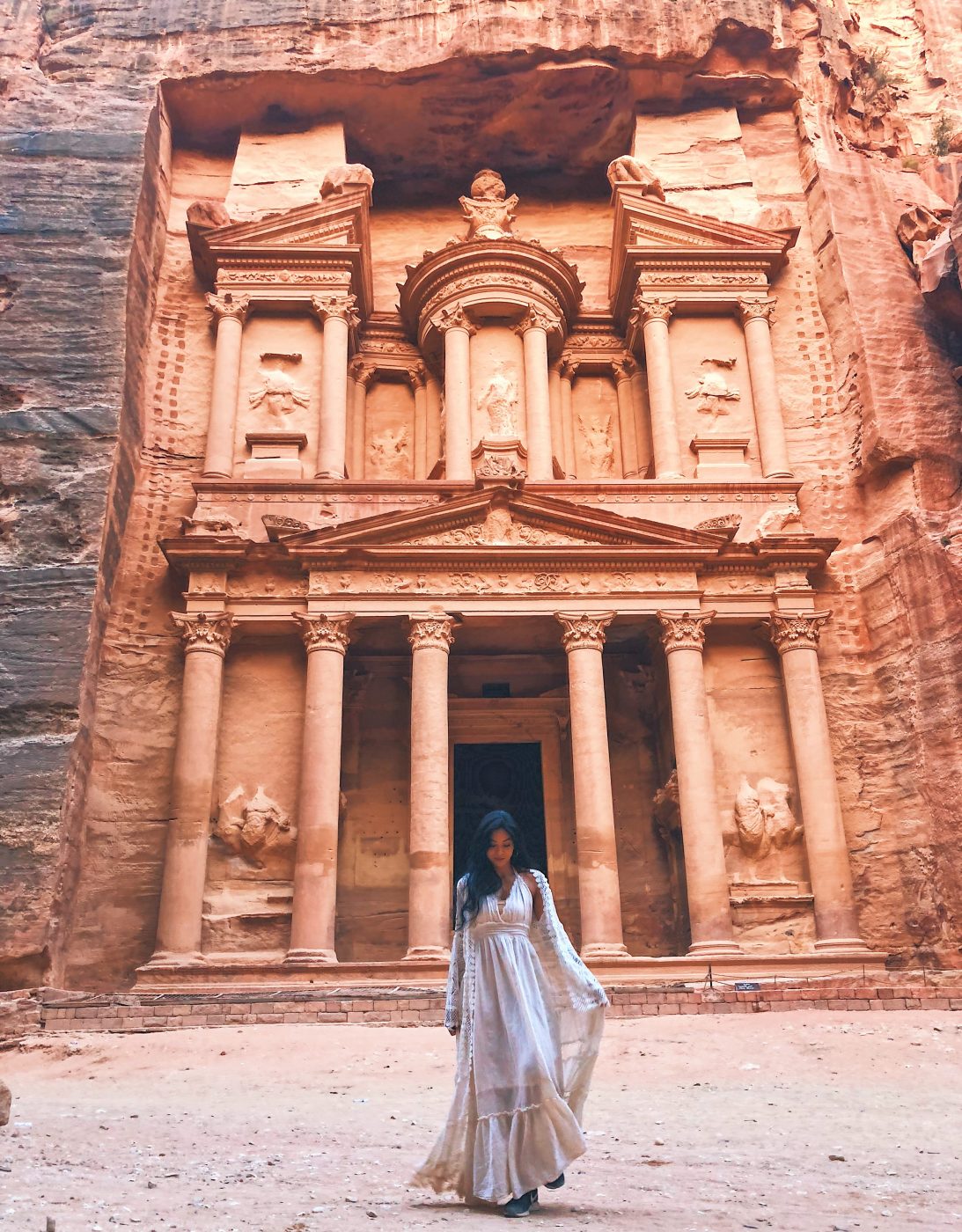 There's not too much to do in Wadi Musa town other than a view point (don't bother), so we had a spot of dinner in town and hit the sack early after my fitbit told me I had hit 30,000 steps! 
DAY 6: Wadi Rum & Aqaba
Time to head to the Desert. From Wadi Musa to Wadi Rum is 110km or so, about a 2 hour drive. 
How to get from Wadi Musa/Petra to Wadi Rum:
There is one bus per day from Wadi Musa (Petra) to Wadi Rum which leaves Wadi Musa around 06:30. The price of the bus ticket is 8-10 JD (depending on how much passengers are on the bus). The trip takes around 2 to 2.5 hours. Tickets should be booked through your hotel in Petra. The bus driver then collects you from your hotel directly or the Wadi Musa bus station in case you stay outside Wadi Musa itself. The bus stops at the Visitor's Centre and the bus stop next to the Rest House in Rum Village
Private Taxi – easy to organise in Wadi Musa, costs around 35/40JD ($50). 
Wadi Rum town to the Desert
Once you reach the little town in Wadi Rum, you'll need to have organised where you're staying in the desert. The Bedouin tour operator or accommodation people will meet you in that town (pre-arrange the time first, and get their phone number) and bring you to their little-tented area. 
Once with them, you'll do everything with them. You should arrive there after lunch sometime, so relax, have some tea and soak up the desert atmosphere. Then, depending on what you've organised, you'll have a late afternoon drive with them, exploring sand dunes, visiting Lawrence of Arabia's house, Umm Fruth Rock Bridge and generally just seeing the vastness and beauty of the place. It's truly amazing.
That evening you'll get back in your tented accommodation and have a local Bedouin dinner, and then see the stars, clearer than you can imagine, before hitting the sack. In the morning, it's possible to do another desert drive, depending on what you've organised with the operator, and time for some breakfast too. 
Glamping in Wadi Rum?
The prices of the tented-accommodation, with activities, can range from  20JOD all-in ($30) to $250+ a night for a luxury camp experience like the one I choose at Memories Aicha Luxury Camp, if you're only ever going to go once, then I say pay the extra and live it up.
TOP-TIP? Glamping in Wadi Rum at Memories Aicha Luxury Camp was one of the best travel experiences of my life.
It was worth every single penny, check these out: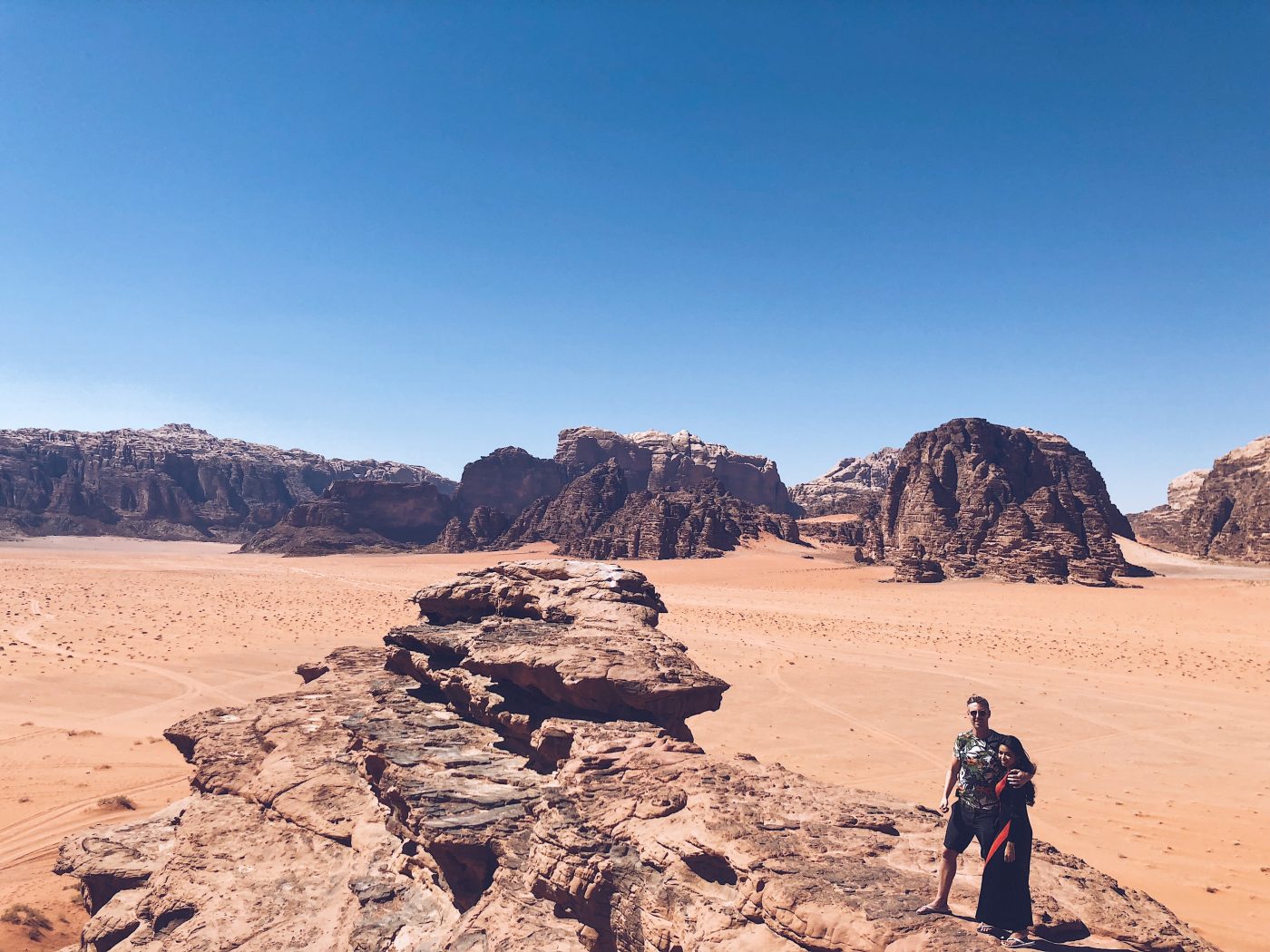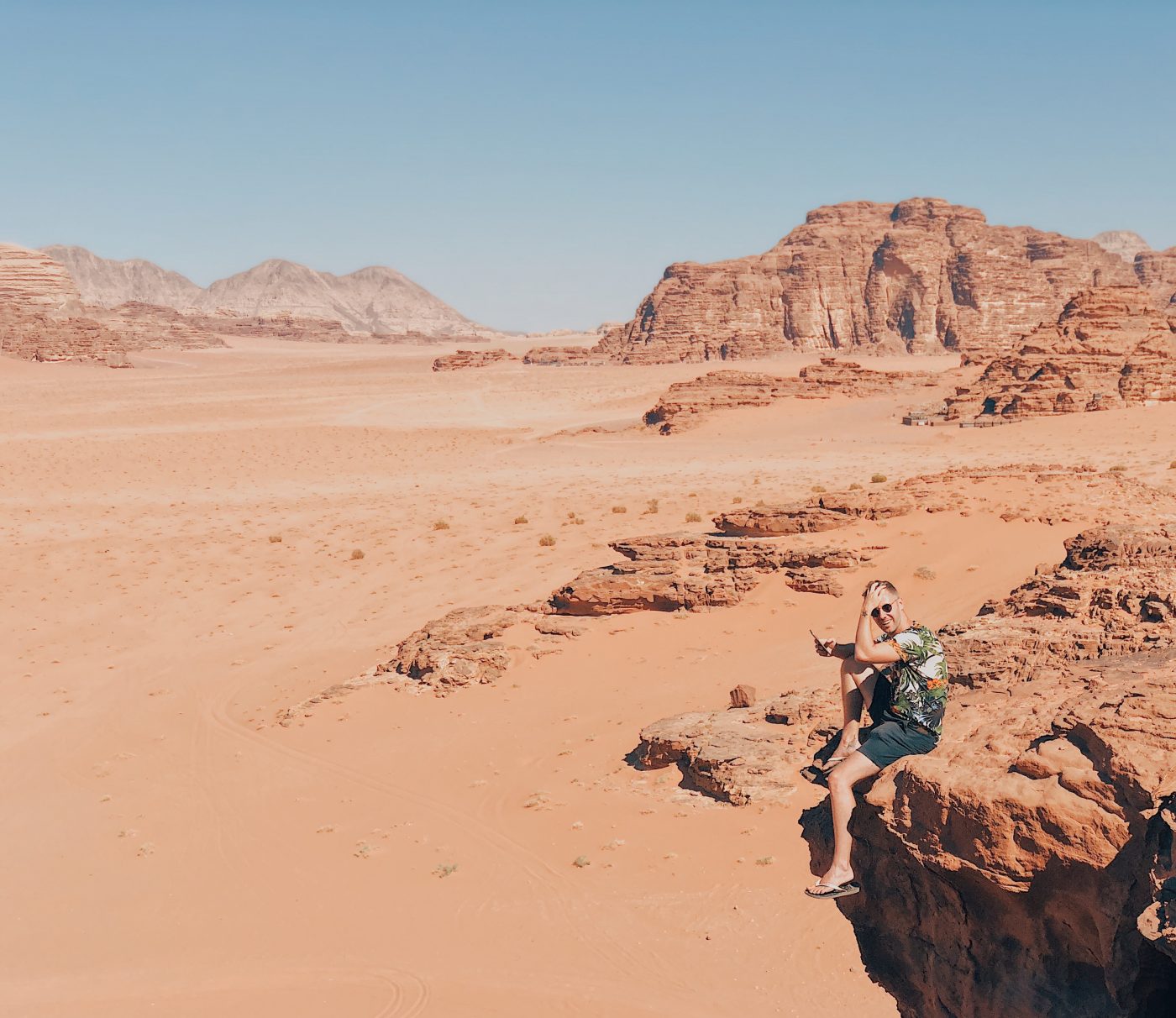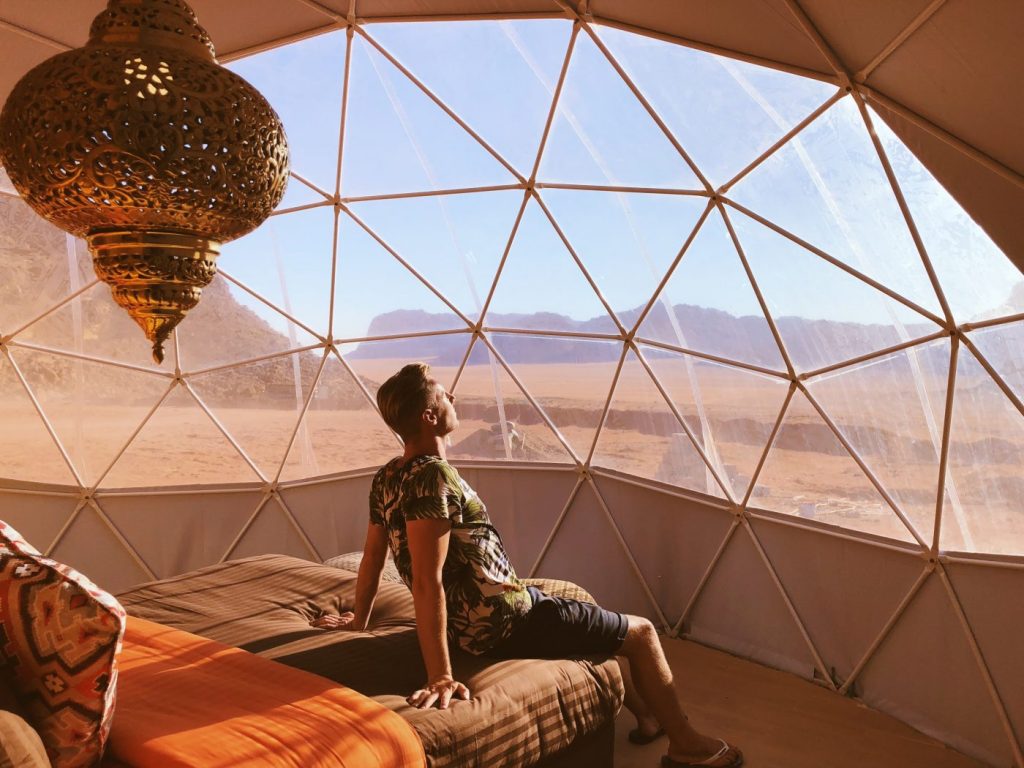 DAY 7: Aqaba
Day 7 of your 7 days in Jordan. After your morning in beautiful Wadi Rum, finish you're brekkie and have the guys drop you off at Rum town. From here you're just 1 hour/70km from Aqaba town. There is a daily minibus from Wadi Rum Village to Aqaba that leaves at 06:30 or 07:30 (ask the Bedouin guys), or you can organise a private taxi for around 20JOD ($28). These guys will drop you at your hotel in Aqaba.
Aqaba is a holiday town. Resorts, hotels, restaurants and even some cool bars, which is rare in Jordan. You've done your early starts, your kms of walking, Aqaba is the time to remember you're on holiday, so you can relax, drink beers, read your book, top up your tan. 
It's also right on the Gulf of Aqaba, which is connected to the Red Sea so scuba diving is world-class too. If you leave Wadi Rum after breakfast, you'll have a whole day here to chill. Personally, that's enough for me, I get bored easily, but if you love to relax, pin on a few extra days and you're all set.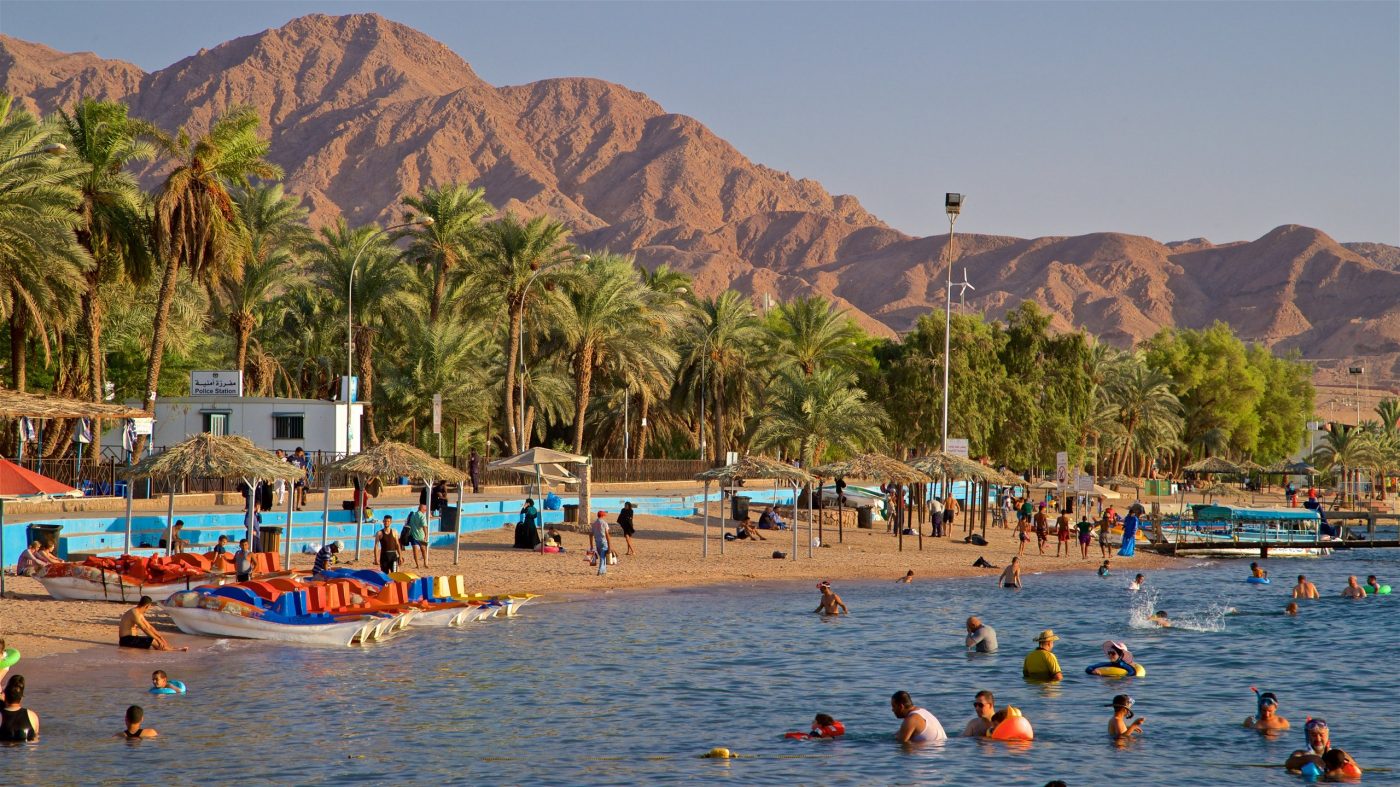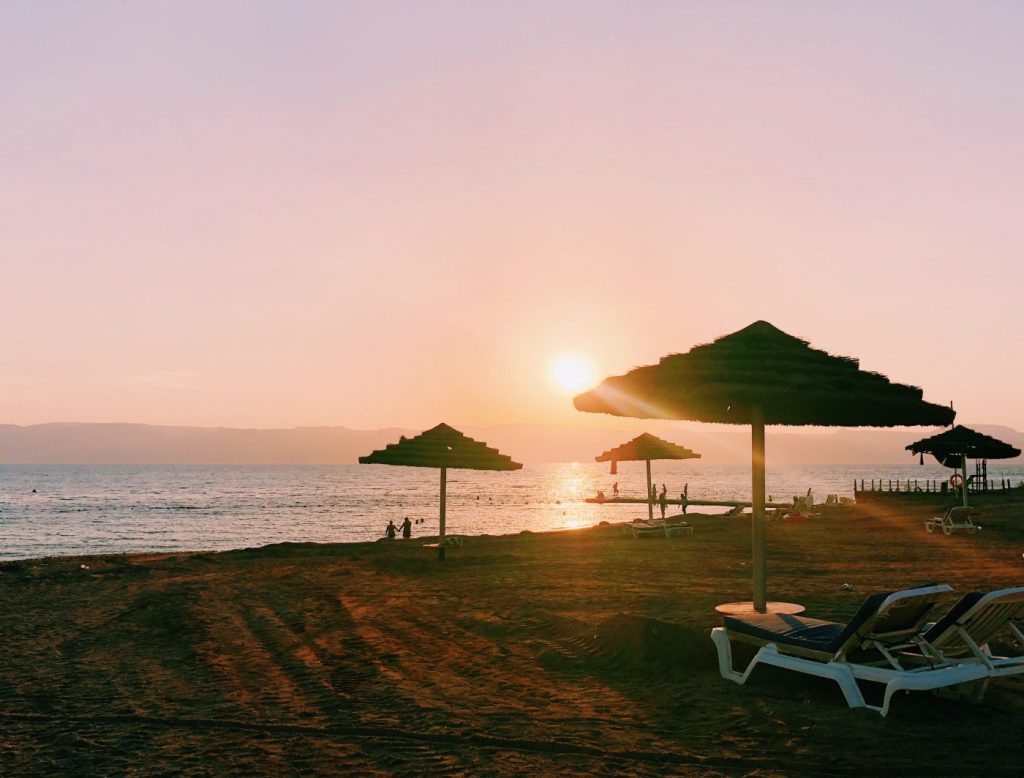 DAY 8: FINISH!
Your 7 days in Jordan is up. Jordan must be one of the top countries in the world to spend a week – a perfect combo of history, food, relaxation and beauty. All mixed with friendly people and a great climate. It's no surprise that it's going so quickly in tourist numbers, so I'd recommend going as soon as possible before it's overrun. I'm going back in October this year and I cannot wait to re-enact this Jordan itinerary once more!
Insurance for Jordan?
There's only one choice that makes sense. $10 a week. Turn it off or on when you need it. Safetywing. I wrote about it here as the best digital nomad insurance. But you can sign up here.
COME TO JORDAN WITH US AND HELP US BUILD 2 CLASSROOMS IN OCTOBER!
So yup, my GiveBackGiveAway organisation is running a trip here in October, we'll be building 2 classrooms for an impoverished community 90 minutes outside the Capital, Amman followed by 7 days in jordan traveling. After 3 or 4 days of finihing the construction and opening the classrooms, we're off to explore Jordan, following pretty much the same itinerary as above. We have just 6 spots left, so let me know if you'd like to join. See you in Amman!
Oh, and if you haven't heard of my Mudita Adventures trips before – we combine humanitarian efforts with adventure tourism, here's our recent project in Tanzania, so you can get a flavour.  
EDIT 2021: We built the English classroom in Jordan already!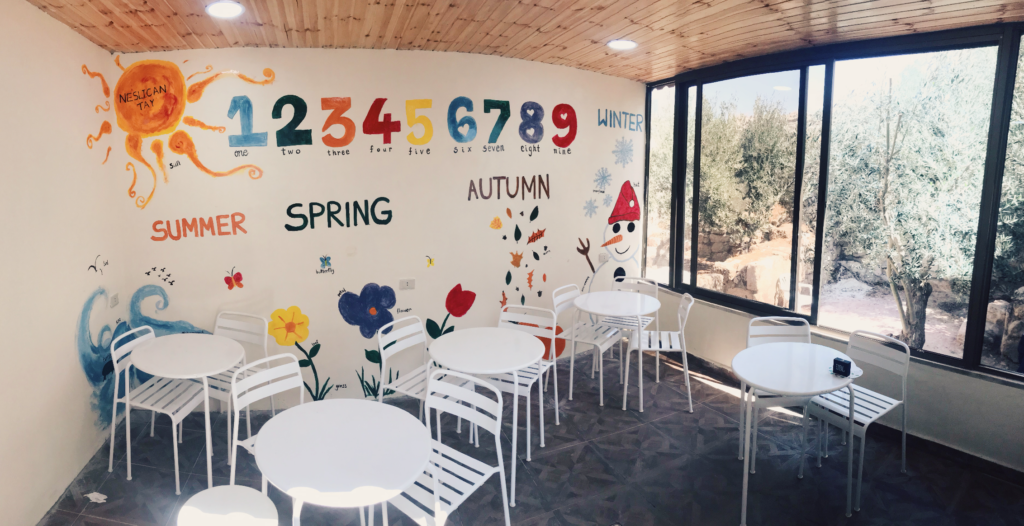 Remember, never travel without travel insurance! And never overpay for travel insurance!
I use HeyMondo. You get INSTANT quotes. Super cheap, they actually pay out, AND they cover almost everywhere, where most insurance companies don't (even places like Central African Republic etc!). You can sign-up here. PS You even get 5% off if you use MY LINK! You can even sign up if you're already overseas and traveling, pretty cool.
Also, if you want to start a blog...I CAN HELP YOU!
Also, if you want to start a blog, and start to change your life, I'd love to help you! Email me on johnny@onestep4ward.com. In the meantime, check out my super easy blog post on how to start a travel blog in under 30 minutes, here! And if you just want to get cracking, use BlueHost at a discount, through me.
Also, (if you're like me, and awful with tech-stuff) email me and my team can get a blog up and running for you, designed and everything, for $699 - email johnny@onestep4ward.com to get started.
Do you work remotely? Are you a digital nomad/blogger etc? You need to be insured too.
I use SafetyWing for my digital nomad insurance. It covers me while I live overseas. It's just $10 a week, and it's amazing! No upfront fees, you just pay week by week, and you can sign up just for a week if you want, then switch it off and on whenever. You can read my review here, and you can sign-up here!