Before I moved into my apartment, it was time for a little luxury at the Ma Du Zi Hotel in Bangkok. When I stepped inside the  Ma Du Zi, I was impressed. The entrance was sleek, with gray striped flooring, matching large column, and screens with an intricate abstract design that made interesting shadows on the walls and reflective floors. Instead of a traditional hotel lobby, it was replaced by a round bar with seating. Besides a bar, there was a tea room, restaurant, and outdoor terrace,  which all looked incredible. The photos don't do it justice. After I checked in, I was taken to my suite.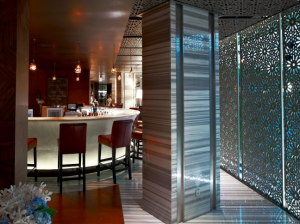 It was UNBELIEVABLE! Just massive. The bedroom had a super king sized bed, tv, and Bose surround sound, making a night in watching movies excellent. The room had a cozy, contemporary vibe with mixed wood and dark brown leather furnishings. There were red and grey rugs spread on the wood floor, which made it feel a little homier. (Except home isn't normally this swish!) There was even a small dining area with a chair and granite topped table.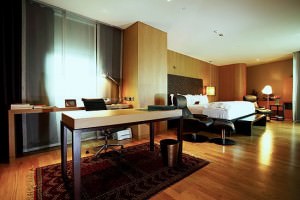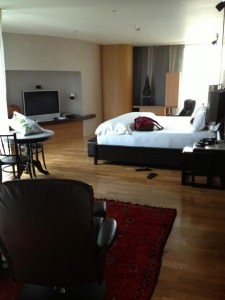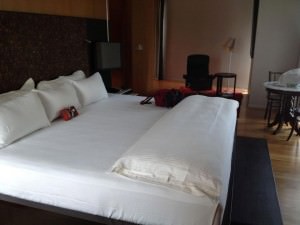 The bathroom had an ultra modern sink with a cowhide bench. Separated by glass doors was an infinity soak tub that was filled by a rain shower installed in the ceiling. Instead of the standard shampoo, conditioner, etc., they also provided all-natural bath oils and salts and other fancy jasmine-scented extras to ensure to that you have the best bath of your life.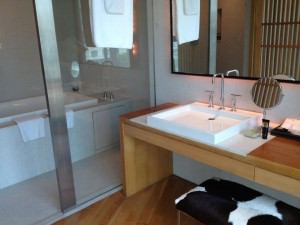 The living room and office was furnished with a large green couch, desk, whimsical boat bench, and office chair. Gray figurines towered like guardians behind the couch and in front of the large windows. The hotel suite also came with a fax/printer/copy machine, IP phone, and wifi making it the ideal working space. Plus an espresso machine if you need to reenergize with illy coffee. There was even a walk in teak wood closet. The suite was just amazing!!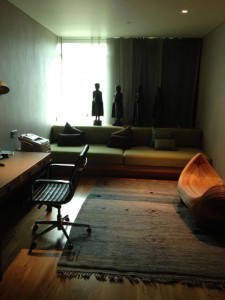 Ma Du Zi is centrally located, minutes away from the Asok BTS and Sukhumvit MRT stations. It's located near Terminal 21, Robinsons, and just a few stations away from many other malls and cinemas. For those who come here for more dubious reasons, the infamous and salacious Soi Cowboy is right around the corner.
I LOVE LOVE LOVE this hotel. When you want to treat yourself, come to the Ma Du Zi Bangkok. Seriously.