Explore Japan with NINJA WIFI: Your Ultimate Pocket Wifi Rental for 2023
You guys know I make money from blogging, and starting my blog changed my life. But being a travel blogger means I spend half my time on the road (or more!). The simple reality is.. no internet for my laptop equals no money. So I NEED WIFI. It's the depressing secret behind the Instagram cocktails and beaches.
In some countries, I use my UK sim. In Thailand, my home, I use my Thai sim. But when I go to Japan, I use a pocket wifi. Why? Because Japan is HARD to travel in. Honestly, having visited every country in the world already, Japan is up there with the Congo and Russia for most difficult countries to travel. I can't fight with sim cards, especially not when there is such a simple solution in Japan. A NINJA WiFi pocket wifi router.
TLDR? It's great, and there is currently a 20% discount if you use this LINK:
https://ninjawifi.com/?pr_vmaf=OFWbrVId5B
Overview?
I was in Japan literally 10 days ago, to work as a mountain guide climbing Fuji. I had preorganised a NINJA WIFI router to be waiting for me at my hotel. The experience exceeded my expectation. leaving me eager to share this hidden gem with you.
Setting up and using the NINJA WIFI pocket wifi was a breeze, making it the perfect travel companion for any adventure.
So, to make your Japan travel even more exciting, I've curated a comprehensive article detailing our enriching experience with the NINJA WIFI router. Unveil insider tips, booking information, and an exclusive link that grants you a fantastic 20% discount on the rental price. Use this link for a discount: https://ninjawifi.com/?pr_vmaf=OFWbrVId5B
What are the Benefits of Renting a Pocket Wifi for Japan?
As a hard-core traveler, I can confidently assert that when it comes to ensuring affordable and hassle-free data access on the go, there are three popular options to consider:
purchasing an eSim plan
getting a sim card
renting a pocket wifi
Each of these choices offers convenient internet access without the frustration of searching for free Wifi hotspots. While free Wifi may seem enticing, it often involves the tedious process of locating hotspots and potentially compromising on security. Additionally, relying solely on accommodation Wifi restricts your internet access to the confines of your lodging.
On my trips to Japan, we relied extensively on data for various essential tasks. From using Google Maps to navigate the bustling streets to researching information about our planned destinations, data was our invaluable companion. Moreover, we made the most of waiting times at attractions like Tokyo DisneySea and Universal Studios Japan by utilizing waiting time apps.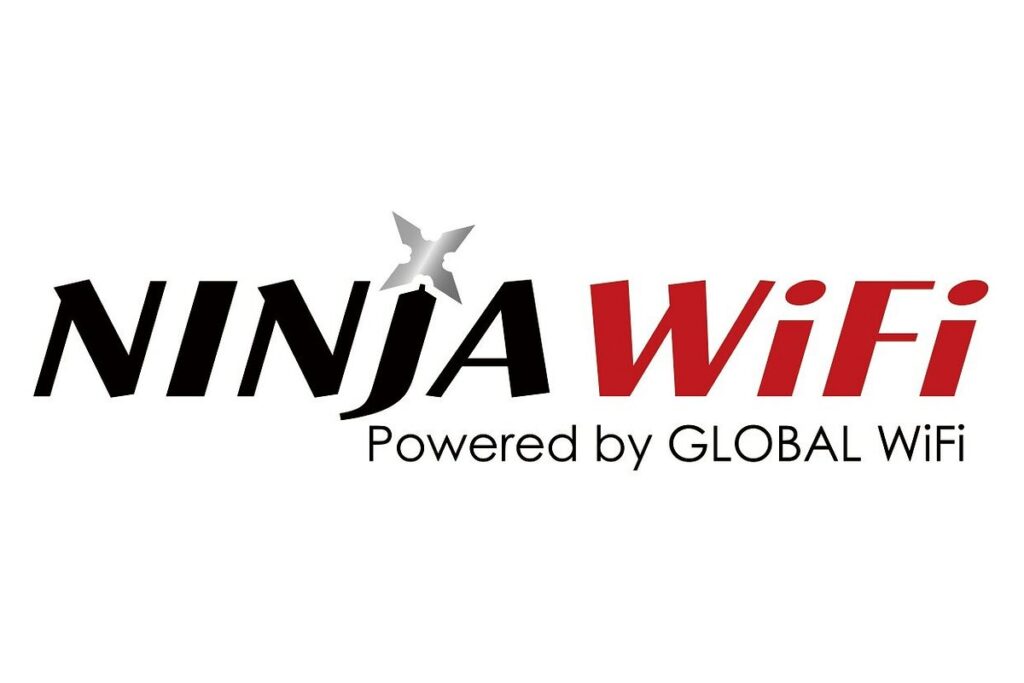 Why is a pocket wifi better than a sim?
Renting a pocket wifi emerged as an outstanding option, providing seamless data access throughout our Japan journey. What sets it apart from a prepaid sim card is the lack of necessity to insert it into your phone. Instead, you carry the compact pocket wifi with you, ensuring a constant and reliable connection. Furthermore, recharging the device every night guarantees continuous internet access without any interruptions. One fantastic device we used was the NINJA WIFI pocket wifi router, which effortlessly accommodates multiple users and devices. With unlimited data at your disposal, communication becomes a breeze, enabling the use of apps like WhatsApp for making phone calls and sending messages.
SHORT-ANSWER? My wife, friends etc. can all use one device. As can I with my phone AND my laptop.
When you opt for pocket wifi, you gain the freedom to stay connected while exploring the beautiful landscapes of Japan. Whether you're navigating the vibrant streets of Tokyo, basking in the traditional charm of Kyoto, or marveling at the natural wonders of Mount Fuji, you can access the internet at any time, enriching your travel experience.
Language in Japan
Language in Japan can be a serious issue. No longer will you worry about language barriers, as instant translation apps can be your trusty language companions. You can readily seek recommendations for local eateries, uncover hidden gems, and connect with fellow travelers on-the-go through social networks.
Roaming?
So many of my American friends say "Roaming is only $10". And 2 weeks later, they're $150 in the hole. Don't do it! Another significant advantage of renting pocket wifi is the ability to avoid unexpected charges that may occur with roaming data on your phone. By opting for a pocket wifi rental, you gain full control over your data usage, avoiding the anxiety of excessive data fees when returning home. Moreover, it eliminates the need to purchase a separate sim card or worry about compatibility issues with your device. The pocket wifi can be conveniently returned at the end of your trip, making it a hassle-free solution for travelers seeking connectivity without long-term commitments.
My Personal Review About NINJA WIFI Pocket Wifi Rental Japan
Ordering NINJA WIFI
I made the decision to rent a NINJA WIFI router, and it turned out to be a fantastic choice that ensured uninterrupted connectivity throughout our journey. A week before our departure, we navigated to the NINJA WIFI website, effortlessly placed our order, and received a prompt booking confirmation, setting the stage for a smooth start to our adventure.
Picking Up the Device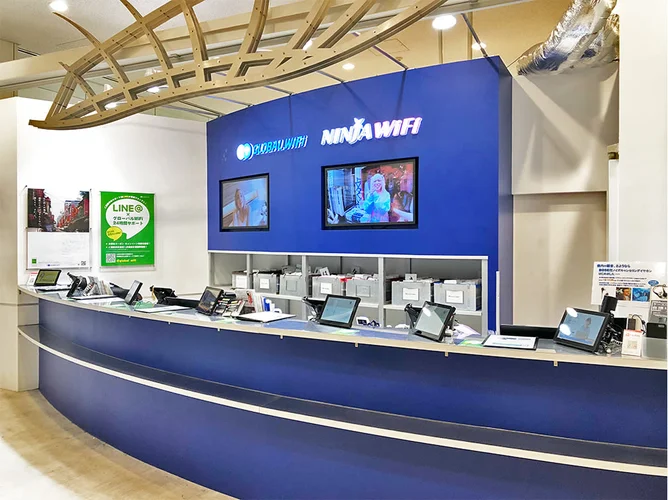 Upon our arrival at Narita Airport, we easily located the NINJA WIFI counter to collect our pocket wifi package. The package included the NINJA WIFI router, a recharge cable, a user manual in English, and a convenient small pouch. We were delighted to find the NINJA WIFI pocket wifi fully charged and ready for immediate use. Setting it up was a breeze, as all we had to do was turn on the NINJA WIFI router and log into the wifi hotspot with our phones. In an instant, we were granted access to data, propelling us into the heart of our Japanese escapade.
As a travel blogger, I am an avid consumer of data, and we were pleased to discover that this device effortlessly handled the data needs of two phones while we were on the move. Evenings were equally productive, as we used the pocket wifi for my laptop at our accommodation. Its superior speed compared to our lodging's wifi eliminated any frustration of frequent logins whenever we changed locations. With the NINJA WIFI pocket wifi by our side, we remained connected without compromise, even in the bustling urban areas and serene rural landscapes we explored.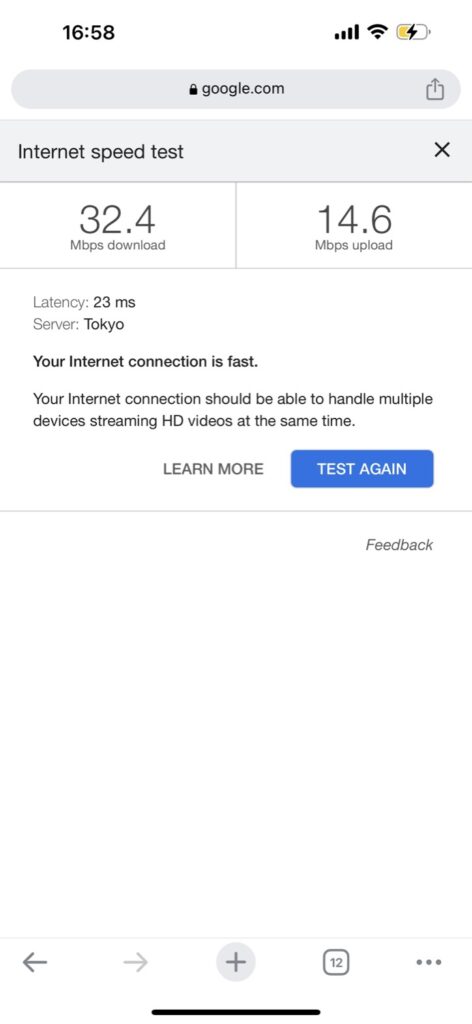 Reliability
Throughout our journey, the pocket wifi exhibited flawless performance, proving its reliability in every location we ventured into. From the vibrant streets of Tokyo to the tranquil countryside of Kyoto, the NINJA WIFI pocket wifi ensured we could always stay connected, share our experiences on-the-go, and keep our audience engaged.
The convenience of returning the pocket wifi was equally impressive. As we concluded our Japan adventure and made our way to Haneda Airport in Tokyo for our departure, locating the NINJA WIFI counter in the departure hall was a breeze. The efficient return process allowed us to hand over the pocket wifi with ease before proceeding through check-in, eliminating any last-minute anxieties.
Reflecting on our experience, we wholeheartedly recommend renting a NINJA WIFI pocket wifi for anyone planning a trip to Japan. The online order process was simple and hassle-free, and the availability of airport counters made it even more convenient. Compared to other pocket wifi rental options for Japan that lack airport counters, causing packages to be posted to the airport post office for collection (resulting in longer arrangements), NINJA WIFI proved to be the quicker and more efficient choice.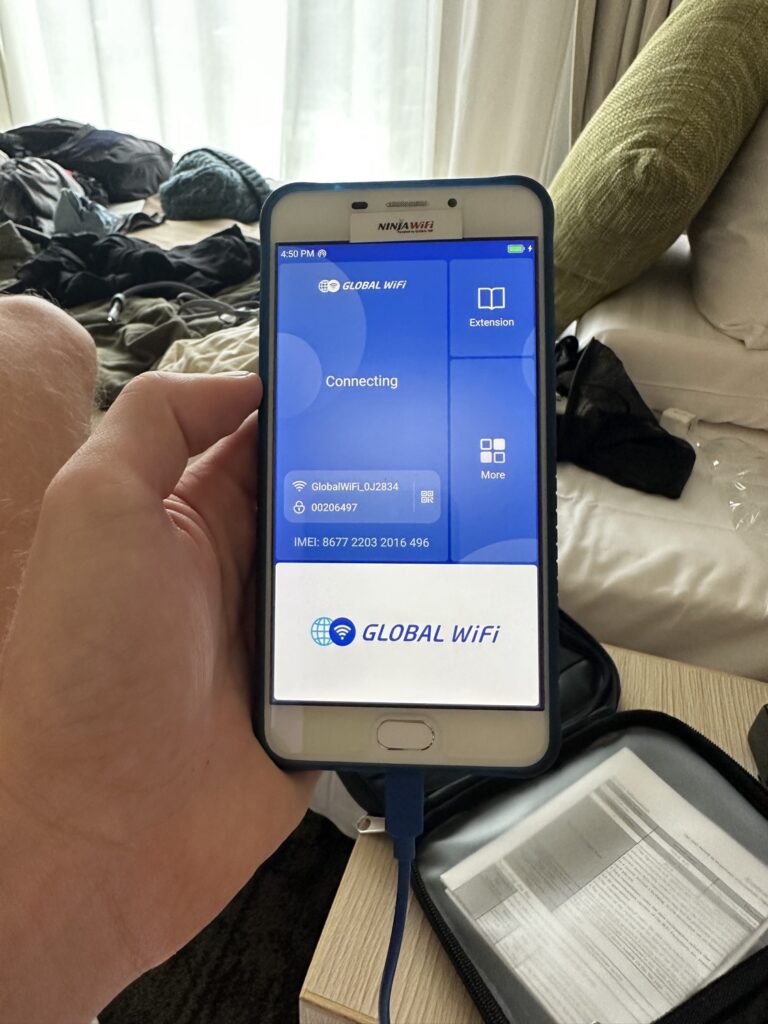 In conclusion, our journey with the NINJA WIFI pocket wifi in Japan left an indelible mark on our travel experience. Its reliability, speed, and easy collection and return process made it an invaluable companion throughout our trip. For any traveler seeking seamless connectivity, enhanced productivity, and stress-free data access while exploring the wonders of Japan, we wholeheartedly vouch for NINJA WIFI. Embrace the power of connectivity and embark on a remarkable journey, equipped with the NINJA WIFI pocket wifi to keep you connected and engaged every step of the way.
NINJA WIFI Pocket Wifi Rental for Japan
NINJA WIFI Pocket Wifi
For travelers in Japan, the NINJA WIFI Pocket Wifi Rental stands out as an excellent choice. With convenient pick-up locations at major Japanese airports, it offers seamless connectivity. Alternatively, for a nominal fee, you can have it delivered right to your doorstep.
Affordable Pricing: The NINJA WIFI pocket wifi offers a competitive rental price of $US 6.70 per day, with a flat daily rate applying regardless of the rental period. However, with our exclusive 20% discount, you can enjoy an even more budget-friendly rate of US $5.40 per day. For a 7-day rental, the total cost would be $47, which further reduces to just US $38 with our discount (link here), making it a cost-effective option for staying connected throughout your Japan adventure.
Convenient Pick-up and Drop-off: Rest assured, collecting and returning your NINJA WIFI pocket wifi is a breeze. You can easily pick up your device from major Japanese airports, and if your travel plans involve different airports for collection and return, worry not, as it's still a viable option. For added convenience, delivery service is also available, offering flexibility to suit your travel preferences.
Abundant Data Access: With the NINJA WIFI pocket wifi, you get to enjoy unlimited 4G data during your trip, ensuring you stay connected without limitations. However, it's worth noting that excessive data usage may lead to a temporary reduction in connection speed. Nonetheless, with generous data allocation, you can confidently explore Japan while remaining connected to the online world.
Connect up to 5 Devices: Accommodating the needs of modern travelers, the NINJA WIFI pocket wifi allows up to 5 devices to connect simultaneously. Whether you're traveling with family or friends, this feature ensures everyone can enjoy seamless internet access on their smartphones, tablets, or laptops throughout the journey.
Long-lasting Battery Life: The NINJA WIFI pocket wifi boasts an impressive 6-hour battery life, ensuring it stays powered throughout your day of adventures.
Simple Pre-order Process: Planning ahead has never been easier. To secure your NINJA WIFI pocket wifi, simply place your order at least one day prior to your intended pick-up date. This seamless pre-order system ensures your device will be ready and waiting for you when you arrive at your designated collection point.
How to Book Your NINJA WIFI Pocket Wifi for Japan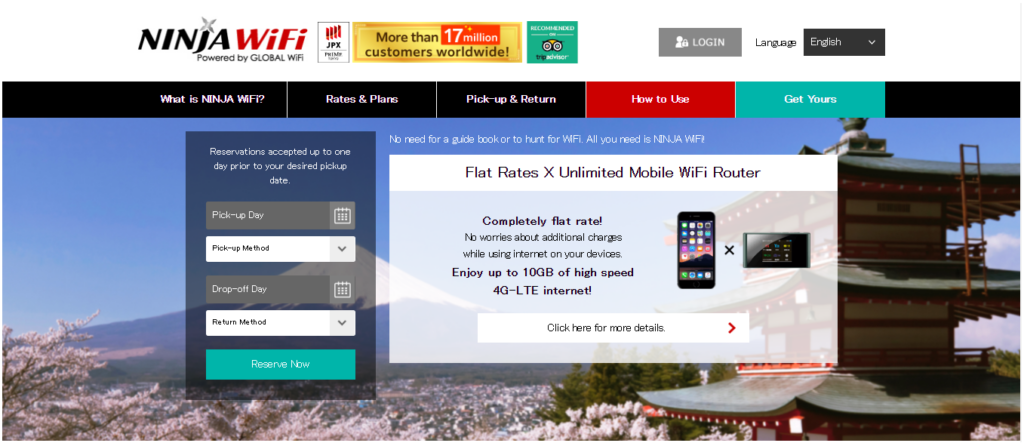 Are you excitedly planning your upcoming trip to Japan and eager to ensure seamless internet connectivity throughout your journey? Look no further than NINJA WIFI, a reliable pocket wifi rental service that offers convenient options to keep you connected during your exploration of this captivating country. To help you navigate the booking process effortlessly, we have prepared a step-by-step guide that outlines each stage, ensuring you can easily secure your NINJA WIFI pocket wifi for an unforgettable Japan adventure.
Access the NINJA WIFI Website
To initiate the booking process, simply visit the NINJA WIFI website and begin by entering your planned travel dates on the left-hand side of the homepage. Additionally, you have the flexibility to choose your collection and return options, with the option to select different collection and return points if desired. After providing the necessary details, click on the "Start Estimation" button to proceed.
Explore the NINJA WIFI Booking Page

Upon reaching the main booking page, you'll find an overview of your chosen start and finish dates and locations, as entered in the previous step. (If you skipped directly to the reservation page, you will also be able to enter dates on this page.) Here, you will be able to select your preferred pocket wifi option. Ninja Wifi offers three unlimited data plans: a 3GB per day, a 5GB per day, and a 10GB per day plan. After going over your daily limit, the speed will drop, but you will still be able to use data for no extra charge, hence the "unlimited" data. Choose the plan that best suits your data needs and indicate the quantity of pocket wifi devices required for your travel party.
Consider Insurance Coverage
Next, take a moment to explore the insurance options provided by NINJA WIFI. In the unfortunate event of losing or breaking your pocket wifi device, additional fees may apply. The maximum cost to replace the NINJA WIFI pocket wifi is 43,000 Yen (or approximately $292USD). To safeguard yourself from potential financial burdens, you can opt for insurance coverage.
NINJA WIFI offers three insurance options:
100% coverage for 440 yen/day
80% coverage for 220 yen/day
90% coverage combined with 100% medical insurance (with a value of up to 10 million yen) for 770 yen/day during your Japan trip.
Some of these options are offered as a package with a mobile battery.
I didn't bother with this personally.
NINJA WIFI Optional Add-Ons
NINJA WIFI goes the extra mile in catering to your travel requirements by offering a range of optional add-ons. These include:
The aforementioned mobile battery
The Pocketalk W two-way translator boasts an impressive repertoire of 74 languages and is available for 880 yen/day.
Ensure all your devices stay charged with the USB 4-port AC adaptor, available at 110 yen/day.
Traveling internationally? NINJA WiFi offers International adapter plugs at a reasonable rate of 55 yen/day.
Review and Confirm Your Order
Once you've made all the necessary selections, head to the right-hand column of the page, where you'll find a summary of your order. If you've used a designated link to make your booking, keep an eye out for the 20% discount, which should be reflected in this summary. After reviewing your order and ensuring everything is accurate and to your liking, click on the "Next" button to proceed.
THE DISCOUNT CODE LINK ALSO WORKS HERE: https://ninjawifi.com/?pr_vmaf=OFWbrVId5B

Customer Registration
Fill in your personal details as required and click on the "Next" button to move on to the payment page.
NINJA WIFI Payment and Booking Details
On the payment page, carefully review your booking details, and remember to enter your arrival flight information and the planned pickup time slot. Almost instantly, you'll receive your order confirmation, leaving you well-prepared and equipped for your upcoming adventure in Japan.
Rest assured that NINJA WiFi understands travel uncertainties, so if your flight happens to be delayed, the only concern would be if the delay causes you to arrive after the NINJA WiFi counter's closing time.
Collection and Return Options
NINJA WIFI offers convenient collection and return options to ensure a hassle-free experience for customers. You have the flexibility to have your NINJA WIFI device delivered to airports, hotels, or local addresses anywhere in Japan. It's important to note that for delivery to an address, you or a hotel receptionist must be present to receive the package. When booking, you can also provide your arrival flight number for airport collection, streamlining the process further.
For the return of your NINJA WiFi device, you have three options to choose from.
The first option is to return it to a NINJA WiFi Counter located at the airport. This option is ideal for travelers departing from Japan as it allows for a quick and easy return of the pocket wifi before check-in.
There is also a counter in Shinjuku, Tokyo that you can drop off your device at, though it may be a bit out of the way unless your hotel happens to be nearby.
Alternatively, you can opt for the mail delivery service for the return process. This is what I did. Upon selecting this option, you will receive a mail satchel that you can use to post your pocket wifi from your hotel, a nearby convenience store, or any other Yamato Transport shipping apce.. With this convenient method, you can return the device from any location within Japan, making it especially convenient for those who are not departing from an airport or prefer the flexibility of returning the device at their own pace.
Japan's airports are well-equipped with post boxes, ensuring that you can easily return your NINJA WIFI device before checking in for your flight. This mail delivery service offers a convenient and reliable way to ensure the smooth return of your pocket wifi, allowing you to conclude your Japan adventure with ease.
Pick up locations for NINJA WIFI pocket wifi include major airports and a Shinjuku office in Tokyo.
Narita Airport (Tokyo) 
Haneda Airport (Tokyo).
Chubu Airport (Nagoya)
Kansai Airport (Osaka) 
Asahikawa Airport (Hokkaido)
New Chitose Airport (Sapporo) 
Fukuoka Airport
Komatsu Airport
Shinjuku Office (Tokyo)
FINAL THOUGHTS?
I always thought it would be a hassle to sort out a pocket wifi, hence why I had never done it before. NINJA WIFI obviously knows people think that, so they make it SUPER easy. Pick it up yourself at the airport, and then drop it at the airport when you leave it, or leave at your hotel lobby. It doesn't get much easier. And now you have proper internet, at fast speeds, for you and all your devices, and all your friends/family devices. Pretty sweet!
Remember, never travel without travel insurance! And never overpay for travel insurance!
I use HeyMondo. You get INSTANT quotes. Super cheap, they actually pay out, AND they cover almost everywhere, where most insurance companies don't (even places like Central African Republic etc!). You can sign-up here. PS You even get 5% off if you use MY LINK! You can even sign up if you're already overseas and traveling, pretty cool.
Also, if you want to start a blog...I CAN HELP YOU!
Also, if you want to start a blog, and start to change your life, I'd love to help you! Email me on johnny@onestep4ward.com. In the meantime, check out my super easy blog post on how to start a travel blog in under 30 minutes, here! And if you just want to get cracking, use BlueHost at a discount, through me.
Also, (if you're like me, and awful with tech-stuff) email me and my team can get a blog up and running for you, designed and everything, for $699 - email johnny@onestep4ward.com to get started.
Do you work remotely? Are you a digital nomad/blogger etc? You need to be insured too.
I use SafetyWing for my digital nomad insurance. It covers me while I live overseas. It's just $10 a week, and it's amazing! No upfront fees, you just pay week by week, and you can sign up just for a week if you want, then switch it off and on whenever. You can read my review here, and you can sign-up here!