If like me you have hired an RV for a holiday you will know just how good an experience it really is! The freedom that it gives you is second to none and will ensure that you and your travel companions have an amazing holiday. The great news for all you RV lovers out there is that I have found an amazing new website that is going down a storm with holiday makers across the globe, RVshare is now allowing RV owners to rent their vehicles directly to holiday makers. It's a fantastic idea and the website is absolutely superb, I don't think RV rental has ever been so easy!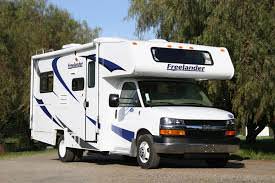 One of the main reasons why I love the site is because RV owners may only use their RV for a short period each year, this new peer-to -peer site allows those owners to make some money back on their purchase. It works both ways; you get to meet local people that can help you plan your journey and the owners also get to make some cash – perfect!
If you are yet to rent an RV for your holiday then I think I should let you know just how good it is. I have been on many holidays in an RV, so here are my top 3 reasons that we should all rent an RV at least once!
It's something different
It's always good to try something new, so if you haven't rented an RV before you should certainly try it. I think that most of us have been fortunate enough to spend a night or two in a nice hotel when we were growing up, so staying in a great hotel is nothing new. Waking up in the beautiful outdoors without the housekeeping knocking on your door is fantastic, opening your front door and looking out over a beautiful lake or mesmerising mountain range is something you will never forget.
Your money goes further
If you book an RV with RVshare then you are certainly going to save money. Of course if you book a hotel room you might have breakfast included, but it's much nicer cooking as a family each morning. With an RV you also have the price of your accommodation and transport rolled into one, this allows you to budget more effectively and certainly save a lot of none along the way. Eating out each night can really rack up the cost of a holiday so if you are able to cook by yourselves each evening you will not be breaking the bank, but you will certainly be having more fun!
Go at your own pace
If like me you hate to stick to a tight schedule then you will absolutely love the freedom that an RV allows you. There's no bus, train or flight timetable that you have to stick to. You had a late night and want to leave an hour later? No problem! You like the place you arrived in and want to spend a few more days? No problem! You are the boss, you decide when and where you go – perfect!
If you're looking into an RV holiday then your first port of call should certainly be the RVshare website because you really won't ring anything better out there right now!