The ULTIMATE Guide to Staniel Cay Bahamas!
I just spent 5 days in Staniel Cay Bahamas, and knew nothing before I arrived. You may be in the same situation, so here is your ULTIMATE Guide to Staniel Cay Bahamas! The best things to do in Staniel Cay, how to get to Staniel Cay, the best place to stay on Staniel Cay, and of course how to swim with the pigs in the Bahamas!
Before we start, I need to admit I HAD NEVER EVEN HEARD OF STANIEL CAY, before my wife started asking me to take her to swim with pigs. Then after doing some research, I learned that Staniel Cay is kind-of a big deal. Not only does it have direct flights from the US, it's also neighbours with Johnny Depp's private island, along with many other uber-rich island owners. So if it's good enough for them, it's good enough for us!
So we built a whole trip around Staniel Cay Bahamas. Swimming with the pigs has become quite famous, but it comes from Staniel Cay first. So we wanted to do it at the original location (not the over-touristic Nassau one, for example). We organised that first through Staniel Cay Vacations. We also found affordable accommodation at the Embrace Resort, and we were set. So,let's check out Staniel Cay, and you can see why we loved it so much!
What is Staniel Cay and Where is Staniel Cay?
You know, a disclaimer up first. I'm not a beach guy. Nor a caribbean guy. I hate over-touristy stuff, and beaches normally bore me. So when I say that I LOVED my 4 days here, please know that that truly means something!
First up, Staniel Cay is an island in the Bahamas. It's located in the Exuma Cays, which is a chain of islands in the Bahamas, a Caribbean country in the Atlantic Ocean. It's a really small island, with just a handful of resorts and restaurants. You can get around on foot, or by golf cart, and it's the perfect place to truly unwind.
The Exumas are known for their stunning turquoise waters, white sandy beaches, and vibrant marine life. And they were made a little more famous from the Fyre Fest documentaries, remember those?!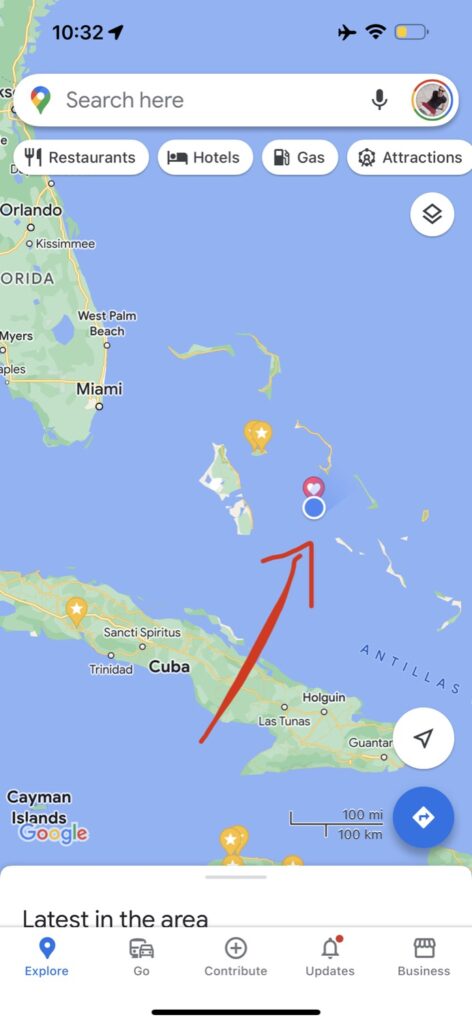 How to Get to Staniel Cay Bahamas
To get to Staniel Cay in the Bahamas, you typically have a few options depending on your starting point and preferences. I was coming from Thailand, so for me, I went Thailand to London. Then from London, there are direct flights to Nassau, the Bahamian capital city. Then there are daily flights from there to Staniel Cay. But most people don't come from Thailand! So it's normally much easier, and the most common way is:
Fly to Nassau, then connect on a local airline to Staniel Cay via Flamingo Air or Titan Air
Fly via Fort Lauderdale, and then direct to Staniel Cay via Makers Air or Staniel Air
How far is Staniel Cay Bahamas from Nassau?
The distance between Staniel Cay Bahamas and Nassau varies based on the mode of transportation. Commercial flights take around 1 hour.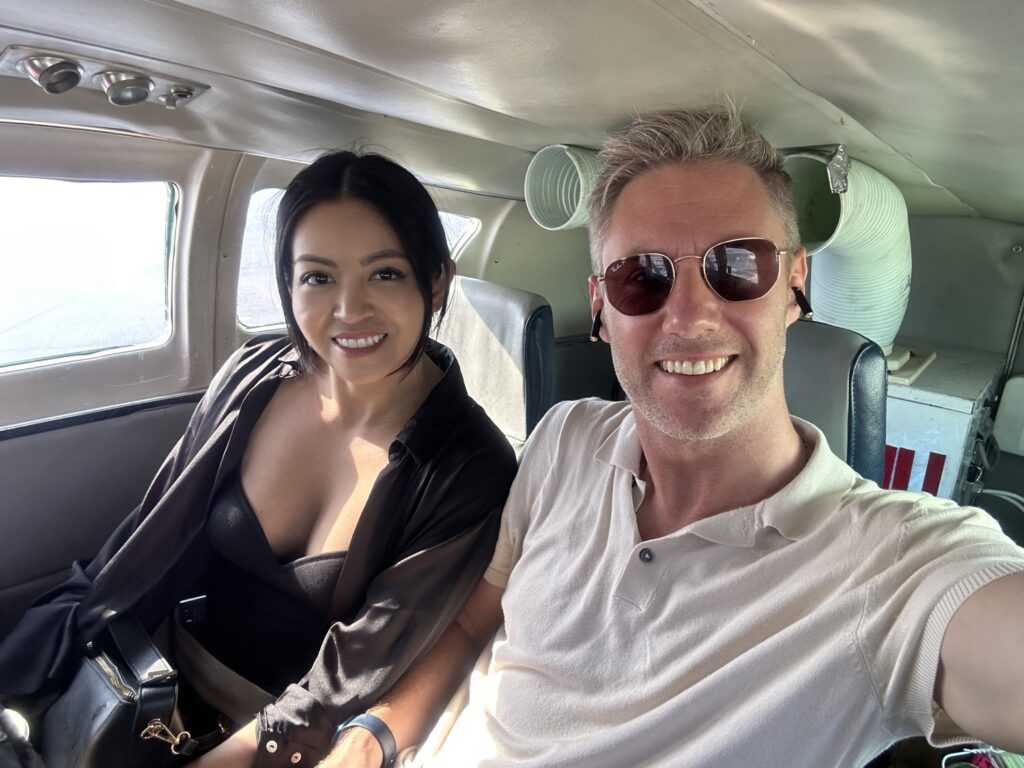 When is the best time to visit Staniel Cay?
I went in June and it was lovely. Hot, but lovely. The best time to visit Staniel Cay is generally from mid-April to early June. During this period, the weather in Staniel Cay is pleasant, with warm temperatures and lower chances of rain. The water is also particularly inviting for swimming, snorkeling, and other water activities.
Hurricane season in the Bahamas?
Keep in mind that the Bahamas experiences a tropical climate, so it's essential to consider hurricane season, which typically runs from June to November. While Staniel Cay is not as frequently affected by hurricanes as some other areas, it's still recommended to plan your trip outside of this hurricane-prone timeframe.
Things to do in Staniel Cay
Staniel Cay is tiny. Which means it's time to reeeeeelax. Of course swimming with the pigs is the main draw, but there is also a few more cool things to do in Staniel Cay too. Check them out:
Swimming with the Pigs
This is the main thing to do in Staniel Cay. Pig Beach isn't strictly on Staniel Cay, but it's just a short boat ride away, making Staniel Cay the perfect hop-off spot for it. I organised that with THESE GUYS, starting at $300 per person when you start in Staniel Cay. They also have an option that includes flying in from Nassau, but that's a long day. Better base yourself in paradise and unwind for a few days. Also, other companies take speed boats from the main island. Again this is BRUTAL. 6-8 hours on a bumpy speed boat. Whereas if you base yourself at Staniel Cay, it's a lovely half-day trip. Chill, fun and luxury. A much better option.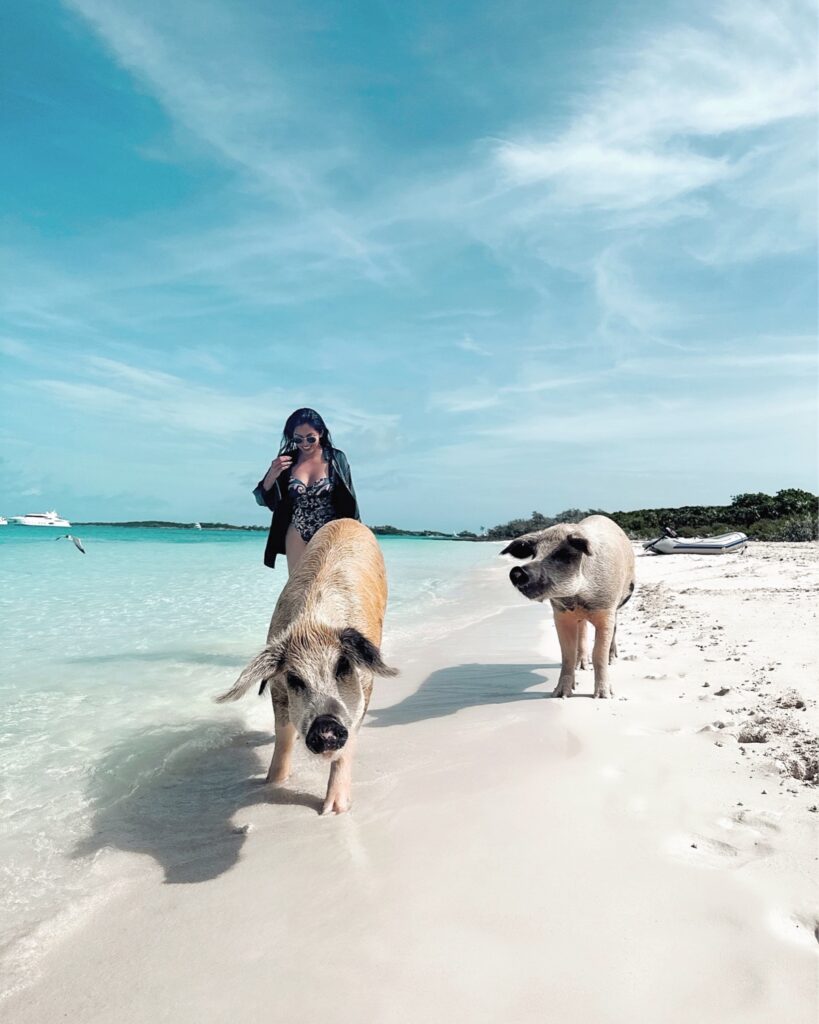 Snorkel at James Bond's Thunderball Grotto
Before the pigs, there was James Bond! An underwater cave that you can snorkel to. Made famous by James Bond during the Thunderball movie. They filmed it right here, and it's easy to see why. It's GORGEOUS! I booked that and added it to my pigs day tour.
Visite Staniel Cay's best beach, Pirate Beach
I've visited EVERY COUNTRY IN THE WORLD folks, and I mean it when I say this. Pirate Beach, Staniel Cay may very well be the most beautiful beach I've ever visited. I can only think of Qalansia, Socotra in Yemen that rivals it. Untouched. Beautiful. Electric blue water. And you'll probably have the whole place to yourself.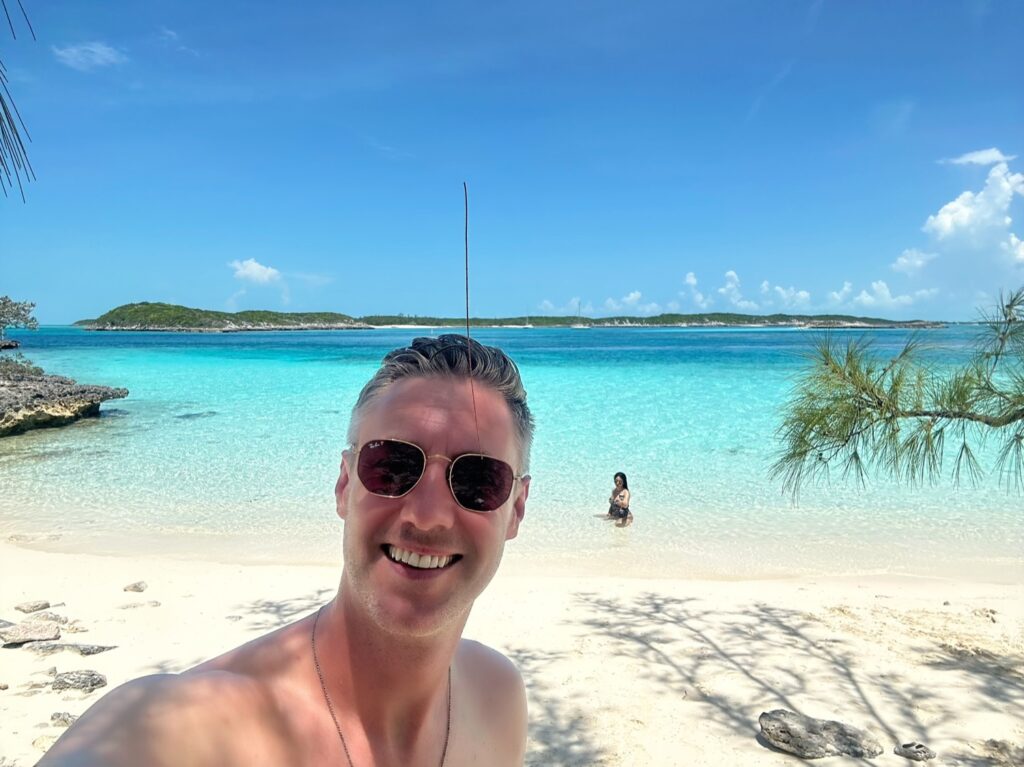 Get a little tipsy at the Staniel Cay Yacht Club
Nightlife on Staniel Cay is low-key. There is a liquor store for bottles of wine in the evening. But at Staniel Cay yacht club, they have the most amazing sunsets. And a lovely, local bar. Normally around sunset, it's pretty busy and a very fun, laid back atmosphere. Be sure to check it out.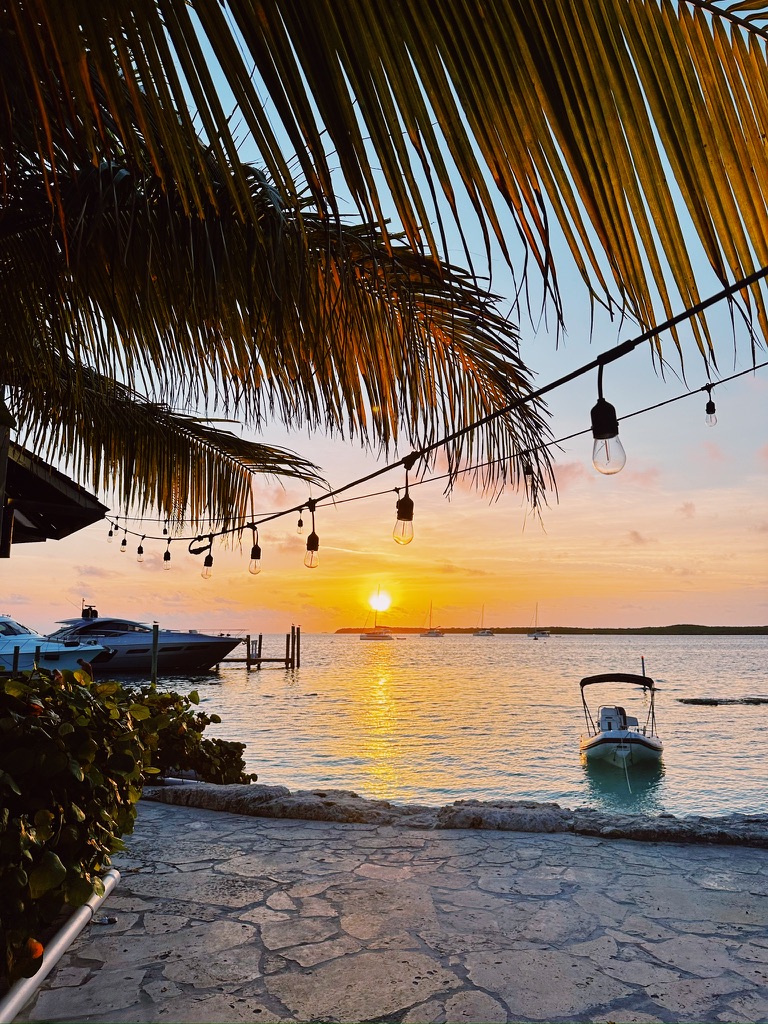 Traverse the island in a golf cart
If you're super fit, you can walk (or run!) around the island in an hour or 2. But it's better by golf cart! There are very few cars on the island, and there is no need to rent one to be honest. Rent yourself a golf cart and explore the whole island. It'll only take a morning, and you can stop and hop in for a dip anywhere you want.
TOP-TIP: Fyi, the cheapest place to rent golf carts is at Embrace Resort.
Swim with sharks at Compass Cay and visit iguana island
You can book a half-day tour to take you to visit Compass Cay to swim with the sharks. They're so friendly it's like petting dogs! Also, that day normally included a trip to Iguana island, and also to see some airplane wreckage in the water, where you can snorkel.
I booked it all through Embrace Resort, where I stayed.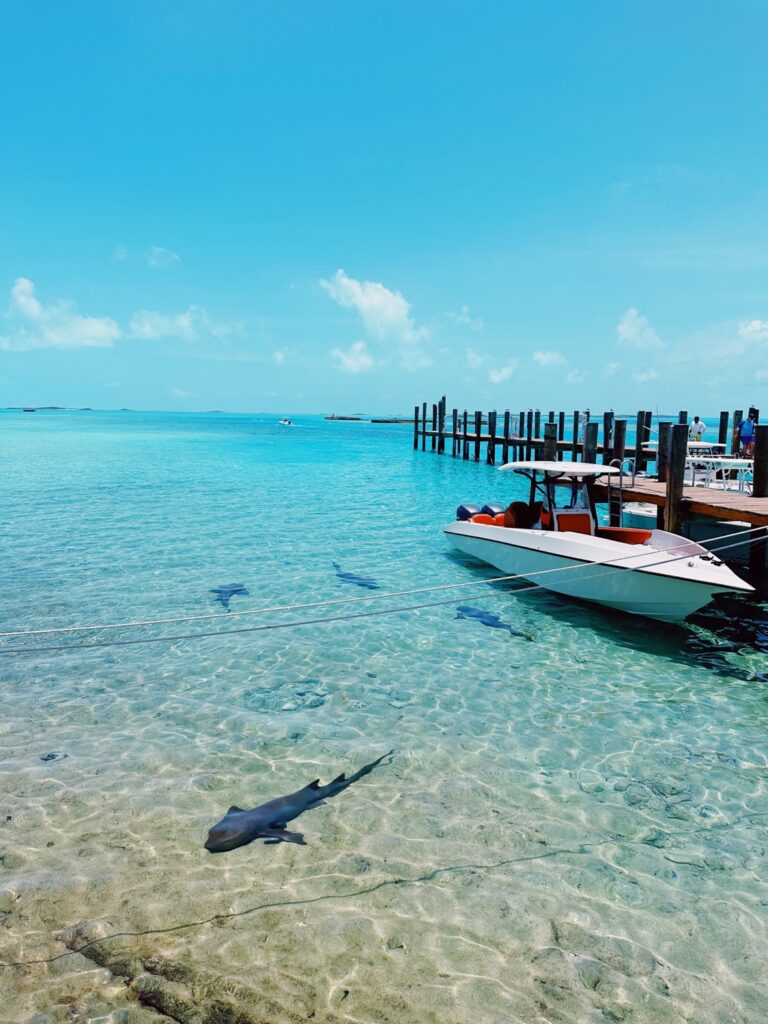 Take a boat trip to nearby islands
There are ENDLESS beaches and little islands. You can join group tours to go and check them out, or splurge a little and take a private little boat to chill where you want.
Boat Tour to Exuma Land and Sea Park
Great for families, this option offers a captivating journey through pristine waters and untouched landscapes. This guided tour showcases the beauty of protected marine areas, vibrant coral reefs, and diverse wildlife. Expect to encounter breathtaking underwater scenes, remote cays, and a chance to connect with nature in the heart of the Bahamas.
Feed the turtles at Farmer's Cay
A unique opportunity to interact with marine life. Visitors can offer specially provided food to gentle sea turtles in their natural habitat at Farmer's Cay, fostering a connection with these majestic creatures while learning about their conservation. It's a rewarding experience that promotes environmental awareness and allows participants to observe these fascinating animals up close.
Best Beaches in Staniel Cay
Pirate Beach The best beach in Staniel Cay, hands-down! Go in the morning and most likely you'll have it to yourself. Situated in the north, this beach captivates with soft powdery sand and some shaded spots. During low tide, you can even explore around the bend. Be cautious of noticeable offshore rushing water.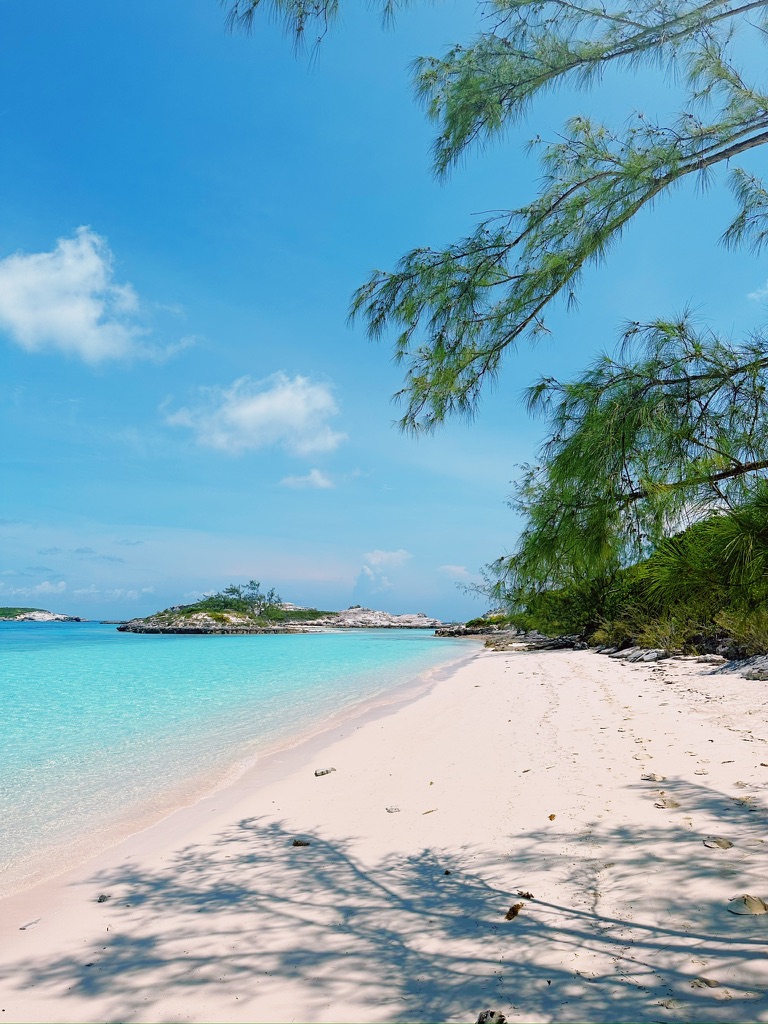 Town beach: Adjacent to Staniel Cay Yacht Club, this area offers a peaceful atmosphere. Sometimes you'll find moored boats and even Wi-Fi access. Nurse sharks, rays, and turtles occasionally grace this beach, which is also perfect for sunset gazing.
Ocean Beach Not for swimming but rather scenic viewing and sunset admiration. Accessible via a trail from Pirate Beach—park and walk. Exercise caution, as swimming isn't advised due to rough waters.
South Beach Probably Jaa's second favourite. Again almost no-one ever comes!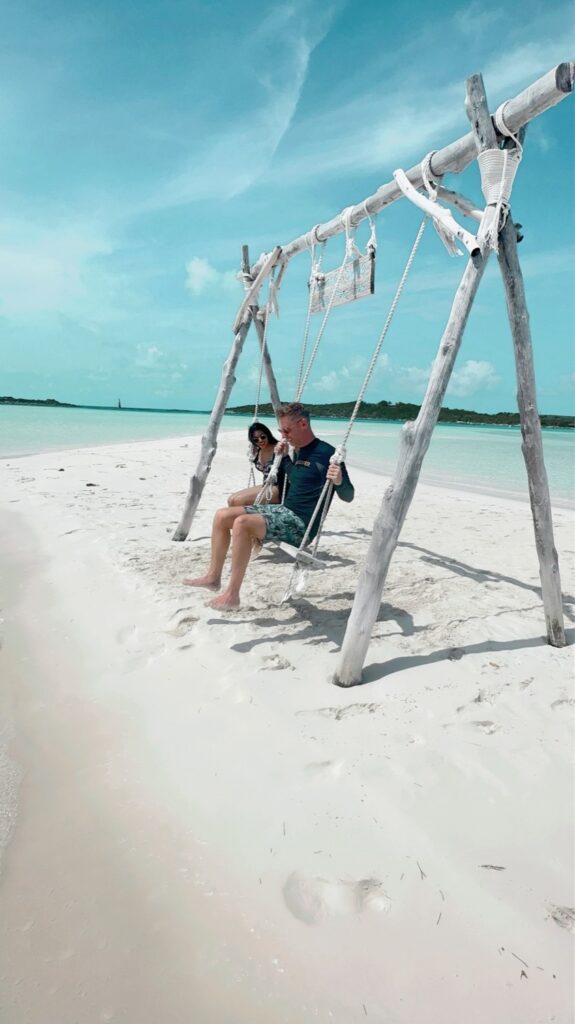 Where to Stay in Staniel Cay
Staniel Cay being so small means there aren't a lot of options. But there is one stand-out option, The Embrace Resort. A locally run resort, run by a family native to Staniel Cay itself.
The Bahamas isn't a cheap destination, but with other options heading up to $1k a night for nothing special, Embrace Resort starts at around $250 for one bedroom, $550 for 2 bedroom and $600 for 3 bedrooms.
More importantly than that though is the whole energy of the place. Lovely, homely little villas (ours had a hot tub inside!). A gorgeous pool to cool off. Their own on site cafe for delicious breakfast, lunch and dinner. And a 5 minute WALK from the airport. It's perfect.
In a nutshell, here's why it's the best option to stay in Staniel Cay:
Lovely, lovely owners (and staff)
You can organise all your trips through them
SUPER easy to chat with and discuss options on line. You actually talk to people rather than just use booking agents etc.
Restaurant on site
Pool on site
Airport pick-up and drop off
Cheapest golf car rental in town
Promo. The do great 3,5,7 day promos starting @ $1,199 that includes the pigs, the golf carts and everything!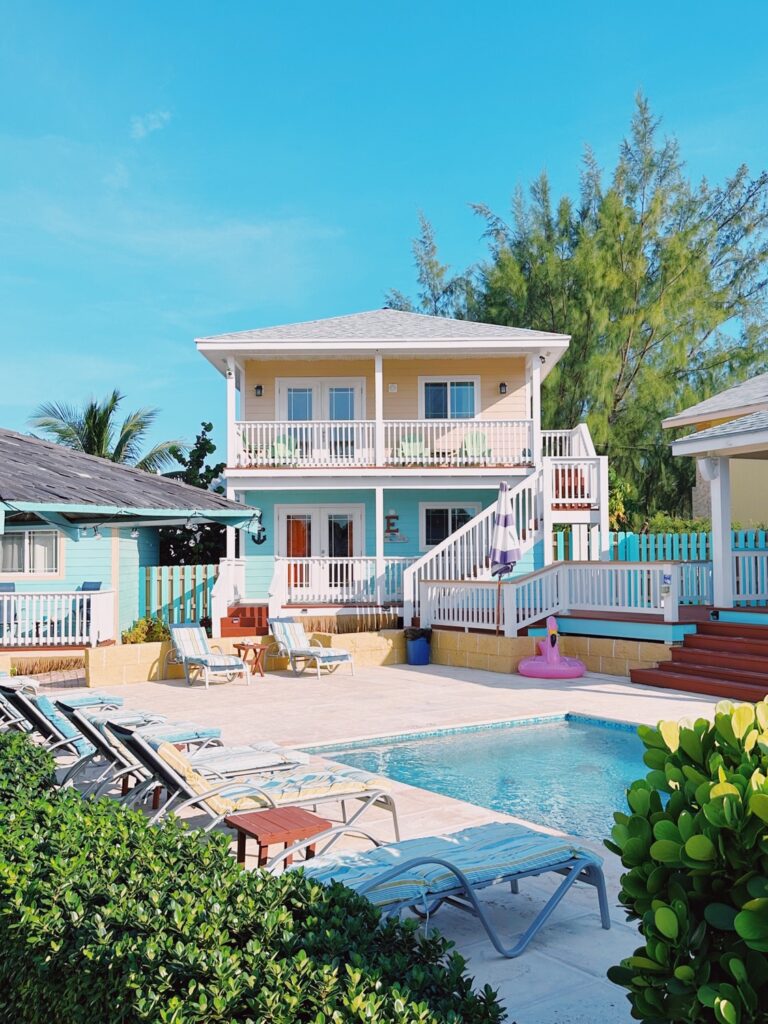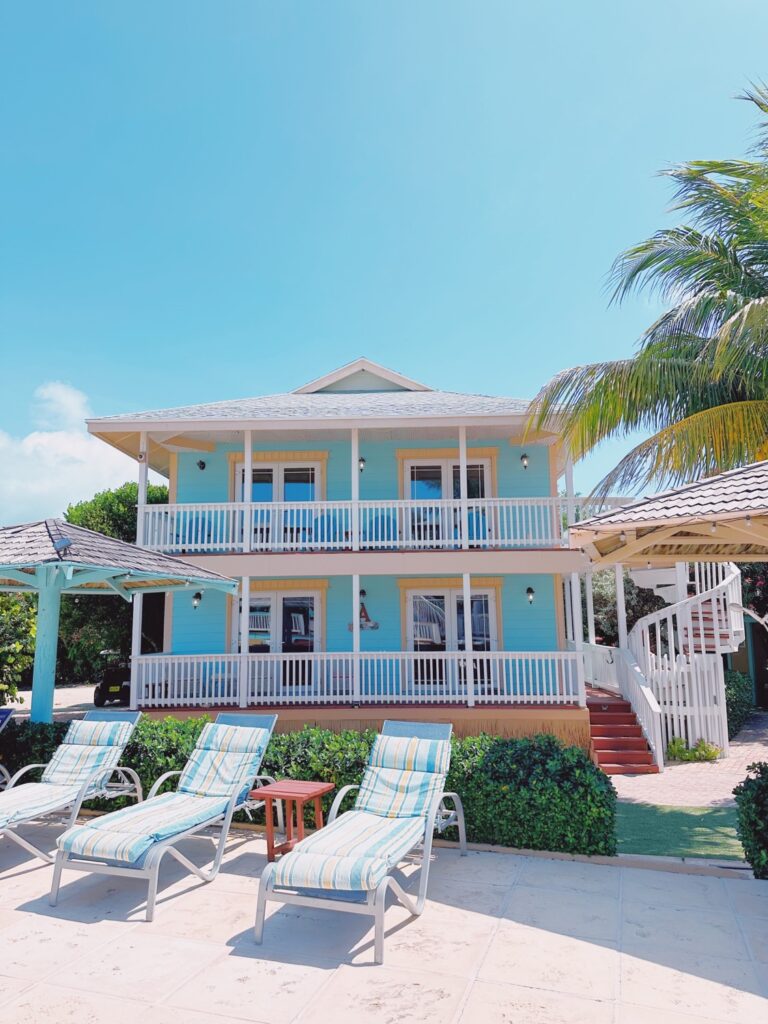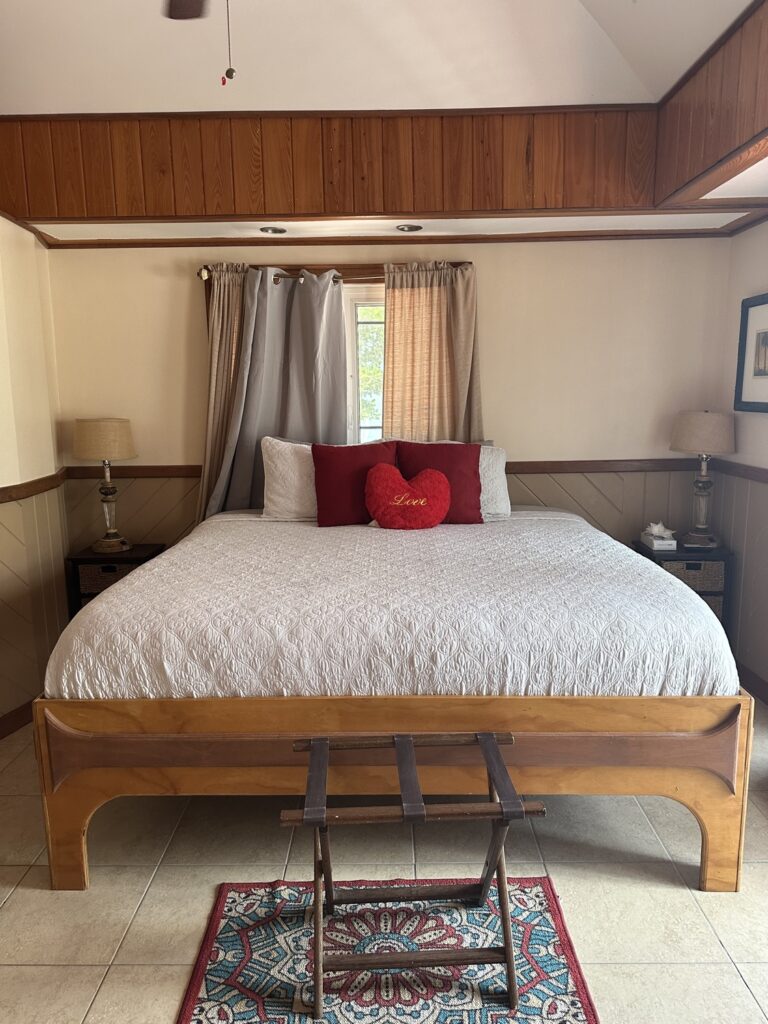 Where to Eat on Staniel Cay Bahamas
If you stay at Embrace, you have your own little kitchen that you can cook. Options are quite limited on Staniel Cay, so we are mostly at the Embrace Resorts' restaurant – The Flyin' Pig. Breakfast was DELICIOUS. And the veggie options were great too.
The prices are cheap compared to most places in the Bahamas. They have air-con inside seating, and outside seating. The coffee is banging, and they have cakes/buns for the afternoons. Pretty good!
If you want to mix it up, you can also get a beyond burger (way overpriced, by warned!) at the Yacht Club nearby too. The only other 2 options aside from those are the local grill at Big Dogs (no veggie options), and for local Bahamian fare at Barbie's Kitchen (also not great for vegetarians though).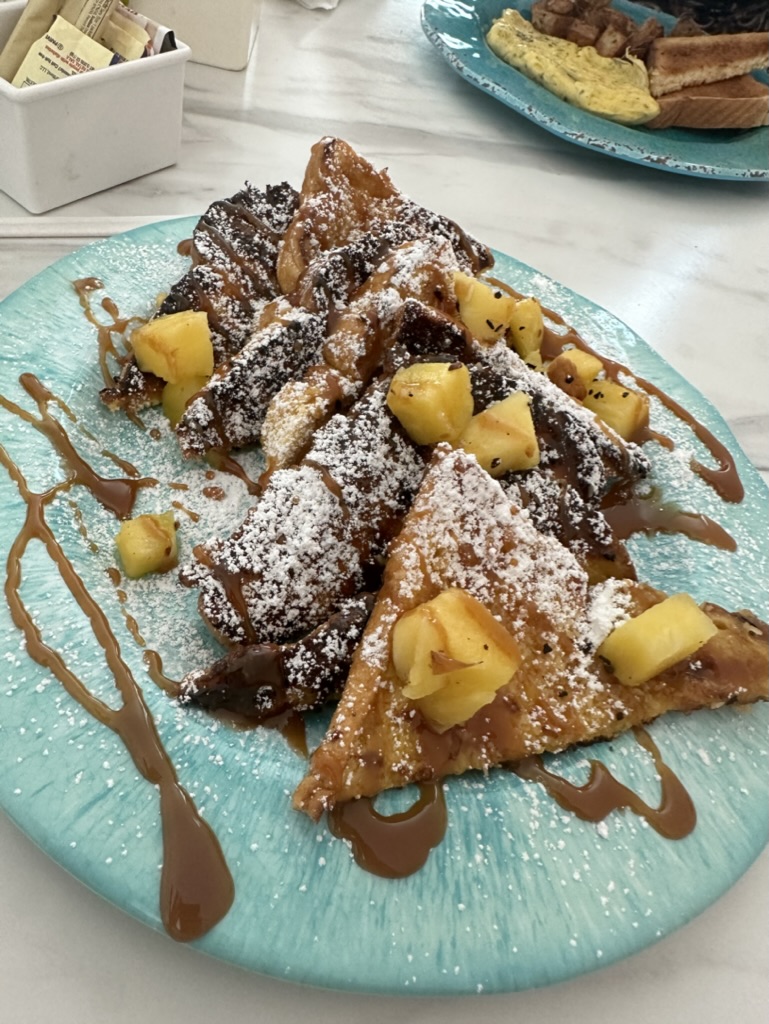 Amenities on Staniel Cay – Grocery Stores, ATMs etc
There are 3 grocery stores and one liquor store on the island. But for the liquor store, if it's just beers you're buying, they're only $1 cheaper than buying them direct at Embrace, probably not worth the journey! Best bet is to buy beers on the local bar, but bring a bottle of wine/spirit from the airport.
For the grocery stores, the 3 are listed below.
Isles General A-Z Store – just use this one. It has everything the others have AND it's 4 minute walk from Embrace. Easy.
Burke's Convenience Store
Pink Pearl Groceries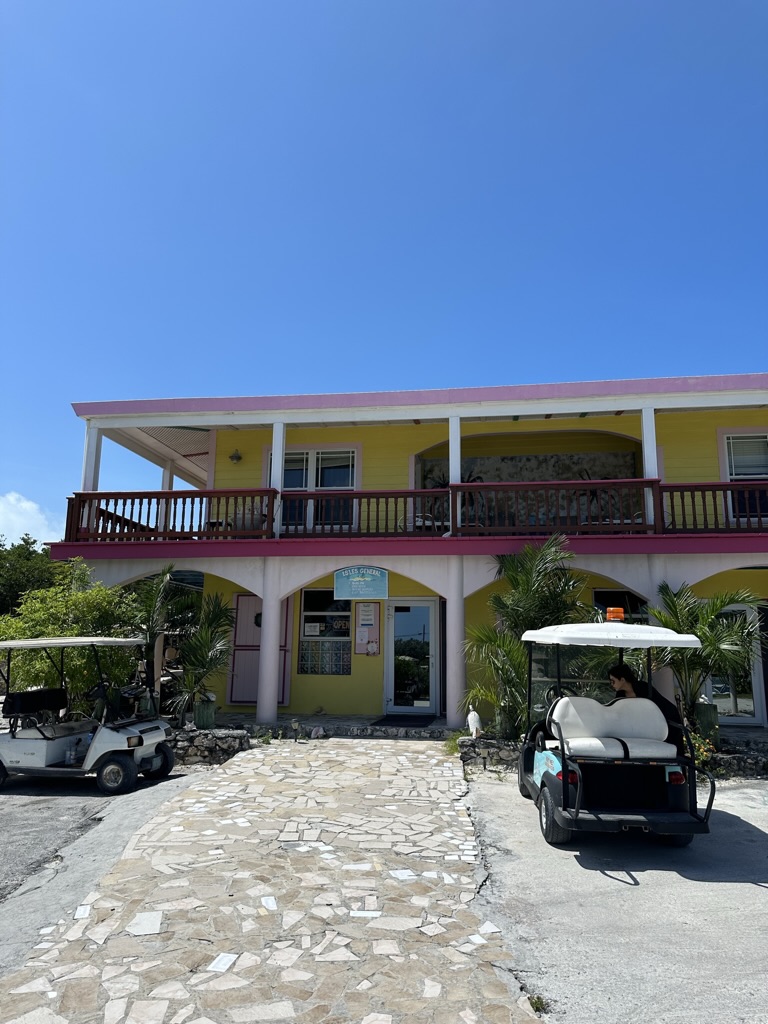 Money on Staniel Cay
They use the bahamian dollar in the Bahamas. It's pegged as 1:1 with the USD, and USD is also widely used. BUT THERE ARE NO ATMS IN STANIEL CAY. So bring cash. You can also use your card in most places, including Embrace Resort, the grocery store and the Yacht club.
FAQs about visiting Staniel Cay Bahamas
Is Staniel Cay Bahamas really a hidden gem?
Oh yeah, absolutely. I thought Bahamas was going to be wall-to-wall American tourists, super full etc. but this was nothing like that. It's still really untouched.
Staniel Cay Bahamas is like this awesome secret spot in the Exuma Cays that's waiting to be discovered.
How do I get to Staniel Cay Bahamas?
You can reach Staniel Cay Bahamas by taking a short flight from Nassau with airlines like Bahamasair or Flamingo Air. You can also consider sailing your yacht or taking a boat if you're in the region.
Is Staniel Cay Safe to Travel?
SUPER SAFE! It's such a small island that everyone knows everyone. So crime is essentially zero. Drunken golf cart drivers though? Beware!
What are the top attractions in Staniel Cay Bahamas?
Staniel Cay Bahamas offers attractions like Thunderball Grotto, Pig Beach, stunning beaches, and vibrant marine life perfect for snorkeling and diving.
Are there swimming pigs near Staniel Cay Bahamas?
Yes, Pig Beach near Staniel Cay Bahamas is famous for its swimming pigs. You can take a boat trip to interact with these friendly and photogenic pigs.
What's the best time to visit Staniel Cay Bahamas?
The ideal time to visit Staniel Cay Bahamas is during the months of April to June when the weather is pleasant and the waters are inviting for outdoor activities.
Can I find affordable accommodations in Staniel Cay Bahamas?
Staniel Cay Bahamas offers a range of lodging options, from beachfront bungalows to cozy cottages, catering to various budgets. The best option for affordable but comfortable accommodation in Staniel Cay is Embrace Resort.
What activities can I do in Staniel Cay Bahamas?
Staniel Cay Bahamas is perfect for snorkeling, diving, boating, exploring the Thunderball Grotto, visiting Pig Beach, and simply enjoying the beautiful beaches.
Is Wi-Fi available in Staniel Cay Bahamas?
While Wi-Fi options in Staniel Cay Bahamas are limited, it's an opportunity to disconnect and immerse yourself in the island experience.
How can I explore the surroundings of Staniel Cay Bahamas?
You can explore neighboring islands, hidden coves, and the stunning marine life by taking guided boat tours or renting a boat yourself. Getting around the island itself is best down by golfcart, they're rentable for about $60 a day. The cheapest place you can do this is also from the Embrace Resort.
What's the local cuisine like in Staniel Cay Bahamas?
Staniel Cay Bahamas offers a variety of fresh seafood, conch dishes, and traditional Bahamian flavors, allowing you to indulge in local culinary delights.
There are good vegetarian options at Staniel Cay in both the Flyin' Pig Cafe and the Staniel Cay Yacht Club
Can I make a day trip to Staniel Cay Bahamas from a cruise ship?
Some cruise itineraries include Staniel Cay Bahamas as a port of call, allowing you to experience its attractions during a day trip from the cruise ship.
What's the weather like in Staniel Cay Bahamas?
Staniel Cay in the Bahamas experiences a tropical climate with warm temperatures and generally pleasant weather throughout the year. Here's an overview of the weather year-round:
Winter (December – February): Winter brings cooler temperatures, with average highs ranging from 75°F to 80°F (24°C – 27°C). It's a popular time for tourists seeking milder weather and clear skies for outdoor activities.
Spring (March – May): Spring sees a gradual warming, with temperatures ranging from 77°F to 83°F (25°C – 28°C). This is considered one of the best times to visit Staniel Cay, as it's less humid and provides excellent conditions for water activities.
Summer (June – August): Summer brings warmer temperatures, with highs ranging from 86°F to 90°F (30°C – 32°C). It's also the wetter season, with occasional showers and higher humidity. However, clear days are still frequent, making it a good time to enjoy the beaches.
Fall (September – November): Fall continues the warm trend, with temperatures ranging from 82°F to 88°F (28°C – 31°C). This is the peak of hurricane season, so while prices might be lower due to the perceived risk, it's important to monitor weather forecasts if planning a trip during this time.
Nightlife in Staniel Cay
Your best bet is Staniel Cay Yacht club bar for any rowdiness! It's quite a sleepy island, but that place can get quite lively anytime after 4pm.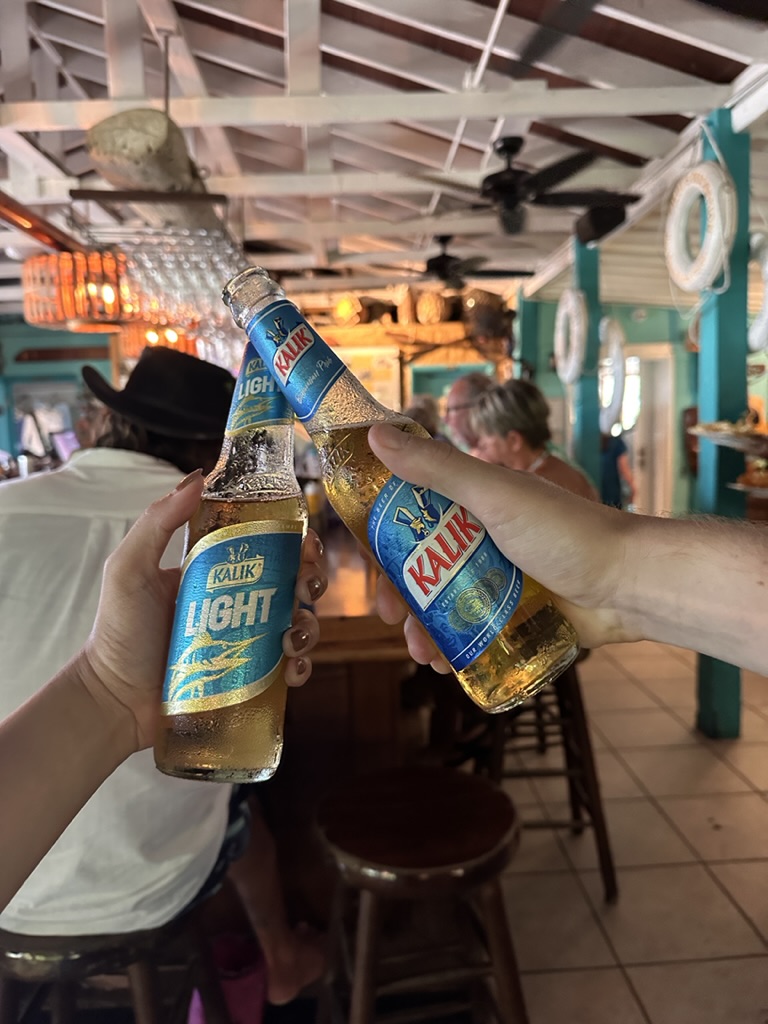 FINAL THOUGHTS ON STANIEL CAY BAHAMAS
Like I said, I'm no beach guy. Doing nothing kinda stresses me out normally. But my wife wanted to swim with the pigs, and I was happy to experience that. So Staniel Cay became the plan. And it blew my expectations out of the water. Untouched, non-touristy, super friendly (and safe!). I really felt myself winding down. And with the packages that Embrace Resort do, it's a complete no-brainer on how to book 3-5 days off to recharge. I'm so happy we took the plunge. Enjoy!
Remember, never travel without travel insurance! And never overpay for travel insurance!
I use HeyMondo. You get INSTANT quotes. Super cheap, they actually pay out, AND they cover almost everywhere, where most insurance companies don't (even places like Central African Republic etc!). You can sign-up here. PS You even get 5% off if you use MY LINK! You can even sign up if you're already overseas and traveling, pretty cool.
Also, if you want to start a blog...I CAN HELP YOU!
Also, if you want to start a blog, and start to change your life, I'd love to help you! Email me on johnny@onestep4ward.com. In the meantime, check out my super easy blog post on how to start a travel blog in under 30 minutes, here! And if you just want to get cracking, use BlueHost at a discount, through me.
Also, (if you're like me, and awful with tech-stuff) email me and my team can get a blog up and running for you, designed and everything, for $699 - email johnny@onestep4ward.com to get started.
Do you work remotely? Are you a digital nomad/blogger etc? You need to be insured too.
I use SafetyWing for my digital nomad insurance. It covers me while I live overseas. It's just $10 a week, and it's amazing! No upfront fees, you just pay week by week, and you can sign up just for a week if you want, then switch it off and on whenever. You can read my review here, and you can sign-up here!