The Dark Hedges
Tourism in Northern Ireland is booming, sure we have the Giant's Causeway and Carrick-a-rede rope bridge, Belfast and the Causeway Coastal Route but we've had that for a long time, so what's changed. Game of Thrones. That's what! And the Dark Hedges, in my opinion, is the coolest location of them all.
Game of Thrones is filmed in Croatia, Morocco and our very own Northern Ireland. So with the huge popularity of GoT, tourism numbers are rocketing. They have themed tours, day-trips, merchandise. You can't escape the Game of Thrones when you're in Northern Ireland. It's great for the region, and it's a wonderful acknowledgment about how beautiful NI is.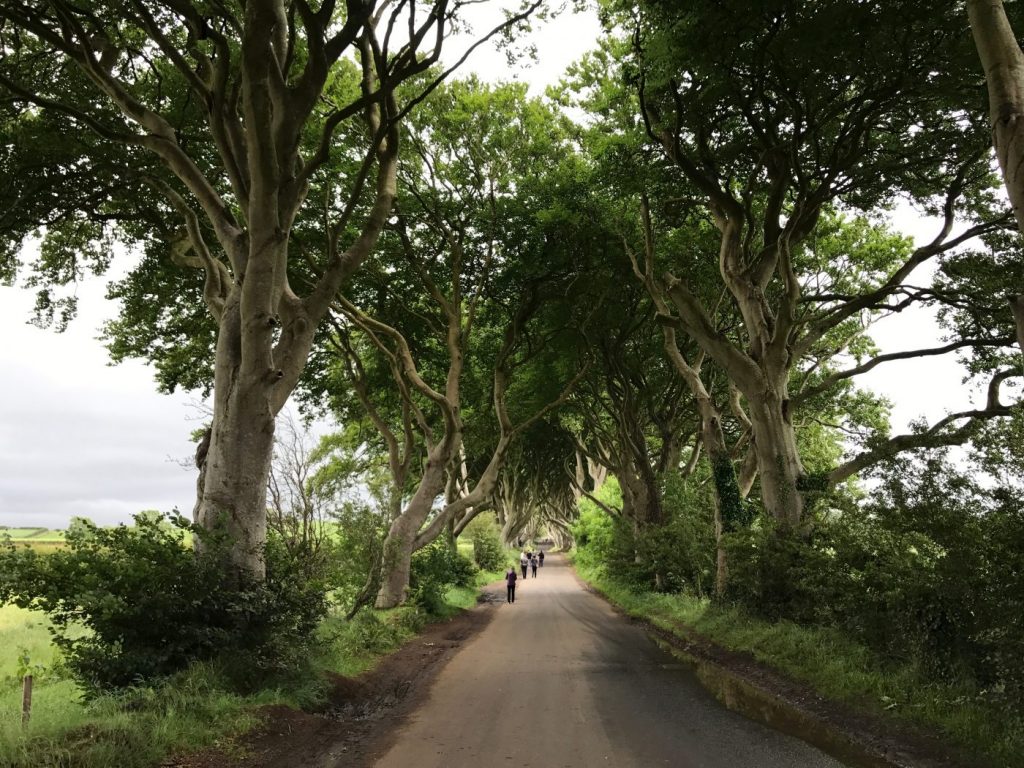 Where is the Dark Hedges in Ireland?
They're in Northern Ireland, near a small town called Ballymoney in County Antrim. More importantly, though, they're only 13 miles/25 minutes from the Giant's Causeway, so well worth the effort while you're out touring Northern Ireland's northern coast!
Here's just how to get to the Hedges from the Giant's Causeway:
There's no ticket for the Dark Hedges, it's just a small country lane. In fairness, it was always kinda famous for people in the region because it looked so spooky, but no tourist would ever stop here. Now every day the road is full of people taking selfies, the tour buses arrive after lunchtime so go early in the morning if you want a great pic to yourself. Or even better go as dusk approaches and the light will be perfect, it's magical.
What are the Dark Hedges?
The amazing lines of imposing beech trees aren't a lucky coincidence.  A wealthy family, the Stuarts, lived in Gracehill mansion in the 18th century. They wanted an impressive approach to their mansion (now a golf course), and so the Dark Hedges were born. Mission accomplished guys!
Game of Thrones
The Dark Hedges is an iconic road in the Game of Thrones. Just to brush up on your GoT knowledge though you can see the Dark Hedges in Season 2, episode 1: On the King' s Road, Arya Stark has escaped from King's Landing, disguised as a boy. She is with Yoren, Gendry, Hot Pie and others who are to join the Night's Watch, in a cart, travelling north on the King's Road. And ever since, the Dark Hedges have proved to be a magnet for followers of the series from right around the world, including Japan, China, the Americas and Scandinavia.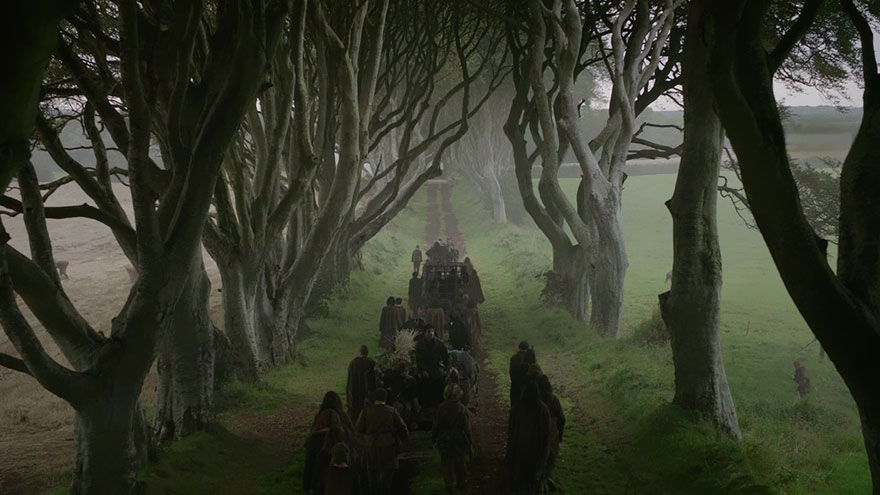 Well worth a visit, so to recap:
The Dark Hedges are just 20 minutes from the Giant's Causeway
Best times to go are before 11am or after 4pm (when the light is perfect and the crowds have dwindled)
There are no tickets, it's a functioning road!
The google-map above will bring you right there. Enjoy!