The Slieve League Cliffs
The Cliffs of Moher get all the tourists flocking to it, leaving the Slieve League Cliffs in Donegal almost untouched, which is great for you to go and visit! Many Irish people, myself included, would argue that the Slieve League Cliffs are every bit as impressive at the Cliffs of Moher and in many ways, the area surrounding the Slieve League Cliffs is actually MORE beautiful than the drives in and around the Cliffs of Moher. Not to mention, the Slieve League cliffs are also the second highest sea cliffs in Europe. Impressive.
Where are the Slieve League Cliffs?
The Slieve League cliffs are actually very accessible. First of all, every Irish roadtrip should include Donegal anyway, both the region and the city, a beautiful corner of the island. From Donegal then the Slieve League Cliffs are 49km away, about an hour or so and the road there is spectacular.
If you're renting a car, or a campervan like us, you just follow the R263 from Donegal all the way to Slieve League (make sure you follow the coastal route, even if it's an extra 10 minutes or so, the Wild Atlantic Way is unreal). If you don't have a car you can contact these guys, they run tours from Donegal to the Slieve League Cliffs. Personally, I'd recommend car hire for this though, even just for a day, it's a brilliant day out.

After breakfast in Donegal, we drove our campervan across the West coast of Ireland, marveling at just how beautiful my country is. The weather was actually nice today, which is kinda necessary when you're off to see amazing landscapes. That was a massive relief to be honest, because in bad weather, the cliffs aren't really worthwhile.
Finally you reach Slieve League and there's a little car park. From there it's a 45min-1hour hike, we were in a rush to get to Derry later that day, so we ignored the car park and continue to drive on up, and actually it turned out that this is allowed. So if you don't want to hike, drive until you can't drive anymore, you'll reach a second car park. Park up there, and do your hiking on the mountain top, a much better idea!
As soon as you jump out of your car, instantly you're greeted with this….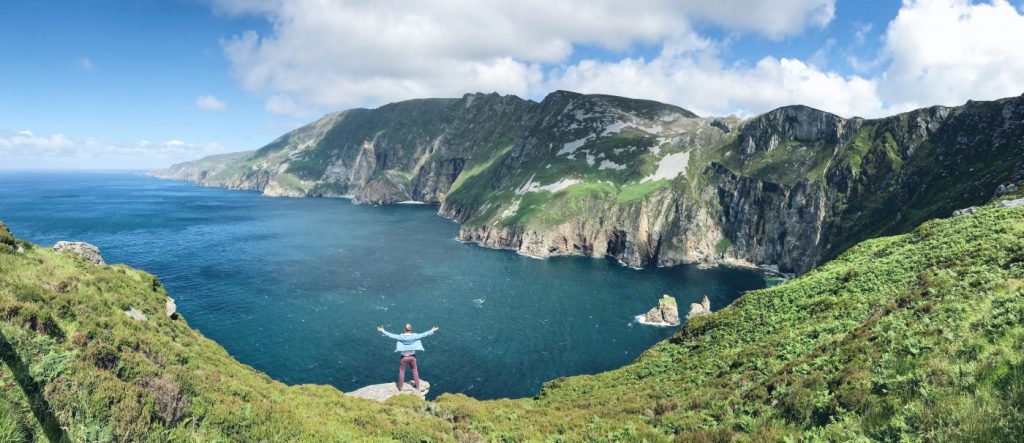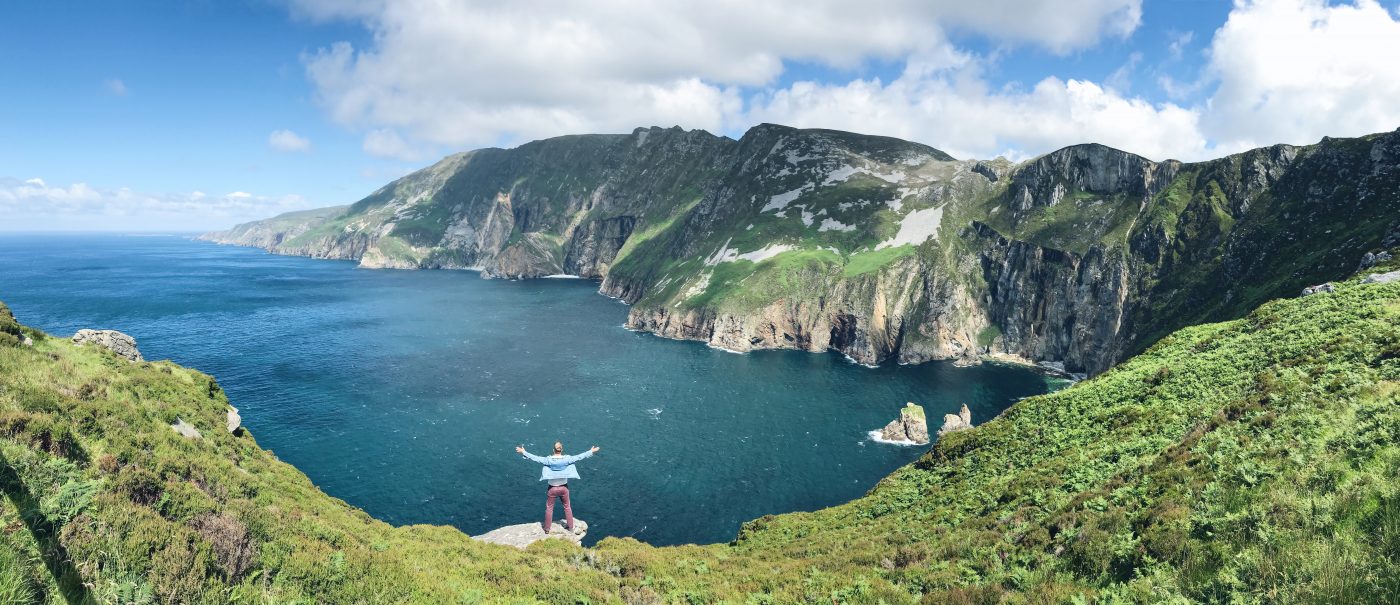 I was like a kid at Christmas, running around looking for the best spot for a pic (you MAY have to jump a fence or 2 to get pics like these though, but you didn't hear it from me).
From here then you're free to explore the area, you could spend anywhere from 15 minutes to the whole day hiking the various trails, give yourself at least 2 hours to full soak it all up, it's honestly something special here, truly beautiful views and far, far less tourists than at the Cliffs of Moher.
We climbed the first hill, looking away from the famous cliffs, and surprisingly it was equally as beautiful from that side too….
My friends and I ran about for another hour or so, it's windy up there, even in the summer, so bring a jacket! When I had announced on my Instagram that I was coming to Ireland to see all the amazing things my island had to offer, I had honestly never heard of the Slieve League Cliffs, but so many Irish people messaged me to insist I MUST go and visit, so I did it, and they were right. So here I am now, insisting that you guys all go to the Slieve League Cliffs too! You won't regret it.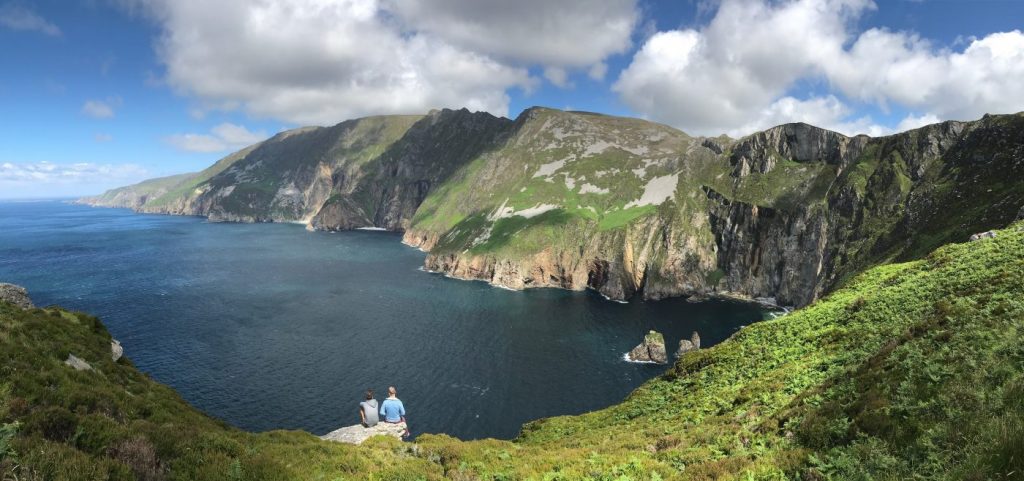 For us, we backtracked back to Donegal and then we were off to Derry/Londonderry (more on that political minefield in another blog post, for the meantime, we'll continue to enjoy this killer roadtrip.