Just imagine a series of events that end up causing a broken knee cap, broken fibula, broken tibia and 2 torn ligaments.  Then imagine flying through the air after a motorbike crash in Thailand.  Yep, I'm a pro at injuries overseas.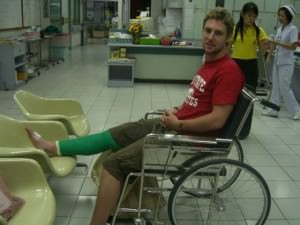 So here's the story. I was teaching English in Chiang Mai after graduating from University.  I had been there 7 or 8 months when my mother dearest decided to grace me with her presence.
The first 11 days were great: elephants, monkeys, Thai food, me showing off my (limited) Thai language skills, it was a blast.  One night my friends from Chiang Mai, my mum and myself went out for dinner. We had a beer or two, I put my mum in a taxi and sent her home and we went onto another bar.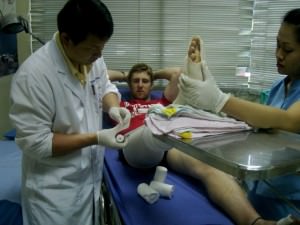 My friends were driving on their bike and I was close behind.  We turned a corner and out of nowhere tuktuk came careening out of a corner and cut my friend off, he did very well not to crash.  His girlfriend yelled at the tuktuk driver to watch where they were going and may have used an obscene finger gesture…
The tuktuk driver became incensed and started weaving all over the road.  Then he just swerves across both lanes and takes me out about 80kmph.  My bike weaves then smashes into the concrete, throwing me into the air and a good 50m forward. The tuktuk driver just speeds off, as I'm flying through the air.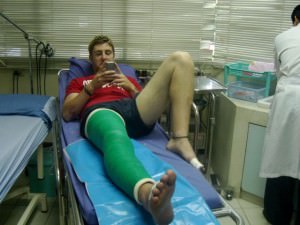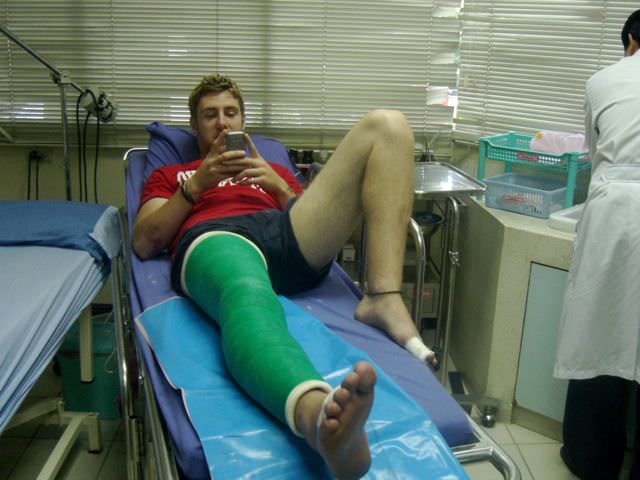 Once at the hospital it was a blur of agony, X-rays, doctors, and then my leg gets set ankle to groin for the next 6 weeks and I'm bedridden.
It's times like this when you are really glad that you have a product like Emergency Assistance Plus.  Fortunately for me, my Mum was here to help me.  But I could have been traveling alone, and then what?  This medical emergency and travel assistance provides more than the usual health or travel insurance.  If I'd busted my knee in a remote village far from proper medical facilities, EA+ would have provided a helicopter to take me to a proper hospital.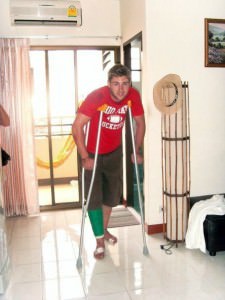 And rather than sitting all alone in the hospital, EA+ will fly out to bring your Mum (or any loved one) to your bedside if you're traveling alone and will be stuck in the hospital for more than 7 days.
I made a pretty good recovery, although I wouldn't call it 100%. A marathon may be a push, although perhaps still possible but I never fail to recognize that had it been my head, and not my knee that hit the concrete, that morning phone call to my mum could have been from the coroner, not the nurse who looked after me.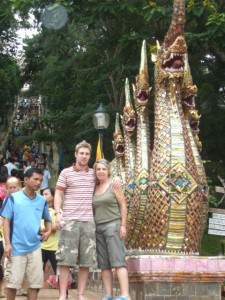 Second chance and all that, and I intend to take it. Happy (and safe!) travels!