Everyone knows the Dominican Republic offers crazy high-end resorts, all-inclusive package deals and plenty of fat Americans but if you find yourself on this island paradise with a bit of effort you can see the other side of this very cool place.
If you come to the Dominican, avoid the same old story and experience some of the oldest historical buildings from the first European excursions to the Americas.  Of course there are numerous gorgeous beaches., you can also get active with some cracking water sports or better still get your climb on and summit Pico Duarte, the highest mountain in all the Caribbean. Top it all off with some dancing and shake your thing in one of the many seasonal festivals, or buy some local crafts and practice your bargaining skills at the local markets.  The Dominican Republic is a vibrant place, teeming with life, filled with history and fun activities. It's not as expensive as you think either, with quality deals available through Club Med All inclusive vacations and the like.
Here are the Top 5 things to do in the Dominican Republic:
Climb the Mountains – Pico Duarte or La Pelona: There are several hiking routes, each 2 days or more to either of the two highest twin peaks in the Caribbean.  The priceless reward of reaching the summit is complemented by a spectacular view of the ocean beyond both the north and south shores (on a clear day that is). Worth every bead of sweat it cost you to get to the top (all 6 litres of it!)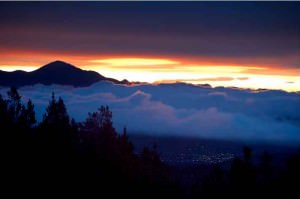 Adventure sports on the beach: Boogie Board, Surf, Windsurf, or Kitesurf in Las Tarrenas.  Shake off last night cocktails with a bit of death-defying watersports. The Canal Kite Club offers lessons and rentals ranging from $40 for a 2 hour surfing lesson- $200 for a 6 hour kitesurfing lesson (pricey but awesome).  If you've never tried kitesurfing, this could be your chance. Or play it safe and cheap and just rent a boogie board either way it's a great way to spend a day or too.
If you want to experience a more chilled, undiscovered beach check out either Playa Limon to the east or Playa Bonita to the west of Las Tarrenas.  Playa Limon has a beautiful waterfall and giant lagoon.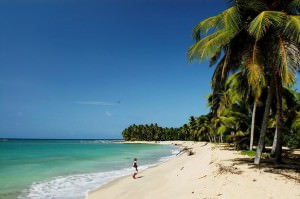 Damajagua and Ciguapa Falls: You can't come to paradise without a trip to a waterfall or two. And you won't be disappointed with these badboys. It's said that both are not easily accessible without an experienced operator, but  forget that. Get your hiking boots on and off you go.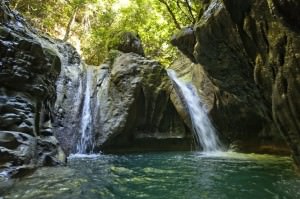 Explore the secluded paradise of Bonao:  Just before the small village of Los Quemados lies Bonao.  So far Bonao has remained untouched by the rapidly encroaching tourist trade so this is your chance for a bit of 'off-the-beaten-track' love in a country which doesn't offer much of it.  Go trekking, horseback riding, or swimming, in Bonao's and be sure to check out the beautiful Yuna River that flows through the town.  Rent a motorbike and cruise around the country roads, or grow a beard and go camping on the mountain. Photo op galore.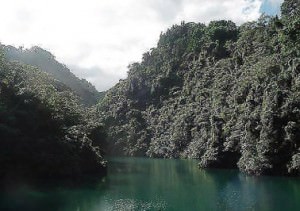 Boiling Lake: Jump on your bike and give those calves a work out on the 6 mile hike along the mountain ridges, when you reach the very awesome boiling lake, it'll all have been worth it. This 207-foot diameter lake is a unique natural phenomenon.  The steaming, bubbling, grayish lake is what's left of a volcanic eruption that occurred in 1880.  You might get a bit dirty but you will also get to experience, up close, the power of Mother Nature.  Awesome.
Next trip to the Dominican Republic, make sure you hit up these 5 destinations. Holidays to the Dominican Republic can be something different from the dorm, make sure your is too. Happy travels!