Wow, the people in this new country are so friendly. Everyone is trying to help us get a ticket, they're literally fighting over who should help us – amazing. Hmmmm – the only thing amazing about this is how many people are willing to rip you off in one bloody station!!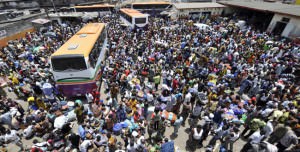 I cannot describe the fury I have for travel touts when I'm already lost, confused and tired as I arrive at some huge train station, bus stop, taxi rank, ferry terminal or airport!
These guy see our foreign faces a mile off, lonely planet in hand, camera around our vulnerable necks… do they come bounding in with offers of this new country's hospitality? They may be the only first impression you get of this new place your visiting so surely they are aware of that and go that extra mile to make you feel comfortable. Do they hell!! A swarm of loud, aggressive men normally surround you and declare:
a)    The hostel you had in mind is already full, you need another one
b)   There's no public transport from here, you'll need to go with him
c)    His company is the cheapest, best and most reliable of all so ignore everyone else (despite the fact that other people, from other companies, are loudly make the same declarations!)
d)   You should go here, here and here next – forget your plans, they will show you the best places.
e)    The list could go on and on but let me nip it in the bud…
P*SS OFF! I've been on  a bus/train/boat for 18 hours so the last thing I need is you and your kinsmen giving me the hard sell, now kindly understand I am literally going to ignore everything you say and I don't care how rude it looks. Give me some space, spare me the bullsh*t and we maybe can sort something out but right now – this is not the way to get my custom, I promise you that! AAAAAAAAAGH OK, thanks for listening! Happy travels J