I don't speak your language, and for that I'm sorry, and I do appreciate that you're trying to speak to me in English. The menu looks good, I'm absolutely starving, I'm going to order exactly what I've been craving and it's going to be amazing. Ok miss, I'm ready to order….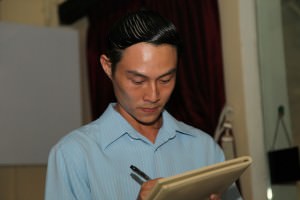 She comes to my table, my friends and I order whatever we want, it's going to taste so good, but it's quite a big order. Maybe you should write the order down maam? No, you're going to remember it all are you? What – all of it? Really? And no mushrooms with mine, but extra cheese with his, oh and a iced coffee, no sugar. Have you got all that? You sure you don't wanna scribble it down? Ok, up to you.
30 minutes later, my stomach is stating to eat itself. 'Our' food comes. I shouldn't really say 'our food' as it doesn't resemble anything like what I ordered, in fact not one dish is correct. I tell her, she giggles, I want to reorder but I can't face waiting another 30 minutes. I eat it, it's not what I want but it's food. Pay and leave.
Waiters of the world (excluding Europe, ANZ and N.America!), listen up. The pen wasn't invented to scratch an itchy point on our lower back, please for the love of God, write this stuff down. Get it right, you must makes mistakes all day every day – can't you see that!? WRITE IT DOWN. It'll take 10 seconds and every order will be right from now on, imagine that. People actually getting what they ordered, what an amazing concept! I'm fed up with getting the wrong food from Ethiopia to Egypt to East bloody Timor. Write it down, it's that effing simple. Thanks for listening. Grrrrrr….