This seems to be a growing trait and one which needs to be nipped in the bud. I guess it goes hand-in-hand with a new breed of travelers, walking the battered tourist trail through South East Asia and Australia but if I see one more person walking through a shopping mall in Bangkok with their small backpack strapped on their chest, the wrong away around, I may be forced to slap someone in the face.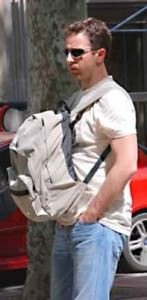 Now I know crazy sh*t can happen when you travel, people go missing, people get mugged and that's tragic. And I promote safe behavior on the road, but safe behavior is not throwing a bible at people in the mountains of Afghanistan, it's not visiting Syria during almost civil war, it is NOT wearing your backpack on your front as you wander around Angkor Wat along with 20, 000 more tourists.
I don't know what stories people read before they set off but they must think they're gonna get pickpocketed every time they cross the road. Guys, do you wear your backpack on your front at the mall in your home town? Do you wear it like that when you visit London or NYC? I'd hazard a guess at no, well don't be so bloody cautious just because you've left the confines of Western society!
At this risk of offending people, this behaviour seems to be specifically people from the US and middle-class Brits. I'm not going to get on my high horse about negative media agendas, engrained xenophobia and God complexes, although I bloody well should. Let's just leave at this "Turn your bloody backpack around you idiot" It's not the f*cking wildwest over here". Peace.