So you see a few poor people running around with no shoes on, any rational person would feel sympathy but what do my favourite backpackers do? Mimic then. In the seemingly endless quest to be a 'real' traveller, these hard core vagabonds feel the need to go barefoot as they travel around South East Asia. You're officially my hero, is that what you needed to hear? Ok, then please put your bloody flip-flops back on.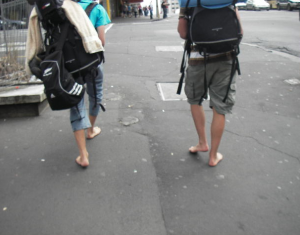 Now, please don't misconstrue this rant – I'm all for not wearing footwear when it's feasible, around a guesthost? Ok maybe. In your condo, sure knock yourself out. Walking up the high street in Vang Vieng, Chiang Mai or Ho Chi Minh – what are you doing bro?! It's not big and it's not clever.
Furthermore, this contrived effort at seemingly saying " I'm such a real traveler duuuude" just doesn't fly with me at all when the only times I come across these people is when I'm in the most touristy places at all. I spy them at a full moon party or in Angkor Wat, amongst all the other backpacking hordes. If you're such a real traveler dude, how come I've never stumbled across any of you shoeless wanderers in East Timor, Bangladesh, Sudan or Lebanon?
In a desperate plea to finally put an end to this ridiculous trait I'll say this – you're on the road, and living your dream, and that's great. But there's no need to go native bro, you just look like a try-hard idiot. Peace