You slept in, too many beers last night, long goodbye to new found friends, lost on your way to the airport/bus stop/train station, whatever the reason running late for your next mode of transport is a nightmare situation. What's worse still is when you're late but you've got a 15kg bag strapped to your back, your day pack strapped to your front and a pair of fake havianas as footwear :S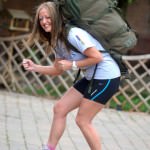 There are few things worse than having to sprint to a terminal with your backpack as you curse the fact you hit snooze on your alarm 3 times. You get some sort of waddling momentum built up as you sway from side to side down the highstreet, drawing strange looks from the locals, it's probably 30 degrees Celsius too so throw some hard core sweating into the mix and it's a party you just don't wanna be invited too. For me this is an embarrassingly regular occurrence.
We've all been there, backpacking around the world, swaying from left to right, grasping your bag on your front as it almost whacks you in the face, hoping that you don't fall flat on your face. You know you have to run or you'll miss the bus, it's just that running seems so hard when you're lugging your luggage. Why do we do it to ourselves?!
Next time, let's do ourselves a favour and cast a thought back to the lunatics we've seen trying to catch their bus, backpacks in tow and strive not to ever be them (again). Anyways, I've got a 21 hour train to Beijing so I gotta shoot, I'm running late. Happy travels!