Who ever said there's no such thing as Santa was smoking crack, cos I met him and he's the man. And here's the bloody pic to prove it: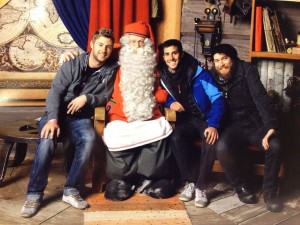 If crossing the Arctic Circle isn't cool enough for backpacker visiting Finland then this should see you over the line. In a town called Rovaniemi, 14 hours north of Helsinki, you'll make it to Lapland and for any of the ill-informed, Lapland is the home of St Nicholas himself, and all his weird, little elf dudes too.
You can shove your shark diving, bungee jumping, sky diving and lifestyle design – this is the pinnacle of traveling! On my second day in Lapland, it was Christmas day all over again. I hardly slept the night before, our awesome cottage was 20km from Santa's village so after breakfast we made our way there.
Santa's village is literally built ON the Arctic Circle border, in fact his grotto actually dissects the circle, pretty cool huh? The village is 8km from Rovaniemi, you can take a bus but we had our sexy rental so off we went.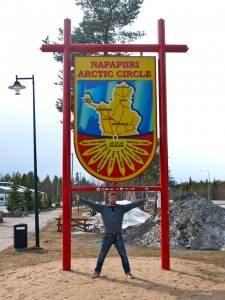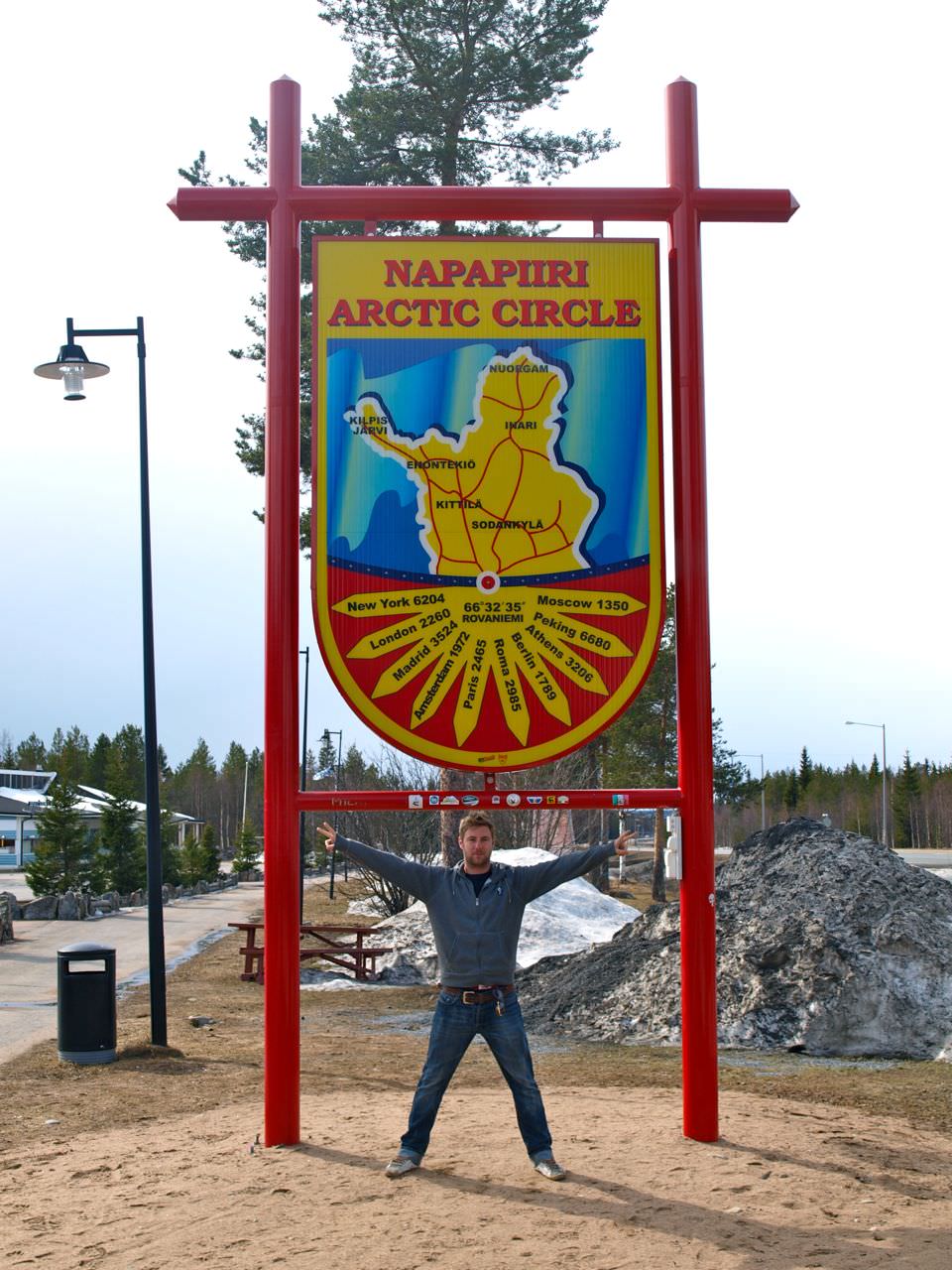 It's May but because we're so North they whole place was still covered in snow, giving off the exact vibe I was hoping for. Snow covered trees, snow covered wooden cabins, it certainly looked the business.
After being force fed a zillion gift shops, trinkets, bag patches (I bought one, whatever) I made it to Santa's official post office. This is where all the letters addressed to "Santa, Lapland" or "Santa Claus, Finland" make it. He receives millions per year, and they're all filed away country by country. You can organize Santa to send people Christmas cards here too ($10 a pop).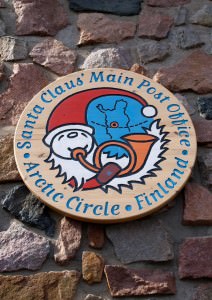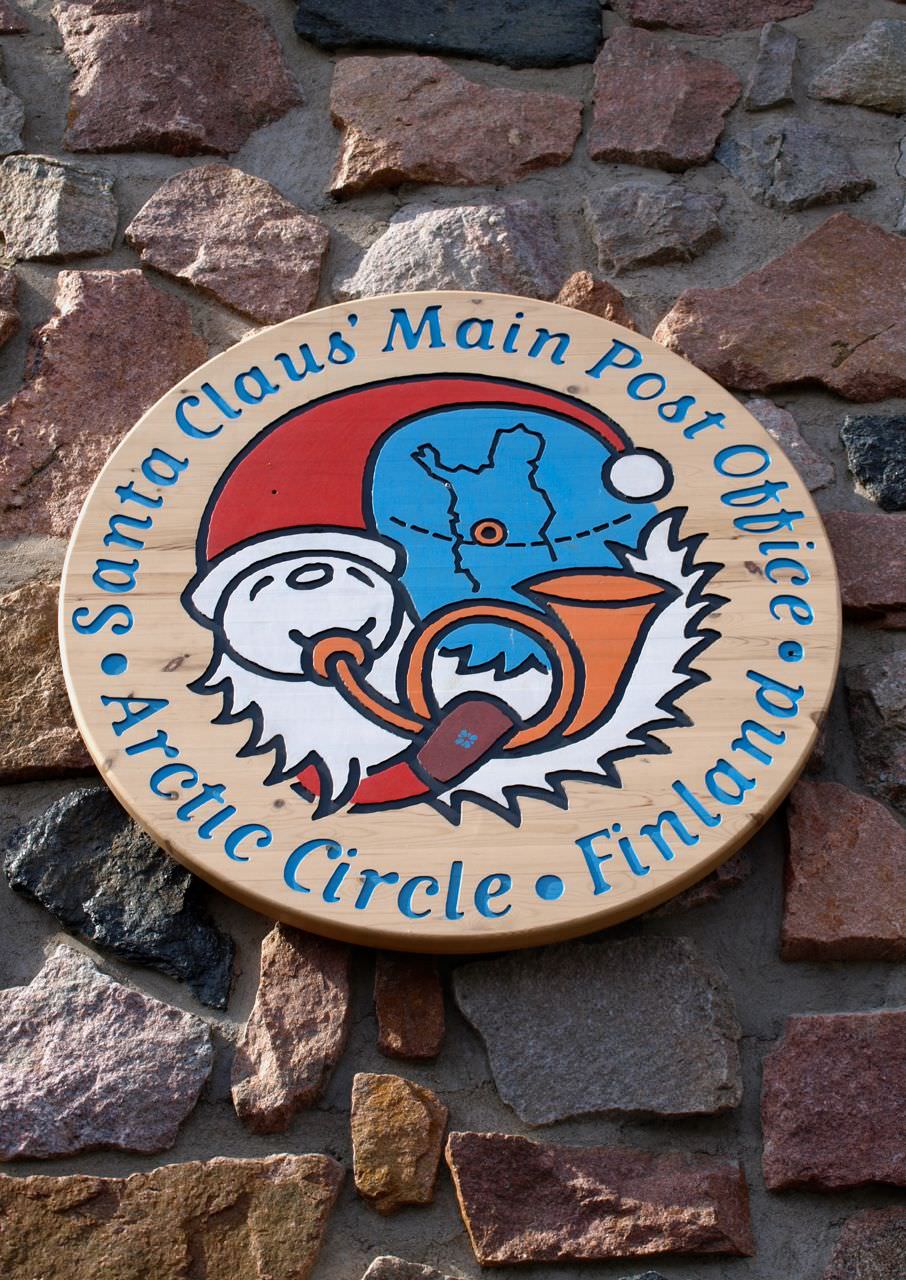 Then comes the moment of a lifetime, Santa's grotto. Santa works 365 days a year, 24 hours a day apparently but he is only available to visit between 10am and 5pm. When you walk into his grotto, it feels like a cross between a dark Tim Burton movie and a sweet factory, it's dark, with deep, menacing music pumping and smoke billowing out from oversized cogs. Things light up sporadically, you can see elves on screens running around, with things being produced in Santa's factory.
Through narrow corridors, you make it to a huge pendulum swinging laboriously. Beside it is a sign saying "The earth's rotational speed regulator" followed by an explanation at its working.  Basically, this is how Santa makes it to everyone's house in one night, magical.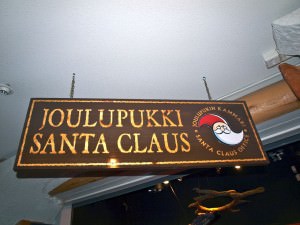 You carry on until you read a huge wooden door, a spritely elf pops out and greets  you, walks you in and introduces you to Santa himself. Santa is about 6'4, huge hands, warm face and a long beard. We were three grown men (26, 28 and 30 years old) and you've never seen such a sheepish, nervous entry by three confident dudes before. All of us hanging back, not knowing where to look or where to sit, it was hilarious. Walking around so cocky not 3 minutes before and now confronted by Santa, it was like being 7 years old again!
Santa though was prepared, he kindly and warmly invited us in. He speaks about 10 languages and when I told him I was from Northern Ireland, he even knew the area I lived (pretty spooky actually!). You sit down with the bigman, have a chat, and after a few minutes you get a photo snapped, shake hands, give him a hug and wander off.
The photo costs an extortionate 25 Euro ($33) so of course we planned not to buy it. Our resolve lasted all of about 30 seconds, and the pic is the one you see at the top of this post. Worth every cent!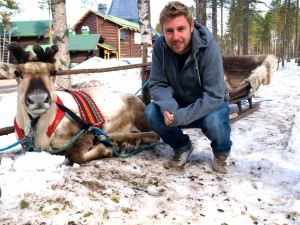 Outside you can take a ride on the Reindeer sled, drink hot chocolate, have a snow ball fight. Christmas tunes are piped through the entire village all year round. I can certainly say I felt infinitely more Christmassy here in May than in Bangkok at Christmas! If I was a kid I would have lost my mind, in fact I'm a fully-fledged adult and I pretty much lost my mind so if you get a chance to pay a visit to the 'real' Santa, don't pass it up, it's something almost magical. Happy travels!