After a year of nearly non-stop traveling, I'm taking a three-month breather at 'home' in Bangkok. Before I got my condo situated, I stayed in the Viva Garden, modern serviced apartments located on Sukhumvit Road. When I arrived into the elegantly decorated entranceway, the staff greeted me graciously, setting the tone for the excellent service I would receive throughout my stay.
Although not in the center of action, Viva Garden is only a two-minute walk from the Bang Chak BTS station, making it easy to cruise into the heart of the city. The well-equipped apartment comes with a kitchen filled with everything from a fridge, stovetop, microwave, toaster, even chinaware. Conveniently, Tesco Lotus superstore is within walking distance (or one BTS stop), making it easy to grab anything I needed, including ingredients to whip up a tasty meal. Then again, with the amazing, abundant street food and complimentary breakfast every morning, the kitchen did not get much use!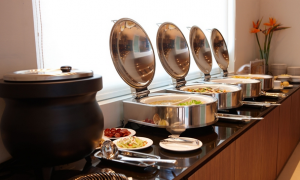 A few of the facilities include a zen garden, fitness center, business center, and restaurant. Some units have washers and dryers (always good news), but there is also a common laundry area on site. There's also a pool and Jacuzzi. If heating up instead of cooling down is your thing, try the sauna rooms.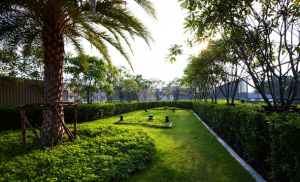 My apartment was spacious and occupied with contemporary wooden furniture. The gold and tan colour accents combined with the soft lighting set a calming mood. They spared no expense with the entertainment system, which includes a wall-mounted flat screen television, cable channels, DVD player, CD player, MP3 player and just about any other player you can think of. Needless to say that hi-speed Internet is in the rooms as well. Relaxing after a day out and about is made easy here. After I managed to get out of bed relax mode, I headed outside onto the private balcony that offered up a glorious cityscape. A tip: request a room on a higher floor to get the choicest views.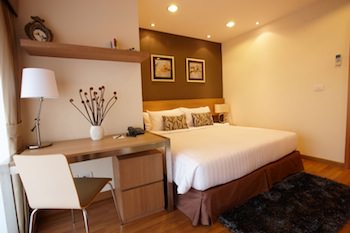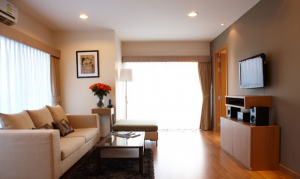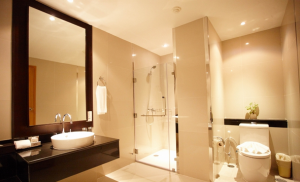 Viva Garden really fulfilled all of my needs and provided me with a comfortable temporary home base.