Why Medellin is So Great for Digital Nomads
Ditching the old 9 – 5 routine and working remotely from pretty much anywhere that takes your fancy sounds like a pretty awesome gig, and as recent figures show, these so called 'digital nomads' seem to be taking the world by storm. While it's impossible to count the exact number of location independent workers out there, predictions suggest there will be 1 billion digital nomads by 2035.
So as the digital nomad community continues to explode around the world, some cities have become more popular as a destination choice. One city that keeps appearing on this top list is Medellin. Situated among the beautiful Andes mountains in South America, more and more digital nomads have been flocking to this hot spot of Colombia over the past couple of years. Its vibrancy, beauty and rapidly growing business centre make it the ideal digital nomadic set up.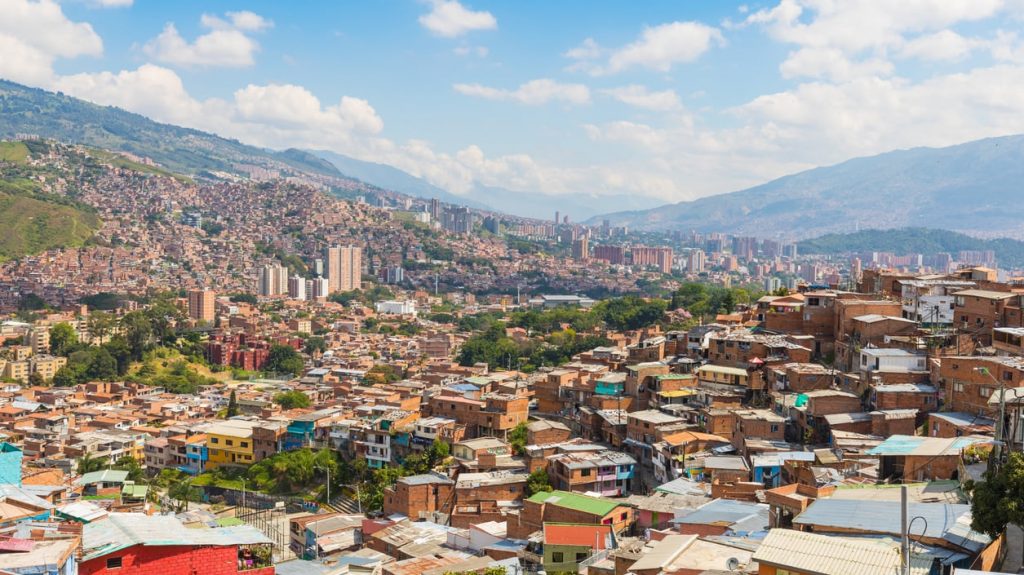 Here we'll delve into why the city is so desirable for digital nomads…
Good Internet Connection
Having a reliable internet speed is one of the most crucial parts of sustaining a digital nomadic lifestyle. Medellin doesn't disappoint. The city has a pretty good infrastructure, offering reliable and high-speed internet and good power services. Internet can be found all over the city; in apartments, cafes, co-working spaces and even parks.
Co-working Spaces
Finding a suitable place to put your head down and get productive is vital for many digital nomads, and co-working spaces are often the desirable choice. Again, this is something Medellin very much caters to. Due to the explosion in the number of long-term foreign residents and its own home-grown freelance sector, the demand for co-working spaces across the city has increased, with new ones popping up all the time.  
These spaces vary in price for use of their services, but don't tend to cost more than about $10 USD a day and it's common to find discounts for weekly and monthly rentals. With plenty of co-working places in Medellin to choose from, you'll no doubt find one that works for you. 
Cost of Living
Another pull to Medellin for digital nomads is the relatively low cost of living. Prices are slowly increasing, but expect to be able to live within your means. Accommodation can vary quite dramatically depending on the neighbourhood and whether you're willing to have a roommate, so expect prices anywhere from around $250 USD to $820 USD a month. 
Food can be purchased at a good price from local markets and the menu del dia can be a life saver – a hearty meal from around $3 USD! Transport in Medellin is also raved about, with their Metro system covering the spread of the city and costing around $0.67 USD for a single journey. 
The Digital Nomad Community
Being far away from home can be quite lonely from time to time. However, Medellin is rife with other digital nomads, so you're bound to run into other creative and interesting individuals doing the same thing as you. This might be in coffee shops, bars, co-working spaces or at local events. Having a digital nomad community around you can offer a great support system as well as being perfect for networking, and almost every night of the week you'll find some sort of meet-up somewhere in the city. 
Things to do in the City when you're not Working
When you're not busy squirrelling away in a co-working space or attending a meet-up, you'll find that Medellin offers plenty of things to do. You can explore the numerous parks and plazas, attend a local soccer match, take in the many museums and galleries, learn Spanish, and even visit one of Medellin's many microbreweries! 
Come nightfall, and you'll find a buzzing party scene in Medellin, with an array of bars and nightclubs, attracting a good mix of locals and foreigners. Another thing that Medellin is known as is a blackjack paradise, due to the early surrender blackjack rule. So if you fancy trying your luck at a game of twenty-one, you may have found the right spot to give it a go in!
Safety
Medellin is steeped in a traumatic and violent past, and twenty years ago, it was a no go zone. However, over the past decade or so, the city has dramatically rejuvenated itself, and has become one of the most visited and dynamic places in Lain America, with its booming tourism and expat community evidencing the clear rise in safety. As long as you don't go looking for illegal activities and adopt regular travel safety precautions, then you'll find Medellin to be a generally safe city.