How would you like to take in six of the most vibrant cities in Western Europe this summer? If you're fanatical about your music and you know your Muse from your Maccabees then you'll probably be interested in Generator's competition to become their " Summer of Festivals Reporter".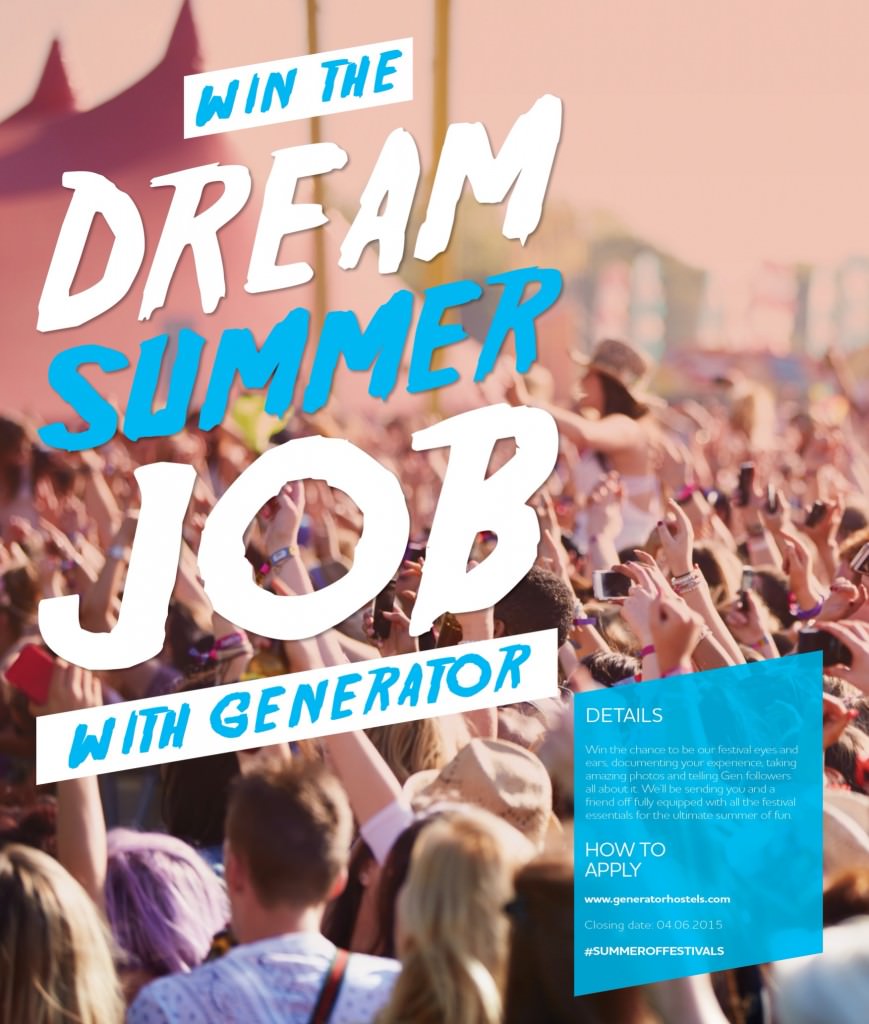 The lucky winner will be Generator's eyes and ears at six European music festivals between June and September. From Barcelona to Copenhagen and Dublin to London, you'll be documenting your experience on social media and Generator's website and blog with amazing photos and video content.
Who is Generator?
With 9 design-led hostels across 8 of Europe's most popular cities, Generator is the continent's fastest-growing hostel brand with properties in Rome and Amsterdam coming soon.
Each Generator property has its own personality and design and is much more than a hostel; it's an experience.
The prize in detail…
Each festival you'll visit will provide its own unique experience too, which you'll be required to document by way of a review as well as live tweets and Instagram updates for Generator's followers.
The lucky winner and a friend will be fully equipped with all the festival essentials for the ultimate summer of fun.
You'll be armed with a camera and Go Pro to create fun-filled video diaries, snapshots and interviews whilst living and breathing some unforgettable live music experiences across Europe. Each festival line-up will be different, so you're guaranteed to watch a wonderful spectrum of world-class acts.
The prize covers everything you could possibly need to head out on the road this summer, including travel costs of up to £4, 000 for you and your friend, accommodation/camping equipment to protect you from the elements and £200 spending money per festival to cover food, drink and anything else you need.
How to apply
To enter and win this epic "Summer of Festivals Reporter" competition, simply post on your favourite social media channel and tell Generator just why you think you should win – the most compelling, original post will take the prize.
This post can either be made on Facebook, Instagram, YouTube, Twitter, Google+ or your own blog and can include tax, imagery or video content.
Simply enter at the foot of this page including the URL to your social/blog post telling Generator why you should win the dream summer job!
The deadline for entrants is 4th June 2015 so you'll have to be quick providing you meet the following entry requirements:
Must be 18 years or over
Must be available to attend all festivals
Must agree to the conditions as outlined in the following agreement