Feet throbbing, calves burning and hamstrings tighter than ever before but very, very satisfied with a great day backpacking. Today, and yesterday for that matter, I walked about 10km around Zhangjiajie National Park in Hunan Province, China, otherwise known as the 'Avatar Mountains' and it is spectacular.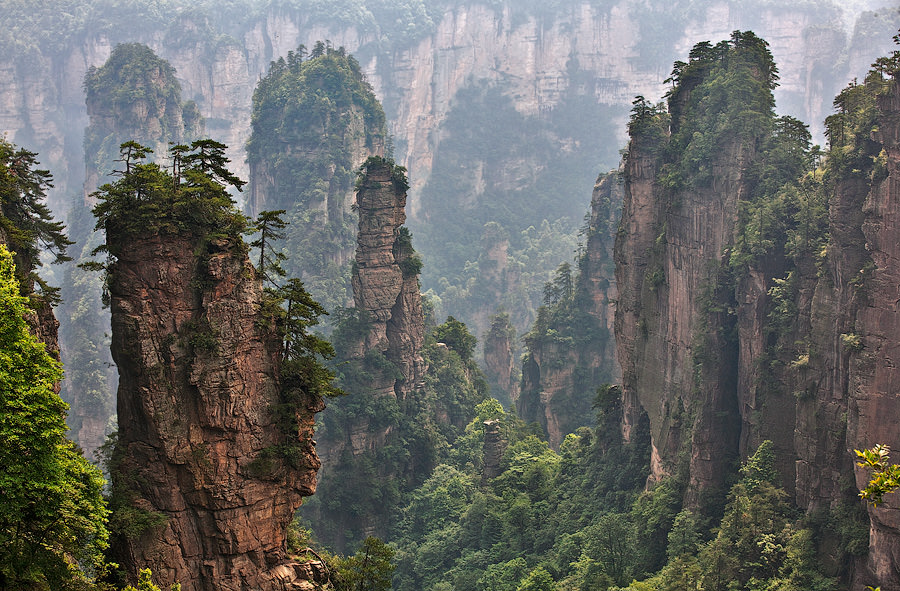 This was my 3rd UNESCO site in China that week so I'm feeling pretty lucky to be honest although the pain I'm currently in from all that hiking is perhaps my payment in stead. This one though, you have to earn it. Not easy to get to the area of China, and then A LOT of hiking when you're there. No pain no gain, right?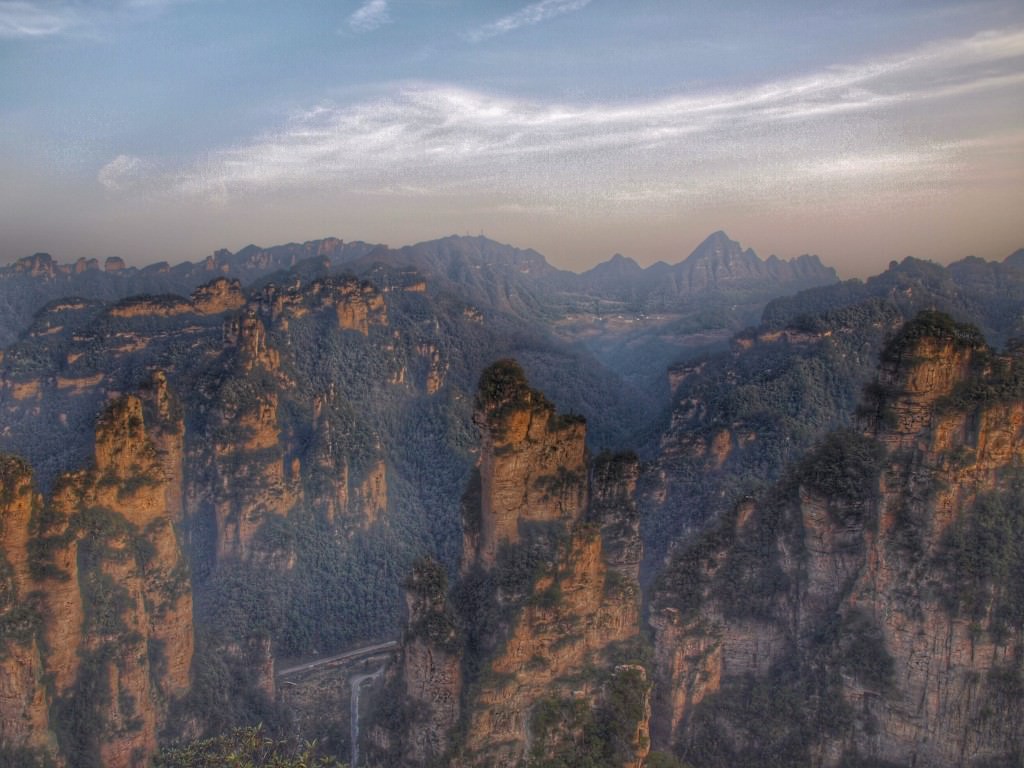 We arrived from Guilin on the night train, then found a dingy cheap hotel near to the park. From there we set off super early in the morning and we were the first people in the park, so we had the whole place to ourselves. I'd massively recommend you guys do the same, especially if it's summer high season, since Avatar was launched this place has gone mad. So mornings are your best shot.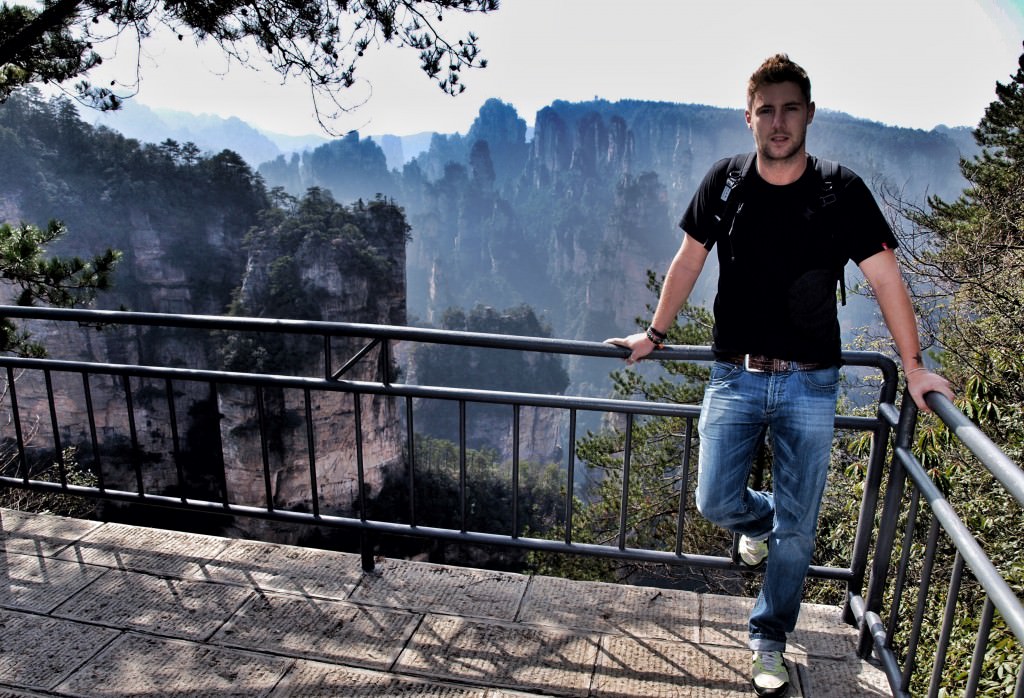 The area is absolutely HUGE, and people spend days and days coming back. For me, with my low attention span, we came for two days. Solid hiking every day. We decided to ignore the cable cars as much as we could and hike everywhere, super difficult but an amazing experience. Don't try to 'do it' in a day, there is simply too many awesome things to see and do, it's honestly one of the best places I've ever visited, so two days as an absolute minimum in my opinion.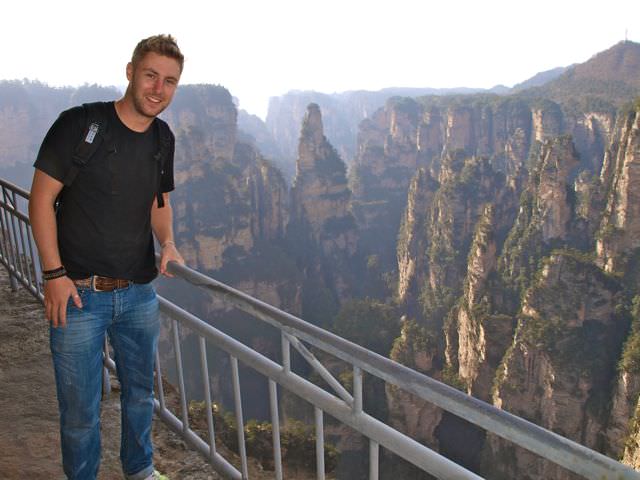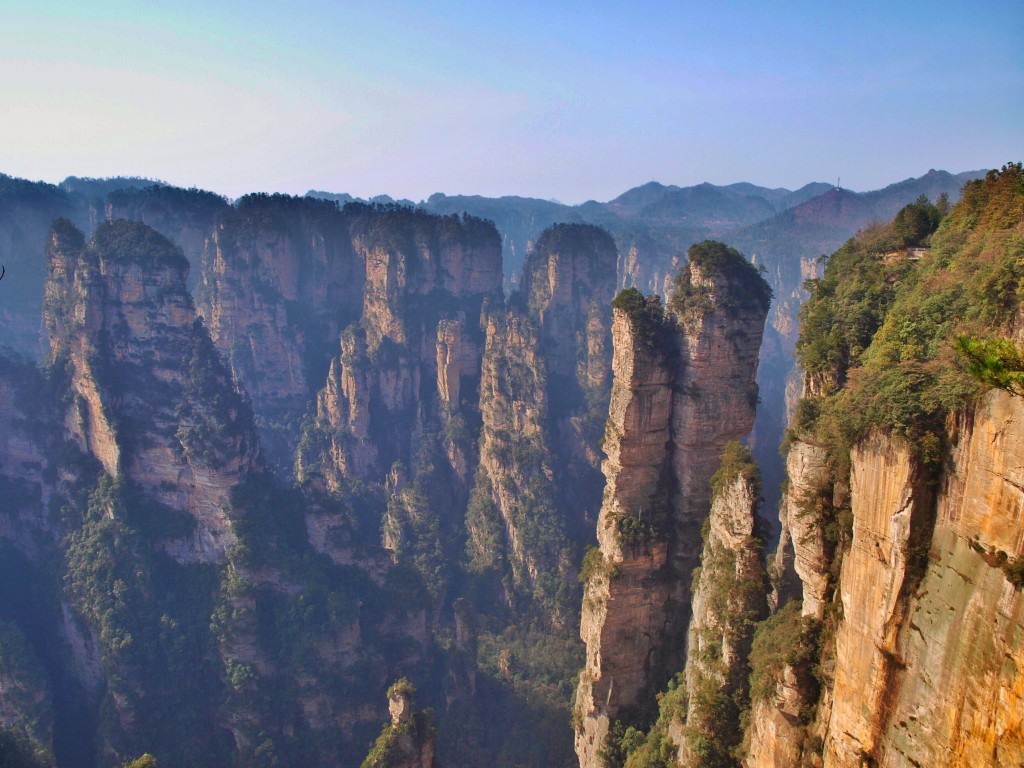 Since the humongous success of the Avatar movie, the park has been renamed the 'Avatar Hallelujah Mountains' and the tacky Chinese gift stores are rammed full of avatar merchandise. They've even commissioned a replica of one of the dragon/bird creatures who appears to have crashed into the cliff!
And due to everyone not being physically fit enough to clamber amongst the gorgeous mountains, you can pay twenty bucks and be carried around, madness but true, check it out…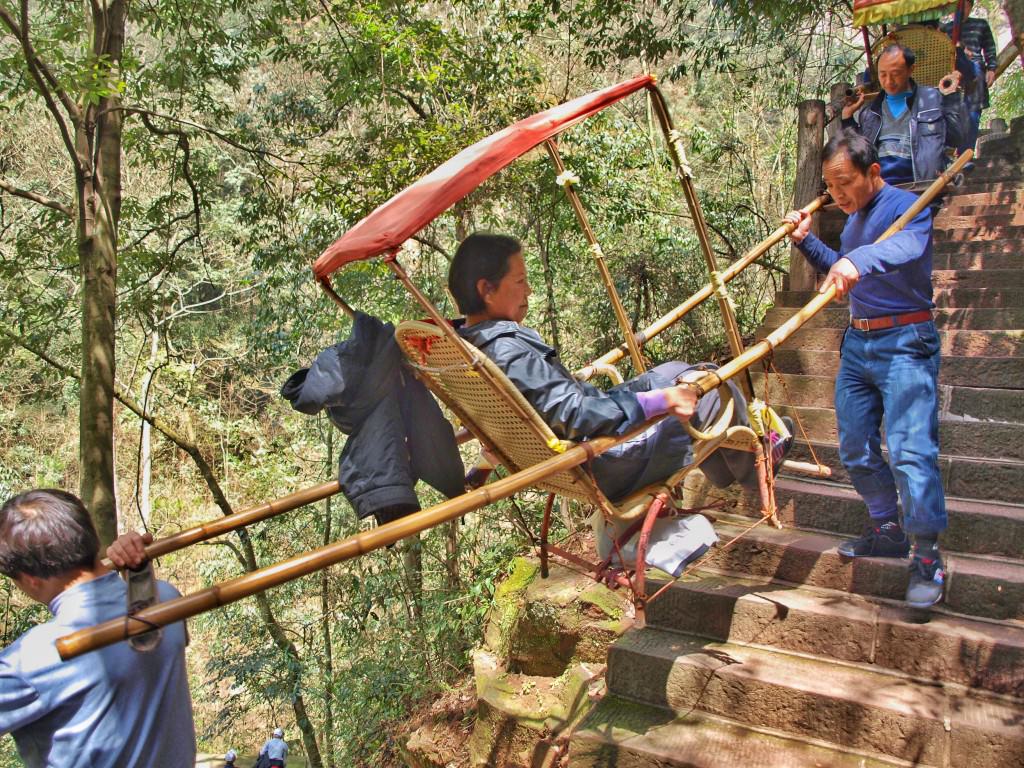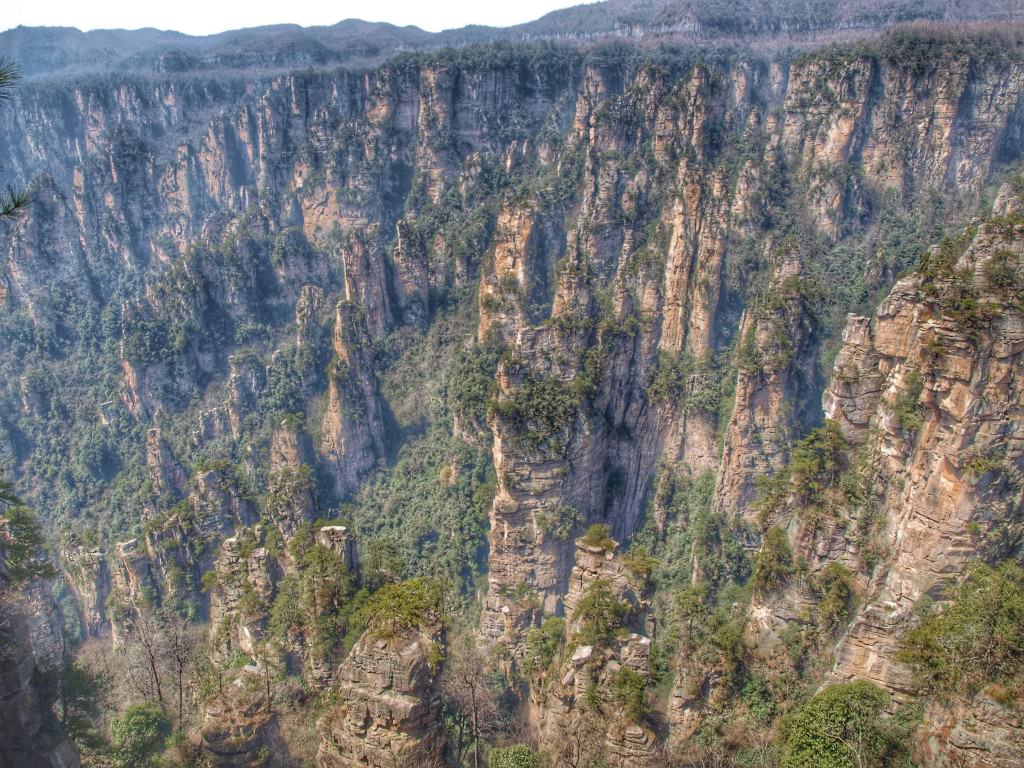 If you go for 2 days, which I'd recommend, you really have to be careful about selecting your route or you'll spend all day backtracking, or worse – getting lost. Maps are available outside for 5RMB ($0.80) and ask advice about routes from your English speaking hostel.
Bring some snacks and enough water for lunch because sometimes it's tough to find places to buy (reasonably priced) food, and you could be hours deep into a trek when hunger strikes. I'm not one for carrying a bag full of stuff on my day trips, but this is one exception, oh and leave the flipflops at home – this place needs proper footwear. Sneakers are fine, hiking boots would be a winner, but I never travel with those personally. Also, make sure you're leaving the park by 6pm when the parks buses stop.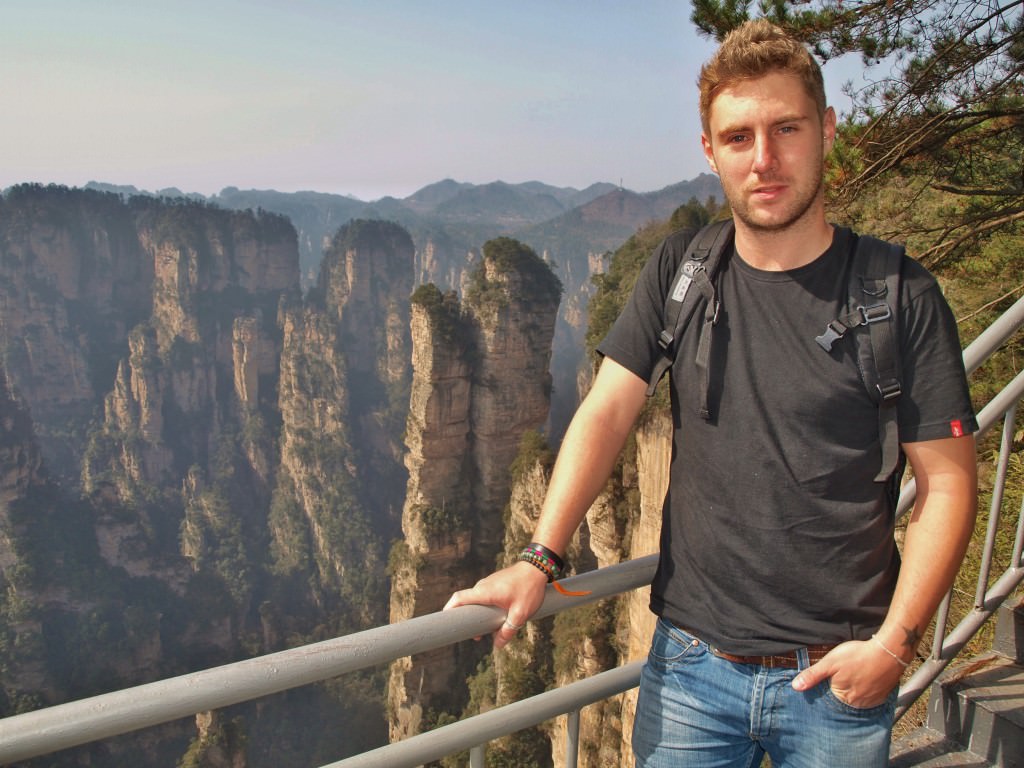 Oh, and if you're stuck about which place to see – the World's First Natural Bridge (its official name) has the coolest scenery of all, so don't miss out on that, this is it below – breathtaking! Any questions, let me know – if off to bed, and it's only 8.45pm! Knackered!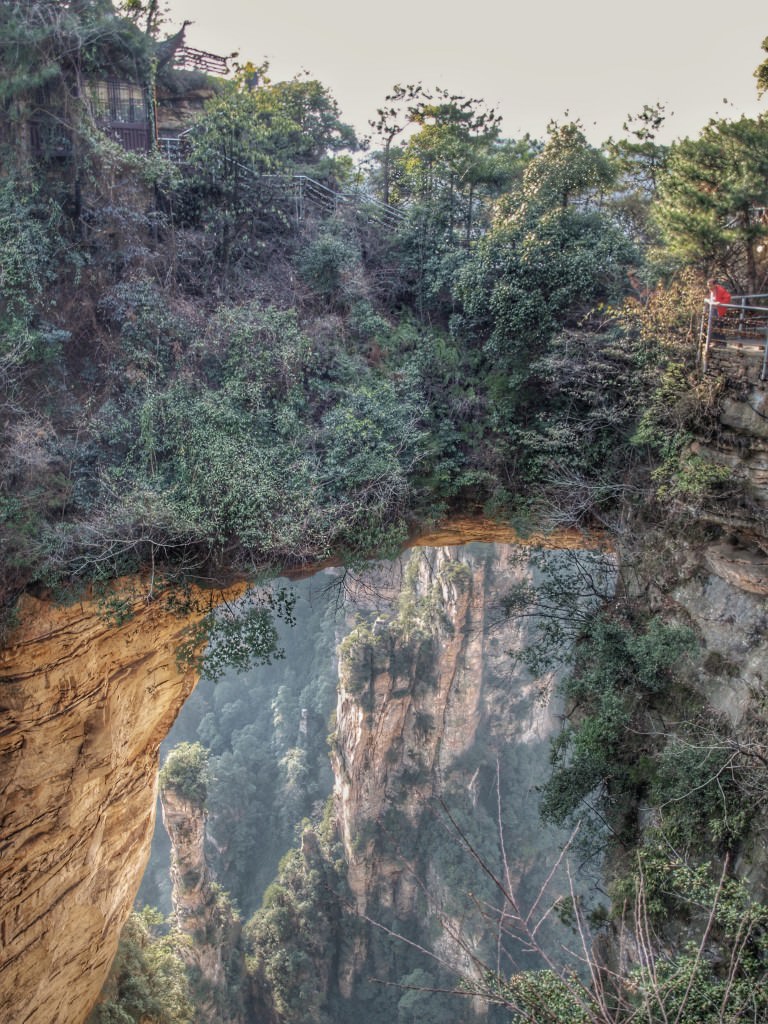 FAQS:
How much does it cost to enter Zhangjiajie?
245 RMB ($39) or 160 RMB ($25) for student's under 24 for a 2 day pass. There are various trams, elevators and cable cars spread through the huge park, each charging between 40-70RMB ($6-$11 to use).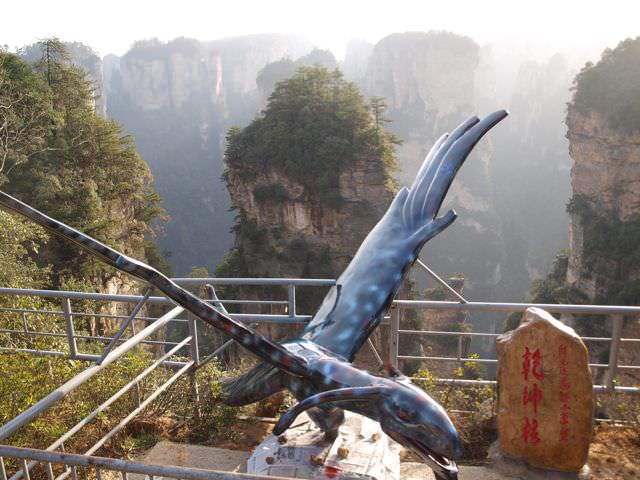 How many days should I spend in Zhangjiajie park?
I spent two full days and by body had had enough! It's tough hiking, with lots of hills. One day certainly isn't enough, 2 is good but if you're feeling adventurous there are 7 day tickets available, just bring some icepacks for the evenings!
How do I get to  Zhangjiajie park
You can take a taxi from Zhangjiajie city for about $15, or from Wuling Yuan you can walk. You can get there, from the rest of China, via Guilin, Changsa or Chengdu. If you're taking trains, head to Changsa, Guangzhou or Kunming and from there they have local trains to Zhangjiajie.
Where should I sleep at Zhangjiajie?
That's a question which no blog or guidebook really answer well so let me clear it up. You want to sleep in Zhangjiajie village ideally (known as Wuling Yuan), unless budget isn't an issue then Zhangjiajie city is fine, but it's quite far from the park. Also, you can stay in the park but it's quite expensive and you don't have any options to explore the town or choose different places to eat.
In WulingYuan, there are lots of places to stay including a couple of affiliated YHA members which charge only 45RMB ($7) per bed.