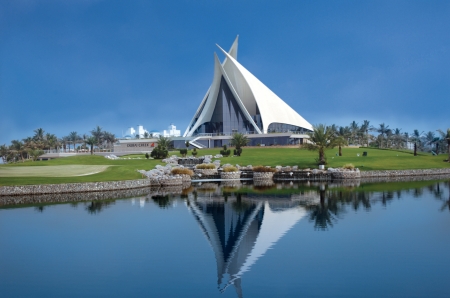 DUBAI
Dubai is known for its glitzy glamour; but for the avid golf players it is like the Disney of world class golf. Nothing beats the exhilarating feeling of practicing your swing in the scenic and award winning fairways; some set with luxurious accommodation of their own.
Tee off in 'the Best Hole in Middle East' at Dubai Creek Golf and Yacht club.Since its opening in 1993, this spectacular club has won several awards especially because of its 18th hole. Its location is ideal and accessible from the city; you also enjoy spectacular views over the creek and marine. You can sip a cold drink in the famed cub house modeled from an Arab dhow.
The Emirates Golf Club is a paradise for golfers, there are two fine courses each striking in their own special way. The highly ranked Majilisrecognized for its challenging layout; and the par-73 Faldo course gives you a sublime experience of playing in the warm night breeze of the Arabian desert. If you are accompanied by friends and relatives who do not play golf there are plenty of activities to keep them satisfactorily distracted.
TURKEY
Golf holidays in Turkey are becoming ever more popular and it attracts golfers from all over the world with its excellent weather, fantastic world class courses and efficient services. Until recently golfing in Turkey has been a well kept secret;only few knew the true value of this golfer's haven. For the perfect game in a historical setting, visit the Turkish golf courses.
Antalya is an ideal place for beach golf; the Belek Resorts are particularly popular for beaches, fine weather, luxury five star hotels and of course the fabulous high quality golf courses.  Experience a super game of golf with the Mediterranean Sea as your backdrop in any one of Belek's numerous coastline courses.
Istanbul is also another major destination for golfers with three fantastic courses; the central one being the nine-hole Istanbul Golf Course.  The other courses operate on 18-hole layout. There are other activities to enjoy when you are not swinging your club; peruse through the famous markets, visit historical sites and soak up in the vibrant nightlife fun that is synonymous with Istanbul.
MOROCCO
Morocco is mystical and fascinating with a unique blend of cultures and races topped up with outstanding geographical diversity. Its fine weather makes it a perfect destination for an all year round game of golf.
The vibrant city of Marrakech is fascinating with its ancient medina, spice heaped souks, narrow alleys and the famed Djemma El Fna square will entertain you. However it is its fabulous courses that will blow your mind. Set against the back drop of the stunning snow-peaked Atlas Mountains is the Palmeraie Golf course which is modern and a bit challenging.
Another of Marrakech's courses is the Royal Course and was frequented by one of Morocco's keenest players, King Mohammed IV. It oozes royalty right from its lovely palm avenues to its welcoming Club house under the lush palms.
A holiday in Agadir is an ideal destination if you are looking forward for a beach holiday combined with a golfing experience. The Golf du Soleil offers two 18-hole golfcourses with narrow fairways, well contoured greens, and thick jungles running alongside.
This post comes from Tom at Malta Holidays, another great place for a spot of golf!