For travelers seeking a little ancient history with their holiday, there is hardly a country more suited for the task than Greece. With countless sites to choose from, these 5 are guaranteed to satisfy those looking for something really ancient:
Acropolis- An absolute must-see if you're in Athens, the Acropolis dates back to the city's "golden age" in the 5th century BC. Make sure to arrive early and bring a bottle of water, especially if you'll be scaling the "sacred rock" in summertime (the refreshment stands charge exorbitant prices!) You can easily spend half a day exploring the Parthenon, Temple of Athena Nike, and numerous other ancient temples and theaters on the site.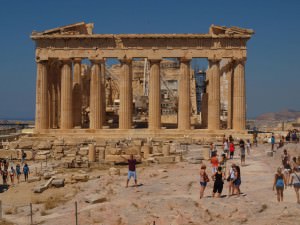 Delphi- An easy 2.5-hour bus ride from Athens, Delphi's archaeological site is both ancient and beautiful, with its fascinating ruins and surrounding mountainous landscape. To the ancient Greeks, Delphi was quite literally the center of the world. They would trek from all distances to consult the wise Oracle in the Temple of Apollo. You can visit the ruins of the ancient temples, treasuries, theaters and more at this fascinating site.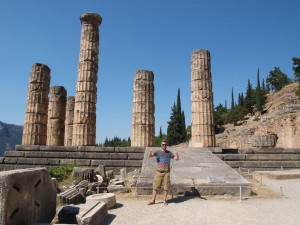 Olympia- Whether you're a fan of athletics or not, a visit to the birthplace of the Olympic Games in the 7th century BC will surely be memorable! Olympia is in Peloponnese, accessible by bus, train, or sightseeing tour from Athens. At the ancient site, you can walk through ruins of the areas where athletes trained and competed, see the elaborate temple of Zeus and many others. A bonus: most of the site is free!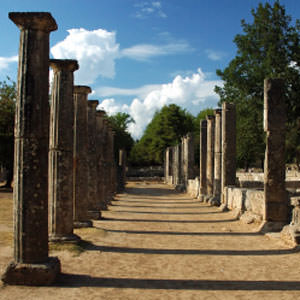 Palace of Knossos On the island of Crete, the ancient Minoan palace ruins are a tribute to the majestic, mesmerizing structure built around 1900 BC. You could easily get a car from this Rental Center Crete. Legend has it that King Minos built the labyrinth to keep the mythical creature Minotaur away from the palace. Today, you can walk amidst the palace grounds, see elaborate frescoes and even imagine you're the one powerful enough to slay the Minotaur…
Tunnel of Eupalinos- Built in the 6th century BC as an aqueduct, this was only the second known tunnel in history to be made from both ends at the same time. Located on the island of Samos, the tunnel is just over a kilometer long and passes 170 meters underneath Mt. Kastro. Walking through part of this tunnel is definitely something you shouldn't miss if you're traveling through the islands! Accessing the place isn't so easy via public transport, so rent a car in from Samos airport and avoid the stresses of Greek public transport!