If you read my damning report on Budva yesterday you could be forgiven for thinking that I don't rate Montenegro as a great backpacking spot, but you'd be wrong. It's one of the most gorgeous countries I've ever had the pleasure of visiting and I'm already itching to go back.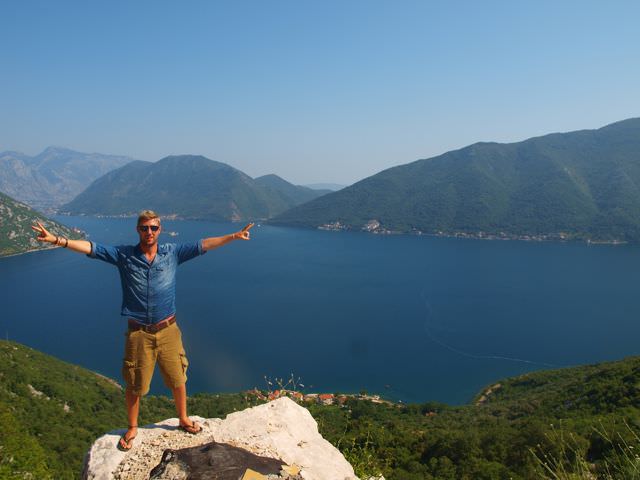 So don't let Budva's downright ugliness taint your opinion of Montenegro. Montenegro has so much to offer, and a week backpacking around here will leave you with some of the most amazing pictures you've ever seen,
I stretched the budget a little bit when I was here actually and rented a car, if you've got the budget I would look at a Tivat airport transfer when you arrive to make things easier. The public transport is pretty pricey and if there are 2 or more people a car rental will be a similar price with all the freedom that a car brings, and you won't be on a horrible tour group!
When you come to Montenegro make sure you don't miss any of following, they're all awesome:
1)   Kotor:
If you believe in symmetry, which I do, this is the cheese to Budva's chalk. Kotor is a beautiful UNESCO town, with a charming old town and a bustling harbor. You can climb almost 1500 steps to the fortress over looking the town too, although that seemed a step to far for me in the 35 degree hear. Kotor has got so much character, use this as your base as you explore the country, you won't regret it.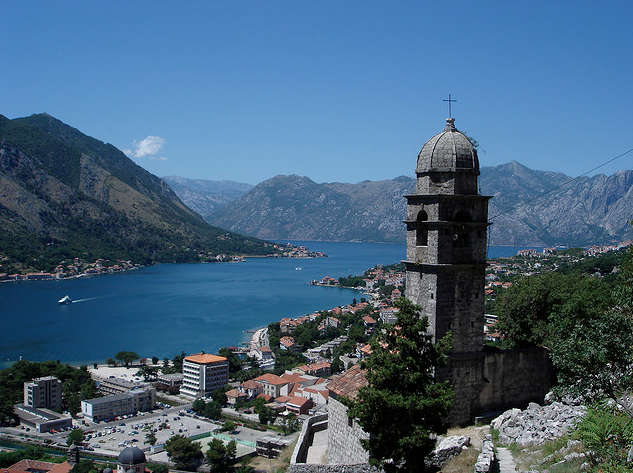 2)   Perast:
For me this is everything I had hoped Montenegro would be. Another UNESCO town, the population is probably less than 500 people and the town is closed to cars. It's only maybe 10km from Kotor but it's a different world, slow, sleepy and beautiful.  Out in the water you can see two tiny islands St George and Our Lady of the Rock, where you can take boat trips out to. This is Balkan paradise. There is one area to swim, complete with a low-key beach bar, and perhaps a couple of dozen other swimmers. My favourite place in Montengro, hands down.
3)   Cetinje:
This is where you earn your backpacking culture badges. It's just over the mountain range that lurks behind Kotor and Perast, Cetinje was the former capital of Montenegro. Head to the main square and check out King Nikola's former place, now a museum – the square is full of museums and churches actually, it's nice to walk around.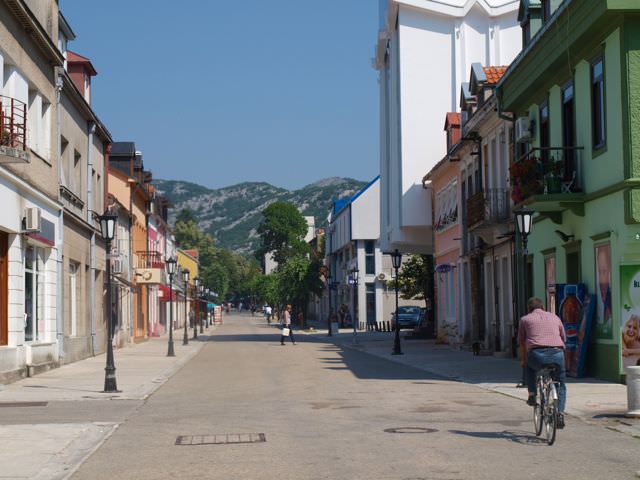 4)   Lovcen National Park and Njegos Mausoleum:
This is an ABSOLUTE must see when you're in Montengro. The national park is about a 40 minute drive from Cetinje and is dominated my Mt Lovcen, all 1750m of it. The real reason to come here, aside from the nature, is Njegos Mausoleum which was built on the national parks second highest peak, Jezerski. You can drive up to the top but you're still required to climb the final 461 step yourself, once at the top you're rewarded with views of up to 80% of the entire country on a clear day, it's spectacular. The tomb is intriguing too, built within the mountain in cold marble.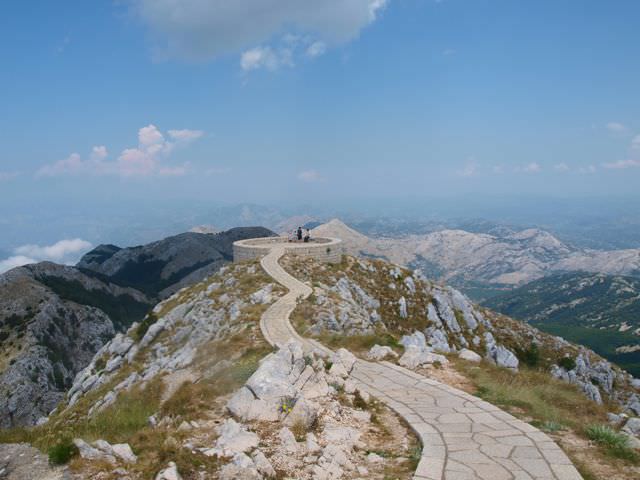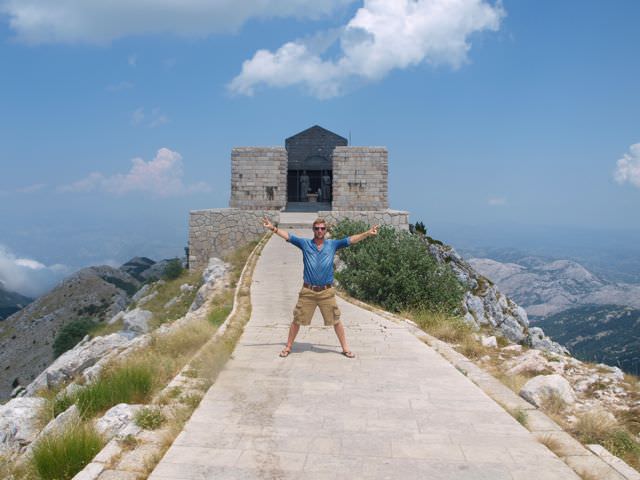 5)   The Ostrog Monastery:
The Ostrog Monastery is in central Montenegro, about a 3 hour drive from Kotor, Budva etc. I rented a car to get here and it was much faster (and cheaper) although the final road up to the monastery is rife with sheer drops and bumpy roads! The monastery is like a Balkan Petra, really it's almost that impressive. Built into the cliff, almost 1 kilometre up from the valley, I have no idea how it was built, but it's pretty bloody cool. If you don't wanna drive you can take a tour from the tourist towns for around 30 Euro ($36).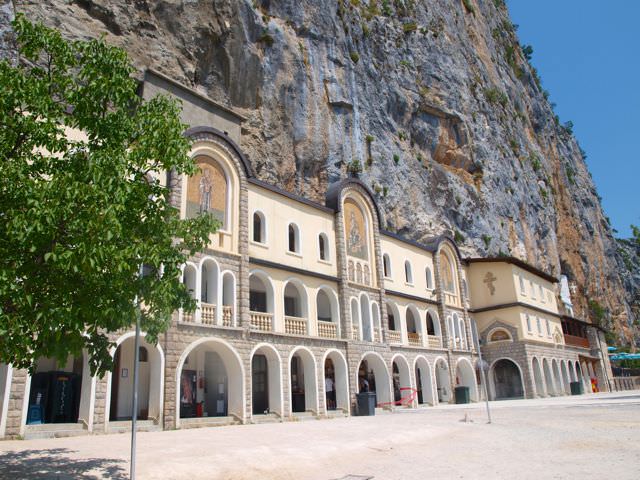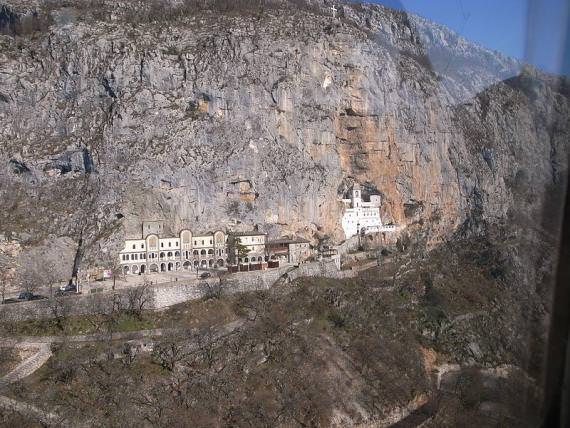 6)   Sveti Stefan:
Only 15 mins from Budva, Sveti Stefan is often the postcard pic for Montenegro. The old town is built on an island 30m from the shore but since 2008 the island was 'bought' by an upmarket hotel (rooms start at $1000 per night, beach is $65 for usage!). So it's now closed to the public, unbelievable actually. Still, you can snap away for free and I can't deny how impressive it is. The 'free' beach beside the hotel beach is pretty nice too, especially if you're there before 9am.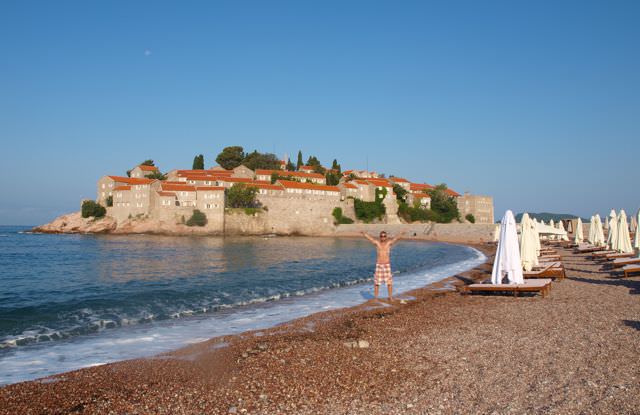 I'm sitting on the bus at the mo, on the way to Dubrovnik and it's with a heavy heart that I say goodbye to Montenegro. I could have happily lounged around the old towns of Kotor and Perast for days on end but alas, that's the life of a backpacker. Happy travels!