My first stop on my China to Ireland by land trip is Chengdu (where I'm currently writing this from). I flew in from Bangkok a couple of days ago and it's been a great start to my trip. China doesn't do 'small' and Chengdu, a huge city, is testament to that with a skyline to rival the US's most famous cities.
The public transport system is great with their buses ($0.16 a go) and their subway ($0.30 a trip) running smoothly and efficiently, allowing you to stick to your $30 a day budget pretty easily (not counting the pandas, see below – ouch!).
This is my 5 entry to China, and immediately I've been reminded why I keep coming back. It offers backpacker so much, and with their increasing world influence there's never been a better time to visit. I was here a few months ago for the ice festival in Harbin, I saw the Olympics in Beijing, I took a cargo boat up through Yunnan and now I'm in Sichuan province and by all accounts, it promises to be another awesome trip. Check out the top 5 things I've done in Chengdu:
The Giant Panda Sanctuary:
Home to more than 50 giant pandas, this research base has well and truly put Chengdu on the map. It's only an 18km ride out of the city, and around 60 Kwai ($10) to enter. BUT… this is the only place in the world where you can actually hold a panda, hug him, pet him however this little privilege comes at a price, a bloody steep price and it's just increased again. For 5 minutes with the world's cutest mammal, you have to pay 1300 Kwai (a heart wrenching $205!), but 90% of the fee goes to the Panda research centre. I paid it, and it was worth every hard earned cent!
Arrive before 9am if you can, the pandas are much busier in the mornings. Afternoon naps can run for hours so be wary of that!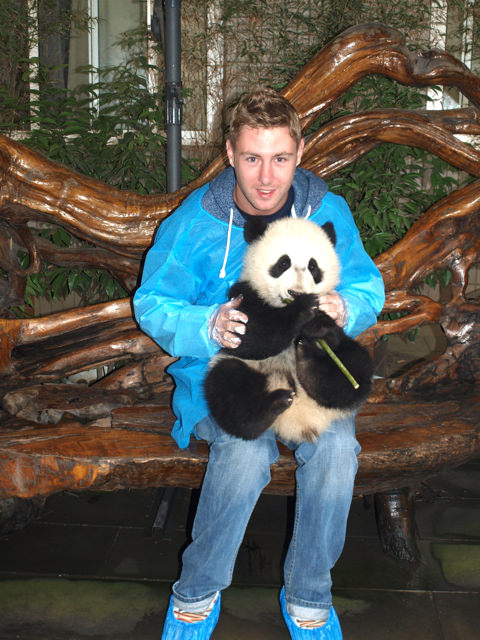 People's Park:
FREE! The People's Park is a 5 minute walk from the Mao statue in the middle of Chengdu (Tianfu Square subway stop). It's crammed packed full of people getting up to all sorts, tango lessons, Chinese calligraphy, karaoke, fashion shows, Tai Chi. It's a very Chinese affair, with open air tea houses where you can get your ears cleaned by some crazy old Chinese guys with scary looking spikey metallic instruments ($1.50 per ear, *recommended)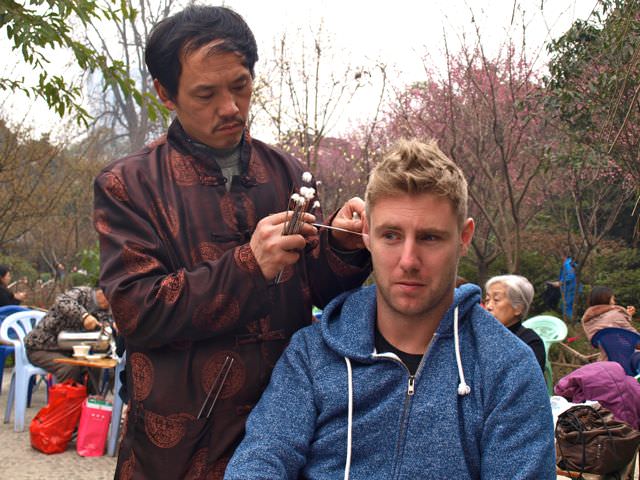 Mao Statue:
FREE! China's iconic leader is never far from your gaze when you gallivant his country, and this statue does him proud. Standing tall and large, overlooking Chengdu's huge central plaza (Tianfu Subway stop), he offers a great photo op as you get to grips with China. The acknowledge he made a few mistakes (you can say that again :S) but they really appreciate the Great Leap Forward he oversaw. This is yet another tribute to him.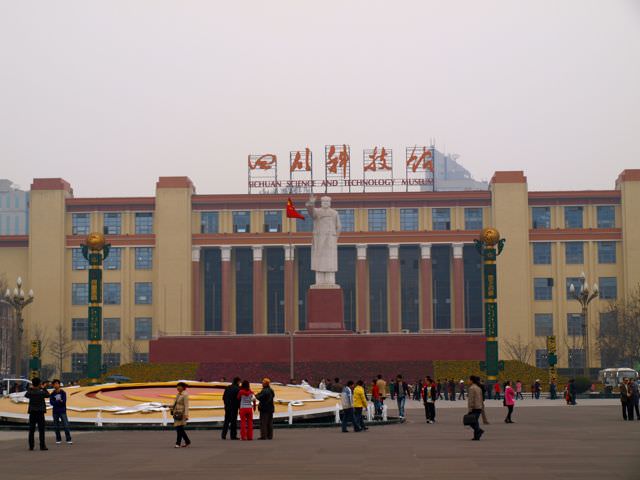 Wenshu Temple:
5 RMB ($0.80). Dedicated to Wenshu, the Bodhisattva (a person who choses to delay their enlightment to Nirvana in order to help the rest of us) of Wisdom, this is Chengdu's most awesome Buddhist temple. Full of devout Chinese Buddhist, monks and novices all paying their respects, it's an oasis of serenity amidst the chaos of one of China's larger cities. Don't miss the staple teahouse next door for a quick break before you submerge yourself in Chengdu's madness again.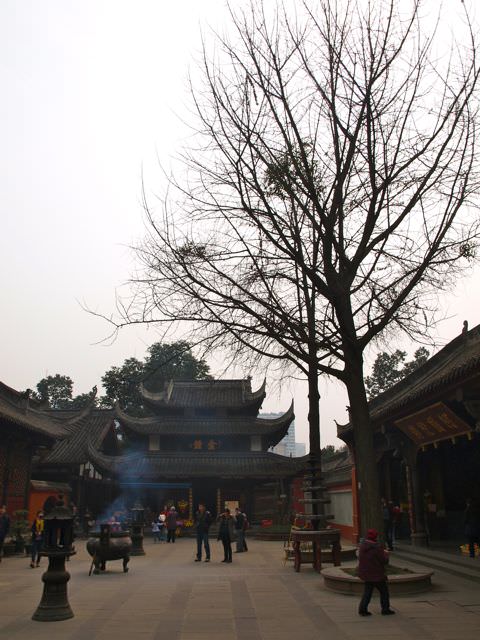 Sichuan Opera:
Believe it or not, this is the second opera I've found myself at since my travels began a few years ago. After a horrible time at the Korean opera in Seoul I thought I'd give it another bash. The Sichuan opera has been running for more than 250 years and is a lot more lively than standard opera with fire breathing, face changing, slapstick comedy etc. It costs around 120 Kwai ($19) but you can tell everyone how cultured you are after. It runs daily and starts around 8pm at the Shufeng Yayun Teahouse in the city centre.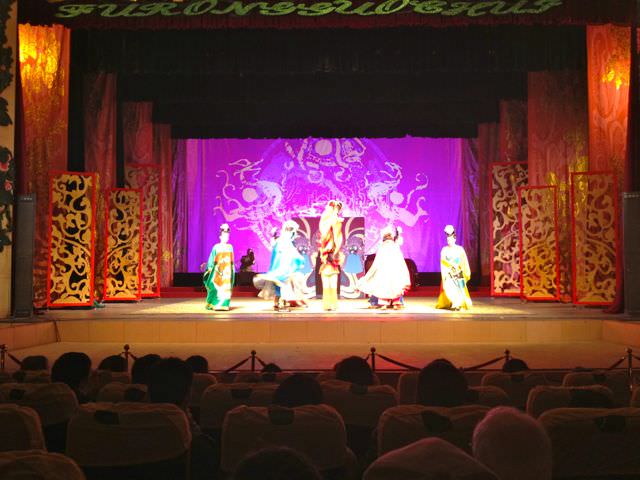 Eating Rabbit…
A local specialty here is rabbit, although it's a little more grim than you might think. The really special thing about this delicacy is that you eat the head, yep the little bunnies head. And not to be outdone my my friend, I had to partake – have a look at the before and after :S
Of course random travel isn't everyone's cup of tea, so there are lots of  Cheap China tours to avail of, they might even feed you some rabbit soup too…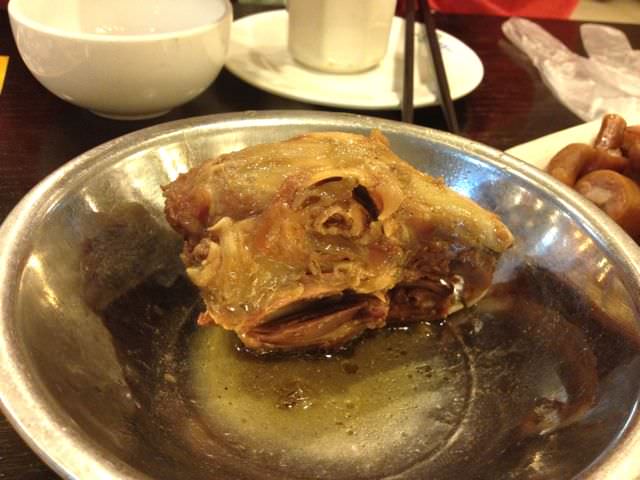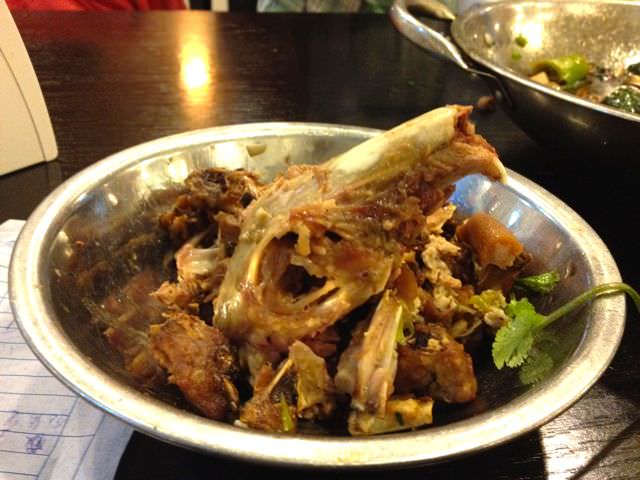 Next up for me is Jiuzhaigou, arguably China's most famous national park and yet another UNESCO world heritage site. It's an 8 hour ride from here, so I'm off there tomorrow. Happy travels!