South Africa has a lot to offer backpackers and a few weeks gallivanting across Africa's wealthiest nation wouldn't be complete without coming face to face with nature's oldest killing machine – the Great White Shark. This was top of my bucket list when I arrived in South Africa, and it's completely possible down with a day-trip from Cape Town.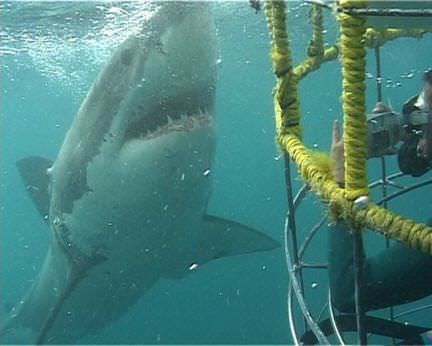 How much does it cost to dive with the sharks?
Expect to pay around $200 – $250 for the privilege (this price has shot up $100 since the world cup there in summer 2010), that fee will include pick-up from your hostel, drive to Shark Alley (about 3 hours drive), breakfast, boat fees, all equipment required and a drive back to your hostel.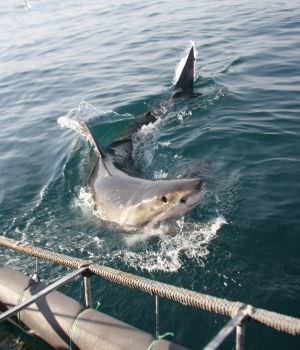 Where is the best place to dive with the sharks?
The ingeniously named 'Shark Alley' which is a few hours drive from Cape Town, located on South Africa's Eastern coast and is available as a day trip direct from South Africa's second city.
As with all activities across the globe, if you want to get the best possible price, don't book anything before you arrive in the country!! In Cape Town there are numerous people who will be jumping at the chance to organize your close encounter with the sharks, including your hostel, so drop your luggage in your hotel or hostel in Cape Town and sort it out from there.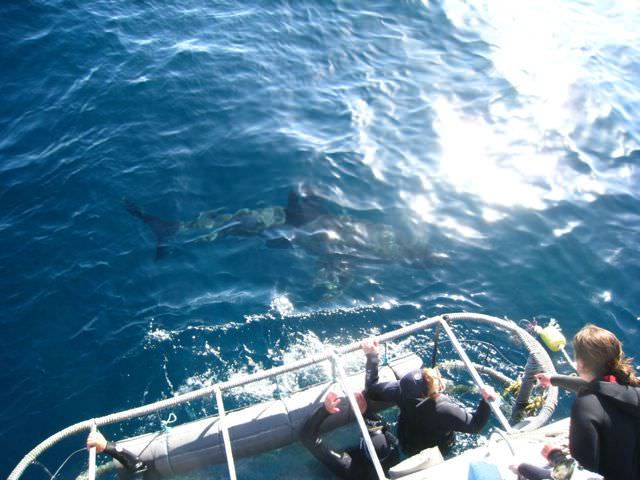 What is the experience actually like?
Ok, well just to set the record straight – no scuba diving skills necessary here, you don't even get a snorkel near your face. The way this crazy game works is – you go out on the open sea, a cage is attached to your boat, the staff coax the sharks in, once the awesome creatures are spotted 3 people jump in the open-topped cage, as the staff lure the sharks right by the cage you simply submerge yourself, hold your breath and have a look right down their throats! You'll be wearing a wetsuit and a mask.
The sharks get to within inches of your face, to the extent that if you were so inclined you could quite easily stick your arm of the cage and say goodbye to it forever (not recommended)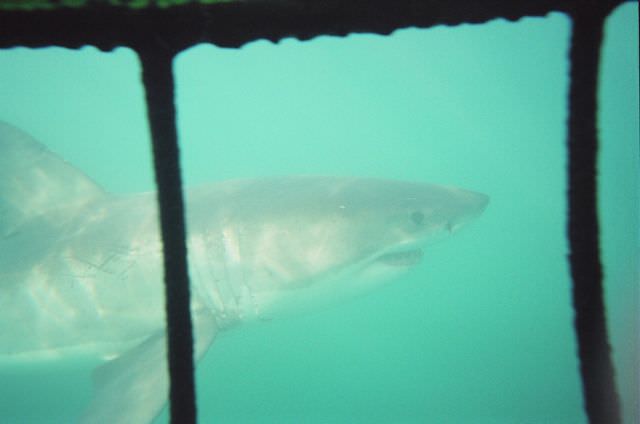 I cannot stress the amazement I experienced during my afternoon on the water. From the first silver glimpse you catch of the shark when it approaches the boat, to staring it in the eye from less than a meter, my heart was racing and I had a smile from ear to ear throughout the day.
We had 6 or 7 Great Whites come up to the boat and I was in the cage on 3 separate occasions which was more than enough for me. Get yourself to South Africa and see for yourself, Jaws will never be the same again…