We all know Rome wasn't built in a day, so how do you see the city that stands for an entire era of history, in just a single day? A major world metropolis spanning for over 2, 500 years, the challenge to seeing Rome is to know exactly what Roman attractions to visit. You could spend a lifetime exploring all of Rome's riches.
Be sure to make the best use of your time by planning your Rome tours carefully ahead of your planned visit. Rome's attractions, after all, are in "the Eternal City, " so try to get a good survey of this ancient metropolis by letting tour guides do some of the legwork for you. Use this Rome tour guide as a jumping off point for your memorable day. Take a Rome cruise to the center of thought, architecture, art, and culture in general, Rome tours belong on everyone's bucket list.
The Colosseum
One way to venture out is to begin your Rome tours at the very beginning: the Colosseum. Also known as the Favian Amphitheater, the Colosseum is located in the center of the city, and is one of the few very special engineering and architectural wonders of the world. Completed in 80 A.D., this Roman attraction was used for gladiatorial performances, mock sea battles, animal hunts, and recreations of famous battles, and was able to hold 50, 000-80, 000 people in attendance. The Colosseum continues to be an icon of the Roman Empire.
Arch of Constantine
The triumphal Arch of Constantine is located adjacent to the Colosseum, and should be an obvious next stop on your list of sightseeing spots during your one-day tour of Rome. Built by the Roman Senate and dedicated in 315 A.D. to the victory of Constantine in the Battle of Milvian Bridge, the Arch of Constantine employs spolia, which is the use of reliefs and sculpture from earlier monuments and temples. This gives the arch a unique and famously contrasting mix of architectural styles.
The Roman Pantheon
Built as a temple to house all Roman gods, The Pantheon was built in 126 A.D., and is a must-see for any one-day tour of Rome. Set at the end of the Piazza della Rotonda, it is perhaps one of the very best-preserved of all ancient Roman structures, and has been in continual use since its very beginning. The Pantheon's magnificent Corinthian columns and domed interior took 732 construction workers three years to build, and its architectural marvels continue to be studied today.
Aqua Appia Aqueduct
The first of Rome's 11 aqueducts (completed in 312 B.C.) that supplied the ancient city's water for everything from irrigation to drinking to their famed bathhouses, Aqua Appia flowed mostly underground from its origin, which helped to protect it from Rome's enemies. A Rome tour isn't complete without seeing this engineering marvel, which drops only about 10 meters from its beginning, approximately 10 miles outside of Rome.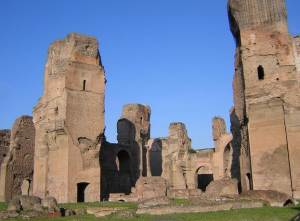 Baths of Caracalla
In ancient Rome, one of the most culturally significant places in society was the Thermae, or bathhouses. The Baths of Caracalla were the second largest in Rome, and are estimated to have been completed around 216-217 A.D.. Typically fed by aqueducts, water flowed in and was then heated by wood-burning fires as it entered the various baths housed in the building. The baths were a bit of a cultural epicenter, and also housed libraries for both Greek and Roman language, as well as places to eat, to gather for concerts and poetry readings, and to network with politicians and others in the city. The Baths of Caracalla remain one of the most popular attractions on any one-day tour of Rome.