Maputo Maputo Maputo – cracking city! We arrived after an arduous journey from Swaziland crammed into a minibus with 20 Africans across a road bumpier than anything I had ever come across. I had traveled into the country with 2 Candian chicks I had met, over a less than delicious $5 box of South African rose wine, in Mbabane (Swaziland) and they had already booked themselves into a $100 a night hotel across the Maputo bay in an area called Catembe. When we pulled up into Maputo city centre the girls (in my skewed opinion) clearly wanted us to escort them to their hotel, which he gladly did.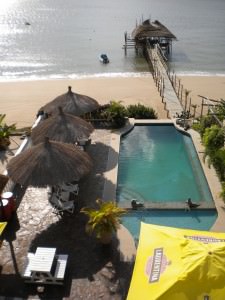 On the ferry we jumped to cross the bay, grabbed a beer en route and sailed across towards their hotel. We disembarked, made less than 200 metres progress until we met a guy called 'Trouble', he looked, walked and talked like a gangster but a nicer guy you'll struggle to find. We walked the 200 metres and stopped by a shack at the dock ran by a old rasta lady know as 'Mama Marley' and what a cool ladt she was. Trouble, Adrian, Mama Marley and the 2 Candian chicks (Rachelle and Melissa) proceeded to polish off a fair few Lorintinas until 8pm became midnight, the girls had failed in their attempts to offer us room and board and we were, in all honesty, pretty drunk by Maputo dock with nowhere orgainsed to sleep that night and our bags perched by the shack :S Luckily enough, Mama Marley took pity on us and we stayed at her place – Queue the scene of me walzing into this local 'house' with a 50 year old rasta woman by our side singing "don't worry… about a thing… 'cos every little thing's gonna be alrite'!! And you know what – I think Bob might have just got that right =)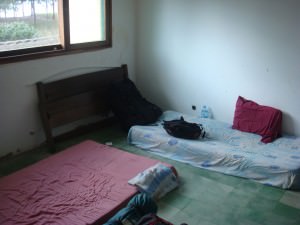 Day 2 was equally as unpredictable – ah the beauty of travel. So Mama Marley's place had no running water (naturally) and the awesome Canadian girls came up trumps and sent their personal driver (Jorge) from their swanky hotel to pick us up from Mama Marleys that morning. Apparently she's somewhat of a local eccentric celeb. Jorge obliged and before we knew it we were showering both in the glory (and hot water) of the girls' 5* hotel!
We spent a day wandering around the beautiful city of Maputo, eating copious amounts of prawns and other seafood for dirt-cheap prices and soaked up the old Portuguese flavour that permeated from every old building. Nighttime soon arrived and again we had organized nowhere to stay (some people never learn) but a few cheap beers put paid to our concerns and before we knew it we had 4 people rammed into the back of a single tuk-tuk against the drivers initial wishes but a 50 cent bribe soon persuaded him otherwise and off we went…: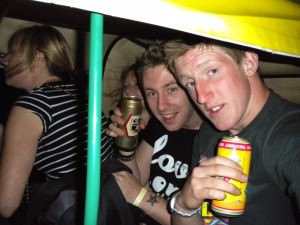 with Shakira's Waka Waka blasting out of the the driver's makeshift stereo on 10000 decibels we weren't the most inconspicuous traffic on the road but we made it in one peace without any police involvement and before we could say 'free accommodation' we were in the girls' posh hotel's hottub with 4 bottles of cheap wine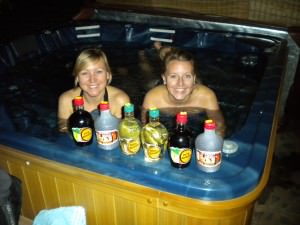 A few hours later we were awoken by the girls in their hotel room, apparently a few of the guests had complained of raucous, rowdy behaviour and the room (with ALL its' inhabitants) had been fined $50 – we paid up and made a sheepish escape, eagerly trying to avoid any other guests or staff members :S Not a good impression!
3rd and final night in Maputo didn't get any less crazy, well maybe a little. We wanted to catch an early bus to Tofo the next day at silly o'clock so we tried to find a youth hostel in the city centre – full, full, full – no room at the inn. So we ended up having to rent out the penthouse (a 3 room suite) of a hotel straight from the 1940's for the grand total of $40 for the night. The night was spent and the alarm went off at 4.00am (whoever said traveling was an extended holiday was most definitely wrong) and before we knew we were off to Tofo, naturally a couple of hours late though – Mozambique is cool but it's still Africa when it comes to timetables 😛