Have you been daydreaming of trading your desk job for days of laying on soft white sand, watching the turquoise waters come rolling lazily onto the shore? Do you need a good book, fruity drink and beach hat more than anything else in the world right now? Sounds like it's time for a beach getaway! Check out this list of some of the world's best and get started planning your dream getaway now: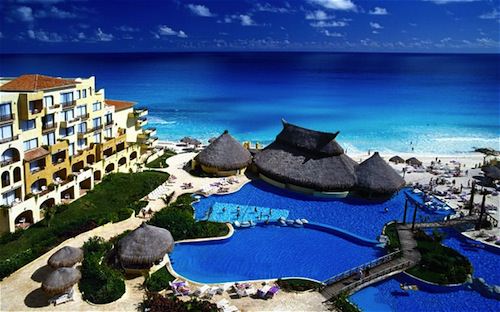 Cancun, Mexico
Cancun is such a unique beach destination because not only does it have some of the whitest and most beautiful sandy beaches in the world, but it is abundant with fascinating culture to explore. When you're not gazing out at the impossibly aquamarine waters or relaxing on the sand, you can go explore Mayan ruins or experience an eco-tour in the area. Try a Cancun all inclusive holiday for the ultimate relaxed and luxurious vacation!
Gold Coast, Australia
If you're into surfing, you can hardly find a better beach getaway than the Gold Coast. It takes the cake for some of the best beaches and waves for surfing in the world. Combine that with the laid back culture, sunny subtropical climate and abundance of things to do in the area, and you just can't go wrong making this your holiday destination. Check out Paradise Beach for its amazing surfing culture, skyline and incredible waves.
The Maldives
One problem with some beach getaways is that they're so popular with tourists who clog up the shore. So if you really want to get off the beaten path and avoid the hoards of tourists, head down near Sri Lanka to the Maldives. These islands have some of the world's most unique and luxurious resorts to make your holiday completely unforgettable. Here, hidden away by the equator, are some of the most incredible beaches you will ever experience.
South of Thailand
Without a doubt, the south of Thailand has some of the most beautiful beaches in the world. Imagine the brightest blue sky and waters, fine-grained white sand, lush green coast and peace all around…sound tempting yet? If you're into partying, you can definitely find that on islands like Phuket and Koh Phanang, but if you head to more remote islands you can enjoy real serenity. Try scuba diving here for a breathtaking experience.
Maui, Hawaii
Hawaii is a great destination for families, so if you're travling with young ones consider Maui for your beach getaway. Check into the Grand Wailea Resort, where kids will love the massive water complex of slides, tubes, pools, waterfalls and currents. The beaches of Maui are picture-perfect, and you can enjoy snorkeling, scuba diving and other awesome water activities during the daytime, then experience a real Hawaiian luau after sunset.