I've ranted about Bali before, but retrospectively I was wrong to complain about Bali as a whole, it was Kuta that disgusted me. The week I've spent exploring the island of Bali has been nothing short of amazing and I'd happily go back and explore some more! One of my favourite discoveries though, was one of the best hotels I've ever stayed at – Kupu Kupu in Jimbaran.
Jimbaran is one of my favourite areas in Bali actually, and its beach is much less crowded than the more famous spots north of here, so to find such an awesome hotel right in the centre of Jimbaran was perfect. It's only a 5 minute walk or so to the beach.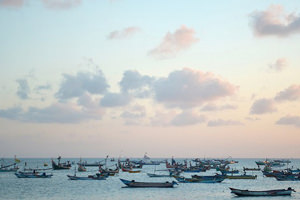 The hotel's exterior doesn't instantly take your breath away, which is just a sign of how classy this place actually is. After checking in, I was taken to my room. Come out of the lift and you see the swimming pool, it looks more like modern art than a pool and immediately you know the room is gonna be something special. And so it was….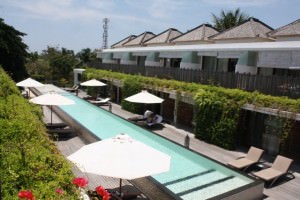 The staff member opened the door, handed me the key and took me on a tour. A tour of a hotel room? Sounds unnecessary perhaps but nope, because this place is a duplex! If you're feeling road weary, or need a pick-me-up when you're in Bali, a night or two here will most definitely do the trick. This is the definition of luxury.
Downstairs, in the living area, I checked the wifi (lightning quick), then my gf threw back the curtain which was dividing the living room to expose a stand-alone bath tub, so cool! The shower room is next it, and although the shower is beautiful too, the bath takes the plaudits. You can even watch the flatscreen from the tub. Some beers from room service and my evening is taken care of!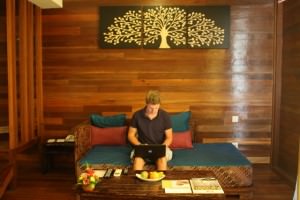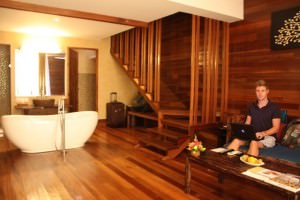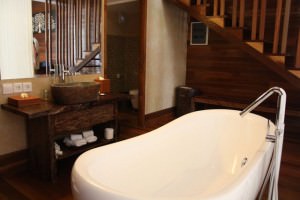 We then get taken up stairs to the bedroom, and if possible, it's even more opulent that the ground floor. A huge bed, complete with flowing curtains surrounding it was just staring at me when I came up the stairs! The balcony has a couple of loungers too, overlooking the stylish pool. Bali is fast becoming my favourite island!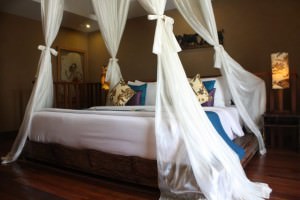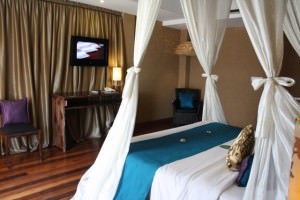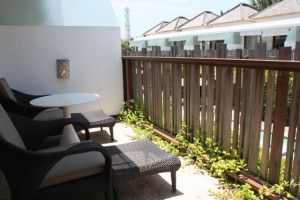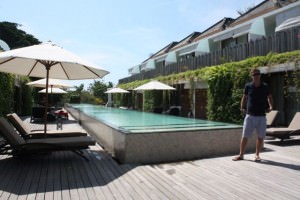 Kupu Kupu Jimbaran may stretch the travelers budget a little, but it's worth every cent. If you're here with your partner, then forget the budget guest house for a couple of nights, splash the cash and live in the lap of luxury. You won't regret it. Happy travels!