Hotel Muse is located minutes from Chidlom BTS station, which is bustling with malls and small markets. They even provide a free tuktuk right to the station. If you don't mind walking, it's a 20 minute walk (or 1 BTS stop!) from Siam, the epicenter of shopping and one of the most popular areas of Bangkok.
Upon arriving, I was checked in efficiently by the genuinely pleasant hotel staff and was given a welcome drink. Then it was off to the room.
I had gotten one of the four Nimman Suites available at Hotel Muse and WOW. It was huge! Attached to the suite was a carefully landscaped and spacious outdoor terrace with oversized lounge chairs made for sitting back and chilling out. A half dozen people could easily fit out there. The bathroom was pure luxury, tiled with polished granite and had a soaking tub and a separate rain shower.  I could even sit in the bathroom and watch the tv from the bedroom as there were speakers installed in the bathroom that piped in the sound. There is a separate living room with a giant flat screen tv, plush brown leather couches and matching chair. The rest of the furniture was made of dark wood. The ceilings were even stunning, with tray molding and a hanging chandelier made of lampshades. An extension of the living room led into the cozier study/office area. The bedroom had a platform bed that was insanely comfortable! Seriously, maybe one of the best beds I've ever slept in.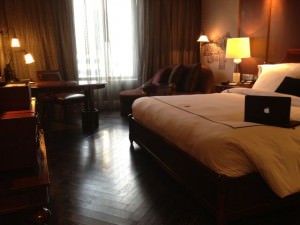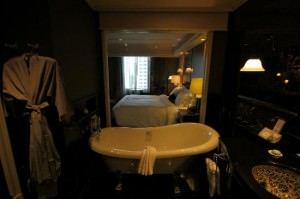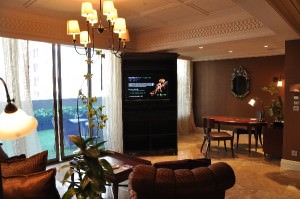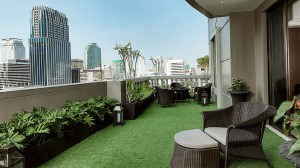 The opulence doesn't just end at the suite; the whole hotel is stylish yet has an old world charm. The hotel claims its inspiration from Rama V. One of the best facilities was the open-air rooftop bar, providing striking views of the city. There are actually a number of watering holes—Long Bar, Terrace Bar, The Blind Pig cigar lounge, a rooftop bar, and The Lawn. All of it is encompassed by a Speakeasy theme. Think gangsters, but the classy ones from the prohibition era. It also is only accessible by a secret door, which is different and awesome.  Good views can also be had at the small infinity pool (who doesn't love infinity pools) on the 19th floor, which is adjacent to the fitness room.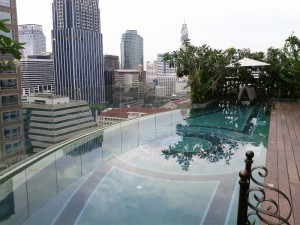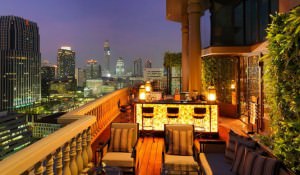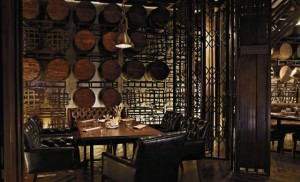 If you find yourself in Bangkok and want to treat yourself to deluxe lodgings, head over to Hotel Muse. It definitely has one of the coolest atmospheres around.