You are a backpacker and by definition you're most probably broke, but fear not, you can Book Luxurious Hotels in Dubai without breaking the bank!. Normally you can survive with almost nothing in other countries right? But not in Dubai .This country can have all the glory and be termed the king when it comes to replicas of fake shoes, handbags and even jewelry but when it comes to accommodation, it has no room for you especially if you have that weathered wallet.
For backpackers, especially, it is going to be hard to find cheap accommodation in Dubai that suits your pocket. You might consider camping in the desert but then again, a desert in not just a deserted place in Dubai, unlike other parts of the world, it maybe where the Arabian princes go to relax and hold their bikini parties. There are not plenty of hostels and guest houses and don't be too shocked to find yourself in a hotel. Nevertheless our top priority is to travel as much and spend the least so here are some options for cheap accommodation in Dubai: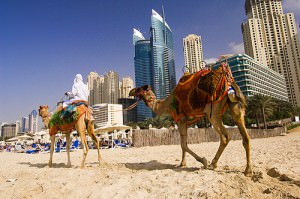 UAE YOUTH HOSTEL ASSOCIATION
It is located on 39 al nahda road between lulu hyper market and the al bustan centre. This is one of the pocket friendly places that travelers on a budget can stay for as little as 90 AED ($25) for a shared dormitory or as much as 200AED for a single room. Those travelling in groups will get even more discount i.e. Buffets which are available to groups of 15 people or more. Breakfast is served free of charge, how cool is that!. Check in is 14:00 checking out is before 12:00 and they only accept cash so no need to carry plastic cards around. There is also a safety box available but you have to pay a refundable deposit of $100.the biggest turnoff for the backpackers would probably be the prohibition of alcohol and cigarettes in the rooms, but logically speaking id rather miss a smoke than a night's sleep.
RAMEE GUESTLINE HOTEL DUBAI
Recognized as the most known budget hotel in town (around $55 per night), it is located on al Rigga Street next to the metro station. It is located only 2kn from deira city center and 4 km from the Dubai international airport making its location excellent. Each room has either a king size bed or two single rooms with a work desk, table and chair. An LCD screen is also available in every room with satellite channels. The check in time is 14:00 and check out 12:00.other facilities include; swimming pool, safe deposit box and free internet.
AL SHARQ HOTEL
It is the Winner of the award of excellence from the sharjah government in the 2 star category. Located only 15 km from the Dubai airport, it is a very good budget hotel. Aside from the rooms being furnished they are all equipped with satellite TV, air conditioning and a mini bar. Other services include free telephone calls within sharjah, free safety deposit boxes and guests can use the nearby beach or swimming pool for only $6.upon request you can receive services like babysitting and doctor on call.