Coconut is oil is increasing popular these days, that popularity is there for good reason. It has a number of benefits for our skin, hair, weight, infections, digestion and also immunity. I first discovered coconut oil when I was in Thailand but it's not used only in tropical countries. You can now find it in abundance in the USA and the UK. People across the globe have discovered the benefits of this amazing oil.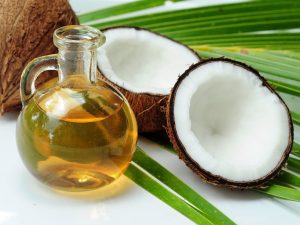 I was reading a great blog post on the Cash Lady last week about the many benefits of coconut oil and it inspired me to share with you why I love it.
Skin Care
Coconut oil is absolutely fantastic when it's used for massages, personally it's the one I always choose. It's moisturizing effects are second to none, if you have dry skin then you need to be using coconut oil. You won't have any side effects if you use it, so it's great to use on sensitive skin to prevent dryness and flaky skin.
Hair Care
Coconut oil helps hair to grow in a more healthy manor and adds a lot more shine to hair. The oil will reduce any loss of protein that you might face, this then has a positive impact on the health of your hair. The best conditioners and anti dandruff shampoos that you can buy will contain coconut oil. I swear by it now because it has improved the quality of both my scalp and hair – something which I love because my hair was starting to thin out as the years rolled on.
Weight Loss
I was surprised at first to hear that an oil would help with weight loss. The reason that coconut oil can help in this area is because it contains both short and medium chain fatty acids, these acids help take off excessive weight. For women it is scientifically proven to reduce the level of abdominal obesity. The best way to get the oil in to your diet is to use it in cooking everyday, you'll notice the effects are a month.
Have you discovered the benefits of coconut oil in your life yet? I would love to hear your thoughts, experiences and opinions. All you have to do is put your musings down in the comment section below this post. I love reading about your first hand experiences and I am sure it will help everyone else in our little community too.