Like I mentioned in my post about things to see in Florence, Pisa is easily accessible as a day trip from your base there, which is certainly the best plan. I had planned to sleep in Pisa but after arriving there you see that there's not much else aside from it's very famous wonky tower.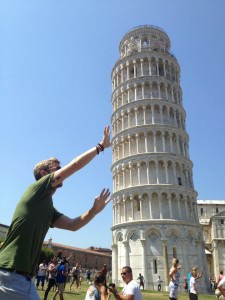 How to get to Pisa from Florence:
Very easily my friends. From Florence train station, buy a one way ticket to Pisa (about 7 euro ($9), and takes around 80 minutes). Stamp your ticket and jump on board.
The trains run around every hour or so, there's no need to book in advance.
From Pisa train station you can walk to the Leaning Tower of Pisa, it takes about 20 minutes and it's a straight shot right out the main entrance of Pisa train station.
All the guide books will point you towards Campi Dei Miracoli as a secondary sight to see, in addition to the tower. It's a nice Italian square, but nothing that you haven't seen one hundred times around Italy. Great ice cream vendors though.
Anyways, on to the main event.The Leaning Tower Of Pisa. As you walk from the station, eventually when you're almost upon it you take a left and there it is, sitting askew surrounded by a thousand tourists pretending to hold it up or push it down.
To get access to the tower's grounds is entirely free, all your cheesy pics are free. If you want access inside the tower it's around 17 euro ($21), groups are restricted to 40 people at a time and there'll most definitely be a queue, probably more than an hour, certainly if you're there in the summer. Personally, I gave the inside a miss – the whole point of me being here was to see the tower leaning, something I've wanted to see since I was a kid. If you're in the tower (combined with the ticket fee and time wasted waiting) you don't see anything!
The Cathedral next door to the tower is nice too, and well worth the 2 euro entry if you're fresh into Europe, if you've been round the European backpacking trail, it's just another 'church'. It's amazing from the outside though.
However, your eyes will be constantly drawn back to the tower which continues to sit over 4m from the perpendicular, pretty amazing actually. And Italy has gifted me another item from my bucket list. Off to Lucca next (which you can combine in one day trip from Pisa, read the post on Lucca for details), happy travels!