If you ever needed a reason to go anywhere, attending a festival is the perfect excuse. Bhutan is full of these kinds of excuses. The nation hosts celebrations year round celebrating their culture, diversity, and all things wonderful that are Bhutan. Being in Bhutan for one of their many celebrations is the perfect way to get a colorful and fun taste of the culture of the nation. With several high profile festivals it can be overwhelming to choose what festivals to go to. That's what this post is for! We are highlighting five festivals that you should keep in mind when getting ready to book your trip to Bhutan.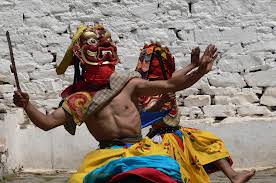 The Sakteng Festival
The Sakteng Festival is a great 3-day festival put on by the semi-nomadic Brokpas people. The Sakten valley, where the festival is located, is in eastern Bhutan next to Trashigang Dzongkhag. The Brokpas are about as untouched by the outside world as a group of people can get and the same goes for the Sakteng valley. This festival is a time for the people to celebrate and essentially, party. The festival, like many in Bhutan, is centered around worship. It also focuses on traditional clothing and lots of ara which is the local wine. The Brokpas people will also perform the Yak Dance and the Ache Lhamo dance. These two dances are specific to the Brokpas people and are different than the mask dances that take place during celebrations in the rest of Bhutan.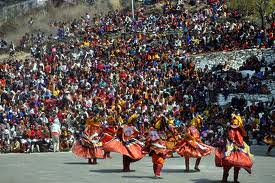 Dochula Druk Wangyel Festival
Starting in 2011, this is a brand new festival that will be held annually on December 13th at the Druk Lhakhang Festival Ground at Dochula Pass. The grounds are just 22km outside of the capital city of Thimphu. The festival was set up to honor His Majesty the Fourth Druk Gyalpo and the Armed Forces successful defeat of Indian insurgents in Southern Bhutan in 2003. This festival is a true example of Bhutanese cultural tradtions and it offers one of the most stunning views in the country. The grounds offer an incredible panoramic view of the Himalayan mountains.


The Black-Necked Crane Festival
Held every year in the courtyard of the Gangtey Gonpa, in Phobjikha, the Black-Neck Crane Festival holds two very important purposes. It raises awareness for the protection of the endangered Black-Neck Crane and it also brings to light the importance of having a strong link between economic welfare and sustainable living for the farming community. While they promote these causes, they also have an impressive showcase of their culture through dance, song, and dress. Many of these are inspired by the beautiful black-neck crane. The festival is every November to signify the incoming migration of the black-neck cranes.