After Rome and Vatican City last week, Italy has been predictably impressive. Seeing both the Coliseum and the Vatican in a couple of days was awesome, they were two items on my bucket list so I've been in a great mood since!
Sure Italy is hot, touristic and overpriced but blank that out and the beauty of the country is seeping out of every cobblestone alley, out of every run down pizzeria.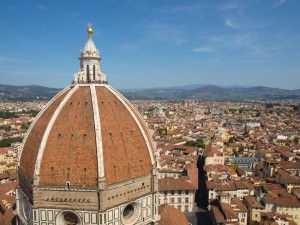 I have my Eurolines (LINK) bus ticket with me, so I'm 'free' to travel around pretty much most of Italy without having to pay anything (a huge plus considering the price of transport here) that freedom has allowed me to draw up a pretty cool itinerary for my 2 weeks here. Next up is Florence, and I was expecting big things.
First up I should say that Florence is an awesome base to plant yourself for at least 3 nights, potentially a lot more. There are great day trips to be had from here to Pisa, Lucca, San Marino and Siena, that on top of what is arguably Italy's most beautiful city, Florence itself.
Florence is a nice sized city, about 400, 000 people which means you can take it on by foot, wandering the streets for a couple of days gives you a real feel for the place. Now I'm much too uncouth to consider myself an art buff but even I can appreciate the art in Florence, home to Michelangelo's masterpiece David amongst others.
If you're rush you can probably tick off most of Florence's main sights in a day, but I'd recommend to spend 2 more casual days waltzing around, with plenty of gelato and coffee pit stops to recharge your batteries.
Whatever you see, make sure you see the top 5 things to see in Florence when you're here:
Piazza Del Duomo:
One of the largest cathedrals in the world and the spiritual centre of Florence. It's so big it's actually pretty tough to squeeze it into a photo. Entering the cathedral is free, but it's 6 euro ($8) to climb its 82m campanille; well worth it though.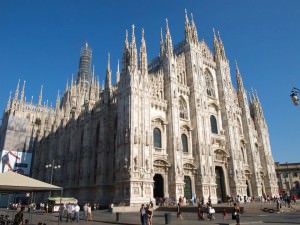 Michelangelo's David:
The world's most famous naked man is found in the Galleria dell' Accademia. It costs around 11 euro ($14) to enter the gallery/museum but don't be fooled, you're paying for David and not a lot else. The gallery is small BUT David is its centre piece and for that alone I think it's worth the 11 euro, at least it was for me. You can't take photos though, but I had snapped this one before I know! 😛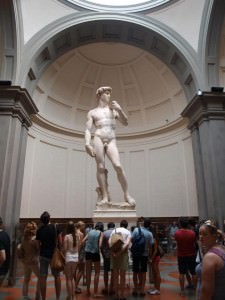 Piazzale Michelangelo:
I'm a sucker for good views, and the fact that Florence is considered one of the most beautiful cities in the world means that a good view of the entire city is an absolute must-see. If you cross the river (preferably over Ponte Vecchio), to the south side of the city then make the steep climb up the hill to Piazzale Michelangelo you'll be gifted a beautiful view of the whole city, dominated by the amazing Piazza Del Duomo.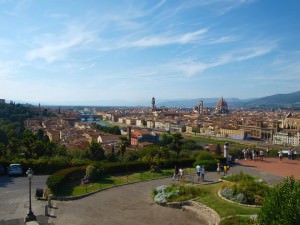 Ponte Vecchio:
This is one very cool bridge. It was a normal bridge, but then around the 15th century butchers lined the streets, soon though it was used as the main thoroughfare between Palazzo Pitti and Palazzo Vecchio, as wealthier people began pounding the area, jewelers replaced the butches and today it's still lined with jewelry stores. Very atmospheric.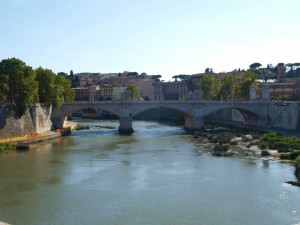 Palazzo Vecchio:
The largest plaza in the city, and it's alive with street performers, museum visitors, ice cream vendors and replicas of David. It's also next to the Uffizi Gallery not my cup of tea but all the rage with people much more cultured than me, home to some of the greatest art in the world. Personally, I prefer the guys outside miming and playing with the crowds.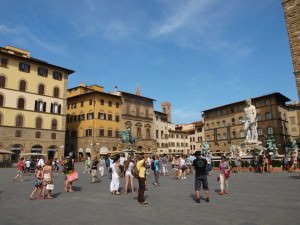 There are certainly a few other churches, bridges and view points dotted around but these are your must-sees. If you're on a time budget, hit up my five tips and you'll be doing just fine. Happy travels!